Everyone seems to be asking the same questions about LV bags remains; what makes them so popular and expensive? Why is it that most lovers of fashion from all parts of the world desire to own a Louis Vuitton bag in their collection of luxury bags?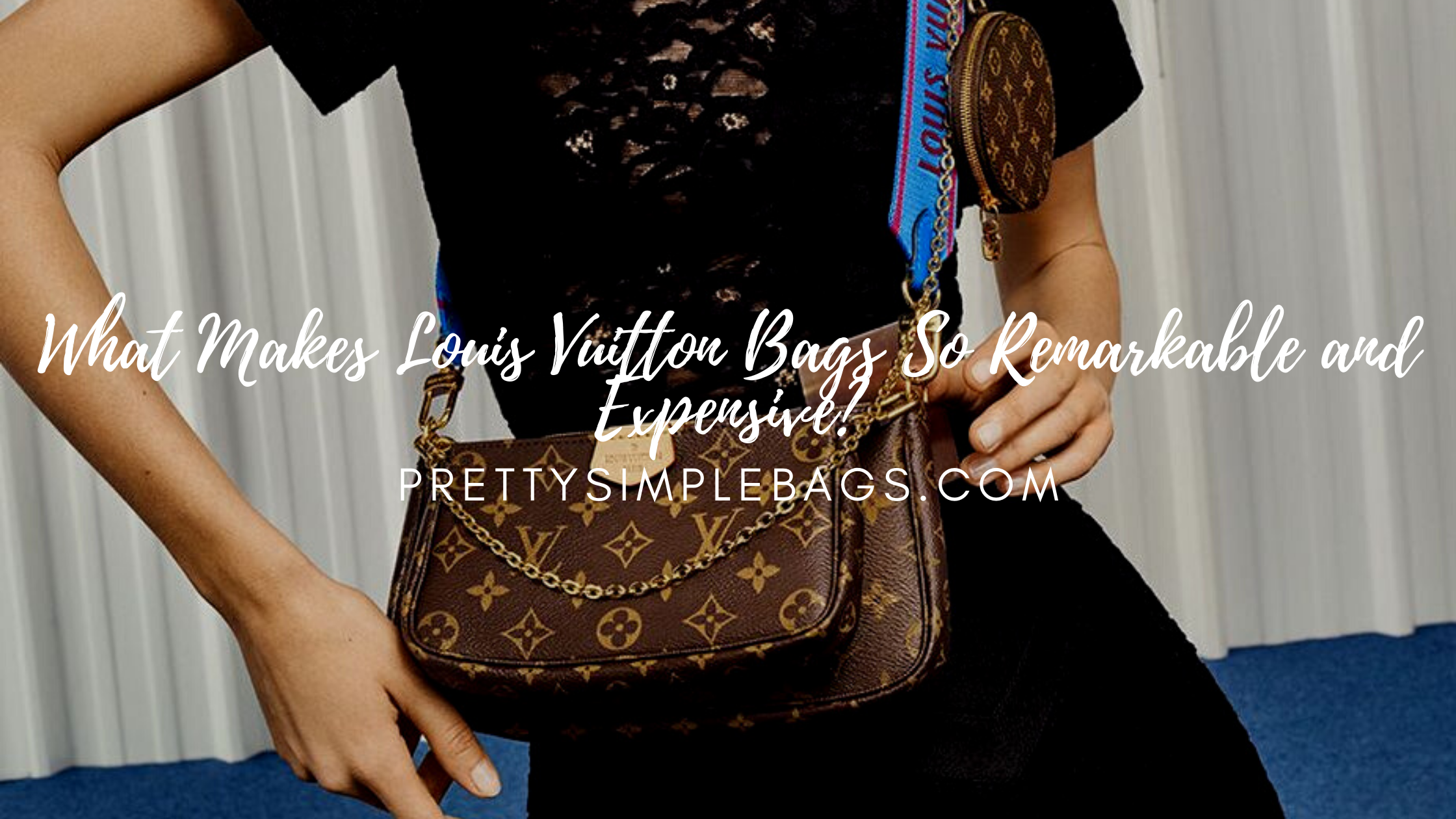 Louis Vuitton has maintained its position as one of the most successful luxury brands in the world. Below, we have outlined some of the major reasons why there is such a huge demand for their products;
Their factories are strategically placed and therefore offer an advantage.
Innovative manufacturing process
Premium products
The materials and decorations used in their production are exclusive to Louis Vuitton
The brand offers up an image of glamor
Besides these, there are some other reasons why Louis Vuitton remains one of the most popular luxury brands and retains the eyes of fashion lovers all over the world. Some of those reasons are discussed below.
The Making of Louis Vuitton Bags
Before 2005, it took 20 – 30 skilled craftsmen about 8 days to produce one Louis Vuitton bag. This process and the rigors signified a certain devotion to quality for most customers but it couldn't cater to the growing demands and there was now a need to make changes. The brand made the necessary changes in 2005, changing its strategy to make production faster without giving up on quality.
By 2020, they had grown their staff of leather goods specialists to 4,000 workers who are all equipped to handle different tasks in the assembly process. With computer technology, the company can identify flaws in the leather used in production, making it easier to reduce these flaws before the bags are sent out to the store for sale. They continue to assemble handbags manually, employing about 250 workers who are stitching machine specialists to handle that aspect of production all in a bid to maintain their uniqueness and quality.
This way, Louis Vuitton has managed to maintain a good balance between automation and their original hand-made processes which have led to quicker production without loss of quality. This way, they are able to maintain their reputation in the eyes of the customers out there.
If you want to appear more prestigious, get yourself a Louis Vuitton bag, fully handmade at the atelier in France. This, of course, costs more money than the others.
Where does Louis Vuitton make their Bags?
This is another question that continues to plague lovers of fashion who want to know the secrets of the brand's success. The brand declared that their products can only be made within Western Europe because artisans from Western Europe are the only artisans in the world with an understanding of what stands for real quality. Where do the myth end and the legend begin?
To maintain authenticity, the brand makes its goods in France, Spain, and California where their production companies are located. The location of this production factory is the reason why authentic Louis Vuitton products are only made exclusively in workshops located in Spain, France, Germany, United States, and Italy. Louis Vuitton owns three Louis Vuitton factories in the United States located at;
-Keene, Texas.
-Irwindale, California;
-San Dimas, California;
Canvas products like Damier, Monogram, and the Multicolore canvas (which is now discontinued) are often produced in US factories.
If you're wondering whether authentic Louis Vuitton Bags can be made in China, the answer is a resounding No! Real Louis Vuitton bags aren't made and cannot be made in China. If you ever come across an LV bag with the inscription "Made in China" that's a huge sign that the bag is fake!
What Materials go into the Making of Louis Vuitton bags?
The materials used in the production of authentic Louis Vuitton bags are quite expensive and include premium leather, lambskin, camel skin, boa and crocodile skin, etc.
Let's take a quick look at some of these materials.
What forms the core of Canvas material?
Canvas is a material made of weaved cotton and a layer of PVC coat. This is a very durable and water-resistant leather, more so than all types of leather. This is why it is used in the making of wallets, bags, and belts. While canvas material can fade with time, you wouldn't notice this until a period of 10years or more.
The canvas material is further stitched to leather which helps to give it the form and rigidity of the accessory. Other canvas materials include Damier Azur canvas, Damier Ebene, monogram canvas, and the Multicolore canvas which is colored.
Vachetta Leather and its making
Vachetta Leather is an unprotected and untreated vegetable-tanned leather that is gotten originally from cowhide. Vachetta leather features a fat content that creates an oily and soft finish
Vernis Leather and its Making
 Because of its shiny nature, many Louis Vuitton lovers feel the Vernis handbags are made using vinyl. This is not true, Vernis leather is produced using embossed calfskin leather.  This is coated with a patent finish which produces the shiny look you see on the leather. This is why Vernis leather is so expensive.
Epi Leather and is making
 Unique plant extracts are used to tan Epi leather, afterward are deep-dyed. A special coloration is applied to the surface of the grain after the deep dying. This final act creates a unique two-toned effect while also ensuring that the bag remains water and scratch-resistant.
Louis Vuitton Empreinte Leather and its Making
Louis Vuitton Empreinte Leather is made of premium calfskin. This makes the bag durable, supple, and easy to care for.
The Making of Louis Vuitton's Exotic Leather
First, leather is procured from several parts of the world including Africa, South Asia, and America. Craftsmen work on 3-5 crocodile skin for over 16 weeks. They ran, dry and nourish these skins. A natural agate stone is used by artisans to create that shiny surface. This process is quite difficult and labor-intensive.
Besides crocodile skin, Louis Vuitton also uses reptilian skins like Lizard and Python skins in their manufacturing process.
Can you get Louis Vuitton Products Repaired?
Louis Vuitton allows the customers to send their bags to the Louis Vuitton repair service where they can take can repair particular elements of the bag. When all known methods of cleaning a stain don't work, you can send your bag in and have it repaired by the Louis Vuitton repair service. Follow the link to see official prices for repair
Which Celebrities are carrying Louis Vuitton Bags?
The fact that some of the biggest celebrities are carrying Louis Vuitton bags is one of the reasons for the brand's huge popularity. The bags become instant hits when fans see their idols sporting a specific bag, then they'd want to carry the bag too because their idol is carrying it too.
Rihanna, Taylor Swift, and Angelina Jolie are some of the biggest celebrities who love Louis Vuitton bags. They all have large collections of Louis Vuitton bags in their collection. This brand offers practical leather that won't be going out of circulation anytime soon.
 You've heard that Louis Vuitton burns all their unsold bags?
This may appear a little odd to you but the brand has a reason for burning all their unsold bags by the end of each year.
Every Louis Vuitton bag removed from the sale may be gifted to someone or purchased by employees who can get them at a very low price or the original cost.
What happens when the bag isn't gifted or sold to employees? It gets destroyed. Most Louis Vuitton materials are fireproof and cannot be burnt instead, they are sent off to recyclers. This is because luxury items are considered so because of their scarcity and not their ubiquity. The brand is able to control demand and protect the brand identity and value of the product. A buzz is always created when a product is released in small numbers, people begin to crave the latest style of the bag immediately.
All the same, why destroy the bag?
You'd never hear that Louis Vuitton is having sales and they don't have outlets also. This destruction of unsold inventory at the end of the year helps the brand to maintain its prices thereby remaining expensive and popular.