One of the most iconic luxury brands, Louis Vuitton's name is well-known and remained as a valuable designer brand for many years until today. A long-standing luxury brand, Louis Vuitton sets high standards for fashion with a signature monogram. The complex history of this brand starts with the founder himself when he was born in 1821 in Anchay, a small village in the east of France.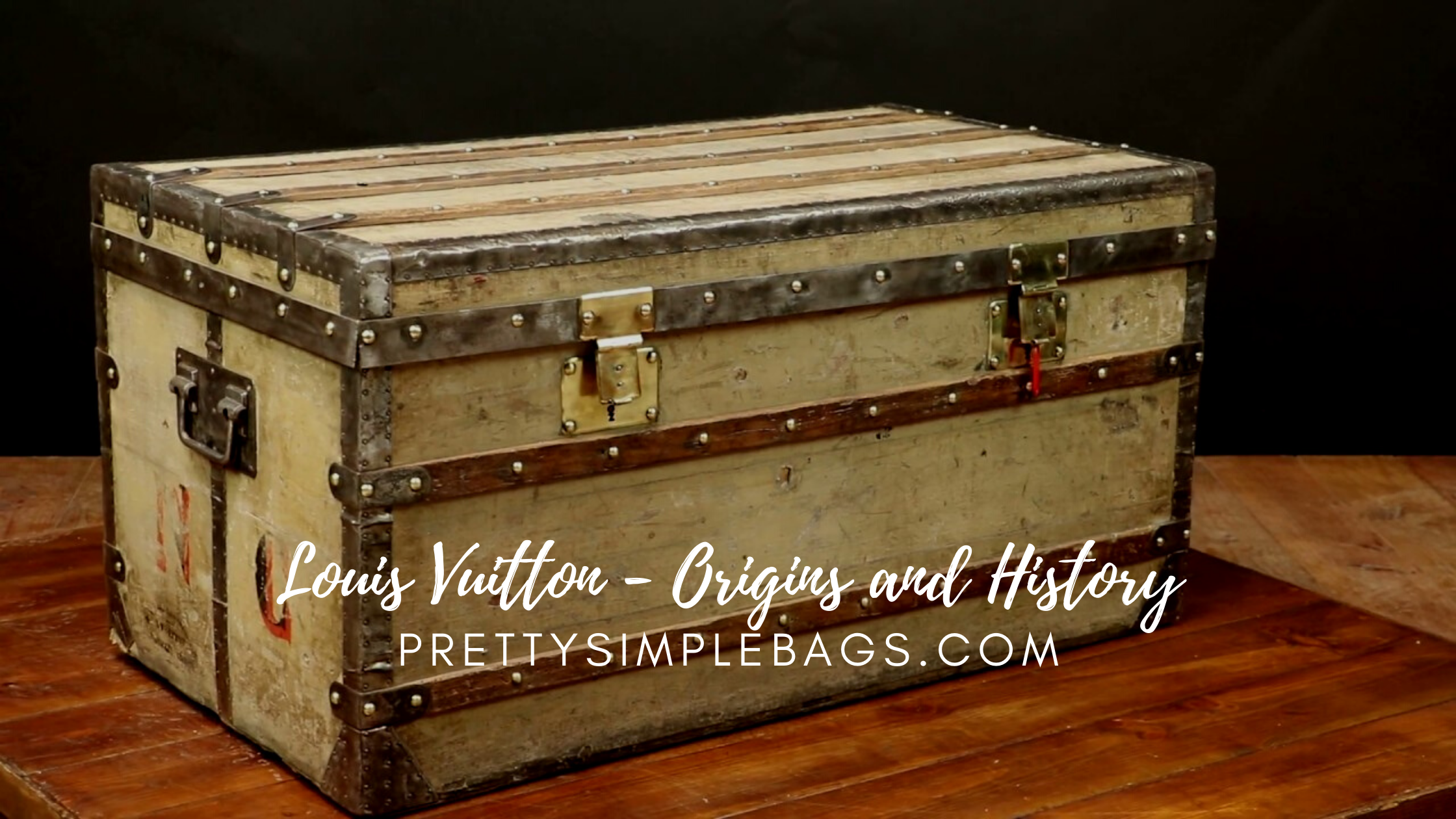 Biography – Where is Louis Vuitton From?
Louis Vuitton Malletier was born on August 4th, 1821 in Anchay, a small mountainous village in eastern France's Jura region. His father was a farmer while his mother was a milliner. Coming from a long line of working-class family members, his ancestors consisted of carpenters, joiners, milliners, artisans, and farmers. At the age of 10, his mother passed away and his father soon after. Left with a difficult relationship between himself and his stepmother, Vuitton left his home at the age of 13 and started taking odd jobs along the way to Paris, a journey that took 2 years as he walked the 292 miles.
Industrial Revolution – How Did Louis Vuitton Start?
In 1837 during the Industrial Revolution, Vuitton apprenticed with Monsieur Marechal, a trunk maker. Within a few years, he gained reputation as one of Paris' more fashionable class in his industry. In 1851, Napolean III staged a coup d'etat and became the Emperor of France. His wife, the Empress of France hired Vuitton as her personal box-maker so he could "pack beautiful clothes in an exquisite way", paving a path for Vuitton to join the elites and royals who continued to seek his services for the rest of his life.
Marriage – Louis Vuitton's First Store
In 1854, Vuitton met 17-year-old Clemence-Emilie Parriaux and married her in April of that year. After the marriage, he left Monsieur Marechal's shop and opened his own place in Paris. Four years after opening his own shop, he debuted a new trunk made of gray canvas that was light, durable, and impervious to odors and water. Its key selling point was the rectangular shape which made them more stackable and convenient for transport, giving rise to the birth of modern luggage bags. To fulfill the demand for his bags, Vuitton expanded to Asnieres, a village outside Paris and received orders from French royalty and the Khedive of Egypt.
Franco-Prussian War – Louis Vuitton Inspiration
In 1870, his business was affected by the Franco-Prussian war which caused the downfall of the French Empire. When the war ended, Vuitton returned to his workshop in Asnieres to find his shop destroyed. He threw himself into restoring his business and within months, has a new shop in a new location located in the heart of the new Paris at 1 Rue Scribe. In 1872, he introduced a new design with beige canvas and red stripes, a design that appealed to the new elites of Paris. This marked the label's modern incarnation as a luxury brand. In 1885, he opened a new shop on Oxford Street in London. In 1888, he created the Damier canvas.
Legacy
Vuitton's success continued for the next 20 years and he continued to create new designs until he died at the age of 70, in 1892. His son Georges inherited the business and changed several aspects in the company. He also created the famous LV monogram with its flowers, circles, and diamonds, a design that was introduced and trademarked in 1896. This design was based on the Japanese Mon designs used in the late Victorian area. The patents of the monogram proved successful in stopping counterfeits. Georges also transferred the business into a worldwide corporation and traveled to major cities to sell Louis Vuitton bags.
He also innovated trunk locks and created VIP trunks that are only gifted to the most loyal customers. In 1914, Georges opened the Louis Vuitton building on the Champs-Élysées which eventually became the largest travel-goods store globally. He continued to expand the business and designing new bags until 1936, where he passed at the age of 79. The business was passed on to his eldest son, Gaston Vuitton.
World War II
During World War II when the Germans occupied France, Louis Vuitton collaborated with the Nazis as told by French journalist Stephanie Bonvicini in her book "Louis Vuitton, A French Saga". The book tells how the Vuitton family aided the Vichy government and increased their wealth. Louis Vuitton has yet to contest anything in the book, but a spokesperson responded in 2004 saying, "This is ancient history. The book covers a period where it was family-run and long before it became part of LVMH. We are diverse, tolerant, and all the things a modern company should be."
Iconic Bags and Business Expansion
Louis Vuitton continued to expand their business throughout the 1900s and along with their famous trunks, introduced bags. One of the first bags that was designed was the big travel bag in 1930, the Keepall. This was followed by the smaller version in 1932, the Speedy, the first Louis Vuitton handbag for everyday use. Its fame inspired bags like Papillon, Alma, and Noé.
In 1959, new technologies allowed for Louis Vuitton to reinvent their classic canvas resulting in a more supple version. This enabled it to be used for more detailed designs. Between 1945 to 2000, they extended their collection by designing products such as wallets, purses, and accessories and incorporated leather into most of their products. In 1970, as Gaston Vuitton passed away, his son-in-law Henry Racamier inherited the company. He realized the popularity of Louis Vuitton and opened more shops around the world.
Louis Vuitton Store in Lugano, Switzerland
Expansion to Asia
By 1977, annual revenue rose to US$14.27 million. Louis Vuitton expanded to Asia by opening its first stores in Tokyo and Osaka in Japan. Subsequent stores later opened in 1983 in Taipei, Taiwan and 1984 in Seoul, South Korea. Racamier later reached another milestone in 1987 as the company joined forces with Hennessy and Moet & Chandon, a merger that resulted in the luxury goods conglomerate LVMH. In 1988, profits increased by 49% and by 1989, Louis Vuitton had 130 stores worldwide. In 1992, Louis Vuitton entered Beijing, China.
Louis Vuitton Store in Tokyo, Japan
Creative Director
In 1997, Louis Vuitton appointed their first creative director, American fashion designer Marc Jacobs who previously worked for Balenciaga. He was hired to introduce Louis Vuitton to the fashion world through his men's and women's collections.
The next decade was all about launching new products at Louis Vuitton. In 2001, they released the first piece of jewelry followed by the Tambour watch collection in 2002. Other introductions include collections such as the Monogram Vernis and Damier Graphite. In 2003, Marc Jacobs collaborated with Takashi Murakami and introduced the new monogram Multicolor canvas. Murakami also created the limited-edition Cherry Blossom pattern.
Marc Jacobs also acquired collaborations with other designers and secured a strong following from celebrities. This led to celebrities such as Angelina Jolie and Madonna who became the face of Louis Vuitton. In 2004, Louis Vuitton celebrated its 150th anniversary and inaugurated stores in New York City, Mexico City, Sao Paolo, and Johannesburg. They also opened their first global store in Shanghai, China.
In 2013, Marc Jacobs stepped down to concentrate on his own brand with the help of LVMH. His position was filled by three designers: Nicolas Ghesquière who oversaw the women's collection, Darren Spaziani for luxury leather foods, and Kim Jones for menswear. In 2018, American designer Virgil Abloh became the artistic director for menswear.
Nicholas Ghesquiere at Paris Fashion Week 2019
Virgil Abloh at Paris Fashion Week 2019
Brand
Based on a Millward Brown study in 2010, Louis Vuitton was the world's 19th most valuable brand estimated to be worth more than US$19 billion. For six years in a row, Louis Vuitton placed first on the list of most powerful brands in 2011 with a value of US$24.3 billion, more than double of the second ranking brand.
Seeking to eradicate counterfeits, Louis Vuitton has a team of lawyers and agencies that pursue counterfeiters globally. The brand allocates about half of its communications budget on eradicating counterfeits. Louis Vuitton products were widely available in departmental stores till the 1980s. However, their products are now only available at company-owned boutiques or small upscale shopping districts. They also have an official online store.
Products
Louis Vuitton trunks have been handmade since the beginning. Some of their most iconic bags include the Neverfull and Speedy bags. Each season, the brand produces limited edition bags that are only available by reservation. Many of today's bags still feature the classic monogram and Damier canvas materials, both of which were used in the late 19th century. By marketing their products through their own stores, it allows the company to control pricing, product quality, and prevent counterfeits from entering its distribution channels.
Advertisements
Louis Vuitton has a wide celebrity following. Their advertisements have featured famous celebrities such as Jennifer Lopez, Sean Connery, David Bowie, Madonna, and more. Advertisements on print ads in magazines and billboards are common. In the 1980s, posters were also used. Eventually, Louis Vuitton entered television and cinema commercials.
List of Louis Vuitton's Special Collaborations
Some of the past collaborations of Louis Vuitton include:
Monogramouflage Collection – 2008
Collaboration with Stephen Sprouse – 2001
Recreation of previous collaboration – 2009
Limited edition shoes – 2009
Infinitely Kusama Collection – 2012
Spring-Summer 2016 collection
American Streetwear Brand Supreme – 2017
Jeff Koons – 2017
Nicholas Ghesquiere collaboration with Grace Coddington
Catogram collection – 2018
Sam Falls, Nicholas Hlobo, Urs Fischer, Tschabalala Self, Alex Israel, Jonas Wood
Artycapucines – 2019
Digital assets in League of Legends
Nigo x Virgil Abloh – 2020
Conclusion: Louis Vuitton Today
Today, Nicolas Ghesquière and Virgil Abloh continues to create new designs by focusing on forward thinking innovative pieces. Ghesquiere has not disappointed and wows the masses with his designs. Abloh also continues to design stunning accessories that captures everyone's hearts. With creative and inspirational individuals at the helm, Louis Vuitton continues to be one of the most sought-after luxury brands in the world known to collaborate with artists, designers, and producing limited edition collections.