Louis Vuitton and Gucci are the most valuable luxury fashion brands out there. This was confirmed by Brand Finance's annual report published in 2020. Compared to the 2019 report, each of the brands saw their stock rise more than 20% over the year and this has made them the most prominent and beloved brands in the clothing sector. We will attempt to compare these two luxury brands, taking a deeper look at them to decide which the better brand is; Gucci or Louis Vuitton.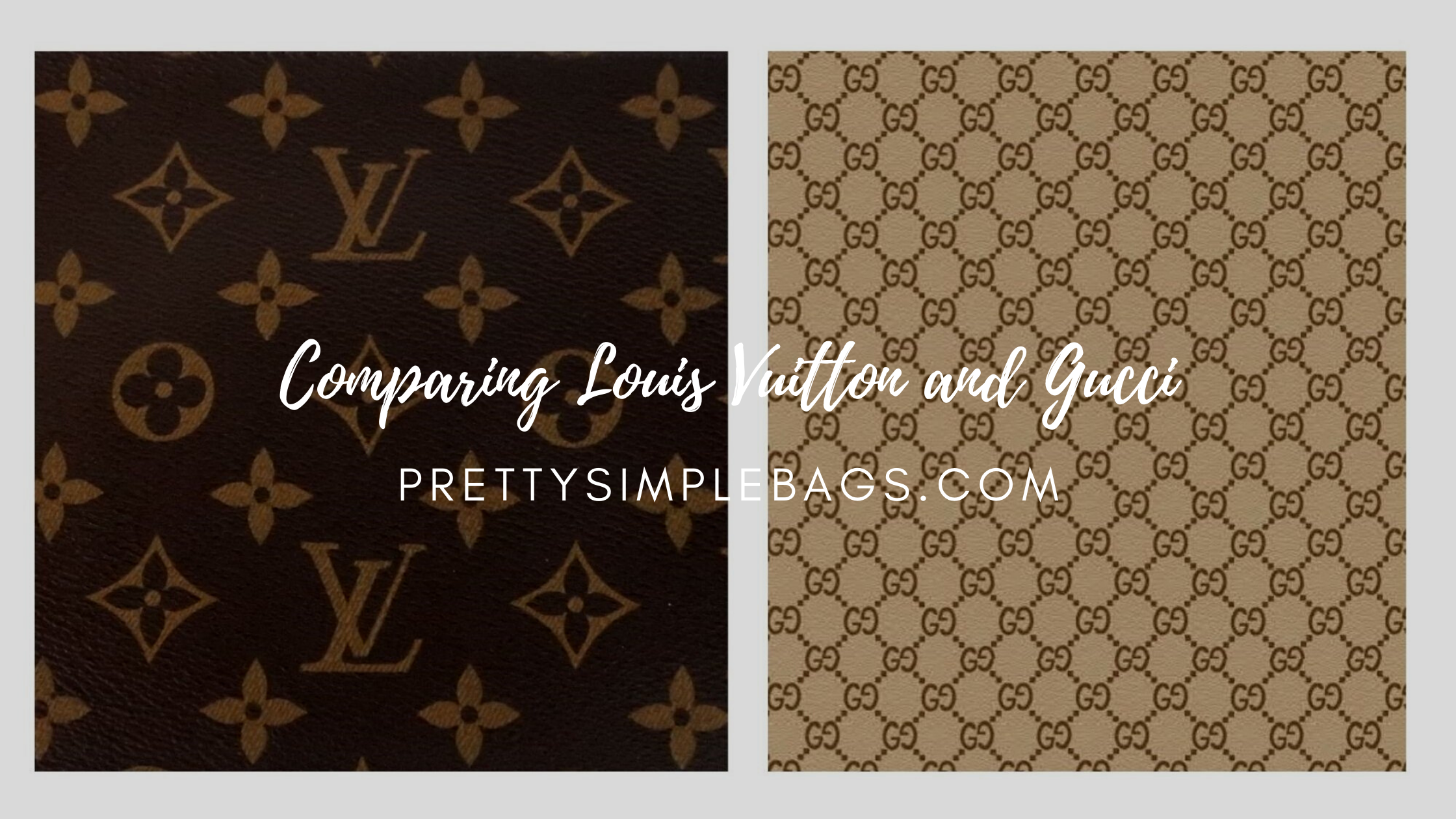 To accomplish our objectives, we undertook a complete examination of these brands, viewing them from several different angles including price, durability, style, and many others. If you are still undecided about which of them you should go for, then this article will help you pick a side. Ready to take the tour of these brands with us?
Let's dig in!
A historical Overview of Louis Vuitton and Gucci
To get a better understanding of these brands, we take a look at their history. These brands are iconic, having attained legendary status both within their own countries and on to the farthest reaches of the earth.
Louis Vuitton
Gucci
Country: France

Year: 1854 (127 years)

Country: Italy

Year: 1921 (100 years)

Brief history: Louis Vuitton is considered a classic French fashion house. Over the years, beginning from its inception, the brand has designed luxury goods that have served the needs of high society. On the very first Louis Vuitton store, a sign above the door reads: "Specializing in packing fashions".

Originally, Louis Vuitton designed and built luggage trunks but would later divert to small leather accessories including handbags and wallets. The brand would expand its reach as the years went by eventually joining forces with two top French companies Hennessy and Moet et Chandon (makers of cognac and champagne respectively) to form the LVNH group. This group would become the unmistakable symbol of status, power, and luxury.

Brief history: Gucci was founded by Guccio Gucci who originally began his business reselling imported leather goods. He also opened a small workshop where he produced his own goods at the same time. Gucci had to become inventive during wartime because leather goods were scarce in the country: he had to turn his attention to new materials, using cotton, wood, and fabric to make his products. Even though he had to introduce new materials, he still maintained excellence when it comes to quality. However. His brand would become a part of the Kering group (known at the time as PPR) in 1999. Gucci, renowned for its love for consistency and time-tested patterns, Gucci continues to lean towards experimenting and creating, unlike Louis Vuitton. Beginning from the mid-90s, this brand has continued to rise gradually in value, earning plaudits and deserved success with millennials and other young people.
Major features: Louis Vuitton is a brand more suited to conservative people. The brand has a tradition of respect for heritage and tradition. For instance, they produce handbags with iconic prints and silhouettes originally produced over 70 years ago and these bags would immediately be sold out. But above all, they remain fashion savvy.
Major features: With a 100-year history and worldwide renown, The golden age of Gucci did not arrive until Alessandro Michelle was appointed the brand's creative director. The Italian designer would go ahead to wow the fashion world with his creative ideas which helped increase Gucci's profit every year until the brand rose to its prominent position as one of the most influential fashion brands in the world. Whatever changes they made, the brand remained committed to the Italian chic. Here's how Alessandro puts it; "Luxury is freedom, and time…and being courageous."
Interesting fact: Each Louis Vuitton collection is unique and comes with its own story all thanks to the brand's collaboration with some of the best artists and designers in the world and decades of expertise.

 

Interesting fact: List Index declared Gucci "the hottest brand on the planet" in the third and last quarters of 2020.

 

Reputation: Louis Vuitton holds a reputation as a fashion house that produces goods of the highest quality that are elegant in style, and timeless with a fashionable bent. Their fame and glory only continue to increase with time.
Reputation: Gucci's reputation is not as unshakable as that of Louis Vuitton probably because the Italian brand is about 70 years younger than the LV brand. Over the years Gucci has had its own highs and lows. Gucci designers are known to target specific kinds of audiences.
Focus on: History, tradition, heritage, collaboration with great artists and designers, and breathing new life to iconic patterns.

 

Focus on: Modern approach to fashion, no stereotypes, creative designs, and constant innovations.

 
If you love experimental styles, innovative, brave, and bold designs, Gucci's creativity is specifically for you but if you are a conservative person who loves timeless and elegant pieces with a history, choose Louis Vuitton.
Now, let us take a look at some items on offer with both brands.
A Range of Items from Louis Vuitton and Gucci
Both brands opened originally with their eyes on luggage trunks and accessories but as the business grew, they began to expand the range of products they have on offer. Now, fashion lovers can all enjoy a wide range of products from both Gucci and Louis Vuitton including watches, fragrances, clothing, and even jewelry. What products can we find on their websites?
Louis Vuitton
Gucci
Handbags

Clothes (including swimwear)

Accessories (like scarves, phone cases, belts, sunglasses, and gloves)

Shoes

Toys and furniture (including decor)

Small leather goods

Fragrances and candles

Travel bags

Watches

Handbags

Accessories (sunglasses, belts, scarves, pantyhose, and socks)

Shoes

Makeup

Clothes (sportswear and lingerie included)

Decor for the house (like home accessories  and tableware.)

Watches and jewelry

Main specialization:  Louis Vuitton is renowned for its purses. While they have lots of products straddling several luxury lifestyle areas, the brand is focused more on purses than anything else. They are so good at what they do that even individuals who aren't so into fashion can recognize the brand with ease.
Main specialization: Gucci provides a new approach to clothing. They ensure that every item they put on their website is followed by the accessories that complement it to create the perfect luxury appearance. Gucci pays more attention to clothes, innovating new looks for modern fashionistas. Gucci's major lovers are young and dynamic people who highlight their own individuality using Gucci's creating clothing.
Louis Vuitton continues to work hard to satisfy the desires of their hardcore lovers. This occurs despite their already established reputation for making premium-quality leather accessories. This is why you can get luxury pajamas or sneakers from them if you so desire. But the world is more interested in the handbags made by this fashion house and there is a good reason for this.
Gucci, on the other hand, is known for creating the unusual when it comes to fashion apparel. For them, purses are just additions to the outfit itself, their attention is on the clothing.
If you are looking to get yourself a luxury purse, Louis Vuitton is the way to go. Note; the prices increase yearly and you can always resell the bags later since they are timeless pieces.
Gucci is poised to gain more success in the purse department in the coming years, this is why it might be a good idea to get yourself a Gucci bag now!
Besides purses, one can make some money on apparel. Considering the growing popularity of Gucci, and the modern tilt towards sustainable living, you can be sure to resell your old clothing and get some money in return.
While we continue, take a look through your closet and pick out those items of clothing you don't want to wear anymore, and set them aside.
The Prices of Louis Vuitton and Gucci Products
We would now delve into pricing, comparing the prices of products from both brands. Since we are Bagaholics, we are very much interested in the price of bags but our dedication to fairness demands that we analyze several product prices and not just bags.
| | | |
| --- | --- | --- |
| Item | Official LV price, $ | Official Gucci price, $ |
| Zip wallet (canvas) | 570 | 550 |
| Bumbag (canvas) | 1,760 | From 780 |
| Tote (leather) | 2,260 | 1,980 |
| Sunglasses | From 475 | From 465 |
| Tanktop | 405 | 490 |
| Sneakers | From 815 | From 690 |
Louis Vuitton is slightly more expensive than Gucci in most cases. The cost of getting a Louis Vuitton purse can go right through the roof! But you can always get the chance to purchase these items at cheaper rates from consignment stores.
Comparing Louis Vuitton and Gucci Styles
Style is very important when Fashionistas are trying to decide which brand is greater between Louis Vuitton and Gucci. You need to make sure that your purses match most of your outfits as well as your lifestyle and this decision is best made right before you make the purchase.
Come, let's take a closer look at the styles of these brands.
| | |
| --- | --- |
| Louis Vuitton | Gucci |
| Style: Classic, Elegant, Formal, and Retro. | Style: Young, bright, bold, creative, and Modern styles. |
| Ad campaigns: Louis Vuitton's ads always tell a story of a high-brow society chock-full of elegance, exquisite landscapes, locations, and A-list celebrities. Their "Spirit of Travel" campaign in 2017 was at Ibiza beach. In 2017, it was the streets of Paris that served as the background for the exquisite photos. What else can represent the excellent style of Louis Vuitton that an image of the French capital? They would take their ad campaign to the Park Lane Hotel in London. This location holds a hundred-year-old history. | Ad campaigns: Gucci's latest ad campaign proves their often mooted interest in a younger audience. You'd find this both in the setting and the stars they assemble. For instance, the brand shot an ad campaign in Disneyland and they've had ad campaigns featuring farmer-punks in a mystical, mythological world. There is another ad campaign paying homage to 80s teen movies. Besides this, Gucci always invites celebrities popular with younger people. |
| Celebrities for Ad Campaigns: Louis Vuitton is known to work with some of the biggest Hollywood stars and models. Some of them include Alicia Vikander, Sean Connery, Michelle Williams, Emma Stone, Gisele Bundchen, and Angelina Jolie. | Celebrities for Ad Campaigns: Gucci has worked with A$sap Rocky, Iggy Pop, Tom Hiddlestone, Harry Styles, Ni NI, and K-pop band members. |
These brands take different approaches and styles to gain the love of their target audience. Gucci fans are drawn in using shiny and vivid lifestyles and the boldness to be unique while Louis Vuitton fans are reeled in using chic and laconic elegance.
Louis Vuitton and Gucci on Social Media
Customer interaction is important to businesses in the modern world. How does each of these brands interact with their huge customer base? These days, we find updates on social media but how exactly do these brands feel about modern technologies?
Both Louis Vuitton and Gucci are present on the most popular social media platforms – Twitter and Instagram. Let's take a look at the numbers they command and their online activities.
Louis Vuitton
Gucci
Twitter: 7.7m followers

Instagram: 44.1m followers

Twitter: 6.1m followers

Instagram: 44m followers
These brands boast almost the same amount of subscribers on Instagram, They post content like videos, and stories often and receive thousands of likes and hundreds of comments from their followers. They can advertise their business with ease on social media, announcing new releases and collections to their numerous customers who live for such news. They also pass these messages with the help of some celebrities.
Celebrities Working with Louis Vuitton and Gucci
There is no better promotion than one done by a celebrity, carrying a brand purse with the brand's logo visible. Let's put aside the ad campaigns for which the brands are paid for, and take a look at what happens when fans see their favorite celebrities carrying brand bags to ceremonies or on pictures taken by paparazzi. This shows the celebrity has made their choice and oftentimes, fans follow where their favorite celebs go. Here are some of the celebrities who either belong to the Gucci Gang or the Louis Vuitton group.
Louis Vuitton

Gucci
Rihanna

The Beckhams

Lady Gaga

Bradley Cooper

Sara Jessica Parker

Cristiano Ronaldo

J Lo

Madonna

Billie Eilish

Beyonce

Margot Robbie

Jared Leto

Kendall Jenner

Harry Styles

Dakota Johnson

Meghan Markle
 Where to Buy a Louis Vuitton or Gucci Product?
If you have already decided that you would be adding a Gucci or Louis Vuitton purse to your collection, the next question would be where to buy it? The 21st century has provided us with some of the best options when it comes to making purchases. Now you don't have to struggle to buy anything and it doesn't matter where you live whether in the countryside or a huge city. Your budget shouldn't keep you away, you can still own a luxury piece irrespective of what you earn.
Louis Vuitton
Gucci
Official Louis Vuitton website

A local boutique

Pre-loved stores and platforms

The official Gucci website

Any boutique close to you

Outlets

Pre-loved stores and platforms
The difference between these brands in regards to purchases is that you can get a Gucci product from other official outlets, unlike LV. Gucci also offers seasonal discounts on some of their products while LV is too interested in the exclusivity of their products.
If you cannot afford the cost of a new item, or you live too far away from an official store, then you should look towards the pre-loved market. Ensure you check our store for some of the best offers on iconic models still in their best condition.
How do we end the Argument? Which is Better?
Louis Vuitton and Gucci look like perfect luxury pieces, little wonder they sit at the top of the luxury chain. But they are both threading their own paths. Each of them takes a different approach to their various range of products, target customers, and ad campaigns. More importantly, each brand seems to have a unique guiding idea. Louis Vuitton continues to prove that classics are never going out of style since some of their products invented over a hundred years ago continues to draw fashion lovers. Gucci on their end continues to experiment, bringing innovation and different and easily adapting to each emerging generation and idea.
If you are still wondering which should be your brand, this article would have helped you learn all you need to know about each brand. Now you can make your decision with some ease. In the end, we hope you are satisfied with whichever brand you decide to go with.
If you end up buying a pre-loved purse, ensure that the bag is authentic. You can do this by ordering an authentication service. This service doesn't cost a lot but it will ensure you have peace of mind with your purse.