This scarcity has become the major concern of Louis Vuitton fans and as such, it has become one of the major questions and hot topics on most forums where these fans gather. Fans are concerned that the French brand has begun a gradual phasing out of canvas pieces. Could this be true? Or is something else responsible for the Shortage of Louis Vuitton Canvas items? Read on to find out!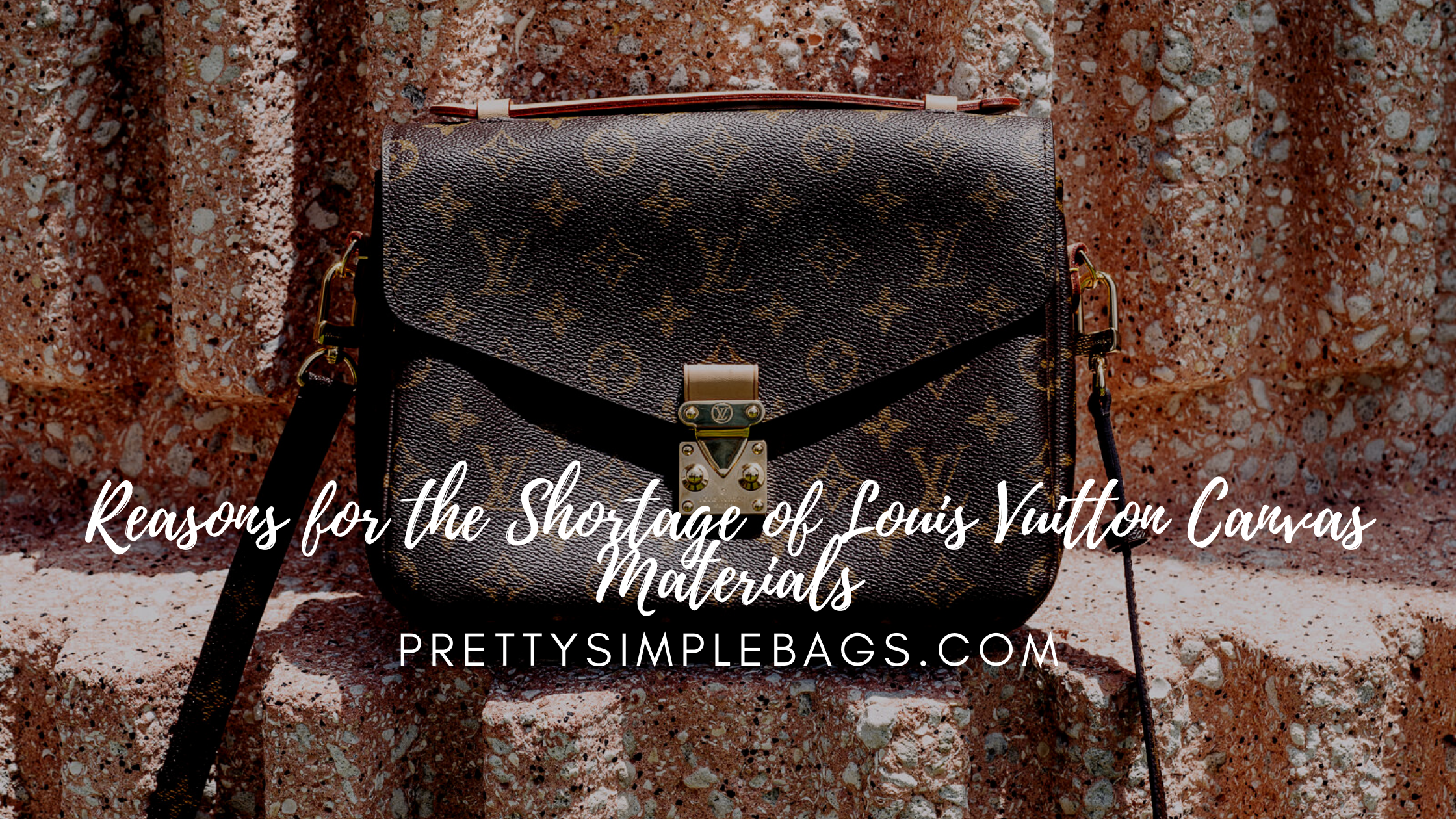 Louis Vuitton Canvas items are constantly out of stock!
Yes! You heard that right! And this has been the reality for at least a year. If you hope to step into a Louis Vuitton store or visit the website and get yourself s Monogram or a Speedy immediately you will be sorely disappointed. As a matter of fact, we checked the website while writing this article and couldn't find any of the 4 sizes (bandouliere and traditional) in any material.
We found the situation to be slightly better with the Neverfull; PM and Damier Azur sizes were not in stock but I found the Damier Ebene and Monogram which were available in GM and MM sizes.
When we checked for the Louis Vuitton Pochette Metis, which is the most popular Louis Vuitton bag currently, we found the Reverse and the Monogram are unavailable on the Louis Vuitton website and this has been the case for almost a year now. The same situation is noticed when you take a look at small leather goods like mini pochettes, wallets, key pouches, and others. These are simply entry items while Neverfull and Speedy are considered classics. We might really have a real problem here.
Currently, Louis Vuitton fans are frustrated and angry at the lack of canvas pieces noticed so often on the website.
What could be the cause of the shortage of Louis Vuitton Canvas Items?
There is no doubt that there is a real shortage of Louis Vuitton Canvas items. When you visit the "what are you stalking today" thread on the purse forum, you'd find that it goes as far back as 2018 although it is mostly dedicated to items that have become extremely scarce. This shortage of Louis Vuitton canvas items, specifically the popular ones became obvious just about a year ago.
The easiest explanation that suggests itself, which is quite scary, is that Louis Vuitton gravitating towards leather bags. It saddens Louis Vuitton fans when they see such comments like the above on forums because Louis Vuitton canvas pieces with world-famous prints have always been a major reason why they love the brand.
Some people claim to have spoken with their SA who confirmed the theory. When Louis Vuitton moved to discontinue Toiletry pouches 15, 19, and 26 in June 2021, they provided more fuel for the fire. Let us take a closer look at the facts.
For several years, this speculation about Louis Vuitton's plans to slow down the production of canvas items has been ongoing. Certainly, Louis Vuitton would love to sell more leather bags considering they charge a premium but their holy grail has always been the Monogram canvas.
These canvas bags rake in huge sums for the brand because it is more approachable for people, leading to quicker sales which of course is the reason it's out of stock, it sells fast. And here's your real answer, the canvas pieces are unavailable as a result of the laws of supply and demand.
It's possible that the brand may want to focus on leather items which could be the reason why many fans have recently begun to notice that leather items are currently the only handbags on display in boutiques while all canvas pieces are hidden. But it is quite unlikely that all canvas items will disappear from stock.
Take a look at the latest releases, for instance, there are canvas bags there too. Remember the Onthego totes unveiled in 2009? The Jungle, the giant, and the newest "By the Pool" lines all of which have canvas items among the offering.
Why do we seem to have more demand than products?
The closure of most factories during the height of COVID-19 contributed to the shortage. This is not unique to high fashion alone, the pandemic affected many industries. This pandemic is also directly responsible for the dramatic price increase noticed at the beginning of the year. One of the SAs told a customer that the reason you find sold out on a lot of items is that the delay in shipment and production following COVID and holidays (mother's day, valentine's, and more) had left them wiped out slightly but they are beginning to replenish gradually.
Another reason is tied to the usual practice of storing canvas during the summer months for Christmas since they are popular gifts. This has been going on for years but the difference is that while no one noticed it in the past, it has become more noticeable now due to the delay in shipment caused by COVID. There is some hope that by September, every "Sold Out" will become "Place in Cart"
Conclusively, Louis Vuitton is obviously leaning towards more leather products but Canvas items are still being produced almost at the same pace as before and it is not quite time to say goodbye.
How to get out of stock Louis Vuitton Items
The thing with rumors and speculations of this sort is that they create more demand. It doesn't matter whether there is any veracity to the news. Now you have fans of the brand stalking the website to get the piece they really desire. This, of course, is a hobby on its own but it is quite a tiring task. Below are tips on how you can get yourself some out-of-stock Louis Vuitton pieces.
The first thing you must do is create an account on the website. This saves you a lot of time at checkout and to make it easier for yourself, you may want to link your credit card or PayPal immediately.
Create a wishlist of all items you may want to acquire which are not currently available on the website. This way, you won't be forced to spend a lot of time searching for the items on the website or checking the item's availability all you'd need to do is refresh your wishlist. Some users have also noticed that availability is updated faster on the wishlist than on the item's full detail page.
Be sure to check out the website regularly. Threads like "what are you stalking today?" would be very useful to you. Customers often make posts there when they catch sight of any in-demand item that suddenly becomes available, when they do, you may be the lucky one who gets the product. Make a point to check what time comments like this appear because items appear to be restocked at regular intervals. If you notice a pattern, try to check the website at those specific times.
You may encounter a situation where the website starts to browse and then days the item is out of stock again. This is very sad and frustrating, we understand but don't fret too soon, refresh the page because the item might just become available again if a customer decides not to continue with payment.