Louis Vuitton's Neverfull Tote introduced in 2007 has gone ahead to become the brand's most successful bag of all time, surpassing all the designs that came before or after it.
Let's take a quick look at the bag's history to gain insight into existing styles and currently available styles.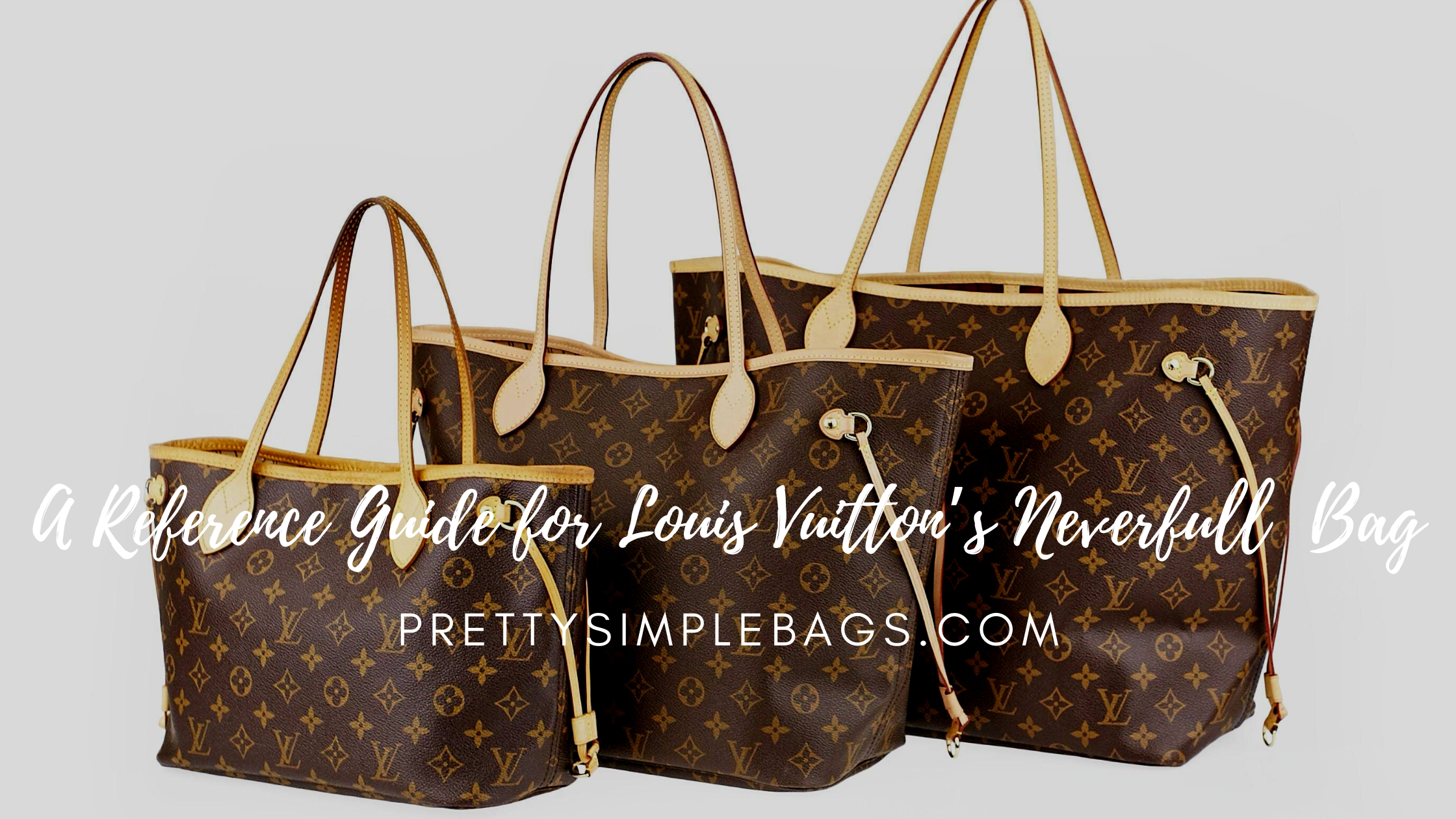 A Short History of the Louis Vuitton Neverfull Bag
It has been suggested that the Neverfull was designed to create competition for the Goyard Sait Louis tote. This may be true considering their notable resemblance.
That said, one might argue that the tote shape is a common design in the world of designer bags so how would we be able to decipher who copied whom?
Whichever the argument goes, the only constant is that Louis Vuitton applied the trademark craftsmanship it brings to all of Its bags to this piece.  That means durability and quality are guaranteed.
Neverfull was standalone when it was originally released in 2014. Later, the brand added an internal pouch, upgrading every other version released after 2014.
There was also an increase in price after the addition of the pouch. The new price sailed above the psychological point of a tote made of PVC when it went beyond $1,000
The Neverfull price shot from $980 to more than $1,200 in 2014
There was another Neverfull news in 2014.
Louis Vuitton put a stop to the Neverfull color scheme and brought in thee extra colors for the interior monogram print for the spring season.
The interior now has three colors namely yellow, orange, or Fuschia.
Three pieces of interesting Neverfull Factoids
Everyone loves fun facts, let's take a look at these fun facts about the most loved Louis Vuitton bag.
1. Reverse for a new look!
While quality may be one of the bag's best features, versatility is another notable feature. A lot of fans are not aware of this but the Neverfull is completely reversible. If you want to have the bag in s textile version, just expose the interior. The bag also comes with a wallet just to ensure you keep track of your keys and cards.
2. Neverfull handles can hold 231 lbs or 100 kg
These handles may appear thin at first but they can hold just about anything. The original design of the Neverfull was to give the modern woman a bag that can carry lots of things.
3. A Neverfull bag Takes about 45 hours to create
While the Neverfull is assembled by craftsmen, parts of the bag are produced in different parts of the world.
PM/MM/GM Size
Louis Vuitton Neverfull comes in three sizes including PM, MM, GSM. Beginning from the largest which is the GM or grand model, we go down to the MN or Medium models and PM which refers to the Petite model.
·         PM – 11.4" x 8.7" x 5.1"
You can fit small accessories into the Neverfull PM bag. It can take your iPad but not your notebook.
It is quite roomy and can take more than you know.
The name is apt here, this bag is literally never full. You can rock the MM and GM sizes as shoulder bags but the PM version can only be a handbag
·         MM – 12.6" x 11.4" x 7.5"
This size is the most popular of all Neverfull bags. This is because it is s medium-sized tote that can fit into everyday routines.
You can get your laptop irrespective of the size. It can also take most of your papers and documents. You can get an organizer to help you organize your things. You don't have to look too hard, organizers are easy to find.
·         GM 15.7" x 13.0" x 7.9"
The GM size is for those that seem to need a little more room. It is larger and offers more room than most bags. The GM seems to spot an unlimited storage capacity.
You can actually get loads of stuff into this bag from diapers to another bag!
PM/MM/GM Bags Pouch Sizes
Did all Neverfull bags from Louis Vuitton come with pouches?
The removable zip pouch/ clutch was only added in 2014.
The pouch which is s flat canvas pochette can sit inside your favorite Louis Vuitton bag with a leather strap or be carried as a clutch.
You cannot purchase this pouch separately from Louis Vuitton (you can if you recently purchased a Neverfull from Louis Vuitton only recently. You can get the pouch from other Neverfull owners who wish to resell. The cost is usually about $300
You can get the Neverfull pouch in two sizes:
MM/GM Zipped Clutch Pochette: 9.75″ L x 6″ W
PM Zipped Clutch Pochette: 7.6" L x 4.75" H
Make sure you get a size that suits all your needs when you get a pre-loved version of this bag.
The Neverfull and Price and increase through History (US).
This overview below shows you the price of the Neverfull from its inception in 2007 to its increase through the past 13 years.
Generally, Louis Vuitton increases its prices twice every Year around February and October. Each year, prices climb higher and Louis Vuitton doesn't give discounts.
The main price increase occurred in 2014 after the addition of a detachable pouch to the Neverfull
| | | | | | | | | | |
| --- | --- | --- | --- | --- | --- | --- | --- | --- | --- |
| Bag | 2007 | 2009 | 2011 | 2012 | 2013 | 2014 | 2017 | 2018 | 2019 |
| Louis Vuitton PM Monogram | $575 | | $770 | | | | | | $1,240 |
| Louis Vuitton Neverfull MM Monogram | | $700 | $820 | $850 | $940 | $1,180 | | $1,240 | $1,320 |
| Louis Vuitton Neverfull GM Monogram | $655 | | $870 | | | | | | $1,400 |