Louis Vuitton, the world's most successful luxury brand was launched by Louis Vuitton Malletier in 1845. The Louis Vuitton brand has gained global recognition and the hit-lists of many handbag fanatics are not complete without a number of the classic handbag styles. But what is actually used to make the Louis Vuitton bags? In this blog, we will examine it closely and explore the fabrics used by Louis Vuitton to make their iconic line of luxury bags.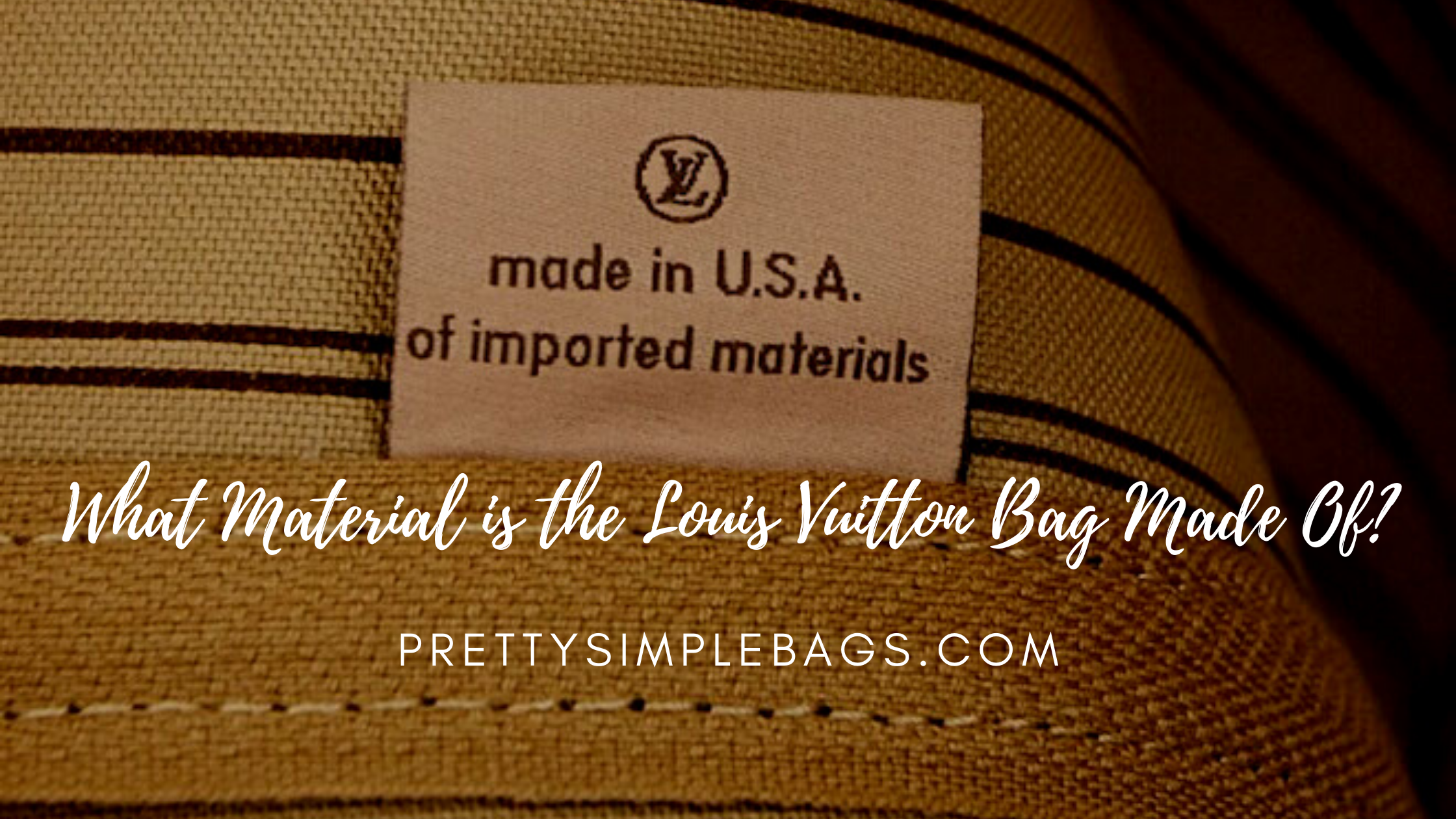 Louis Vuitton Bags: What Are They Made From?
Louis Vuitton has a reputation for making use of some of the best materials and workmanship to produce their designer bags. They make their line of iconic bags using leather, coated canvas, and exotic skin as basic materials. Gold or brass is used to make the hardware of the bags.
The material used to make a Louis Vuitton bag varies among different styles of handbags. For example, the Speedy and Neverfull are classic styles made mostly out of the coated canvas, while a full leather option like the full EPI leather is also available.
Is Leather Used In Making Louis Vuitton Bags?
The straightforward answer to this question is yes, mostly. Almost every Louis Vuitton bag is made out of leather or comes with leather trims like handles. However, one common misconception is that leather is used to make the Louis Vuitton canvas (the Damier Ebene, monogram, or Damier Azur prints). Louis Vuitton canvas is not made out of leather but a majority of the bags that are manufactured using a coated canvas will have leather handles and trims.
Nevertheless, not all bags follow this rule as some are made entirely out of coated canvas without any leather, for example, some models of the new OnTheGo Tote bag. Note that while leather may not be the fabric used for the OnTheGo tote bag, the interior of the bag will have leather tabs with logo prints and a date code tab as well.
All the classic Louis Vuitton bag styles including the very popular ones like Speedy, Neverfull, NoeNoe, and Alma, come with leather trims like leather straps and handles. Styles like the Capucine and LockMe lines are generally made entirely of leather, with the Capucine bags having a leather lining as well.
Louis Vuitton makes use of different leathers for its different lines of designer bags such as EPI leather, Empriente leather, Vachetta leather, and Taurillon leather. Among these, the brand is known to use Vachetta leather the most and this has a tendency to develop and maintain a patina after a while.
What Is Used To Make the Louis Vuitton Coated Canvas?
The renowned Louis Vuitton monogram is engraved on a cotton canvas, along with the light-colored Damier Azur checker-board and the dark brown Damier ebene prints. The canvas is purely made of cotton on which a plastic known as polyvinylchloride is coated. The result of this process is the Louis Vuitton coated canvas which has a hard-wearing nature. Therefore, the canvas is not made of leather.
Does Louis Vuitton Make Bags From Animal Skin?
Yes, Louis Vuitton makes bags from animal skin (leather), or many come with at least leather trims and handles.
Some Louis Vuitton bags are also made of exotic animal skins, of which python is a favorite. Some rare exotic skins such as ostrich, stingray, and crocodile are also used to produce some rare Louis Vuitton bags.
There are also some rare Louis Vuitton handbag styles that are entirely made out of coated canvas but the leather will be used to make the logo tabs and date code tabs on the interior of the bag. As a result, anyone who is a vegetarian or vegan and does not support the use of animal skin to make items such as bags will not be able to buy these bags from Louis Vuitton.
Where Are Louis Vuitton Bags Manufactured?
Louis Vuitton makes its bags in specific countries across the world. Currently, these countries include Italy, France, Spain, Switzerland, Germany, and the USA.
As of today, Louis Vuitton does not make bags in China, and any Louis Vuitton bag indicates this is definitely a fake product.
Does Louis Vuitton Handmake Its Bags?
Yes, the bags from Louis Vuitton are entirely handmade by skilled craftsmen and women. The company has a reputation for paying attention to detail and producing high-quality items, especially handbags. Anytime there is an issue with your new Louis Vuitton bag, they are usually ever willing to replace or repair the item. There are claims that about 100 checks and processes are carried out on every Louis Vuitton bag before they are offered up for sale.