Whether you own a Louis Vuitton bag or you're planning to get one of those beauties for yourself, odds are, you would also want to learn the best ways of caring for your leather Louis Vuitton bag too! We have drawn up the perfect guide to handling LV leather in this article.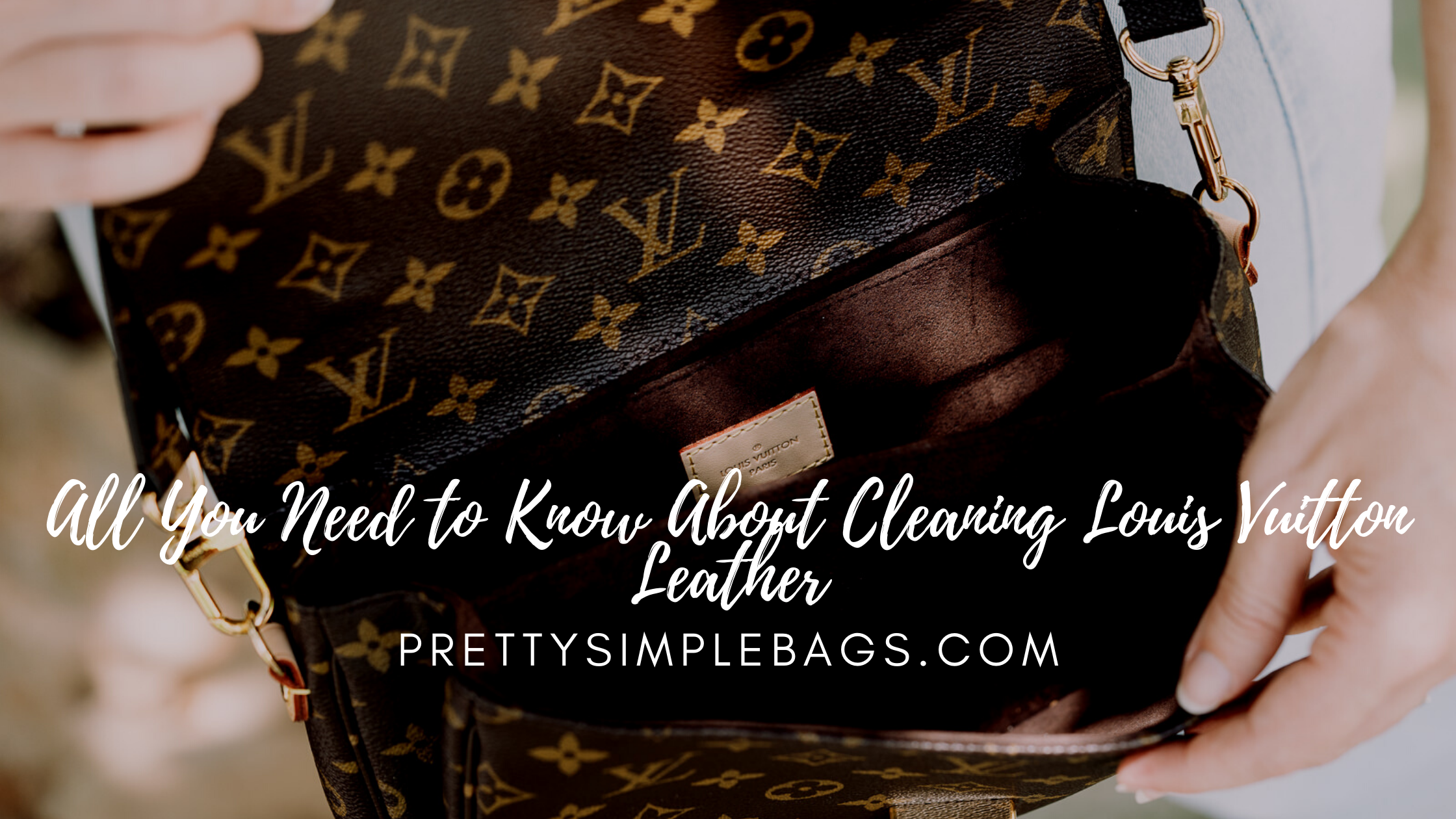 Louis Vuitton uses different leathers in their production. Whether it is the full leather bag designs like the Capucines or other bags that have a bit of leather featured on their trims or handles like Neverfull, you are sure to see a variety of leather with Louis Vuitton. Here's the catch, all these leathers must be cared for in specific ways.
All the varieties of Louis Vuitton Leather
Before you pick out that dream Louis Vuitton bag, you should know a few things about the premium materials used by this premium brand. Some of their leathers are more exotic and rarer than others and as such, would cost more and also demand that bit of unique cleaning and care routine. Other leathers would last longer than others and would serve everyday purposes like the Taurillom and EPI leather.
| | | |
| --- | --- | --- |
| Leather Type | Leather Properties | Durability |
| EPI Leather | Durable and hard-wearing leather. | 9/10 |
| Taurillon Leather | Hardwearing leather. Over time, it is likely to soften and show visible signs of wear around the corners. | 8/10 |
| Vachetta Leather | Calf-hide leather. Ultrasoft to touch.  Sturdy. Grows darker with age. | 7/10 |
| Empreinte Leather | Hardwearing Leather. Over time, the embossing may fade and leather is likely going to soften. | 8/10 |
| Lambskin Leather | Produced from youthful sheep. luxuriously soft and lightweight lambskin leather. | 5/10 |
| Vernis Leather | Bright / Patent finished leather. Could be damaged by direct sunlight. Water-resistant. Susceptible to color transfer from non-color-fast items. | 7/10 |
| Crocodile / Alligator Leather | Rare leather and as such, very expensive. Extra sturdy. Silky to touch. | 8/10 |
| Ostrich Leather | Extra sturdy. Very malleable. One of the toughest leather out there. Ultrasoft to touch. | 9/10 |
| Exotic Leather (e.g. Python) | Rare leather and as such, expensive. You must give it extra care as the scales raise over time. Sturdy is well cared for. | 6/10 |
We have included in the table below,  most of the leather Louis Vuitton uses in producing some of her premium designers pieces.
But we must point out that canvas (like the notable monogram canvas) is not included since Canvas isn't considered a leather.
Ways of cleaning Louis Vuitton Leather.
It is necessary to clean your LV leather bags. This helps with reducing dirt and bacteria that might accumulate on your top-quality handbag. We recommend you use a simple leather cleanser, then a conditioner on most of the LV leather. The leather cleaner will help to rid the bag(s)  of dirt without causing any damage to the leather while the conditioner will restore and nourish the leather.
Recommended LV Leather Cleanser
The best leather cleaner we have encountered so far is leather cleaner and conditioner. They come in small bottles but the price is quite reasonable. This small bottle will clean a large collection or last much longer if you only own a small collection of LV bags.
You can use the leather cleaner and conditioner set on all Louis Vuitton except for Vachetta leather (answers are found below). If you make the mistake of using cleaner and conditioner on Vachetta, you will find that they will darken the Vachetta slightly. It will also darken exotic leather like crocodile and python leather. Always go for a professional cleaning service when you want to clean exotic skins like crocodile and python leather or contact the brand directly to learn how best to care for this rare iCleaner.
The Best Way to Clean and Care for Vachetta Leather
Vachetta is one of Louis Vuitton's most used leather. They've used the leather so much that the brand has come to be associated with Vachetta. Vachetta leather is untreated calf-hide leather. It is sturdy and ultrasoft to touch. Note that Vachetta Leather will grow darker over time as a result of exposure to sunlight and the natural oils the untreated leather has absorbed. Having understood this, you understand the need to give your Vachetta Leather Louis Vuitton that extra bit of care. With that extra care, you may be able to slow down this aging process. It's up to you.
How sturdy is Vachetta?
The answer is yes! Vachetta can stay around for very many years. Nevertheless, the untreated nature of the leather makes it a more difficult leather to care for. It could be scuffed and scratched when it comes in contact with rough or sharp surfaces.
The sturdy nature of a thick Vachetta leather bag is the reason your bag won't break or tear up easily. If you use it right, it is likely to serve you for several years. If extra care is provided, you might enjoy a lifetime of use from such Louis Vuitton bags as the keep-all travel bag. It is durable, but that doesn't mean the leather will look new forever.
Caring for Vachetta Leather
Run a clean, wet cloth over your Vachetta Leather handles and straps when necessary; this is the best way to care for Vachetta Leather daily. It helps to rid your bag of dirt and maintain the even look of the patina. Some people also chose to use alcohol-free baby wipes instead of damp cloths.
You are advised to undertake a deeper clean every 6-8 months. We recommend a special leather cleaner for this. This will be gentle on the leather  Removing dirt and killing germs and bacteria. Apply a nourishing conditioner afterward. The Simply Leather cleaning set(seen below) is perfect for you due to its soft effect on leather and powerful action against dirt and stains. The price is quite reasonable too! Remember that deeper cleaning action (the conditioner worst of all) would darken the Vachetta slightly. Before you work on the whole bag, try this process out on a small patch of the leather, and be sure you like the result before going gung ho on the bag.
The Patina of Vachetta leather: what does this refer to?
Understanding Vachetta patina
Patina is a process that Vachetta leather goes through as it ages, which results in the darkening of the leather.
What does Patina mean?
Over time, due to its untreated nature, Vachetta Leather darkens. This natural process is what is referred to as the Vachetta patina. When you purchase a Vachetta bag, the color is usually light brown. Over time, following contact with sunlight and oils not forgetting everyday wear and tear, the leather will begin to darken. The darkening process begins with a movement towards a natural homey coloration (dark golden brown). After many more years of heavy use, it will turn a dark brown (almost black) color. When you care for a Vachetta properly, it will either slow down the aging process or speed it up but it will rid the bag of dirt and brighten the leather a teeny-weeny bit.
The patina process or darkening of a Vachetta is a natural process that cannot be stopped. If you do not like the patina process, you should do well to steer clear of all Louis Vuitton bags made with untreated Vachetta leather. You could go for the Damier Ebene print which is combined with treated Vachetta leather in dark brown; it's a perfect compromise.
Stopping Patina or Speeding up the Process
You cannot stop the patina progression of Vachetta leather but you can slow it down if you care for your bag properly. Here are a few important steps to follow if you want to slow down the process:
Always keep your hands clean. Don't touch the leather if your hands have even a smidgen of hand cream, hand sanitizer, or other things.
Storage of. Vachetta bags should be in the dust bag while you must also ensure that the bag isn't exposed to natural sunlight.
Do not condition the leather, it will naturally make the bag darker. Conditioning will help Vachetta leather to stop cracking but we don't recommend you do this to a new bag especially when you want the patina to remain as light as possible. We only recommend this when the bag is older and already turning a natural honey color.
Here's how to speed up the natural patina process for your Vachetta if you want that natural patina looks for your new Vachetta leather bag:
Place the bag under the sunlight. Be sure not to do this for too long as it might dry up the leather.
leather conditioner on the bag.
Using Baby Wipes to Clean Vachetta leather.
One way to clean your Vachetta leather while still avoiding that darkening hue is to use alcohol-free baby wipes and oil. This rids the bag of surface dirt whilst retaining much of the original coloration.
For most people, Vachetta cleaning should be done with a clean, damp cloth. The leather will darken slightly but if you apply this method lightly and evenly, it could be a very effective cleaning method. Always try these ideas out on a small patch of your leather before carrying it out on the whole Vachetta leather. Do not be alarmed when the Vachetta begins to darken as it absorbs the leather but as the bag dries up, it will lighten up too.
Should Louis Vuitton's Vachetta stain?
The answer is yes. Vachetta leather is used in its natural state; it is untreated and has not been coated with a protective membrane. In this state, the leather can soak up things like water or stain. Note that it will be really hard to clean a stain off a Vachetta leather.
Water stains remain one of the major issues with Louis Vuitton's Vachetta leather. If you would love to learn how to avoid watermarks like rain marks, read on for ideas on how to make your Vachetta leather bag Waterproof. Of course, no one would love to be caught in a rain shower but if this happens, you should at least dispense with worries in regards to the safety of your Vachetta leather bag.
Applying a Magic Eraser on Louis Vuitton's Vachetta
When you own an old Vachetta leather bag, you may feel the need to give the bag a new lease of life. One way to do this is by applying a magic eraser but before you do this, you are advised to carry out proper research and take necessary precautions. The application of a magic eraser is a strong treatment for your leather, it could potentially dry your leather and lead to cracks if it's not done right.
Before using a magic eraser on a Vachetta bag, make sure the bag has been conditioned with a conditioner. (Of course, you must allow the conditioner to dry properly). Rub the magic eraser gently on the leather (do not scrub). Rub for between 10 to 30 minutes. Remember, to try this out on a small patch of the leather first before taking the final leap.
Waterproofing and protecting your Vachetta leather from Water Stains.
We understand that water can damage and stain Vachetta leather. Below, we take a look at the best ways to avoid this. Scenario.
How to protect your Vachetta Leather Bag from Watermarks.
You wouldn't want to live in fear of being caught in the rain with your new Vachetta leather bag, what you want is to enjoy your new bag. Thankfully, there are some useful precautionary measures you can take to cut down the chances of watermarks. One good option is to create a protective membrane on your Vachetta using leather sprays. This will repel water and reduce the stains from water contacts.
We have demonstrated how a Vachetta can be sprayed with Carbon Pro to create that waterproof exterior after the bag has been cleaned fully. To show how effective this can be, we have also poured water on one of the Vachetta straps. Repeat this process every 2-3 months if you use your bag daily. If it's not for daily usage, then you should repeat every 6-12 months because the membrane is bound to lose its efficacy over time.
 How to rid your Vachetta bag of Watermarks.
If you find that there are water stains on your Vachetta leather bag, the first thing you must know is this; there's no easy way to clean off the stain. The best thing you can do is take a clean, damp cloth and run it over the Vachetta leather carefully. This process makes the marks a little more even but the leather will become slightly darker.
After you have finished this process and the result pleases you, be sure to use Carbon Pro to make your Vachetta water-resistant just to make sure you don't have to start cleaning another stain soon.
What Causes the Cracks in Louis Vuitton Vachetta Leather?
Natural skin has to breathe and be moisturized now and then and since Vachetta is leather too, it needs this airing. This points to the fact that a Vachetta bag would become brittle and crack if it is left to dry out and not conditioned properly, it gets worse as it gets older. Cracking is often noticed on the handles and opening of a designer bag. This is because these parts undergo the most strain of all and are constantly rubbed and moved.
How to Mend a Cracked Vachetta Leather Bag.
Fixing a cracked Louis Vuitton Canvas or Vachetta Leather is never easy. We recommend sending the Louis Vuitton bag to a repair professional for Vachetta bags to handle the repair or replace whatever might need fixing. Louis Vyprovides a leather replacement service but they only offer this when the bag is in good condition. They also retain the right to refuse the repair. Direct leather replacement from the brand may also be expensive.
How can one get Louis Vuitton's Leather Replacement?
There are two options when it comes to getting an LV Vachetta replacement. You could take your bag into a Louis Vuitton store and request a replacement. The brand will give you a price for replacing the leather only if they are happy to do this. The replacement can be expensive and may take weeks, sometimes months before you get your bag back.
The second option is to take your bag to a third-party service. You should find one that specializes in designer bags. You must understand that a bad replacement could affect the value of the bag especially when it wasn't handled directly by Louis Vuitton.
 How to protect your Vachetta from Cracking
These are: You can't protect your Vachetta leather fully from cracking but there are steps you could take to protect it for as long as you can.
me temperature changes (e.g. very hot and very cold)
Storage should be done in a breathable dust bag (the best is the one provided by Louis Vuitton)
Remember to condition the bag at least every 6 to 12 months immediately it begins to develop a natural patina.
What is the result of conditioning a Vachetta Leather?
Conditioning is to the Vachetta leather what a moisturizer is to the skin. It helps to refresh the leather's moisture and protects it from becoming dry and cracking. You are advised to use a cleanser and a conditioner to remove the dirt first, then apply a conditioner to condition the leather.
Expect to have your Vachetta leather turn a slightly darker shade after you've applied a conditioner. The bag is usually a natural honey patina and once the color has turned a natural golden color, the color wouldn't be affected much anymore.