Sometimes, you can know everything about a bag by simply looking at it. Fashion houses make their products in unique prints so that they can easily be identified. If you find yourself right in the crowded middle of New York City, you will identify the Louis Vuitton bag apart from everything else because of its famous pattern.
Some of them are already famous and a bag with the Louis Vuitton pattern works perfectly with any outfit. Hence, it is not surprising that they are sought after by fashionistas and replicated by forgers. This post will be all about the various Louis Vuitton patterns and prints that exist, from vintage and legendary ones to the new collaborations with the artists of today that have become popular among designer bag lovers.
Classic Louis Vuitton Prints
We believe that anyone, irrespective of how much knowledge about fashion they have, can identify Louis Vuitton signature patterns. Hardly any other brand has the hot chocolate colors and the prices of bags with these prints only get higher with time. Let's get more familiar with classic Louis Vuitton patterns and learn about their history!
Louis Vuitton Monogram Canvas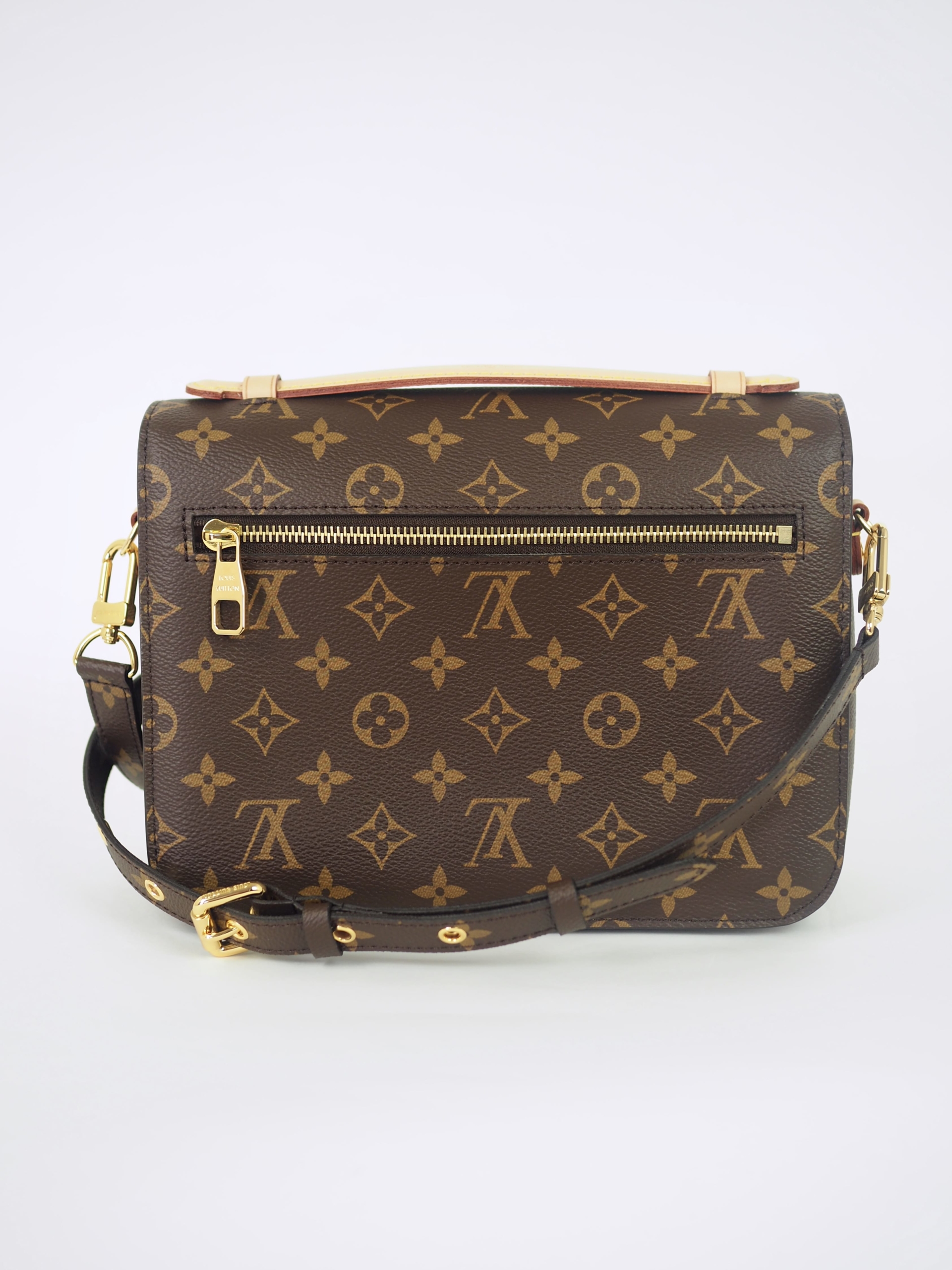 With a long history that dates back to 1986, the Louis Vuitton monogram was the first print released by the brand. George Vuitton, the son of Louis Vuitton designed the floral pattern as well as the eye-catching interlock of the letters L and V. The print was first used on the trunks for wealthy travelers and signified luxury and status. When the branch eventually expanded beyond the luggage industry and ventured fully into the world of high-end accessories, the most famous and stylish models featured the Monogram print.
How should a purse with this pattern be taken care of? Obviously, the canvas would begin to show signs of wear after some time. But it will not be noticeable until after a long time. The fashion house uses high-quality fabrics that are suitable for the modern lifestyle. Monogram canvas bags usually show little scratches on the corners and close to the zipper or button (where it gets touches the most).
The monogram canvas is usually combined with natural cowhide (Vachetta) which is prone to getting dark over time because of natural oil, hence, avoid trying to have it cleaned with any type of chemical. Water might leave the bag with permanent marks so be mindful of this. Try to give your bag time to rest now and then, storing it stuffed so that the leather and print don't get cracked.
Louis Vuitton Damier Ebene Canvas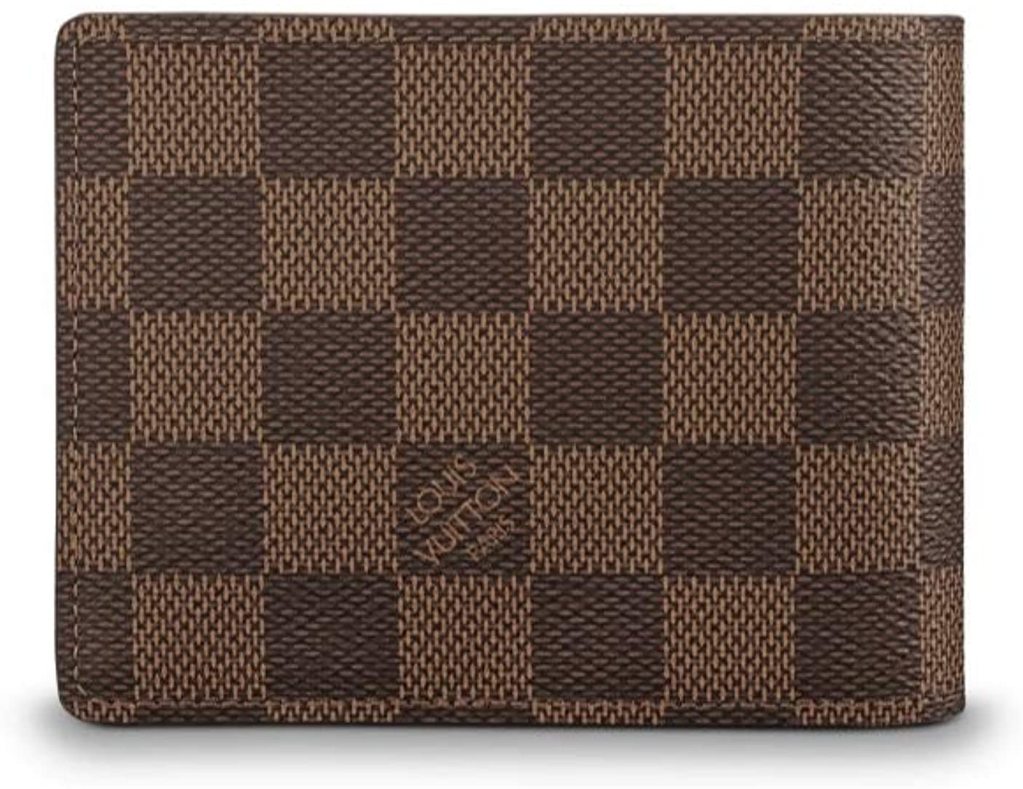 The question of which is the more classic Louis Vuitton pattern between Monogram and Damier is common among fashionistas. The obvious answer is both because it is hard to imagine the brand in the absence of any of these two. Like the previous Louis Vuitton pattern, this was also created by the talented George Vuitton. The Damier canvas was initially released in 1888. The print which means 'chessboard' in French has two colors of alternating squares. 110 years later, two shades of brown were introduced to the Damier Ebene and it became an instant addition to the famous Louis Vuitton patterns.
Damier Ebene print bags are made out of extremely durable canvas and may begin to show marks of wear after some time. It is mostly determined by the frequency of your use of the bag and the way you carry it. Try to keep it away from water, cosmetics, and rough surfaces and avoid using too much hand sanitizer. The canvas on corners will get dark over time, but Damier Ebene doesn't usually have this issue since it blends well. Use a damp piece of light-colored cloth to clean the surface.
Louis Vuitton Damier Azur Canvas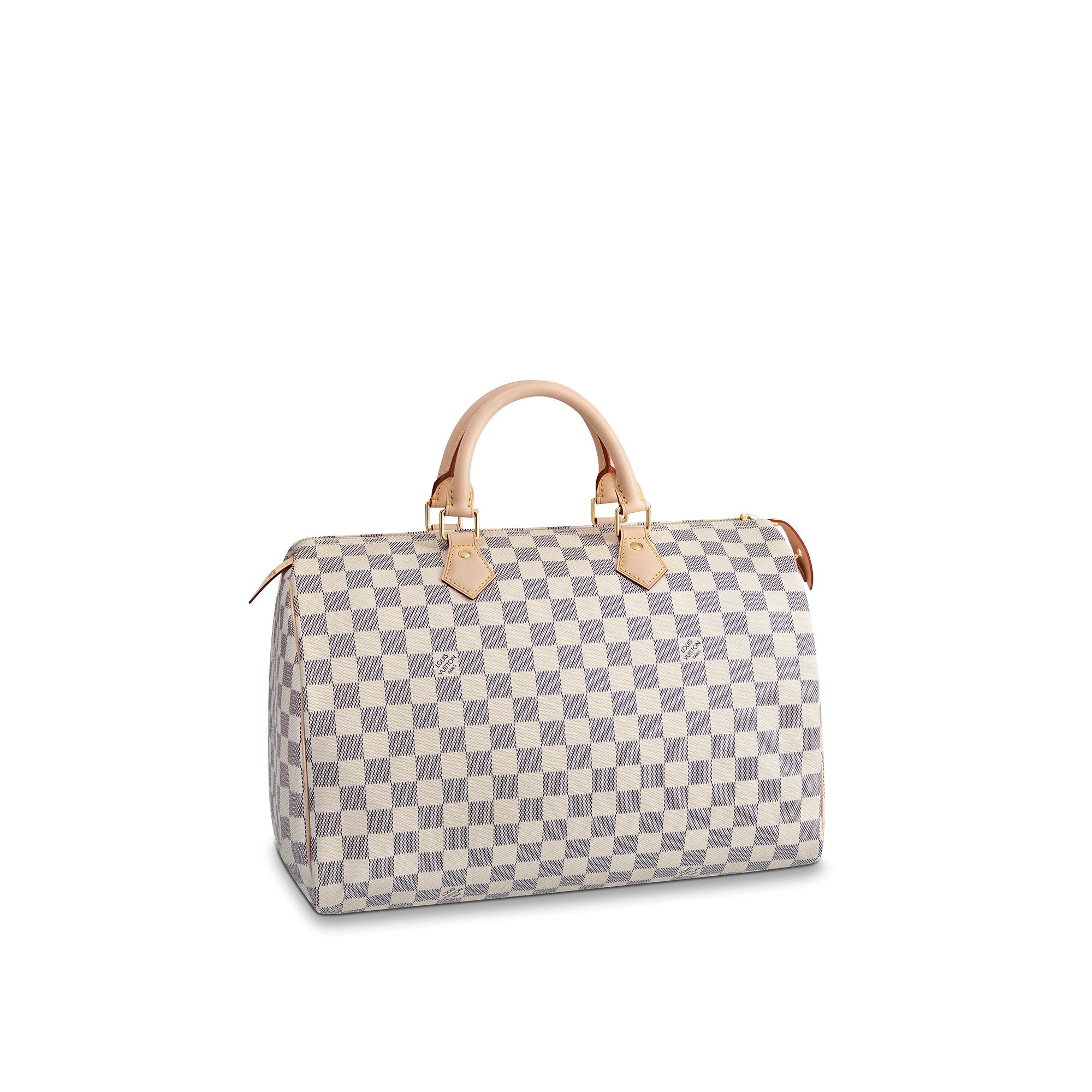 Out of the many different colors in which the Damier pattern was released, only two became classic prints from Louis Vuitton. Damier Azur has alternating squares of navy blue and white hues. This feminine pattern, which was made in 2006 and inspired by the hues of the French Riveria won the hearts of Louis Vuitton fans immediately.
Compared to Monogram or Ebene patterns, Damier Azur is quite light, so the question you obviously want to ask is: how well do you need to take care of it? As is the case with any high-end brand item, the Damier Azur canvas requires regular care and because of its color, even more attention than other prints. The bag should be not be allowed to make contact with grease and water because it will show discoloration and scratches more easily than Ebene. Note that after some time, the canvas might turn yellowish.
It is not difficult to clean this Louis Vuitton bag. Just wipe it gently with a damp cloth. You can also remove some dirt using a soft brush, but with extreme care in order to not erase the print. Use a dust bag for storage and avoid placing the bag on the ground.
Louis Vuitton Vernis Leather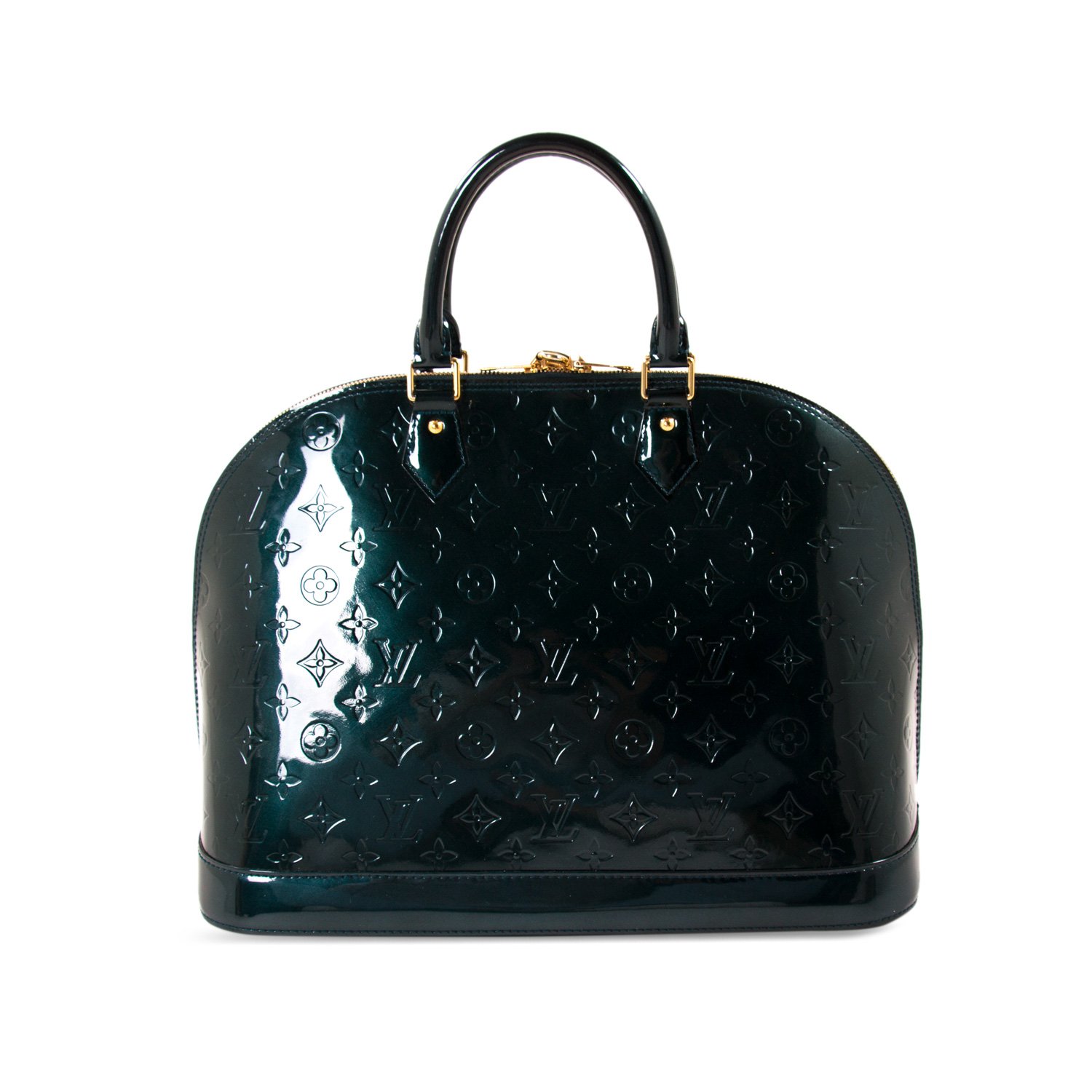 Want to add some glitter to your world even on dull winter days? Buy a stunning Vernis leather bag! Just check out the captivating Louis Vuitton Pomme d'Amour Monogram Vernis Summit Drive Bag in our stock. This Louis Vuitton print was released as Mark Jacob's first work shortly after he was appointed the head of the brand. It recorded huge success when it hit the market in 1998. Sparkling Vernis leather brings a brand-new look to the signature monogram patterns. This radiant effect is a result of the patent finish on calfskin leather.
Everyone knows that bags made out of Vernis leather need special attention. They are very prone to getting scratches easily, so your shining accessory literally needs to be cared for like a baby. The polish on the corners may be rubbed off too quickly, but this is considered the usual wear and tear.
It can be a challenge to carry and even store a Vernis leather bag. The patent finish of this Louis Vuitton pattern makes it a magnet for fingerprints. Even when stored in a dust bag in the closet, you should clean and air it once in a few months. Never let the leather get in contact with any newspapers or magazines because you would be unable to remove the print marks. The bag can be cleaned using a damp cotton cloth.
Louis Vuitton Epi Leather
After canvas, Epi leather is the fabric most commonly used for the bags. George Vuitton got the inspiration to create this Louis Vuitton bag in 1920 during his and his son's search for durable fabrics. After six years, it was featured as the fabric for a tea case trunk. These days, nearly all famous Louis Vuitton bags come in Epi leather.
What is this fabric? It is leather compressed and stamped with leveled, textured pattern and covered with a protective finish. It was initially available in only six colors. In the following years, a rich Epi leather palette was introduced as the brand sought to satisfy all tastes and match all outfits.
Made mostly out of calfskin, this Louis Vuitton Epi leather is very durable. The bag is soft to the touch due to a unique textured print but this also makes it susceptible to damage. It doesn't require any special care or maintenance which means you can enjoy using your Epi leather bag to your satisfaction. Over time, some minor wears will obviously show on the corners or areas you touch the most but these will be hardly noticeable. This Louis Vuitton pattern can remain in perfect condition even with regular use.
How should Epi leather be cared for? It couldn't be easier! When your bag needs to be cleaned, just wipe it using a damp cloth. Epi leather has no problems with water but always remember to dry it after snow or rain. Keep the bag in a dust bag out of light, so the color doesn't fade.
Louis Vuitton Empreinte Leather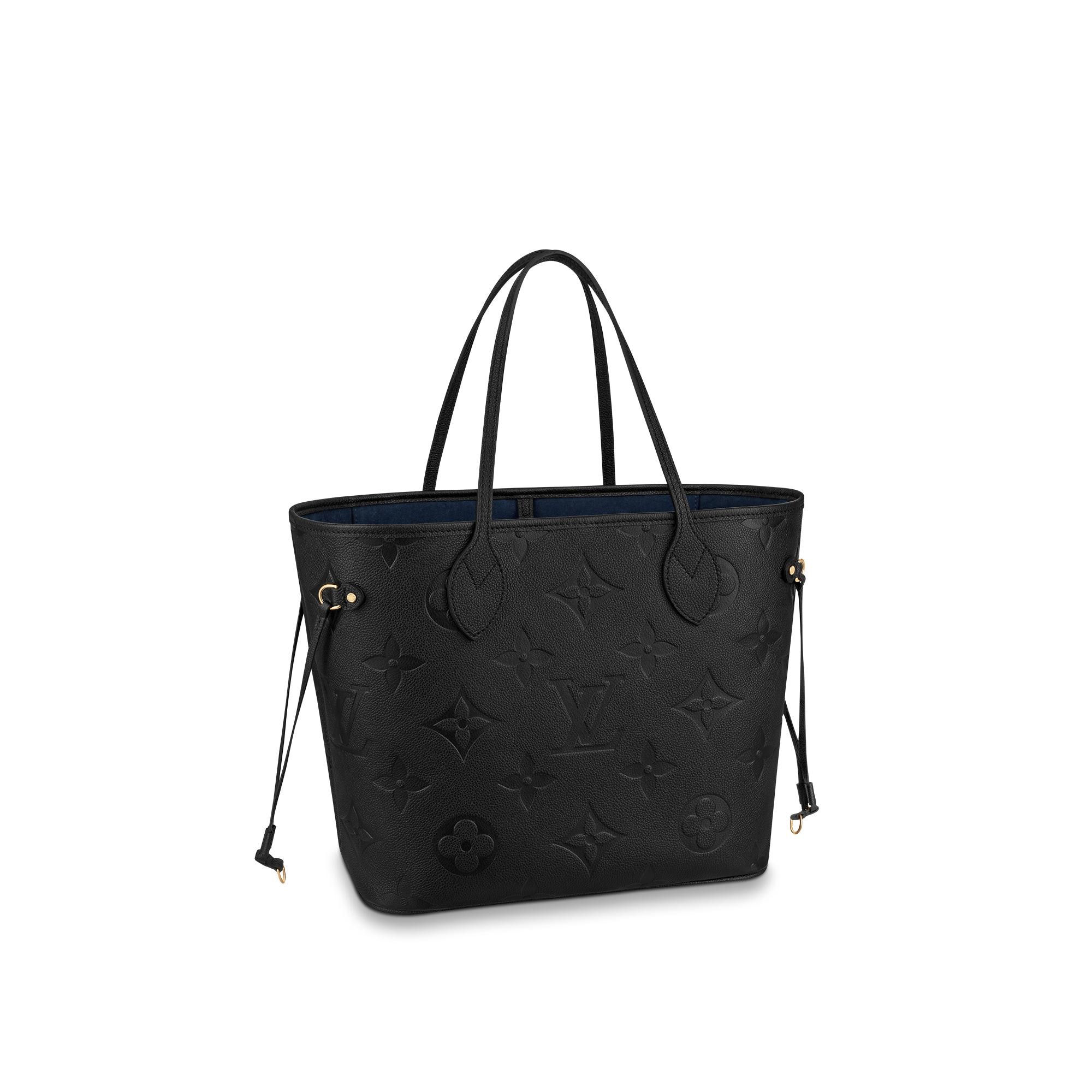 This Louis Vuitton print was released just in 2010, and we are not surprised that it became famous immediately. The classic Monogram pattern is deeply embellished into premium calfskin and the result is stunning to behold. When simply looking at a picture of a bag that has this pattern, you would have a strong impulse to touch all the ornaments. A perfect example in our online store is the Louis Vuitton Black Monogram Empreinte Mazarine MM. The most recent of the signature prints are featured on several styles and models from the brand.
This pattern is good-looking, very durable, and will last for a very long time. It has become a Louis Vuitton classic pattern for this reason and is often referred to as canvas models. Empreinte is sturdy but susceptible to all kinds of damages and scratches.
This leather needs no special attention. It can withstand rain, as well as your hand lotions. You can store it by putting it in a dust bag without having to wipe it first. However, try to not handle this treasured item too carelessly.
Louis Vuitton Multicolor Monogram Canvas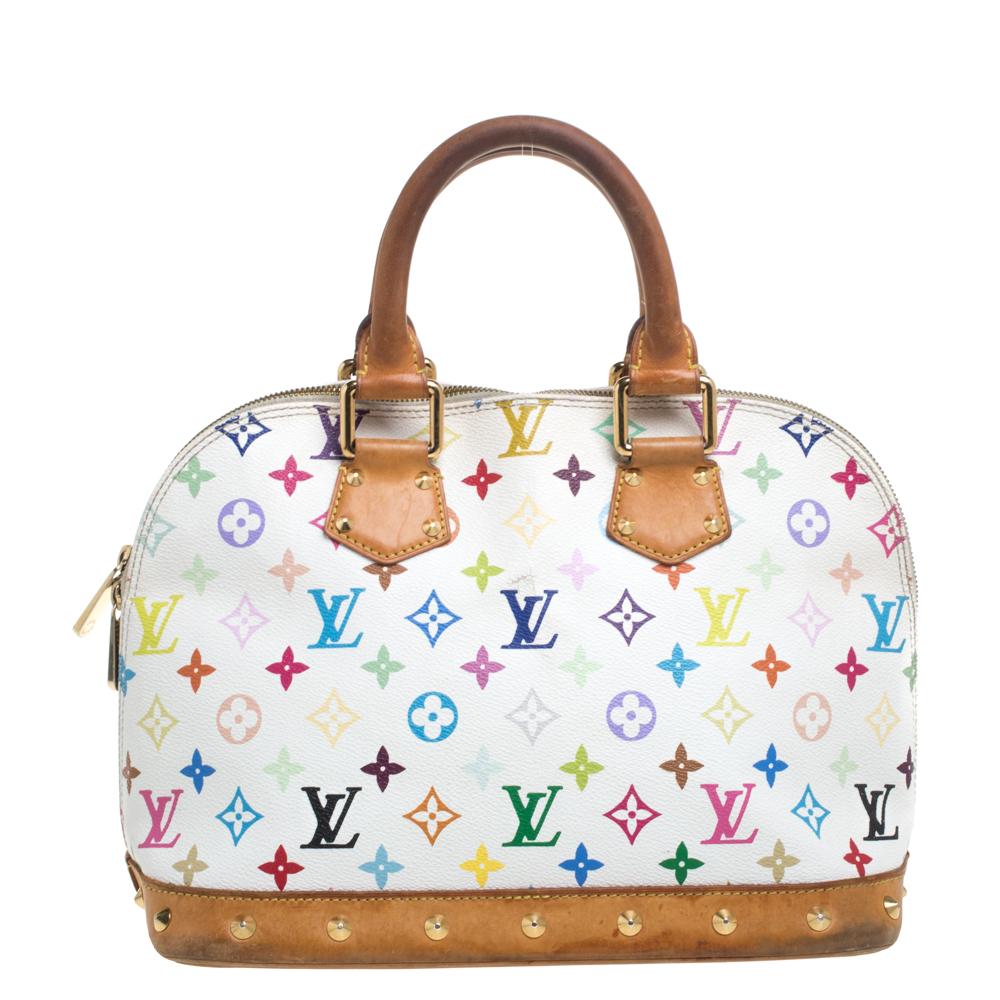 Out of all the limited collaborations with artists, the only print that turned classic is the Multicolor monogram. Our article on the Louis Vuitton Multicolor Monogram Collection: Your Guide to One of the Most Iconic Louis Vuitton Prints has already narrated the complete success story of this Louis Vuitton pattern, so we'll only proceed with some of the most incredible details. Multicolor Monogram which was introduced just 17 years ago reached the height of its popularity and later got discontinued.
The hue of the floral patterns and LV logos is the major highlight of this Louis Vuitton print. 33 different colors were used in place of the signature brown color, bringing a modern and playful look to the pattern on a black or white background. The stunning print is popular among modern-day celebrities and influencers. Every member of the Jenner/Kardashian family is an owner of a least one of the bags from the Multicolor Monogram line.
This Louis Vuitton pattern may have a color fade which is normal wear and tear. Multicolor Monogram is made by silk screening on the canvas, which means that there is no way the natural color fading and chipping can be avoided. However, this takes time to happen, so the odds are high that you'll get good use of your Multicolor piece for an extended period as long as you treat it with proper attention and care. Also, white items are much more prone to dirt, so they need to be cleaned frequently.
Louis Vuitton Special Edition Alliance Collections
Besides the Louis Vuitton classic prints, the brand has had some interesting collaborations with modern artists. Louis Vuitton collections have been given a touch of rebirth and attracted more fans as a result of the collaborations with talented photographers and painters. Only limited amounts of the items were made, and most of them have found their way to the closets of collectors and are only available on the pre-loved market.
Let's check out the most successful collaborations!
Louis Vuitton and Takashi Murakami Collaboration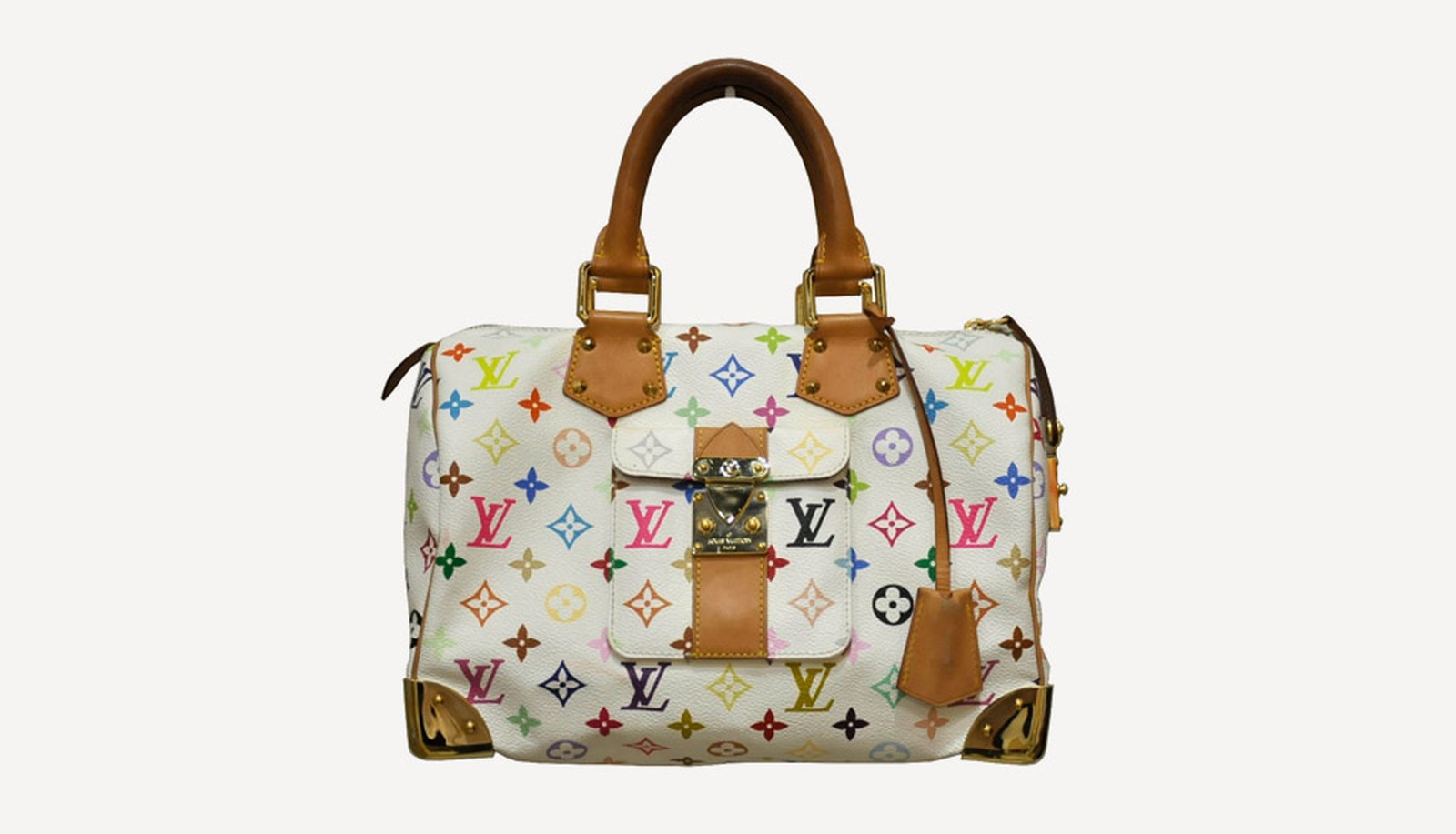 The most notable collaboration was made during the era of Marc Jacobs. In 2003, he asked Japanese artist Takashi Murakami to create a new pattern for Louis Vuitton. The result was not one, but several cute and playful designs that looked rather childish when released, unlike the classic prints. The collaboration continued for 12 years, during which some of the best patterns and designs of Louis Vuitton were made.
Louis Vuitton Multicolor Monogram Print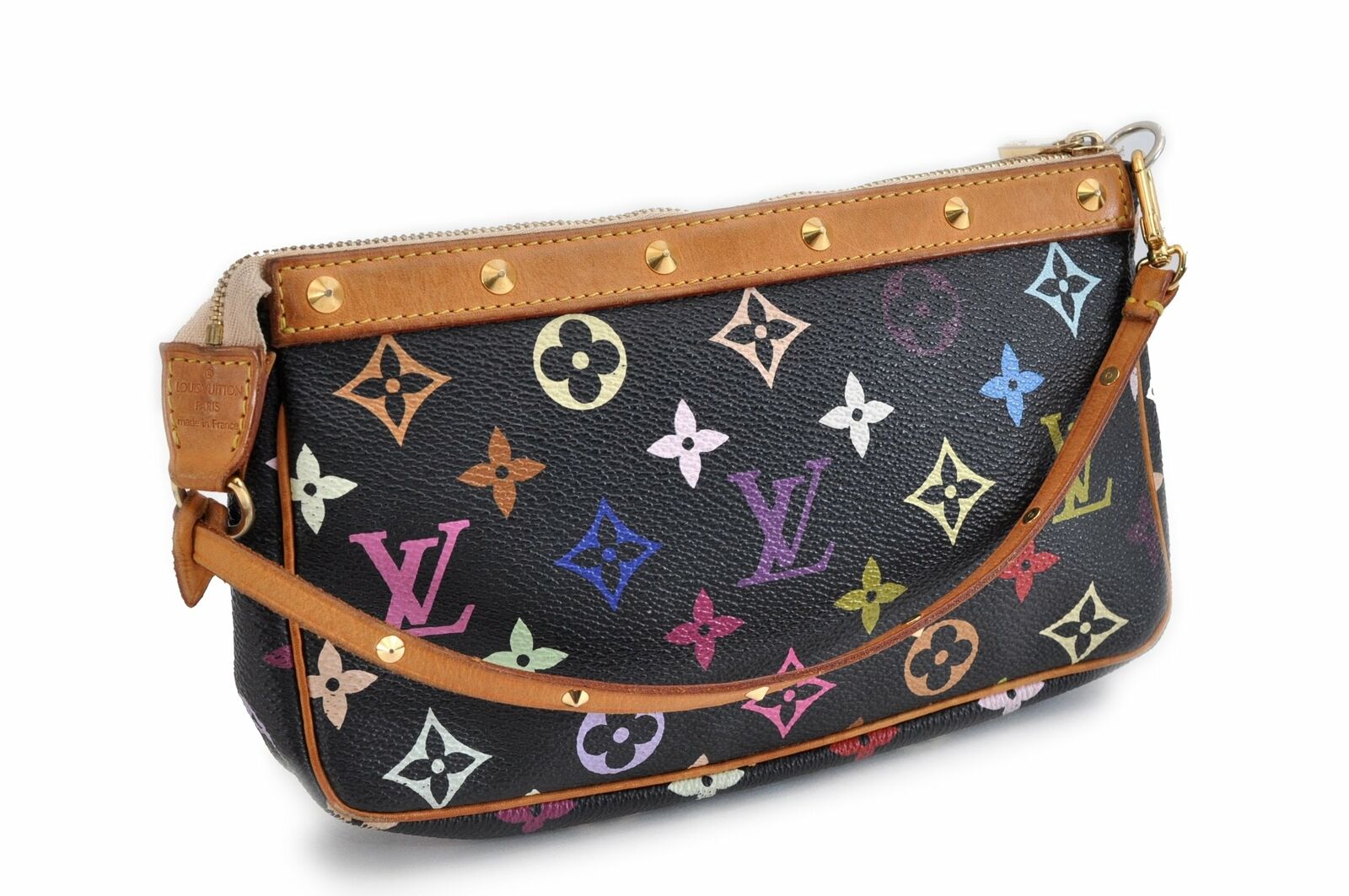 We have discussed this pattern previously, so it's time to reveal the name of the creator of this famous design. The talented Takashi Murakami was the one who introduced a bit of Japanese culture to stylish French bags and accessories.
Louis Vuitton Cherry Blossoms Print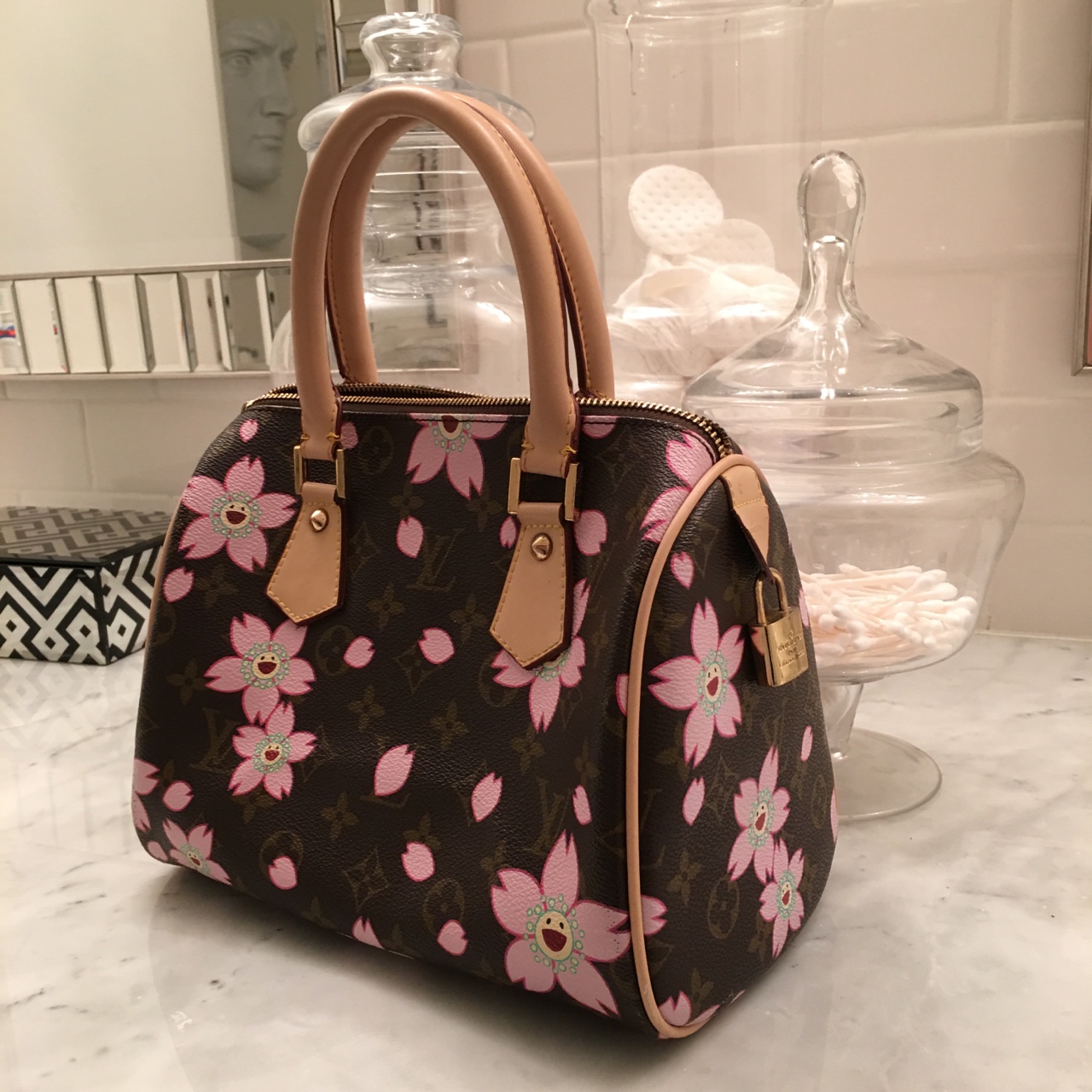 Takashi Murakami was also the creator of the Louis Vuitton design with the most feminine outlook. The Cherry Blossoms line has the signature Monogram pattern and pink Sakura canvas covering the entire canvas. In addition, a beautiful pink shade was used in place of the traditional brown color to make the bag more appealing to young fashionistas.
Louis Vuitton Monogramouflage Print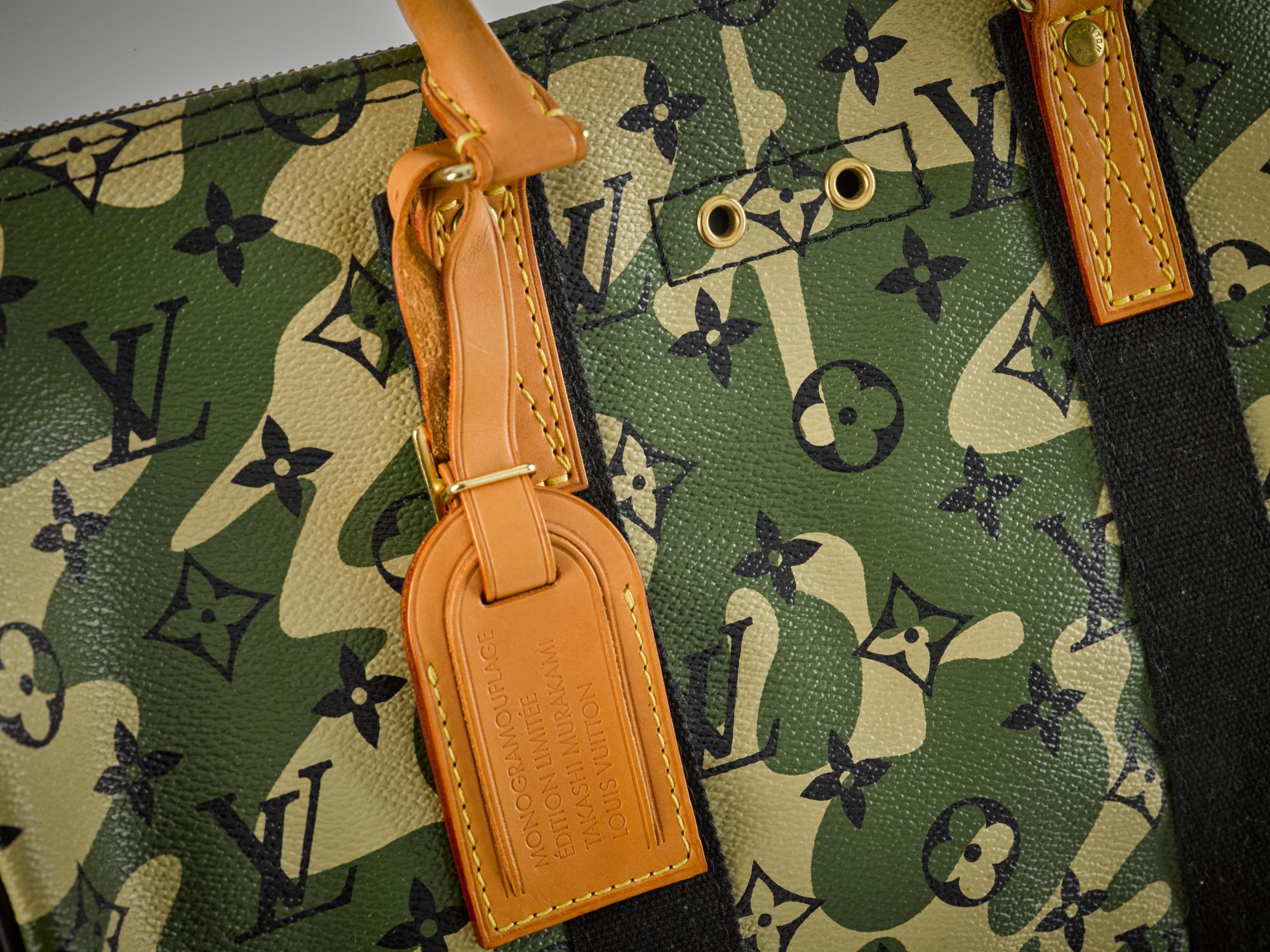 This Louis Vuitton pattern, which was released in 2008, was completely new waters for the brand. As the name suggests, there are two prints on the Monogramouflage. Murakami managed to create a blend between a combat camouflage background and the classical Monogram ornaments in black. This print is featured on several items such as scarves, suitcases, and belts but the most sought-after piece is the Louis Vuitton Monogramouflage Speedy Bag. It is quickly swept off the shelves whenever it is offered on platforms that sell preloved Louis Vuitton items.
Louis Vuitton Cerises Print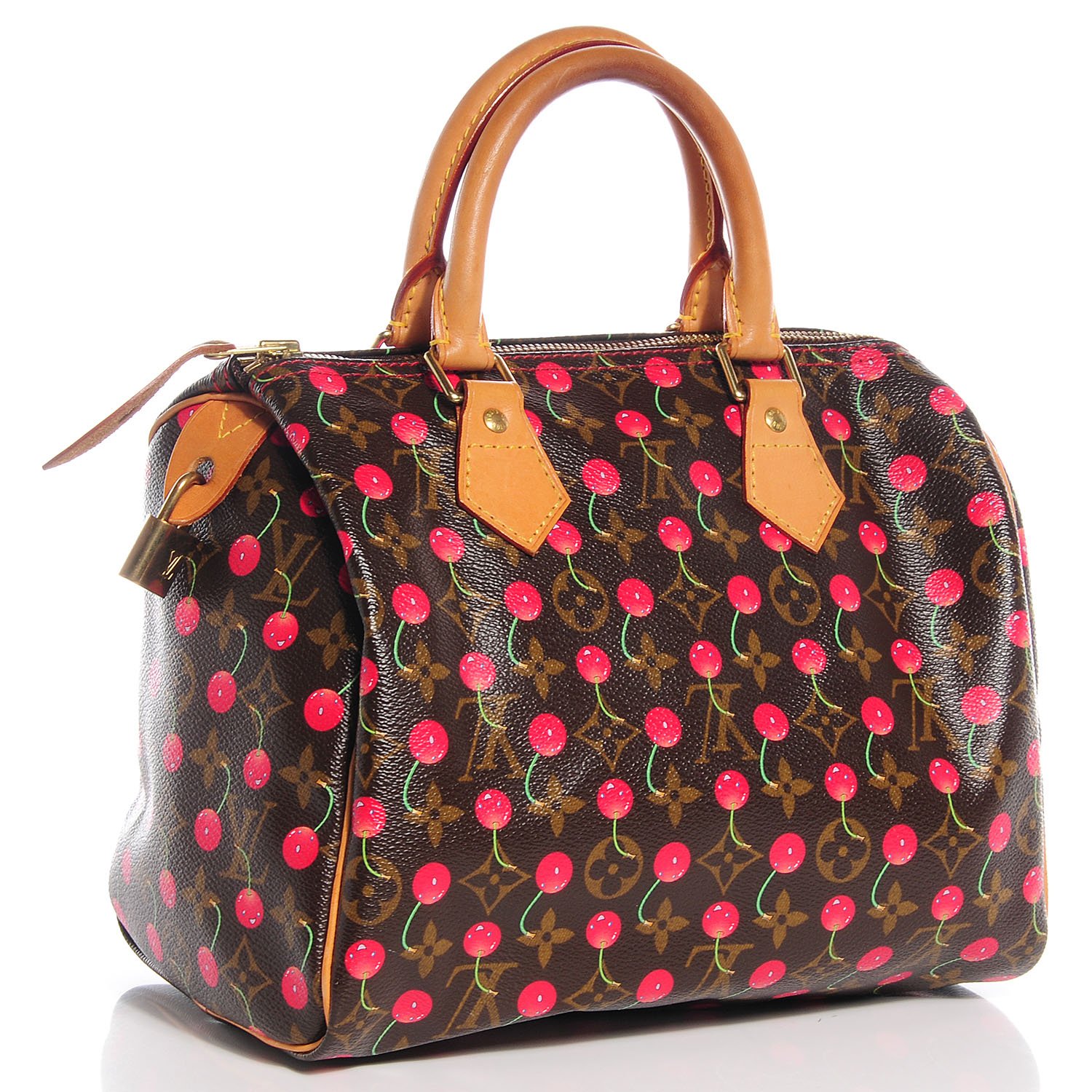 In the 2005 Spring/Summer collection, this Louis Vuitton pattern was released in a limited edition and it is great for warm days. The entire surface of the classical Monogram canvas is adorned with smiling cherries. The Japanese artist made a bold move by combining a French luxury with a playful anime design and the result was an instant hit among fashion lovers.
Louis Vuitton plus Yaoyi Kusama Partnership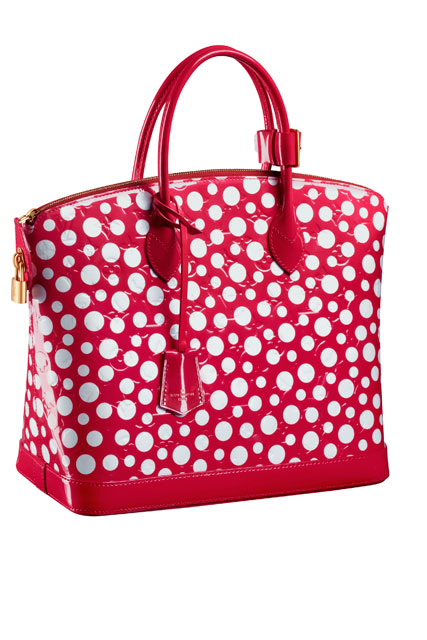 In 2012, the brand had a collaboration with Yaoyi Kusama, another Japanese artist. Marc Jacobs himself was a fan of her dynamic and imaginative projects, so he asked her to join Louis Vuitton. The result was one of the most unique and provocative Louis Vuitton patterns ever. Taking ideas from her own work, Yaoyi Kusama created a stunning Polka Dot Monogram pattern.
Mostly made out of Vernis leather (which is not a surprise for an artist with such extravagance), these bags have the Monogram print on the background with contrasting polka dots all over. Bright, glowing, and stunning, this Louis Vuitton print is an embodiment of the artist's free nature.
Louis Vuitton Partnership with Stephen Sprouse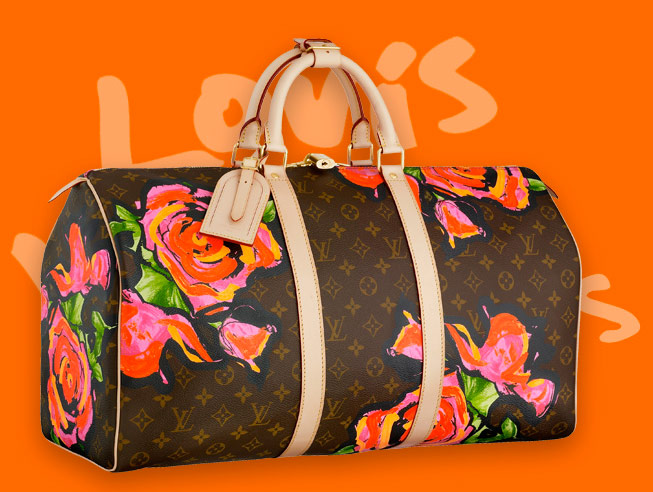 This was the first hit collaboration that led to the practice of inviting artists to work on new prints for future collections. Stephen Sprouse made two prints which he is remembered for.
Louis Vuitton Graffiti Collection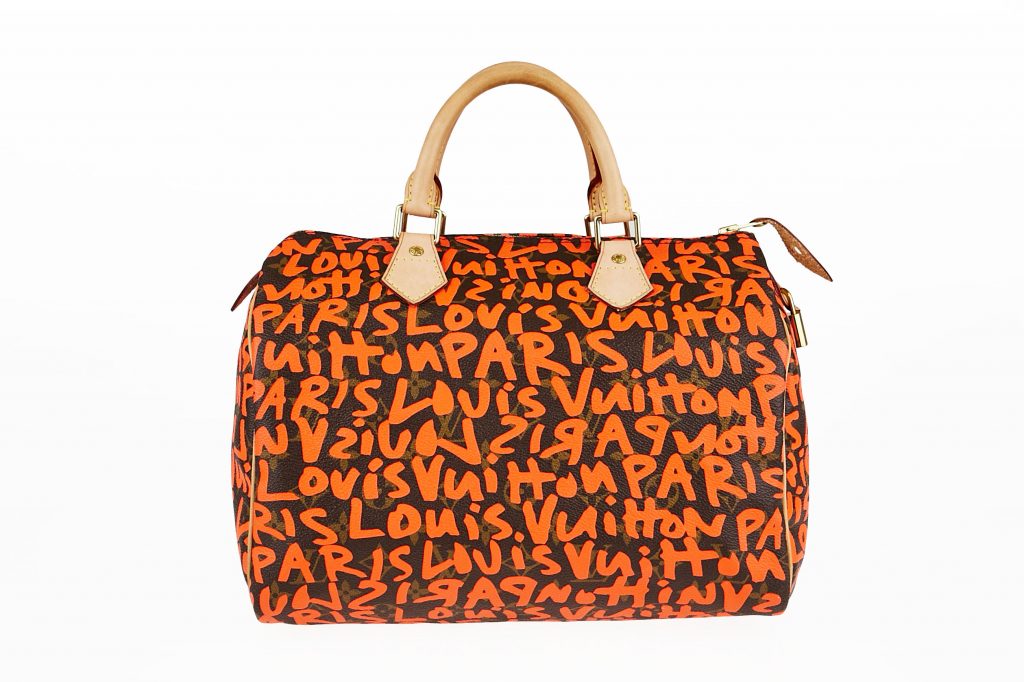 Bags with this graffiti pattern were sold out almost as soon as they hit the market. This bold and bright collection has been released twice: the first in 2001 which marked the beginning of the collaboration and the second in 2009 as a tribute to the artist who passed on from lung cancer. What made the graffiti pattern so special? Stephen Sprouse decided to introduce a large modern print with the words 'Louis Vuitton' and 'Paris' on the monogram canvas in such a way that the main pattern is almost hidden.
Louis Vuitton Roses Collection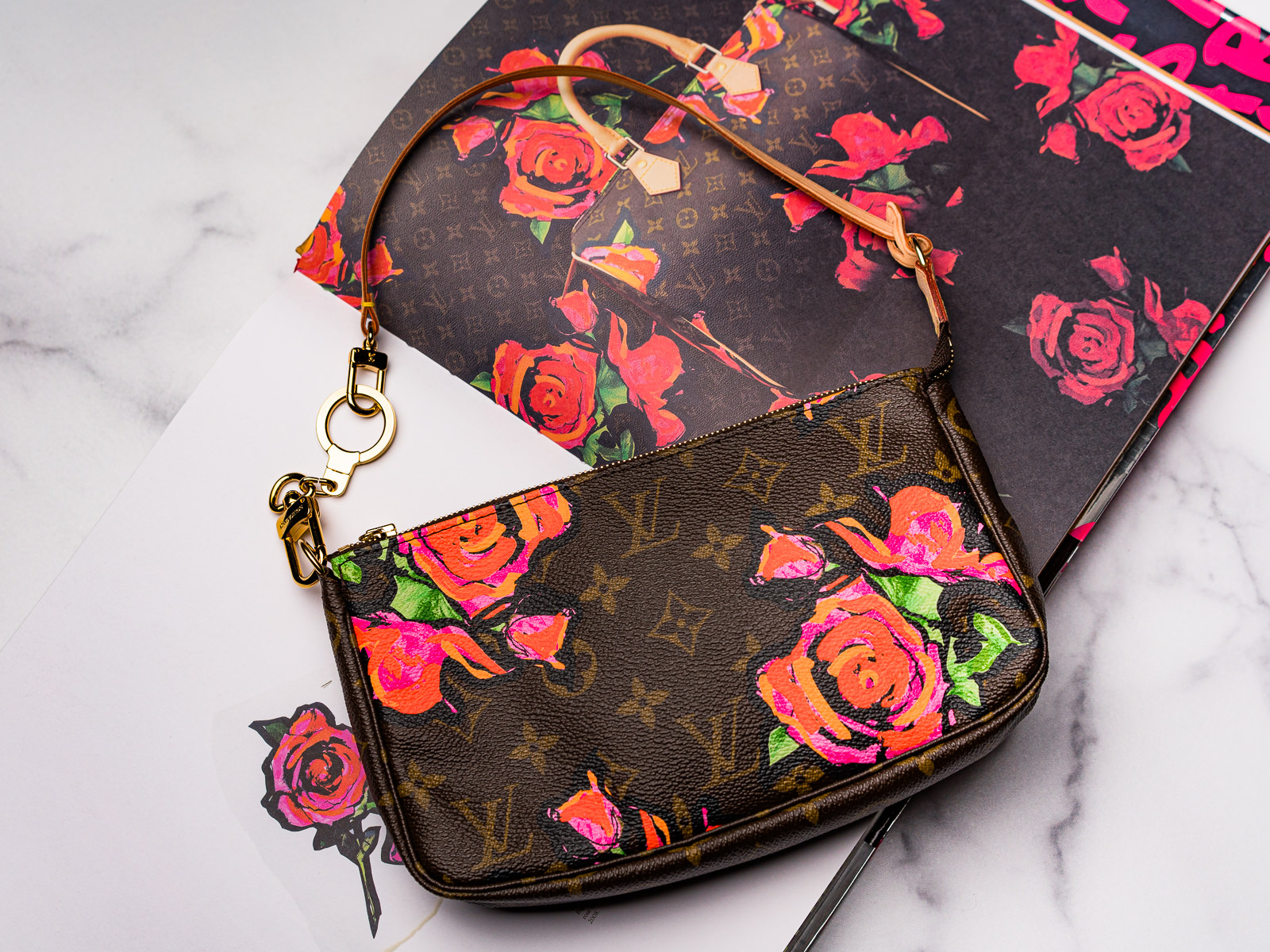 Another of Stephen Sprouse's Louis Vuitton patterns was released after he had passed away. The design was made while the collaboration was on but it was only introduced to the bags and accessories 8 years later. In 2009, the monogram print was updated by Marc Jacobs who added Stephen's florescent rose pattern. The result of this mixture of classical and vivid colors produced one of the most stunning and feminine prints ever from Louis Vuitton.
Louis Vuitton Collaboration with Richard Prince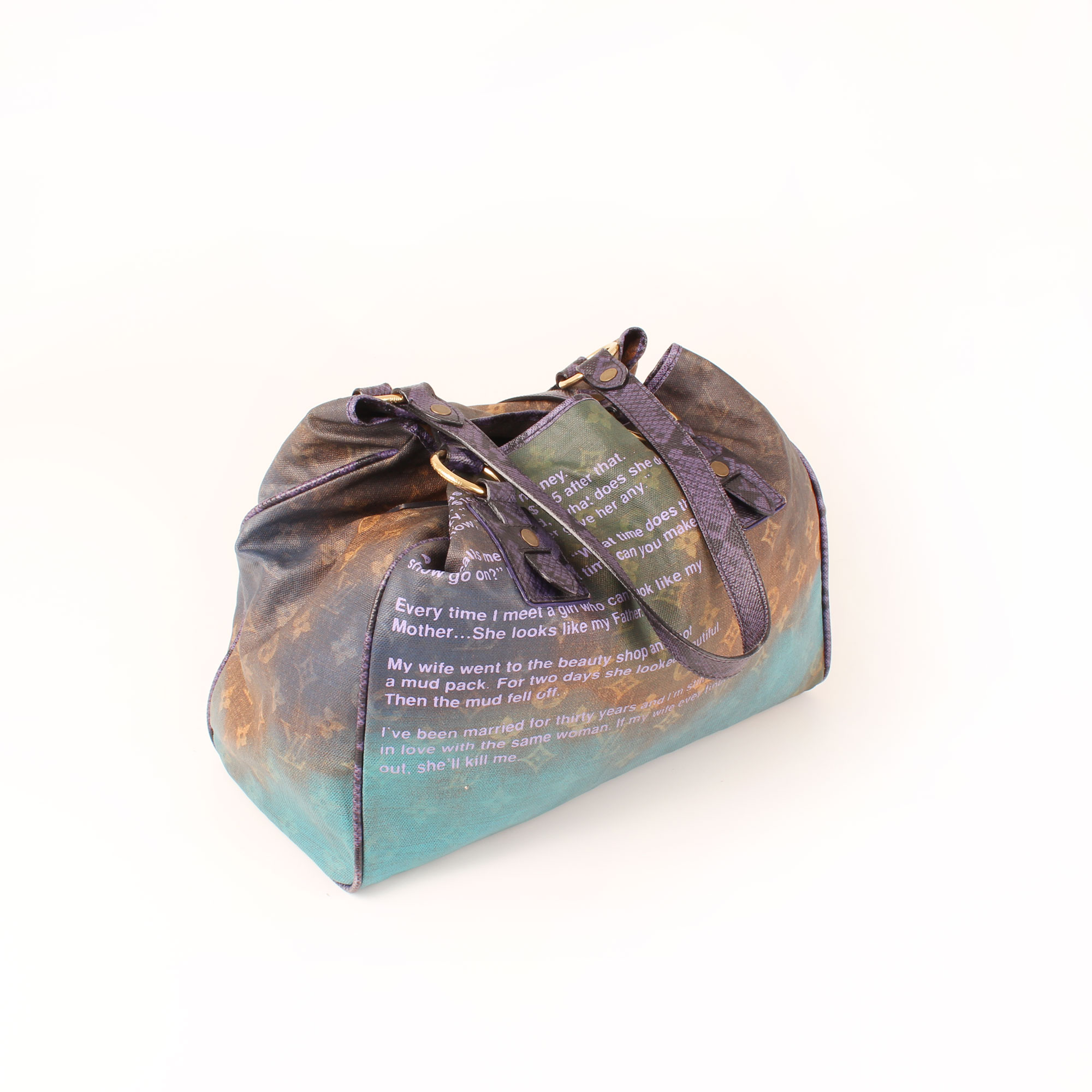 In the 2008 Spring/Summer runway show, an amazing collaboration between the brand and Panama-born photographer and artist Richard Prince, known for his extravagant and kinky Nurse parade, was revealed. Our favorite Louis Vuitton pattern among all those designed in that season is the limited edition and rare Watercolor line.
Louis Vuitton Watercolor Collection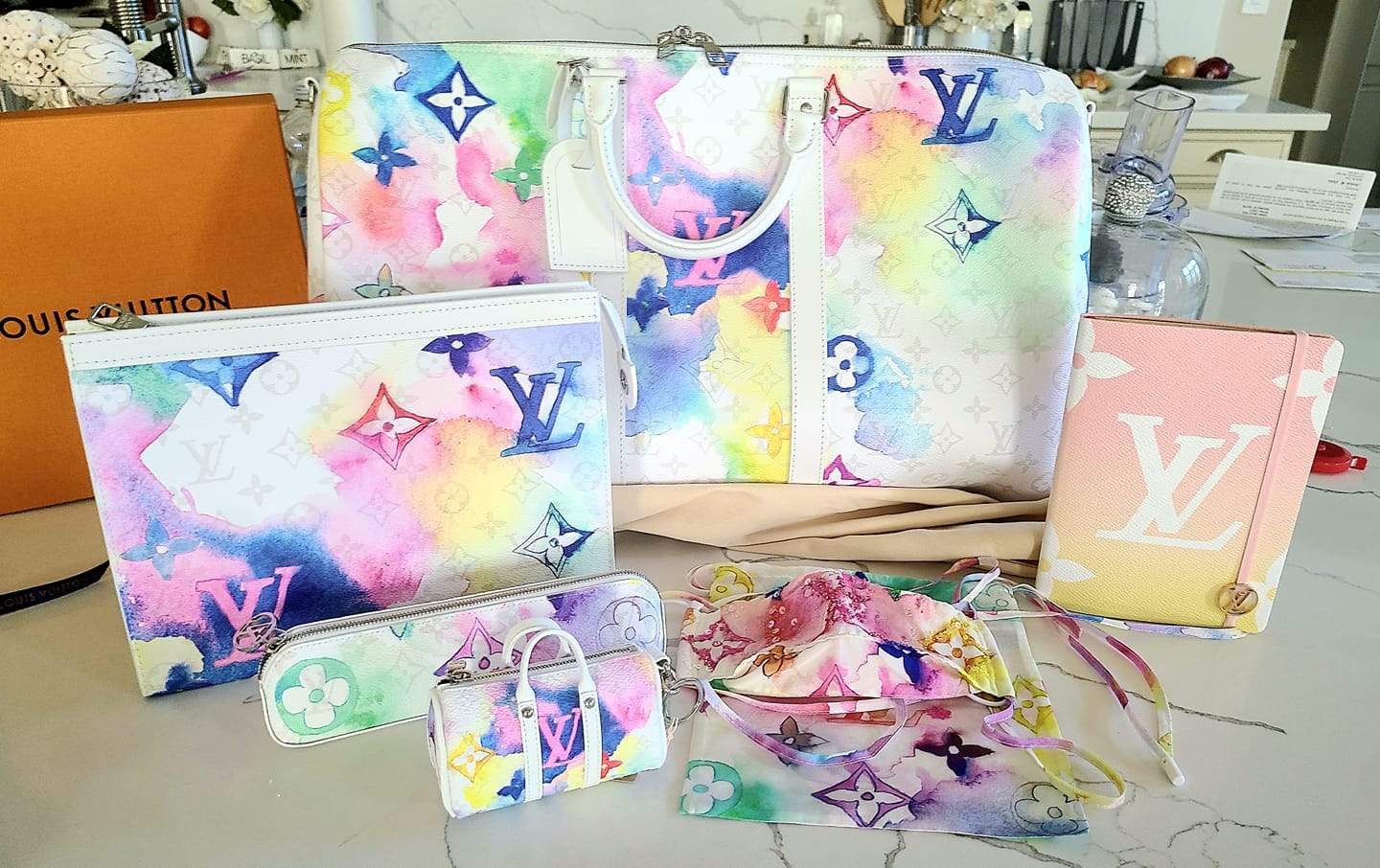 This Louis Vuitton pattern looks incredible on a speedy. Richard Prince was able to make a spectacular effect of water-colored monogram print in soft indistinct colors. It looks like someone picked a brush and just used it to express their artistic instinct on canvas in Louis Vuitton style. The pattern has 17 colors, mostly purple, pink, orange, and yellow colors along with their shades. Black and white backgrounds are both eye-catching and spectacular.