The Louis Vuitton Multi Pochette Accessoires Bag is a functional bag with several pouches that became a hit ever since it was first released towards the end of 2019. This guide contains our first options on the bag, what it can carry, how to wear it, and where to get one.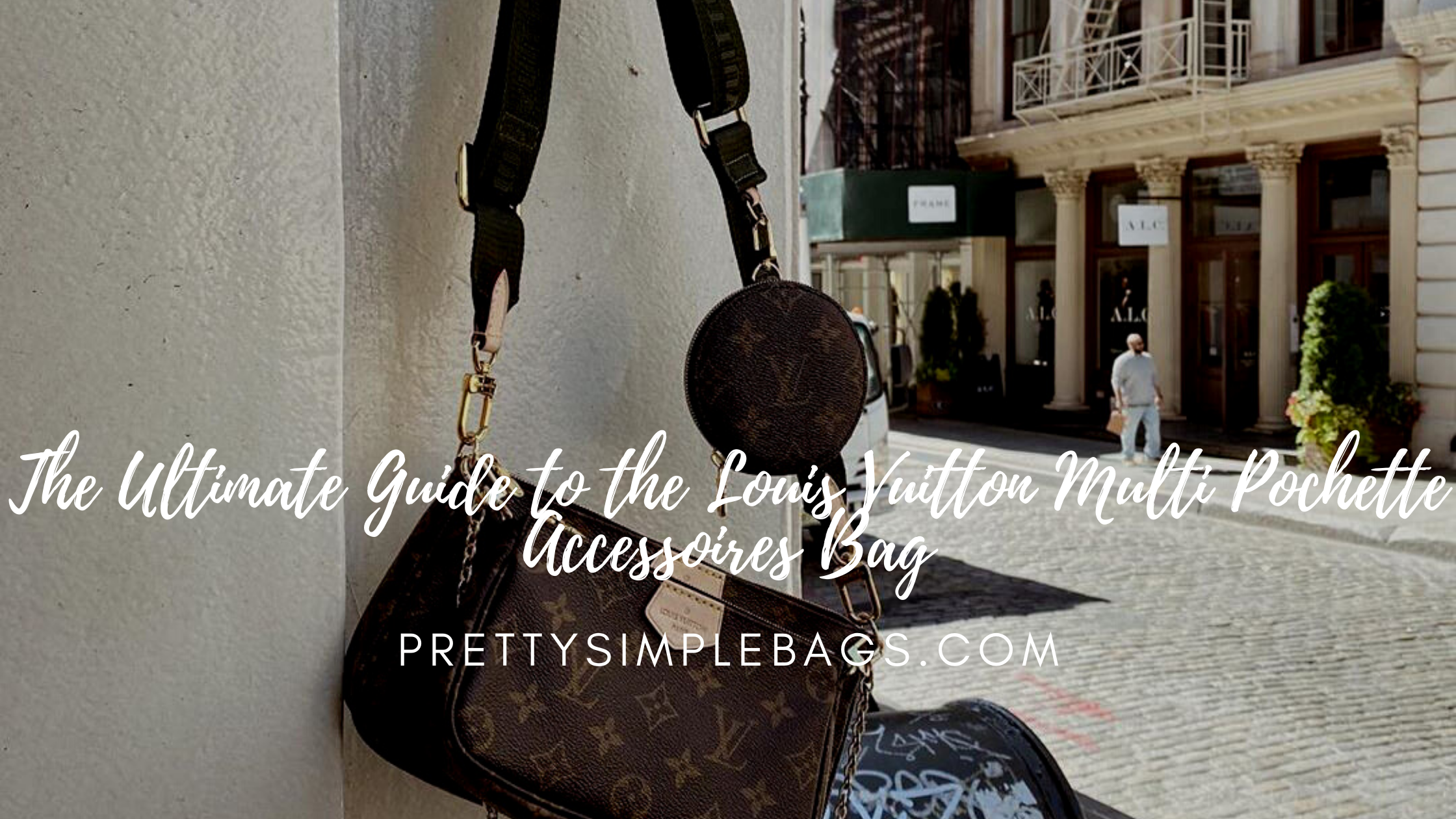 It is not surprising that this casual-looking designer bag is in high demand, with the number of internet influencers and A-list celebrities such as Rihanna and Hayley Beiber promoting it. It is now extremely difficult to get one. But are people blind to the actual usefulness of the bag because of all the hype around it? We'll be looking more closely in this blog.
History of the Multi Pochette Accessoires Bag
There is no long history behind the Multi Pochette Accessoires Bag from Louis Vuitton as it was launched in late 2019. The multi-pochette bag is made up of three smaller bags namely the round Zip Coin Purse, the Pochette Accessoires, and the Mini Pochette Accessoires. Louis Vuitton makes these three small bags available to be purchased separately, however, the multi-pochette combines all the bags through a detachable shoulder strap.
In no time, the bag has become a symbol for the fashion house as its casual vibe feels unique among all the bags offered by the brand.
The bag was initially launched in monogram canvas with the strap available in two color options, khaki and rose chiaro (light pink). A 'new wave' model of the bag was later released by the brand in early 2020. Made of leather, the New Wave model not only features a twist lock LV logo, it also comes with one main pouch.
Price and Size Comparison for Louis Vuitton Multi Pochette Accessoires Bag
The Louis Vuitton Multi Pochette Accessoires Bag is available in several sizes and comes in leather and canvas options. Below is the complete range and price list, updated up to September 2021:
| | | |
| --- | --- | --- |
| Style | Price in $ | Price in £ |
| MULTI POCHETTE ACCESSOIRES – Khaki | $1860 | £1330 |
| MULTI POCHETTE ACCESSOIRES – Rose Chiaro | $1860 | £1330 |
| New Wave Multi-Pochette (Khaki) | $2300 | £1610 |
| MULTI POCHETTE ACCESSOIRES (World Tour) | $2250 | £1610 |
| New Wave Multi-Pochette (Black) | $2300 | £1610 |
| New Wave Multi-Pochette (Snow White) | $2300 | £1610 |
What Can The Louis Vuitton Multi Pochette Accessoires Bag Fit?
This bag comprises three smaller bags, so we will be taking a look at what the multi-pochette can actually fit in order to determine what its best function would be.
The Coin Purse
This bag features a Louis Vuitton coin purse that is 0.8 inches wide, with 3.5 inches height, and 3.5 inches long. It is exactly a coin purse as described by Louis Vuitton, and is unfortunately not really useful for any other thing. To our complete disappointment, a standard credit card wouldn't fit in the coin purse, which means it is almost useless for anything besides carrying cash. But if you like the majority, you'll already have a purse to hold your coins and cards and won't need a coin purse where they'll be loose in.
The Large Pochette Accessoires
This is the bigger one of the two pouches in this bag but it looks bigger than its actual size. We were disappointed and disgruntled once again when trying to keep a standard purse size in the pouch and it simply didn't fit.
The bigger pochette pouch is 1.6 cm in width, 5.3 inches in height, and 9.25 inches in length.
This pouch can carry a small coin purse, a mobile phone (including the bigger sizes), as well as other items such as keys, and a small bottle of deodorant or perfume. Note that the more oddly shaped the items you keep inside are, the odder this pochette will look when in use.
If you want to make an evening bag out of a single pouch with the gold chain, note that the bigger pouch doesn't attach on its own to the gold chain. This is also a shame as you would have to use the mini pochette or both.
The Mini Pochette Accessoires
The mini pochette is the smaller pouch measuring 0.8 inches in depth, 3.5 inches in height, and 5.5 inches in length. Small, flat objects including a small coin purse can fit in this mini pouch.
Louis Vuitton Multi Pochette Accessoires Bag Fabrics or Canvas Options
The original multi-pochette bag, which is also arguably the most famous was made of canvas and featured a cotton strap. The brand later launched the 'new wave' edition which was made of leather in place of the coated canvas.
The most popular version is still the monogram canvas because of the easily recognizable luxury logo and the hard-wearing material that can withstand the strain and stress of daily use and serve for several years.
On the other hand, the leather versions are arguably more luxurious, but they have the same nature as other leather bags. Leather is susceptible to color transfer from clothing (for example, do not wear black or blue jeans when using the snow-white color) and can have scratches over time. The new wave multi-pochette bag requires a little more care than the canvas.
Which Louis Vuitton Multi Pochette Accessoires Bag Material Is Best?
If you will be using the bag on a very frequent or daily basis, we recommend that you choose a monogram canvas model of the multi-pochette accessoires bag. The resale value of the monogram model is also higher (currently returning more than retail) than the new wave leather models of the bag.
There are more color variations available for the new wave leather models of the multi pochette bag which makes it less obvious than the more common monogram models – it is, therefore, more unique.
Ultimately, it all depends on your personal preference and what bag color will be most suitable for your wardrobe and style.
Cleaning and Caring For a Louis Vuitton Multi Pochette Accessoires Bag
It is important to give proper treatment to your new designer Louis Vuitton Multi Pochette Accessoires Bag in order to maintain its structure, physical appeal, and resale value. The following are our top suggestions on how to clean and take care of your new designer tote bag:
Wipe the leather, or canvas clean on a regular basis.
Clean the leather straps and handles, always make sure your hands are clean and oil-free such as from hand lotion or sanitizer.
Apply a leather conditioner and cleanser on the leather areas of your bag (the entire exterior of the bag in the case of the Empreinte model).
Use a handbag liner to keep the lining of your Louis Vuitton multi-pochette bag protected.
Apply Brasso on the brass hardware to get rid of dirt and keep the hardware shiny.
Louis Vuitton Multi Pochette Accessoires Bag Organizers
Every designer bag requires handbag liners. A liner costs only a small percentage of the price of a designer handbag but will help you preserve the structure and keep away unwanted stains and dirt from the bag.
Is The Louis Vuitton Multi Pochette Accessoires Bag A Profitable Investment?
As of today, this bag is a good investment because of its popularity. Though it has been on sale for a little over a year, the price of this bag has been subject to some of the biggest (percentage wide) increases within the entire range of Louis Vuitton products.
Hence, the bag is a great investment and because it is not easily available, it will pay off if you choose to sell it later.
According to many people who own one of these bags, it is very versatile and can be used frequently. Therefore, it is also a good investment since you are going to get much use out of it.
Where to Get a Louis Vuitton Multi Pochette Accessoires Bag
Your best bet is to visit the Louis Vuitton website or an on-site store to get your brand-new Louis Vuitton Multi Pochette Accessoires Bag directly because Louis Vuitton does not sell via any agents. However, since the bag is rarely available in stock, buying a pre-loved bag is the best option if you don't want to wait till later to enjoy one.