How to clean the interior and exterior of a Louis Vuitton bag
Now that you have gotten that designer bag you've always wanted, it feels so real in your hands! The first thing to do is procure all the necessary cleaning and protective gear you'll need to keep your LV handbag in the best possible condition. Everyone knows Louis Vuitton bags are amongst the most durable designer bags in the world, but you will need to do a bit to keep the bag as fresh as possible. This article explains all you need to know to maintain the pristine look of your bag.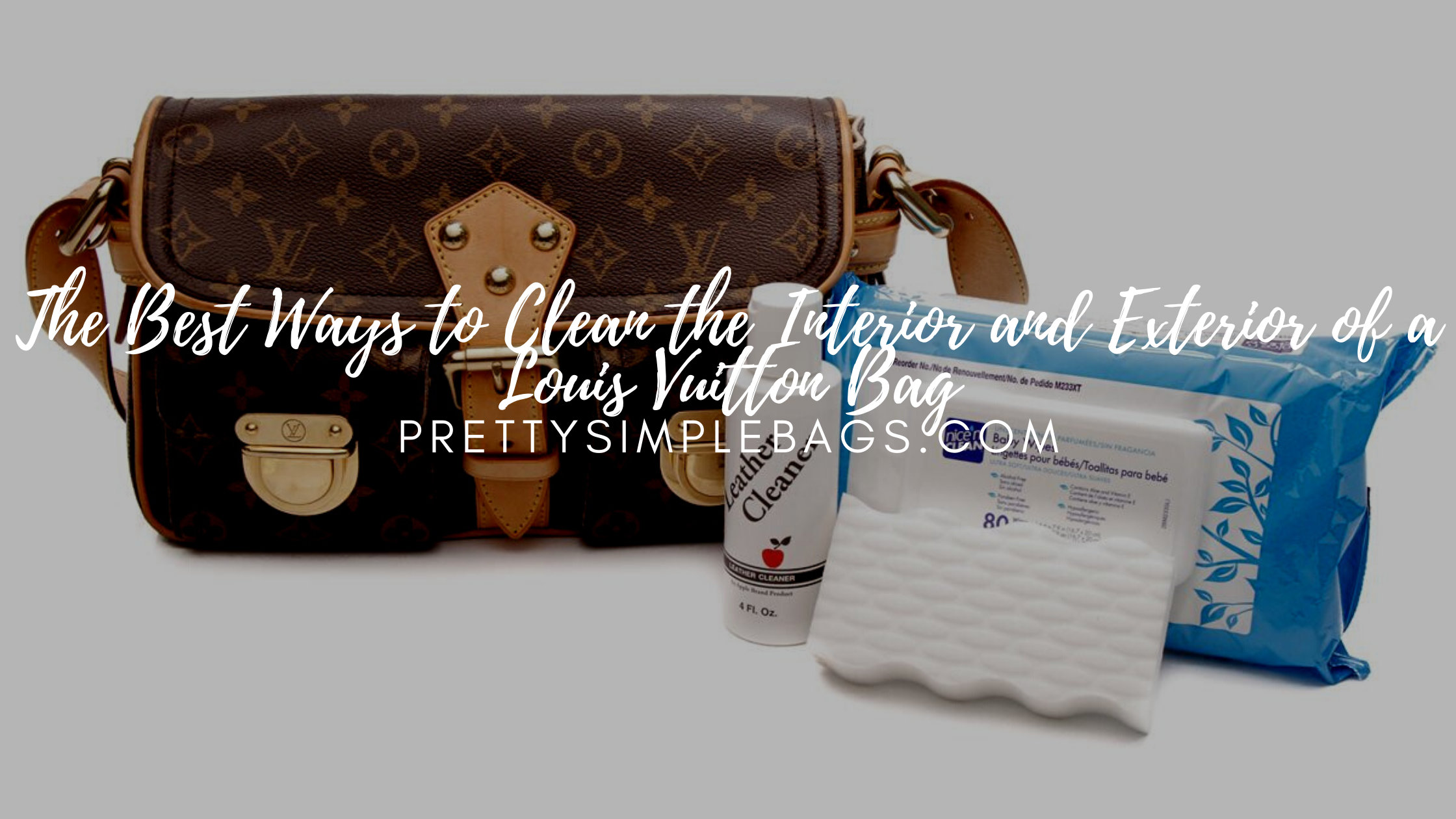 This is the first of a series where we devote our time and resources to showing you the best ways of cleaning your handbags irrespective of the material they are made from. As a bonus, we have also provided a rich video filled with ideas on making your Louis Vuitton bag last as long as you want.
How do you clean the exterior of your Louis Vuitton bag?
The exterior of your bag is what everyone sees when you walk around with your bag which is why you would want to make sure it is always spick and span -more so, when your Louis Vuitton bag is made of patent LV leather.
Louis Vuitton makes its bags using different materials ergo, the method of cleaning would differ as well. Below are ways of cleaning some of the different materials:
Louis Vuitton Canvas and how to clean it
Louis Vuitton Canvas material picks up dirt very quickly. Considering a handbag comes in constant contact with the skin, clothes, and some dirty surfaces, the canvas fabric can get dirty quite easily. The first part to get dirty could be the bottom of the bag due to contact with numerous surfaces, then the zipper area or fastening. The side of the bag which comes in contact with your clothes would follow suit.
To clean, rub the stained area with a damp cloth then wipe off the moisture using a dry cloth. This method should be applied to light stains. If the stain is a tough one, dip a clean cloth into a mold soap solution then rub the affected area (use a soap solution that is suitable for vinyl cleaning) clean off any suds using a damp cloth. Always dry the bag using a clean cloth.
Try as much as possible to avoid any printed areas while cleaning. This will help to ensure that fading is kept to a minimum. Never use coarse cloth, always do all cleaning with a soft cloth.
The best way to clean Vachetta Leather
Vachetta is Louis Vuitton's go-to leather for most of their products, more so, for their trademark brown accents, spots for hardware attachments and bag handles. Vachetta leather is often found on parts of the bag where hardware is attached to develop a natural patina over time moving from the original beige/brown color and growing into a darker shade.
If you do not want the patina process to occur very quickly, then you must ensure that you clean your bag very well. We recommend alcohol-free wipes for cleaning bag handles and other areas.
If the patina process has already taken place and the leather has darkened, use a good leather conditioner to ensure cracks do not appear on the leather. Using a leather waterproofing agent is another way of protecting your bag. It would ensure your bag is safe from rain or snow?
The best way to clean Louis Vuitton's Vernis Leather
Vernis leather is another regular fixture with Louis Vuitton. It is patent leather for the brand. It is easily susceptible to stains and fading. You should take extra care with using a Vernis leather bag. Use a non-abrasive damp cloth along with water whenever you want to clean a bag made of Vernis leather. If you do this, you'll be able to protect the surface of your beautiful bag.
Extra tip: if you notice that a part of your bag has an oil stain, rub a bit of cornstarch on the affected area and vacuum it. The cornstarch will simply absorb the oil and reduce the stain considerably. If you catch the stain earlier, the chances of getting it out become higher.
The best way to clean the interior of a Louis Vuitton bag.
The Interior of a Louis Vuitton bag is as important as the exterior when it comes to neatness, sometimes, the interior is even more important. When you don't clean the interior of your bag, it could hold a lot of bacteria and no one wants that. You must clean the insides of your LV bag. Besides the interior, you should pay good attention to the lining of your Louis Vuitton, this will preserve and help maintain the value of the bag. These aren't wasted efforts, you should always remember that these bags are investment pieces.
Your bag's lining(cotton/textile)
Lighter bag linings often show signs of wear quicker. Stains could come from water spillages, debris within the bag, food, or even makeup and all of these could ruin the interior of your bag. Make sure you are always careful and act quickly when any form of spillage occurs.
Complete guide to cleaning the interior textile lining.
We've compiled a step-by-step guide to help you clean the interior textile lining of your Louis Vuitton bags. We used the Louis Vuitton Neverfull MM bag as our reference for this example. You should note that all Louis Vuitton bags are not lined with textile which means these steps are best applied to bags like the LV Neverfull and Speedy bags.
Here are some of the materials you'll need for cleaning the interior of your Louis Vuitton
A Hoover
Clean, soft white cloth
Cotton Buds (Choose bamboo to protect the environment)
Fabric or carpet cleaner (spray). The carpet and upholstery cleaner from Vanish Gold is our top choice.
The first thing you must do is turn the bag inside out (use your fingers and palms and not your fingers to do this gently). You must be patient as this takes a bit of time.
Use the hoover to remove dirt from the bag's lining. Give extra attention to the corners as you do this.
With the cotton bud, lift dirt from the cracks and crevices of the bag's lining.
After you have followed the previous step closely, rinse the lining of the bag gently and hang the bag out to dry. (It is best to hang the bag outside on a warm day but you must not allow the bag to have direct contact with sunlight).
When the interior is satisfactorily clean, turn the bag inside out gently, returning it to its original state.
Getting a handbag liner or organizer will help to protect your beloved designer bag from stains, dirt, and the general wear and tear associated with bags.
The fabric cleaner by Scotchguard is the perfect cleaner for the lining of your handbag. Can lift stains easily while helping to prolong the life span of your bag. After you're done cleaning, the product will continue to protect your bag, making it difficult for dangerous liquids to seep into the fabric lining thereby protecting your bag from stain or damage.
Just like you would do with any designer item, always apply a soft touch to the cleaning of all parts of your bag. Use a clean, soft, and light-colored material (preferably white), and always remember not to soak the fabric.
When it comes to designer items, prevention is always better than cure! We recommend getting a luxury handbag liner (which is only a quarter of the bag's original price tag), for the interior of your bag. A good handbag liner will help you organize the interior of your bag offering better structure, pockets, and compartments. Besides better organization, a liner keeps dirt and grime off the interior lining of your brand new Louis Vuitton bag!
Leather lining
We recommend you use only water when cleaning your LV bag if the lining is made of leather. Use only a clean, soft, lint-free cloth when doing this, and don't soak the cloth, just make the cloth damp because soaking would cause more harm than good.  If you want to carry out deep cleaning, get a leather cleaner and conditioner on the interior of your Louis Vuitton. This system is just perfect for a bag like the LV Capucines bag with its calf-hide interior.
When your LV bag has a suede lining
You have to clean suede in a specific way because of its nappy, textured surface. This material can get marked very easily. If it comes in contact with dyed material or encounters spillage of any kind, it can become very grubby and sometimes, completely ruined. As much as you can, avoid spillages or contact with dyed materials as much as possible.
The Simply Leather Suede and Nubuck Cleaner Pack are perfect for cleaning the interiors of a designer bag with suede lining by, more importantly, the kit is easy to use. The first thing you do is gently brush the surface of the handbag lining using a suede brush. Afterward, pick up the soft cloth within the pack and apply the spray cleaner on it then rub this into the suede gently. Take the cleaning one panel at a time, this way, you'll be able to make sure you apply the cleaner spray evenly over the expanse of the suede. Leave the bag to dry for about 10 – 20 minutes after you've evenly applied the cleaning solution on the panel of the bag's lining. Run a suede brush gently over the lining when you want to raise the nap.
After you must have cleaned up the suede lining, protect your sided material with a suede protector spray. This will keep the sided looking great for a long time!
Cleaning the brass on your Louis Vuitton designer bag
Your bag's hardware needs cleaning and a little polishing just like the fabric we've been discussing so far. You can protect the hardware on your bag using hardware protectors if you want them to retain their shine. With hardware protectors, you can keep your bag safe from scratches or unhelpful contact with your skin.
If the brass (chrome, pewter, or copper) on your bag has lost its original shine, Brasso will help to make it new again! With a cotton bud, apply a little bit of Brasso to the old-looking hardware and buff lightly. While doing this, you have to be careful to avoid getting a lot of the Brasso on surrounding leather. Afterward, wipe the excess with a soft cloth.
Cleaning a Louis Vuitton Speedy Bag
Everyone knows the LV speedy as one of the brand's iconic offerings. It continues to make waves in the fashion world which means you should probably care more about your LV Speedy if you own it because what you have there is a treasure!
Here's what you have to do, rub a mild soap over the full exterior then wipe them off using a damp cloth. For leather Speedy, use a damp cloth without soap. After the cleaner, the exterior of the bag, use a conditioner to condition any part of the bag that is leather. With a lint or roller, pick up any debris or dirt. What type of lining does your Speedy have? When you know this, use the method described above for that type of lining. For the tarnished hardware, use Brasso to get them shining again.
Let the bag remain in the dust bag when it's not being used, this will help maintain the cleaning work you did cleaning the bag.
Find handbag liners that fit a Louis Vuitton Speedy bag easily. You can find these compartmentalized liners in a variety of colors and sizes to fit any size of the Speedy. Whether you're looking to find sizes – 25, 30, and 35. Besides protective functions, the liner also serves practical functions by increasing the pockets of your purse. It also helps you to become more organized so that your essentials have specific positions.
The best way to clean an LV Neverfull Bag
The Coated canvas is the material of choice for the Louis Vuitton Neverfull bag. This material can be cleaned easily using a mild soap solution and a damp cloth. When cleaning your bag and hardware, be careful to ensure that soap and cleaning solutions that are harmful to leather do not touch the handles and other design materials involving leather. With a lint roller, you trap any loose bits of dust or fluff so you can apply one right method to clean the fabric used in the bag's lining.
You can use a handbag liner on the Neverfull just like we described for the Speedy above. The Neverfull has a really large interior and a liner would help add little pockets and compartments to make the bag more practical. Liners are available in various colors and sizes (PM, MM, GM). Another good choice is a zipped insert or a liner with lots of pockets for your daily essentials.
Remember to leave your designer bag in its dust bag, this will keep it safe for longer. Designer bags are best kept away from direct sunlight. When you care for your designer handbags, they will maintain their pristine appearance and retain value especially considering most people buy these bags as a way of making investments.
Best ways to keep your Louis Vuitton bag clean
If you want to use your designer bag for a very long time, do not place your bag in situations where it could be potentially damaged or worse. Whether it's in storage or under active use, it has to be taken care of and we have gathered some of the best tips for ensuring your Louis Vuitton bag is always clean.
Remember to set your bag down on dry, clean and non-greasy surfaces always
Do not let your bag have direct contact with sunlight.
Always have alcohol-free baby wipes handy for emergencies
Always store the bag in a dust bag and not inside a box. This allows the fabric to breathe, also, store in a bag.
Get a handbag liner for your bag, this will help to keep the interior intact.
Carbon Pro and other water-repellant materials can be used on leather bags to protect them from stains and water.
Hardware protectors are there to protect your brass (and other metallic components) from getting being spoilt or marked.
To avoid any costly mistakes! When you find a difficult stain or make, get a cleaning service!