Do you need a high-quality and trusty leather bag for some of your weekend getaways or other trips?
You can never go wrong with a leather travel bag. Duffel bags are durable, functional and can help you make that vintage fashion statement.
What are the basic things you should look out for in a duffel bag?
Which is better, full grain or top grain leather? Would a bag with a shoulder strap serve you better? What is the right style for you?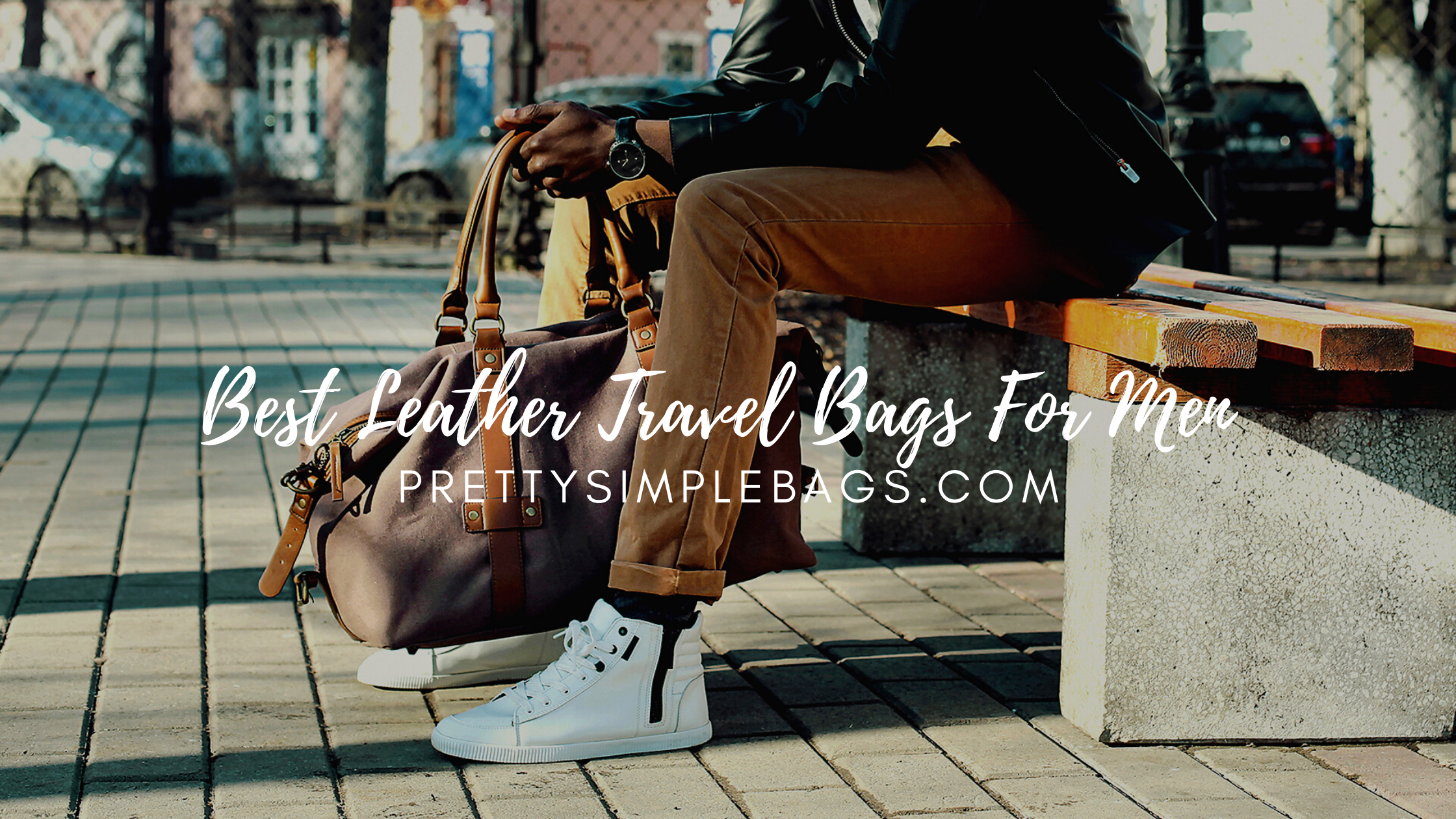 We have designed this guide to answer some of the questions you may want to answer before deciding on the best leather travel bag. Afterward, we'll lead you through what we consider the top 6 leather bags for the year 2021.
Leather Types
Those who are just getting into the leather world would find such words as grain and patina very confusing. Here's something you should know;
If you desire an appealing, durable, and high-quality bag, you need to get yourself a top-grain or full-grain leather. If you happen upon anything like 'genuine' or 'bonded' leather, run for dear life, they both refer to the lowest quality of leather out there.
Understanding full-grain
Contrary to what the name may suggest, top-grain is not the highest grade of leather available. Those in the world of leather know that the highest quality is Full-grain leather. It is gotten directly from the animal and retains its natural texture and quality. There are no chemical processes involved in its production, this is practically the top layer of the hide.
Full-grain is very thick and can be very difficult to work with which is why it is slightly more expensive than most.
It is important to note that full-grain leather is completely natural and just like human skin, it will come with minor imperfections.
Full-grain leather lasts longer than any other leather out there because there are no chemical processes involved in its production. Over time, you will find that the leather is developing a unique pattern often referred to as Patina.
All you need to know about top grain leather
Just like full-grain leather, top grain refers to the topmost layer of the hide which is considered premium quality. The process is where it differs from full-grain leather because top-grain leather allows for chemical treatment and finishes.
With chemicals and finishes, the leather will have an even and smooth finish which makes top grain leather the de facto fashion choice. If you are the type that dislikes the blemishes and imperfect nature of full-grain leather, top-grain leather will be your best option.
Due to the chemical processes involved in the production of top-grain leather, the leather is easier to work with. This also means that top-grain leather is slightly more affordable than full-grain. You should note that this leather type is not as durable.
How much space is on offer?
Whether it is a vacation or a short trip, your bag should be able to hold all your gear. Make sure you check the storage capacity of the leather travel bag you wish to buy.
A bag with a single interior compartment might work just fine, but it will always be better to have a bag with multiple compartments. This way, you will store different things in different areas.
What's the interior like?
Don't be satisfied with just about anything. There are a lot of duffel bags out there that took a lot of thought to make.
Some bags will force you to lump your clothes and shoes with your tablet and laptop. The best will provide more space, allowing you to separate these things into convenient areas.
Let's look at the appearance
A lot of people ignore the exterior of their duffel bags. They forget how important the exterior can be. Imagine a duffel bag with external pockets that allow for easy access.
You will enjoy the convenience of simply dipping your hand into the exterior pocket of your duffel bag and picking out your passport or airline ticket with ease when traveling. Don't get a bag that will bring you needless stress.
You will enjoy the convenient nature of those well-placed exterior pockets on your duffel bag.
Some duffel bags now come with a completely separate compartment for your shoes, how sweet is that? If you are planning to go hiking or battling smelly feet, this new compartment just made your life about 20% easier. You dot have to worry about the dirty shoes stinking up your clean clothes or accessories, just store the dirty shoes in a separate compartment.
Pay Attention to Size
This is one aspect you must not joke with.
Those who have never owned a duffel bag in the past will find, when they finally get to own one, that leather travel bags are usually heavier than anything they've owned in the past. We would advise you to buy the best leather travel bag that comes with a shoulder strap, it will make carrying it a lot easier.
Besides ease of carriage, pay attention to the size of your duffel bag. If you are planning to be away only for a couple of days, a 20-inch duffel bag is what you should be looking at. 20 inches can hold a few changes of clothes, your shoes, and any other accessory you might need for the trip.
If you are traveling for a long weekend, go for a 24-inch duffel bag. This will take your laptop, a few more gadgets and some extra change of clothes.
You should go for an extra-large duffel bag measuring about 28 inches or thereabouts if you are looking to be away for up to a week.
6 of the top-rated duffel bags for men 2021
We have shown you all the features and other things you should look out for in a duffel bag, now we'll show you a few of the best designs out there. Below, you will find six of the leather bags our customers loved most in 2021, we have also included reasons why each one might be a good choice for you.
1. The Duffel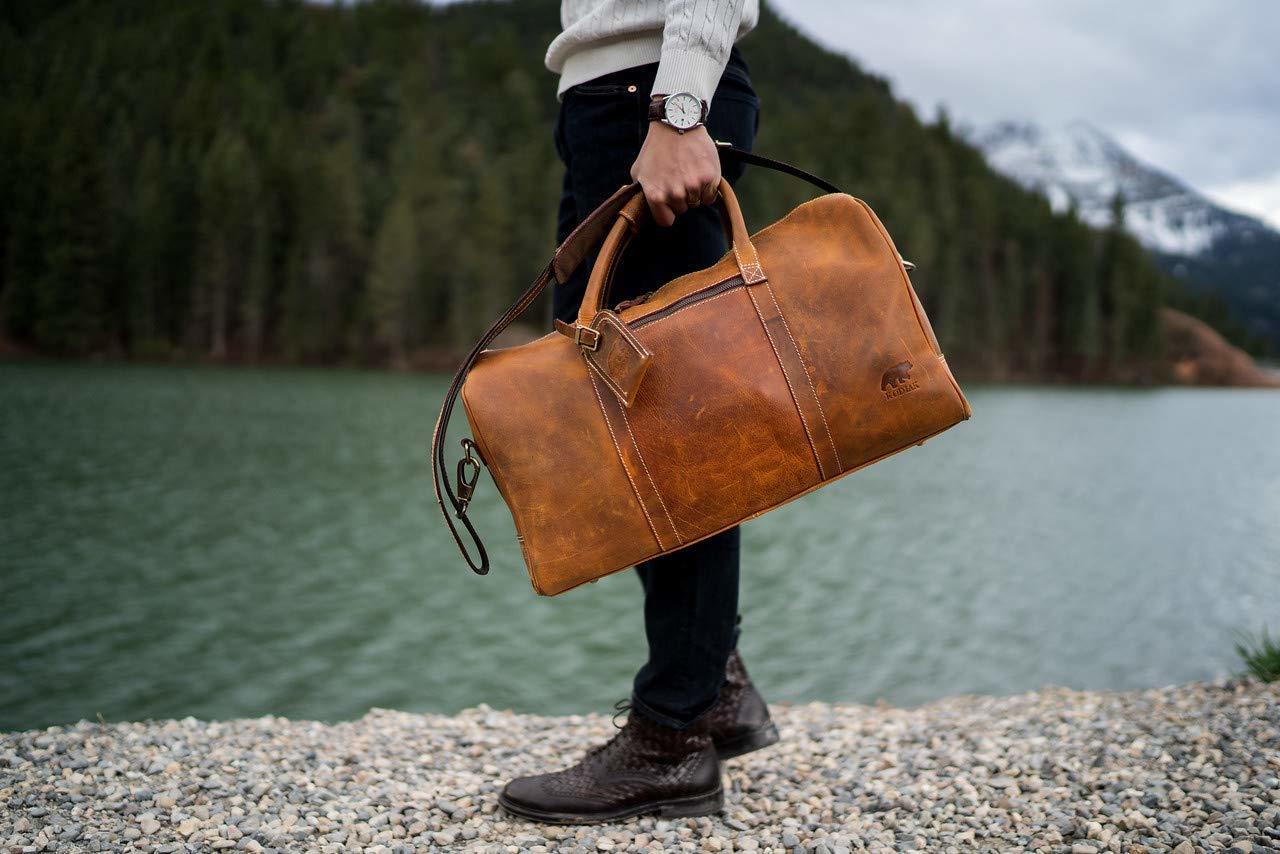 The Duffel is the crème of the duffel crop. It is made with high-quality top-grain cowhide leather. The design comes with an advanced compartment storage system, it also has a separate shoe compartment. This is the best option for weekend getaways.
2. The Rough
Sporting a classic appearance, this leather duffel bag is made with full-grain leather which must have undergone the process of distressing. It offers that extra space and comes with outer pockets that make it easy to access your bits and pieces. This is a real attention grabber!
3. The Executive Duffel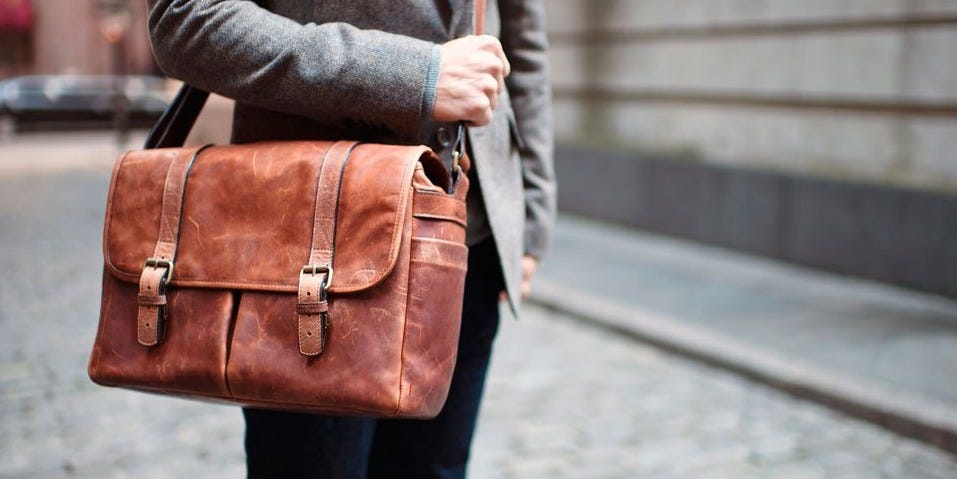 The executive duffel comes in four different colors, offering you the luxury of choice. It is not just the colors, this is an excellent option. You will find multiple exterior pockets and the design is such that all your items will have a specific pocket. It is designed to fit in anywhere, whether it is the white-collar office or the rugged outdoors!
4. The Denali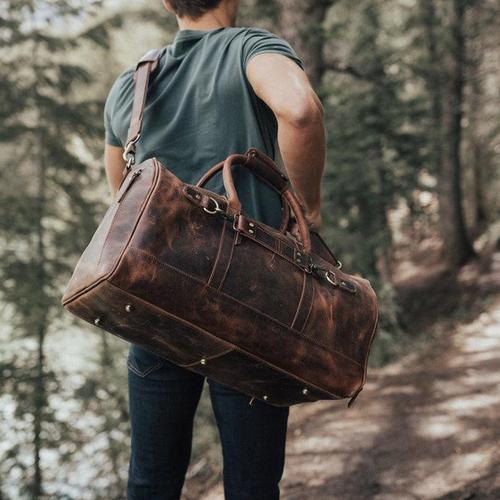 The Denali was designed with an advanced mindset which makes it a unique duffel. The design is such that every item has a compartment and you can easily take out your laptop, shoes, and other accessories without even opening the main compartment. The leather is premium top-grain and you can get the Denali in three colors.
5. The Two Tone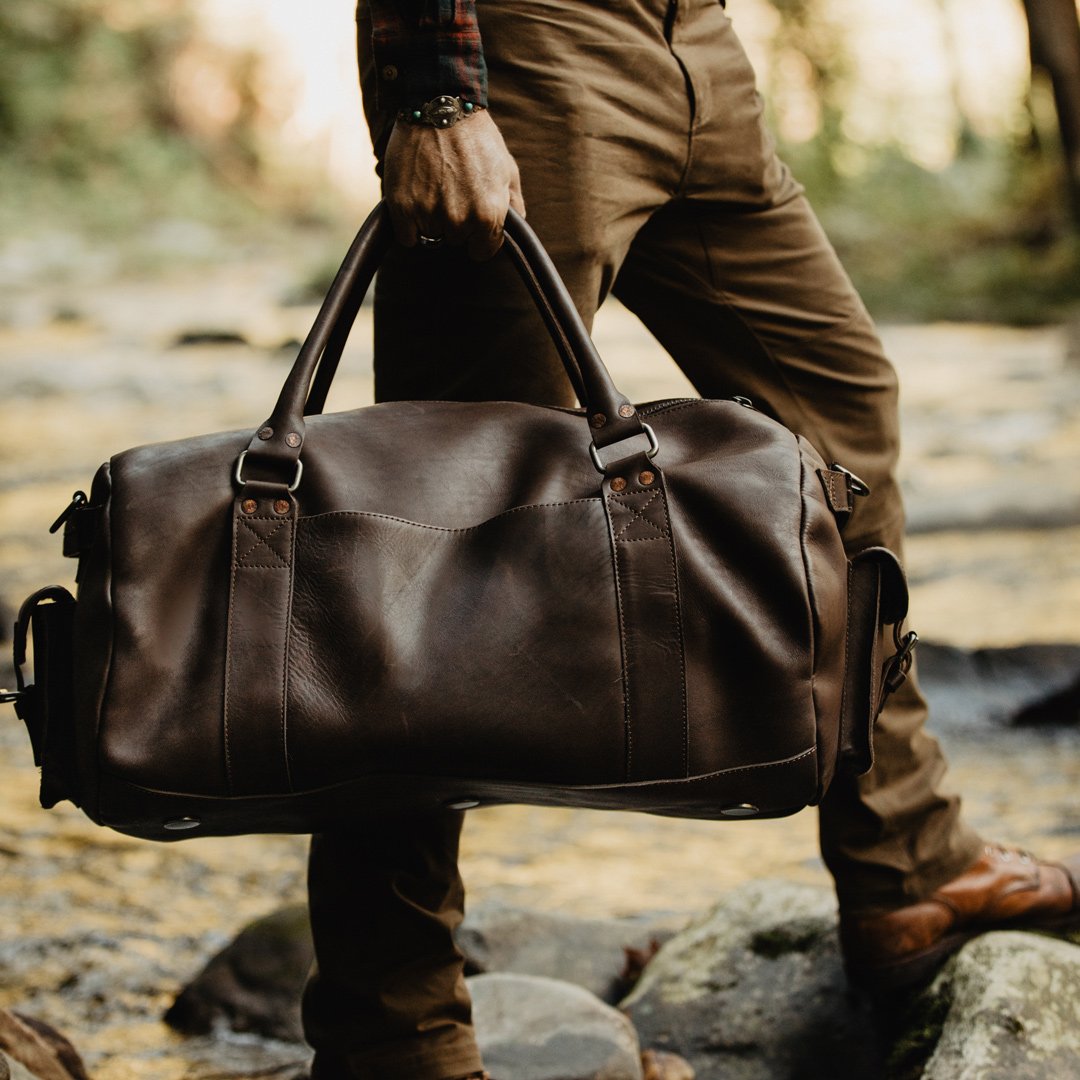 The Two-Tone offers a unique design that makes it a real attention grabber. It sports a compact design that allows the user to carry it conveniently. The compact nature doesn't make it shallow or small, it can still carry you through the week. Its design is a briefcase/duffel blend and will serve you for everyday use. All your documents and gadgets can fit in easily and it will still take your gym gear. You can get this in two colors.
6. The Distressed Duffel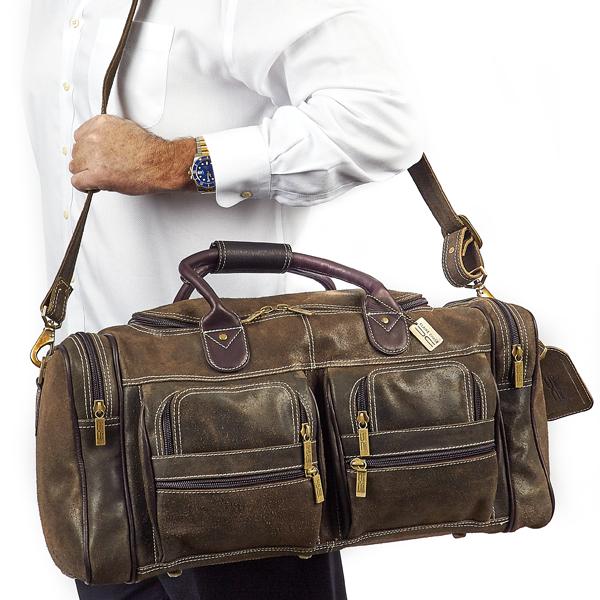 This is a handmade bag crafted out of high-quality full-grain vaquetta cowhide leather. This is your go-to vintage weekend bag. It has a large inside compartment that can hold all you need for a short vacation.
There, everything you need to know about buying a duffel bag is up there in black and white for your convenience.
Extra tips
Prioritize durability, choose full grain or top grain leather.
Size is important, if you don't need all the space, don't go for the biggest, duffel bags are heavier than you'd expect.
Think convenience, pay attention to the interior and exterior pockets.
Final recommendation: get yourself a duffel bag that will serve your needs for a very long time. If you apply all our tips, you might find something that stays with you for the long haul.