Do you need a leather bag for yourself or a loved one this year?
Not sure what to buy?
We know – the options are endless!
We believe that the best leather laptop bag should last you a lifetime. If you think the same, then you should ensure that your choice gives you everything you need.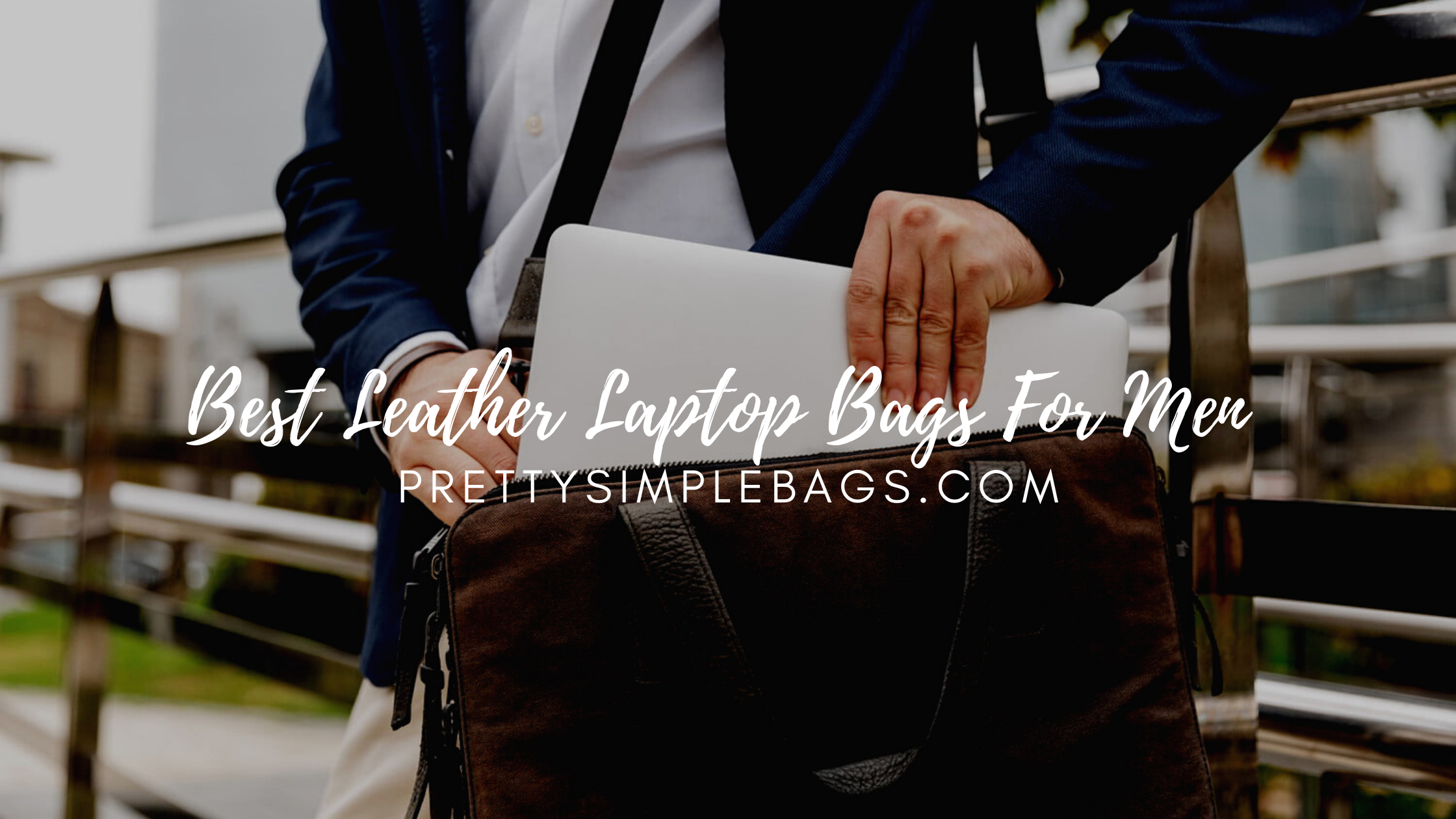 Before you proceed to buy any leather laptop bag for men in sight, you should carefully consider these three questions.
Am I in need of a backpack, briefcase, or messenger bag?
Should I choose top grain leather, full-grain leather, or genuine leather?
What laptop size should my bag be designed to carry?
These questions are very important and once you're able to answer them, you will find exactly what meets your needs. Continue reading for more details concerning these questions and see our compilation of the top 7 leather laptop bags for men in 2021.
Varieties of Leather Laptop Bags
1. Leather Messenger Bags
Leather messenger bags are a nice place to start and are designed to specifically hold a laptop. They are similar to your mailbag or crossbody types.
More professional men are getting in on the best leather laptop messenger bags, as you may have seen a good number of both older and younger guys strapping them to work.
Our customers say that these bags are a favorite because of their super convenience, exotic look, and portability.
Leather messenger bags are usually a superb first bag to give a family or friend who is just starting afresh in the working world. They make a statement of "I am not a kid anymore, but neither am I a superserious high court judge."
Leather messenger bags are quite versatile, which is why they are one of our best-selling products. Need to attend a meeting in the city? Want to enjoy a night out with your wife? Or simply spend the day shopping for some new wear? Leather messenger bags are great for any occasion.
Ensure that you take a close look at the interior and dimensions of any leather messenger bags. You have to confirm that the bag has enough room for everything you'll be carrying.
Take a close look at the weight too because the bag is usually carried over the shoulder and you want to buy something comfortable to carry. One thing to note is that if this is your first time using a bag made out of leather, it might turn out to be rather heavier than you thought.
Whether as a Jim Halpert type or an Indiana Jones type, leather messenger bags are quite versatile and as you'll find, they are an excellent option for a leather laptop bag.
2.Leather Briefcases
If the leather messenger bag is categorized somewhere in the middle of casual and professional, then the leather briefcase will be firmly categorized as professional.
If you want to be taken seriously, then the leather briefcase is an excellent choice. It is great for lawyers, doctors, or any high-end professional, and anyone who has such a position in view.
For decades, the leather briefcase has been a classic staple and has evolved to be a good choice as one of the best leather laptop bags around.
Formerly used as a basic carrier for documents and papers, many of the recent best-selling leather attaché briefcases usually come with special compartments to hold your laptop, as well as your cell phones, tablets, and charging cables.
Double-check on the measurements of any leather briefcases because they are not made to expand.
Weight is a very important factor to consider. Before now, having to move around with heavier leather briefcases may not have been an inconvenience because people mostly only carried documents and papers in them. But it's different these days. A good number of leather briefcases only come with a top handle for carrying and this can quickly become tedious when you have heavier devices in the bag.
3. Leather Backpacks
Leather backpacks are typically used by sophisticated outdoorsmen and are fast becoming an excellent option for a leather laptop bag.
Good backpacks offer convenience that is difficult to beat as they provide the most comfort when you have to carry a sizeable amount of stuff. However, if you want something that is a step-up from your old-school backpack, leather backpacks are great. They are comfortable, hard-wearing, and offer the classic look you desire.
Leather backpacks tend to be more appropriate for casual use and are the ideal option for camping, hiking, or even a weekend getaway in the city. Designed to accommodate plenty of stuff in high-quality fabric, many people will consider a leather backpack an upgrade.
We advise that you carefully find one that comes with a special padded laptop sleeve as this will usually rest on your back.
Many backpacks these days come with secret pockets and are available in unlimited custom designs, which users always find to be a pleasant surprise.
Note once again that leather has more weight than most other options and so leather backpacks may have a little more weight than your old-school bag. Ensure that you put this into consideration when your browse around for your next bag.
Different Types of Leather
If you're just starting out in the world of leather, you may have come across terms like 'top grain leather' and 'full-grain leather'. Feeling puzzled about their meaning? Not to worry, you're not alone!
Here's a brief overview:
1. Full Grain Leather
This is the topmost layer of a leather hide and is the highest-quality grain out there. It maintains the same state as when taken off the animal and is not buffed, sanded, or treated.
Since no chemical processes are allowed on it, working on this type of leather is very difficult and this makes it more expensive than others. Nevertheless, full-grain leather is the best in terms of hard-wearing and is the most long-lasting.
2. Top Grain Leather
This leather is the most common kind you'll find in the high-end category of leather laptop bags. Again, the topmost layer of the leather hide is used but in this case, chemical processes are allowed. Sanding and buffing are allowed on the hide and imperfections can be removed. The result of this is that the bag usually has a smoother and more uniform finish.
3. Genuine Leather
After splitting the top layer of the leather hide to obtain top-grain and full-grain leathers, the remaining part is used to make genuine leather. The leather is passed through artificial processes to make it appear similar to top grain leather.
This type of leather is not the most sought-after, which is why genuine leather laptop bags are usually available for more affordable prices.
Laptop Suitability
Before you choose a leather laptop bag, make sure you check what size of laptops can be contained in the bag. Take a diagonal measurement of your laptop and note this while you browse through different bags. The most common laptop sizes are 13, 15, and 17 inches, and the ideal bag would be one that best accommodates your size.
Keep an eye out for products that specifically indicate they will hold an 'X inch laptop'. Additional advantage if it also comes with a padded sleeve.
Here is our compilation of the best 7 that will make a statement in 2021.
1. The Daily
Made to give an upgrade to the everyday look, The Daily is a favorite among our customers. It is made out of high-quality top grain leather and is suitable for laptops up to 15 inches. The Daily comes in two colors and we see it rapidly becoming the ultimate leather messenger bag.
2. The Jones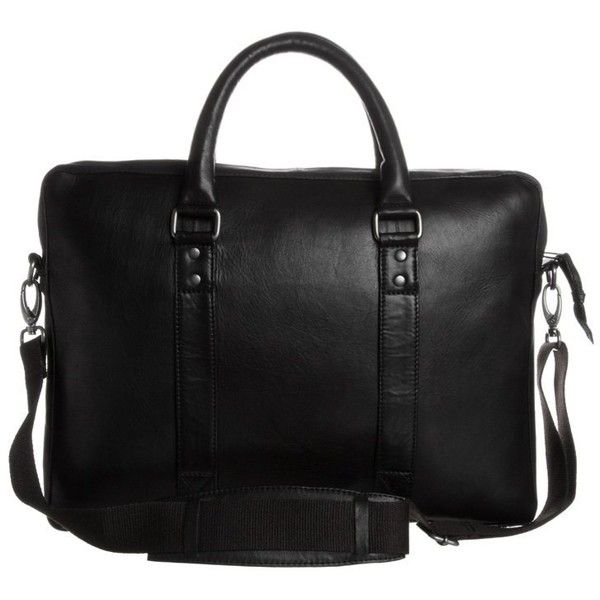 The Jones, which was introduced this year, is a timeless tribute to the popular archaeologist. If you work from dawn to dusk as Indy does, this full grain leather laptop bag is going to be a carry-on and more. It is an authentic premium product and has enough room to hold a laptop up to size 17 inches.
3. The Attorney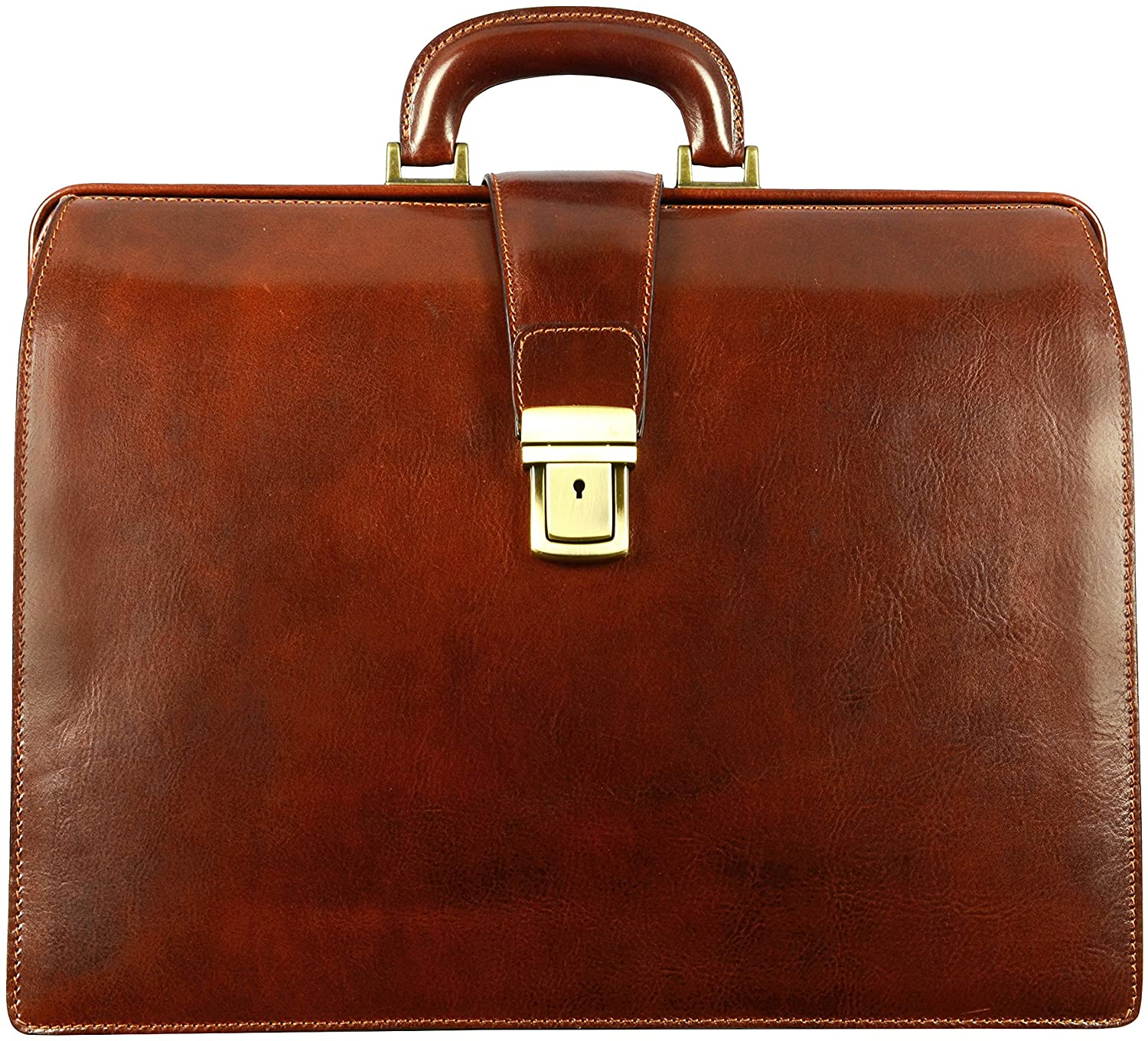 The Attorney was primarily made to be a high-end leather messenger bag for lawyers and has earned a top spot among our best-selling leather laptop bags. Designed to hold one of a 15-inch laptop or a 17-inch laptop along with legal-size files, this leather messenger bag is one that really makes a statement.
4. The Prime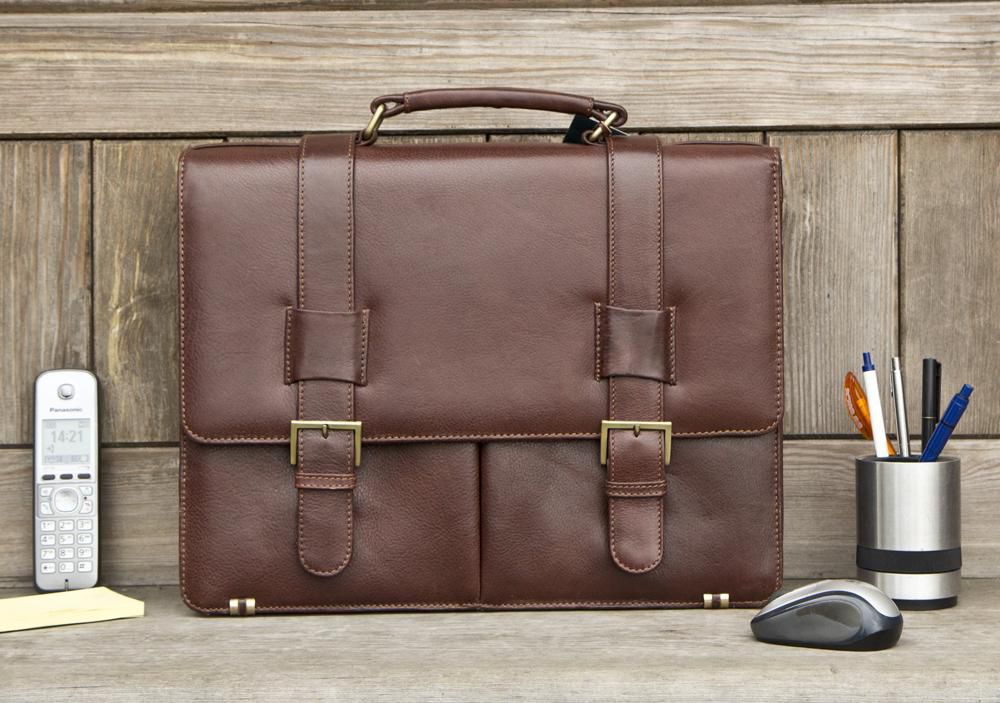 Falling more into the satchel category, The Prime is the ultimate leather laptop satchel. Made from high-quality full-grain leather and designed to hold up to size 16-inch laptops, it is the quintessential satchel, only renovated with premium quality materials.
5. The Brief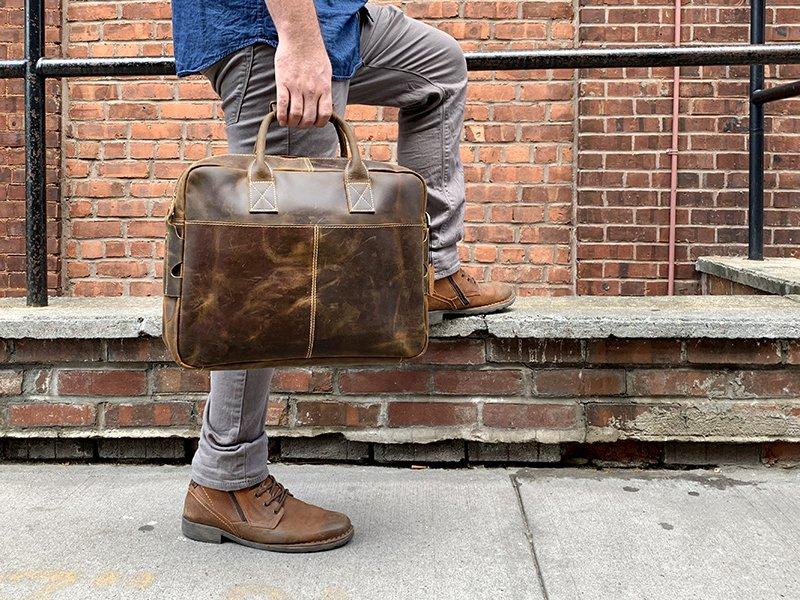 Newly introduced, The Brief is an advanced form of the classic leather briefcase. It has been a favorite so far and our customers report that it is made from premium top grain leather and has a specialized key locking mechanism which they love. It is designed to hold 15-inch laptops and is the ideal office bag.
6. The Mahi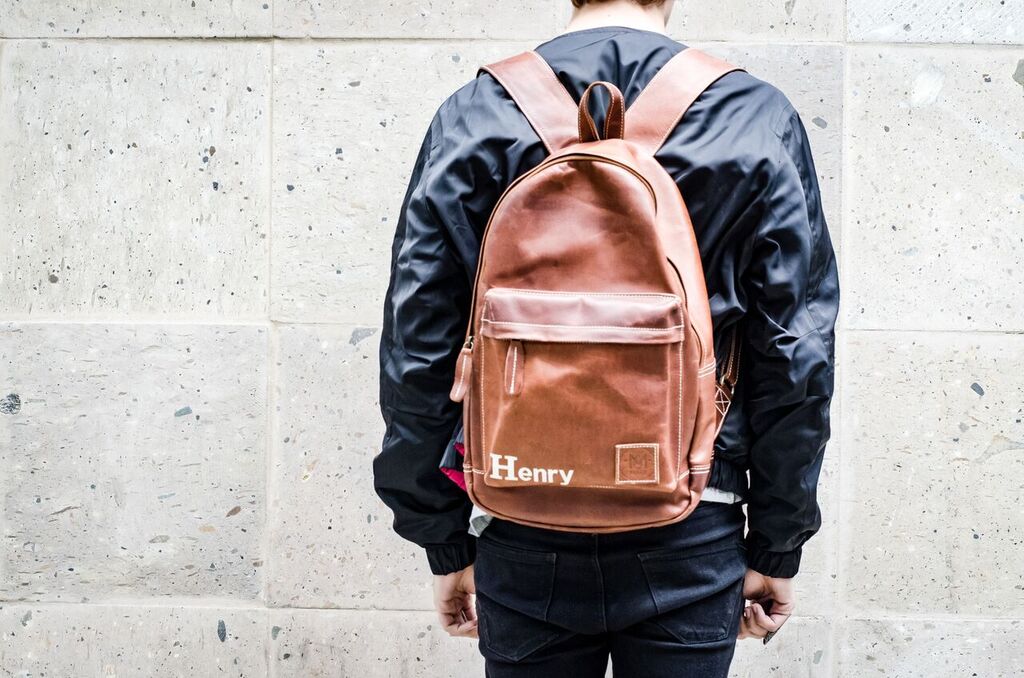 The Mahi is one of the best-selling backpacks we have. It has a simplistic, yet premium look. This exotic leather backpack is made out of high-quality full-grain leather and is designed to hold 15-inch laptops.
7. The Rolltop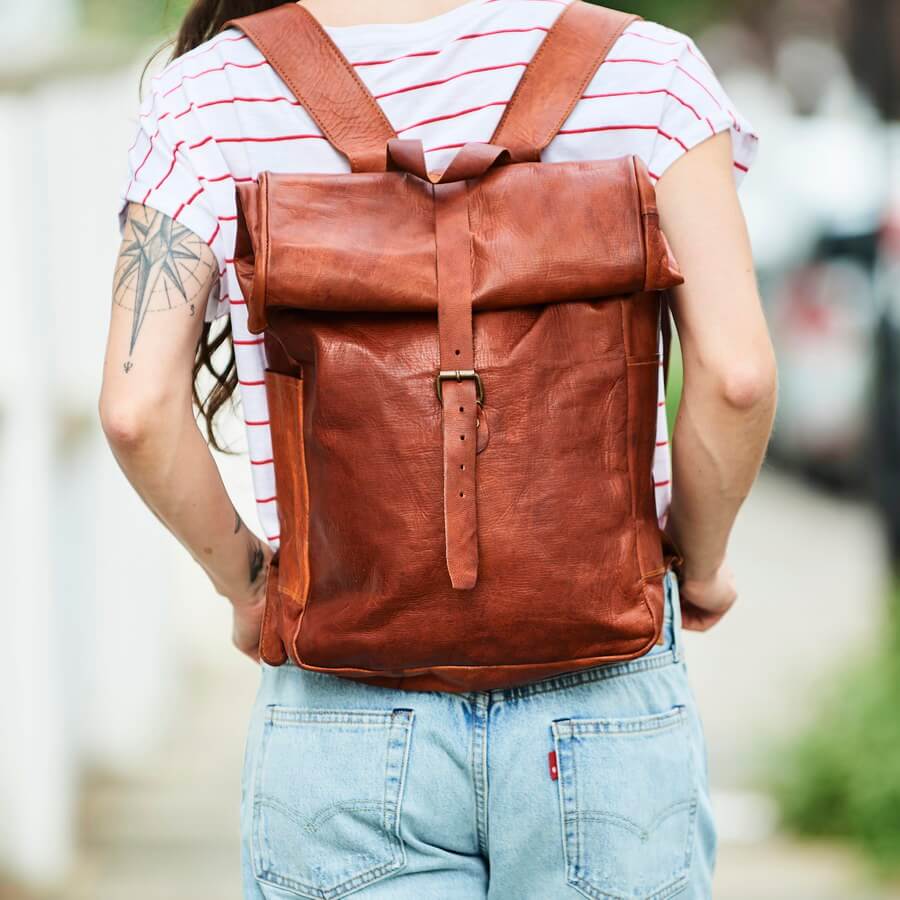 The Rolltop is a modern approach to the classic backpack, which allows you to adjust the size, depending on the stuff you want to carry in your backpack. It can take full packing for your weekend getaways, as well as light packing for a city trip. Either way, this is a premium leather backpack that deserves a place in your everyday bag collection.
Whichever choice you decide to make, we recommend that you go for the best leather laptop bag that can serve you for a lifetime – something with antique quality.