Everyone seems to be wearing a Louis Vuitton bag on their arm, from a random girl at to supermarket to fashion bloggers to A-list actresses and celebrities. With a long history of glamorous purses to its name, it is not surprising that you are looking to buy a new (or perhaps your first ever) Louis Vuitton handbag. Learn about how you can get your beautiful hands on a cherished Louis Vuitton bag.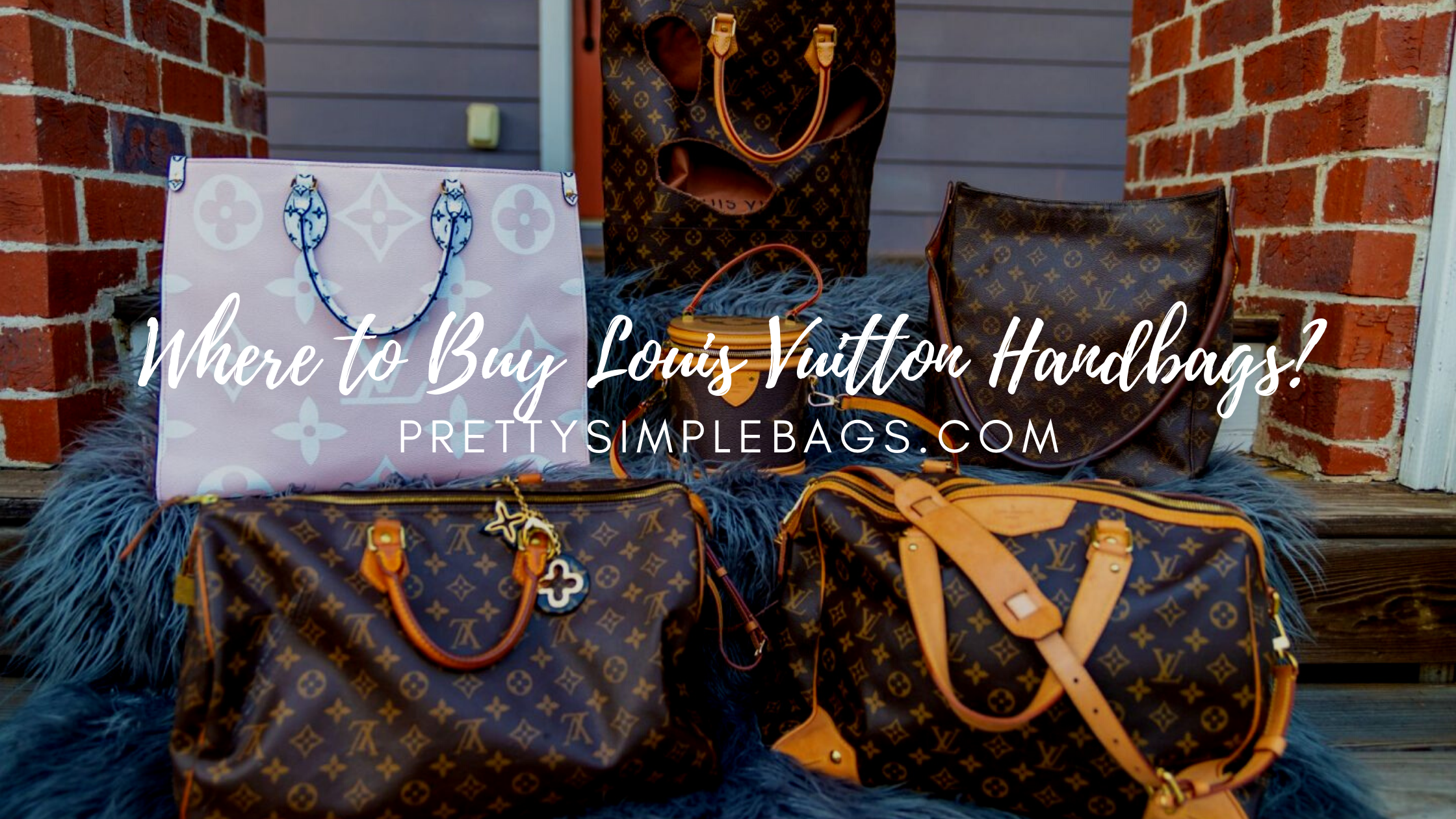 Buy Directly From Louis Vuitton
Due to the popularity of the Louis Vuitton brand, it has become a household name but there are a lot of fakes too, so it is important to shop in the right place. The best way to ensure you get an authentic bag is to buy directly from Louis Vuitton.
There are many brick-and-mortar Louis Vuitton stores all over the US, especially in major cities such as Chicago, Dallas, Denver, Beverly Hills, San Francisco, and New York. To find a store, visit the Louis Vuitton website and use the store locator to find the nearest store.
Louisvuitton.com
The only place to buy a brand-new, original Louis Vuitton handbag is on the brand's website. They do not authorize sales of new bags in any other place online.
Press the 'women' tab near the top of the screen on the Louis Vuitton website and hit 'handbags'. Different handbag options will be displayed such as Icons, New This Season, Mini, Backpacks, Shoulder bags, Top handles, etc.
If you're looking for a particular bag, use the guidelines below:
For instance, you want to buy the Papillon bag, which costs around $1,200. The best way to find the bag you're searching for is to click on the magnifying glass icon to use the search box, located near the top right of the page.
Type 'Papillon' and your beautiful, rounded shoulder bag in classic Louis Vuitton monogram will pop up.
Once you find what you want, add it to the cart and smile even more broadly because shipping for all items is free.
In the rare event that you don't like your Louis Vuitton bag, it's fine. You can send it back via mail or take it physically to a Louis Vuitton boutique or store, along with its original tags and receipts. You will be given a full refund if you send it back within a month from when it was purchased.
Buy Via Email or Over the Phone
If you have little experience with the internet, not to worry. You can call 1-866-Vuitton to buy from Louis Vuitton over the phone, or you can send the company an email and someone will respond with any inquiries you may have, such as purchasing options.
Buying From Reputable Department Stores
Louis Vuitton has units in luxury department stores such as select Saks, Bloomingdales, Neiman Marcus, and Nordstrom. You can't make this purchase online, but you can call to buy over the phone or visit the store physically to buy.
Tips for Buying Over the Phone
Visit the website of any of the department stores above to find their customer service line and call them to say that you want to buy a Louis Vuitton purse over the phone. They will be delighted to help you out.
Though not a necessity, it can be very helpful when you have a style number if you are buying over the phone. This number can be gotten easily:
Visit the website of Louis Vuitton and go through their tags as stated above.
Click on your preferred bag
Once you have selected this purse, a picture of your bag will be displayed on the left side of the screen and other details on the right.
You can put a call through to any Louis Vuitton boutique or Louis Vuitton store in the department stores listed above, give the style number for your bag to the sales associate as they will let you know if the bag is available at the time and give you more information about the bag.
Find Secondhand Stunners
Buying designer handbags as preloved has become very common, especially for Louis Vuitton bags. Preloved is only a fancy way of referring to secondhand items. As consignment stores are not authorized to retail these bags, it is very important to be able to recognize a counterfeit Louis Vuitton handbag when shopping there.
However, some resellers are better than others, having skillful inspectors who can easily recognize what is fake from the real deal. Here are a few tested and trusted consignment shops where you can often find a variety of Louis Vuitton bags to select from:
What Goes Around Comes Around
Based in NYC, this department store was established in 1993 and has gained a massive celebrity following. To meet up with the demand and popularity, What Goes Around Comes Around (WGACA) also has stores in different parts of New York, as well as in Beverly Hills and Miami. It's also nice that you can purchase a Louis Vuitton bag from WGACA online.
This store is great because:
Louis Vuitton handbags are always available, so you can be sure that shopping here is not a waste of time.
They have such a good reputation that sellers have nothing to worry about leaving their highly valuable Louis Vuitton items with WGACA.
You can pay for a new preloved bag in installments since they use Affirm.
You are allowed to return your item within 14 days, except in the case of a final sale item.
Their evaluating professionals are the best and whatever you buy at WGACA is guaranteed original.
Ann's Fabulous Finds
Another luxury consignment shop with rave reviews is Ann's Fabulous Finds (AFF). Take a look at the customer reviews on TrustPilot to see Ann's Fabulous Finds excellence rating at 9.7 out of 10. They guarantee 100 percent authenticity and there is always a large selection of Louis Vuitton items available.
You should make your next online Louis Vuitton purchase from them because:
AFF shipping with FedEx is free within the US.
You get exactly what you see. The professional photographer at AFF uses a high-resolution camera to take remarkable pictures of all their items.
They offer Affirm pricing and layaway pricing, so you are not always required to pay the full price upfront for eligible Louis Vuitton items.
You can also make payments using PayPal or any major credit card.
You are allowed a 10-day period to return your items for any reason.
AFF has a nice Instagram page where their items for sale and their satisfied customers are displayed.
Yoogi's Closet
You can find several Louis Vuitton bags for sale at Yoogi's Closet. Sometimes, their stock is almost up to 800. This is a dream come true for every lover of Louis Vuitton. You know that a company is reliable when their rating is A+ and this is the case with Yoogi's closet, as seen on Better Business Bureau.
You should shop at Yoogi's Closet for the following reasons:
At Yoogi's Closet, you get a $75 discount on your first purchase worth at least $500 with email signup.
There is an 800 number: 1-800-274-9691 for live help.
They have a guaranteed authenticity period of 30 days and domestic orders are shipped for free.
Their trusted customer reviews in Google are 4.9 stars.
Their acceptable payment methods include Bank wire transfers, Affirm, PayPal, Money Orders, and Credit Cards.
Bag Rental Options
If you are looking for a different option, Louis Vuitton bags can actually be rented for a percentage of the retail price. Perhaps you want a mini clutch for a wedding, or maybe a bigger tote bag for use on a trip? Whatever the event is, you can now rent a Louis Vuitton purse for any occasion.
Bagdujour.com
A lot of bag rental websites are absolute scams, but not Bagdujour.com. TrustPilot rates Bagdujour.com as a reliable company. Their Louis Vuitton selection is limited, as they are only a rental service company. Most people would prefer to save up to buy their own bag.
You should use Bagdujour.com rental service because:
You can rent a bag for a one-month period, so with this service, you can change your bag selections constantly.
There is an option to renew your rental period before your bag is claimed by someone else.
Guaranteed authenticity, but if you don't like your bag, you can get a full refund if you return it within two days.
The average rate for renting a Louis Vuitton bag is $200 per month, and they have trendy styles.
They have a nice blog to follow for bag inspiration.
Supersetyle.com
Supersetyle.com is also a reliable designer bag rental company with a 10 percent discount promo for first-time customers. Supersetyle.com has a history of 5-star ratings on Google and Facebook.
You should use Superstyle.com because:
They offer weekly bag rental, so you have less commitment. This is perfect for fashion enthusiasts who bore easily and who enjoy changing their bags as often as they change their accessories every week.
The rental cost includes insurance against regular wear and tear.
Free shipping for transactions worth over $150.
The average weekly rental is $150 for a Louis Vuitton handbag.
They have a limited variety of bags but are nicely selected.
Louis Vuitton Price Ranges
It costs a lot of money to buy a Louis Vuitton bag, however, it is worth every penny. The retail price for their classics such as monogram canvas Speedy, Neverfull, Aima, and Papillon is around $1,500.
However, the 'Icon' collection is quite expensive, as well as shapely, colorful, and diverse. At almost $49,000, the Capucines MM black crocodile top handle is among the most expensive bags in this collection. On the less expensive end of this collection, there is the elegant baby pink Twist MM epi-leather shoulder bag which costs around $4,400.
Indeed, Louis Vuitton has a wide variety of hundreds of bags in different styles and prices. It would not be wrong to estimate that the average price for a Louis Vuitton bag is about $5,000. Fortunately, these bags have excellent quality and are built for durability, so the price of this purchase is justified.
Are you in doubt about this $5,000 commitment? Consider the secondhand market to buy these elegant bags or go for a rental from any of the sources listed above.
Louis Vuitton Fanatics
Louis Vuitton is a prominent luxury handbag designer across the world, so it is always a target for counterfeits. However, with all the information provided in this article, you can be sure that you are buying at stores where they provide 100 percent bag authenticity and customer satisfaction. Whether it is a rental, gently pre-loved, or brand-new bag, you will certainly be the center of attention with your Louis Vuitton handbag.