If you're planning a trip to Paris and want to shop at Louis Vuitton, one of the things you might be wondering is if Louis Vuitton is cheaper there. Louis Vuitton is without a doubt one of the most well-known luxury boutiques in Paris. On the Champs Élysées shop, you'd always find a queue out the door. When I initially went to Paris, my first thought was, "Is this queue outside Louis Vuitton meant for an event or a sale?" No, Louis Vuitton is usually quite packed. This raises the question of whether Louis Vuitton bags are cheaper in Paris if the line is so lengthy.
Yes, Louis Vuitton handbags are less expensive in Paris and throughout Europe. Some people might be thinking about how much cheaper it would cost for planning a trip to Paris and buy a Louis Vuitton bag. I'll address all of your pressing questions about the pricing difference between a Louis Vuitton in the United States, Paris, Hong Kong, and Singapore neverin this post.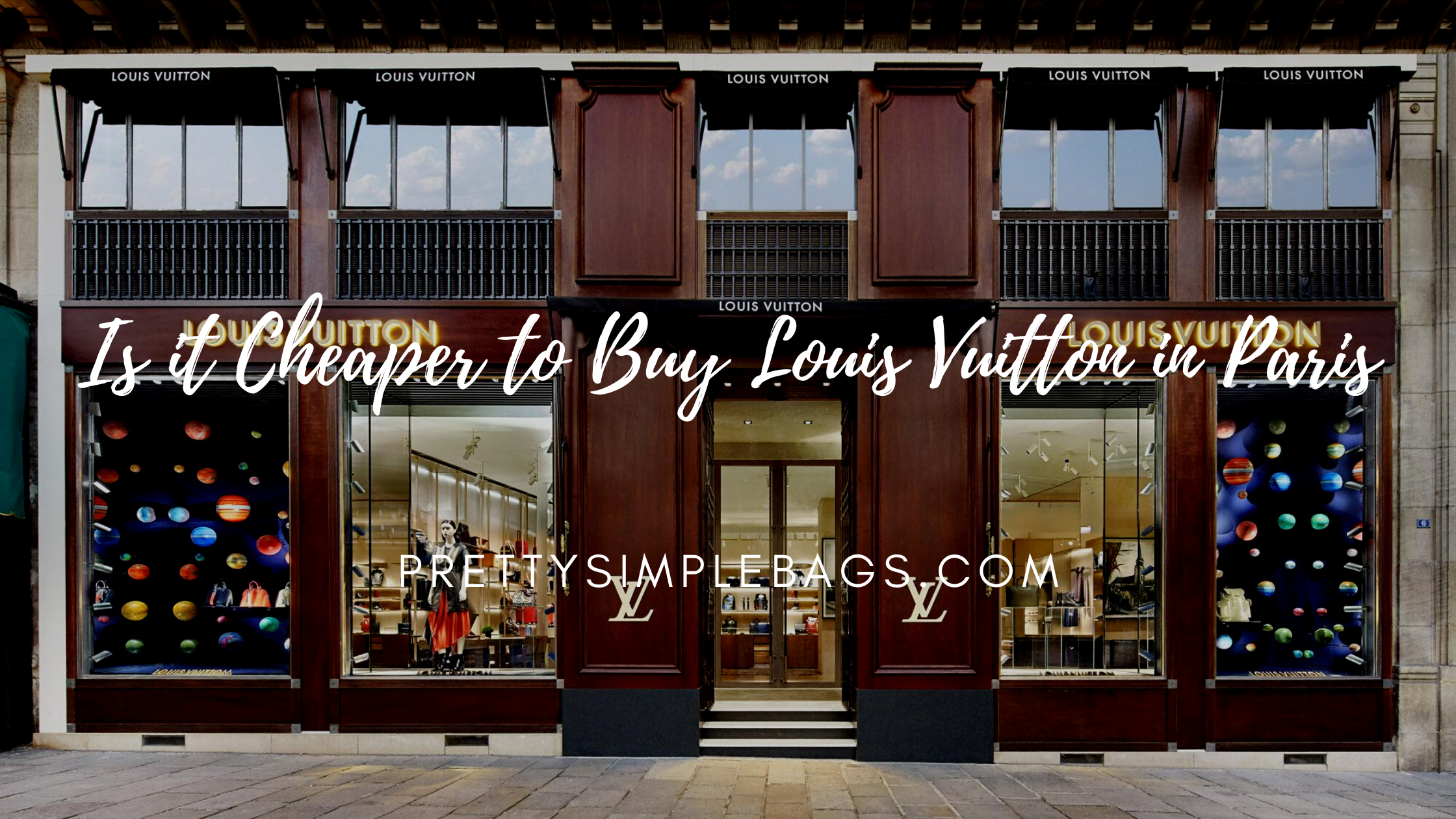 I just published an essay regarding designer bags in general, as well as why premium goods are less expensive in Paris. More information about this may be found here. Basically, any brand with a Paris headquarters will be the cheapest in Paris.
What makes Louis Vuitton cheaper in Paris?
As a basic rule, any brand with a headquarters in Paris (or Europe) will be less expensive in Paris (or Europe). This is so because the brand is exempted from paying import taxes, transportation taxes, and any other state or foreign taxes. The headquarters of Louis Vuitton is in Paris, France. Because Louis Vuitton is headquartered in Paris, the pricing of their products is significantly lower.
Furthermore, you are eligible for a VAT refund, which will save you an extra 12%. Going forward, I compared the prices of Louis Vuitton in various countries in the next paragraph. The good news is that you will find cheaper Louis Vuitton purses, handbags, and accessories in Paris and Europe.
The difference in Louis Vuitton prices in Paris, the United States, Singapore, and Hong Kong
As previously said, purchasing a Louis Vuitton is less expensive in Paris and Europe than in other countries. However, you're undoubtedly curious as to how much less expensive it is.
With sales tax, Louis Vuitton costs $1,513.36 in the United States (Given that you bought the bag in NYC). The bag costs S$ 1,860.00 (about $1371.75) in Singapore. In Hong Kong, the LV purse costs HK$ 11,700 (about $1502.33). The price of the Louis Vuitton Neverfull in Paris, France is 1,040 Euros. After subtracting the VAT tax return of 12%, the price is 915 Euros, which estimates to be roughly $1015.11.
Finally, when you buy a Louis Vuitton Neverfull in Paris, you stand a chance of saving almost $500!!! Imagine getting $500 off on a bag you were planning to get anyway. That alone is enough to justify a trip to Paris or Europe!
USA Pricing – $1,513.36
Singapore Pricing – S$ 1,860.00 = 1371.75
Hong Kong Pricing – HK$ 11,700 = $1502.33
Paris, Italy / Europe Pricing – $1015.11
There have been questions by so many people asking if buying a Louis Vuitton in Paris is cheaper than buying one in Italy, and the answer is simple: no, the prices are the same. After comparing the prices of the Louis Vuitton Neverfull MM in Paris and Italy, I discovered that both charge 1,040 Euros. The two countries meet the requirements for the VAT return program. And yes, Louis Vuitton is cheaper in Paris and Italy, as shown in the analysis above.
Is buying a Louis Vuitton in Paris easy, or do I have to join a queue?
Louis Vuitton usually has the majority of its items on stock, unlike Hermes. One of the best things about Louis Vuitton is that if that particular shop does not have the handbag or goods in stock, they can place an order for a bag at another location, or if they are very busy, they will give you direction on where you can get a Louis Vuitton.
Furthermore, because Louis Vuitton has their headquarters in Paris, they often have a bigger supply of bags than other countries, including some that are exclusive to Paris. Finally, Louis Vuitton bags are not difficult to buy.
I'm I eligible to get a tax refund if I buy Louis Vuitton in Paris?
The good thing about buying a Loius Vuitton in Paris is that you may get a tax refund. In Paris, the tax rebate is an additional 12% off the online price! It's also for this reason that Louis Vuitton bags, handbags, and accessories are less expensive in Paris, Europe. It is eligible for a refund of the VAT. You can read the full article I wrote about the VAT tax refund process in Paris here.
There have also been a few questions regarding if Louis Vuitton is cheaper at the airport in Paris. The answer is pretty straightforward: you won't have to deal with the VAT tax return process at the airport, which may take up to three months. The airport stores, on the other hand, are small and lack the selection of a real Louis Vuitton store in Paris.
What are the benefits of owning a Louis Vuitton bag?
One of the very first reasons you should consider buying a Louis Vuitton handbag is that it is composed of high-quality materials. Founded in 1854, Louis Vuitton products are noted for their high-quality, durable goods. I've owned my LV Neverfull MM for eight years and it's still in great shape. It is this bag that I use almost every day and even carry my shopping in it on occasion. If you look at the pricing per year, it's rather reasonable.
The second reason to acquire a Louis Vuitton today rather than later is that, like other luxury goods, Louis Vuitton's prices are always on the increase. The Neverfull bag, for example, is a classic item that will never be old-fashioned, and it is an excellent investment item if you ask me. Know that the price you see now may not be the one you see tomorrow. Because luxury brands are infamous for escalating their prices year after year, the best approach to follow when acquiring one is to do so as soon as possible.
Where can I get a preowned Louis Vuitton bag?
The truth is that Louis Vuitton handbags don't come cheap, they cost a lot. I recommended that you go for preowned Louis Vuitton handbags because they have a long-lasting lifespan. They are sure to withstand harsh conditions. You can get secondhand classic Louis Vuitton handbags with excellent quality, and they come at a discount.
Since there are a lot of counterfeit Louis Vuitton items in circulation, you should visit reputable sites when shopping. A lot of these sites have experts available to verify the authenticity of your bag before you purchase them. Some of the recommended websites where you can get secondhand Louis Vuitton is Fashionphile, What Goes Around, and Real Real.
Summary on why Louis Vuitton Cheaper in Paris
In summary, and response to the question on whether Louis Vuitton is less expensive in Paris? Yes, you will save $500 if you purchase a Neverfull MM in Paris, Europe. What are you going to do with all of your huge savings? You can invest in a second Louis Vuitton bag, purse, or even a scarf or wallet and other accessories.