The LV Multicolore Monogram Collection was unveiled only 17 years ago and it was love at first sight for most customers. Even now, the bag is still in great demand although it might be difficult to find. Some fashion lovers view the LV Multicolore Monogram Bag as the "It-Bag" of the times. But we do wonder, as do many others, how this print quickly attained the status of vintage in such a short time.
Let's take a peek into the history of this bag.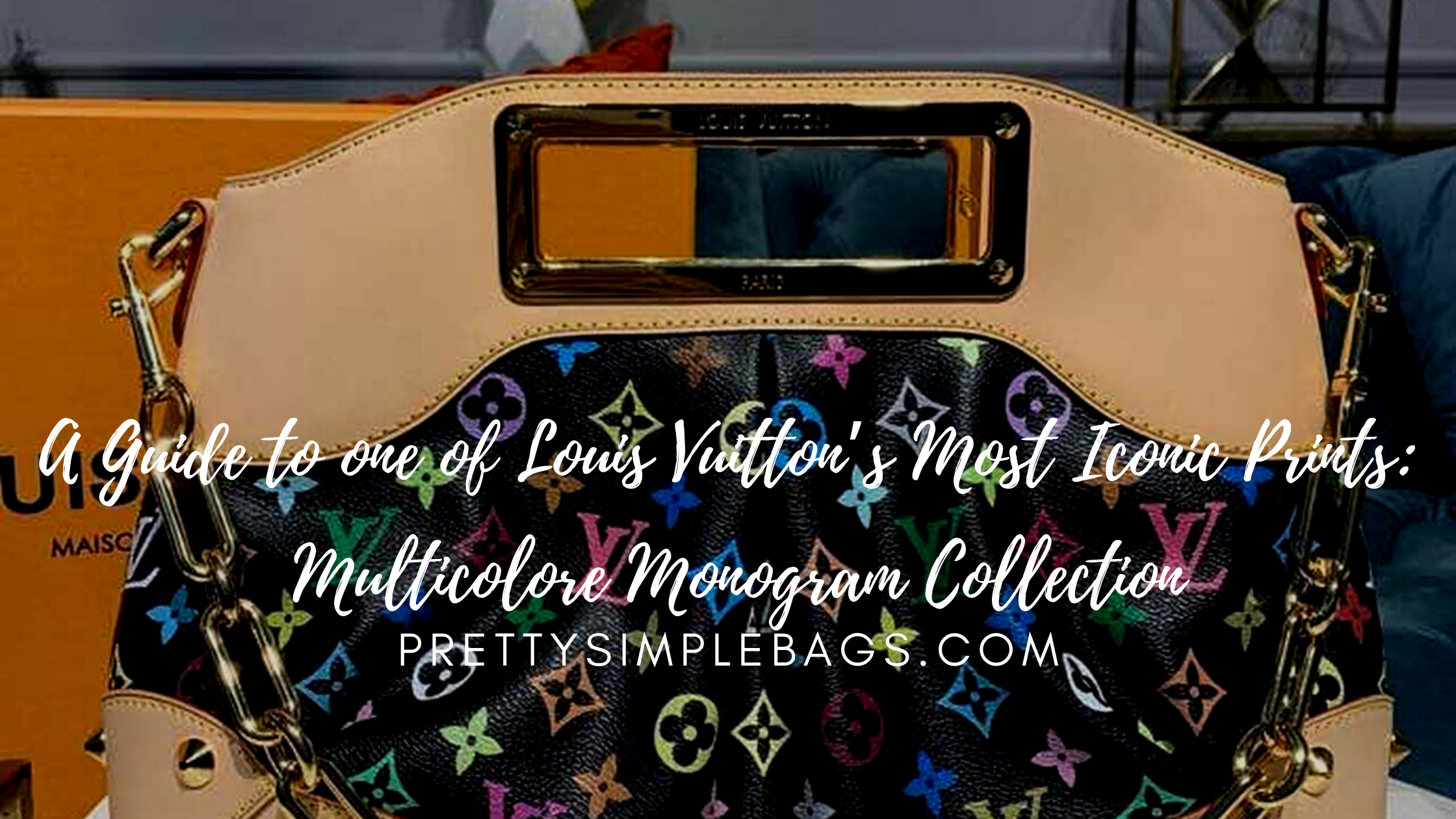 When was the Louis Vuitton Multicolore Released?
This bag is a collaborative offering between Louis Vuitton and Takashi Murakami, the Japanese artist. Marc Jacobs, who led Louis Vuitton at the time invited the artist to bring in fresh ideas and he wasn't wrong. In 2003 this bag was introduced to the world and it went on to become a resounding success.
While several new bags and accessories debuted during Louis Vuitton's Spring/Summer fashion show, Murakami's creation stole the show and earned a lot of plaudits. It became an instant hit with Louis Vuitton lovers after its maiden appearance. Numerous public figures and celebrities were caught on camera with the Multicolore Monogram bag and its accessories after the launch.
LV's collaboration with Murakami lasted for 12 years and the Multicolore Monogram Collection was discontinued following an announcement from the fashion house in July 2015. This marked the end of Marc Jacobs' era and the new Louis Vuitton head said the fashion house would prefer to "look forward"
 Major Features of the Multicolore Monogram Collection
Let's take a look at what makes the Multicolore Monogram collection so unique and why it is still beloved by many! Takashi Murakami used a vivid color palette and a playful style always noticeable in his works when he began to remodel conventional Louis Vuitton accessories. He quickly replaced the standard Monogram print with a colorful Canvas. In the new design, you have a black or white background represented with flowers and an interlocking Louis Vuitton logo sporting 33 different colors. Customers could get this print in a variety of Louis Vuitton styles and small leather products.
What Made the Multicolore Monogram Collection such a hit?
After its first appearance in Paris, the Multicolore Monogram Collection became a huge success in the market. Over 70000 bags and wallets were purchased by customers looking to own a trendy accessory in only one year of sales. The bag got the "It-bag" title and every fashion lover made it a priority to own a piece of this goodness. Numerous celebrities were spotted with a bag from the Multicolore Monogram Collection while the fashion house enjoyed massive advertisement from the mass media. A new wave of popularity hit the Multicolore Monogram Collection after it was discontinued in 2015. Now that is harder to find, it became even more desirable. Murakami's design is quite the attention grabber!
Five Most Popular Multicolore Accessories Plus Where You Could Get Yourself an Authentic Vintage Louis Vuitton
Louis Vuitton announced that it has discontinued the Multicolore Monogram Collection. Every fashion lover knew what this news meant: You can only get a piece from Murakami on the website of consignment stores because you cannot find the bag's on Louis Vuitton's official website and stores anymore.
Below are some of the most popular Louis Vuitton Multicolore accessories available for purchase online.
Black Multicolore Monogram Speedy 30 Bag
This is the most famous piece in the collection. It is compact and lightweight with a small front pocket. It also sports dual handles and a zipper on the top for comfortable daily use. It is an essential piece for the travel lifestyle.
Multicolore Monogram Petit Noe (Black)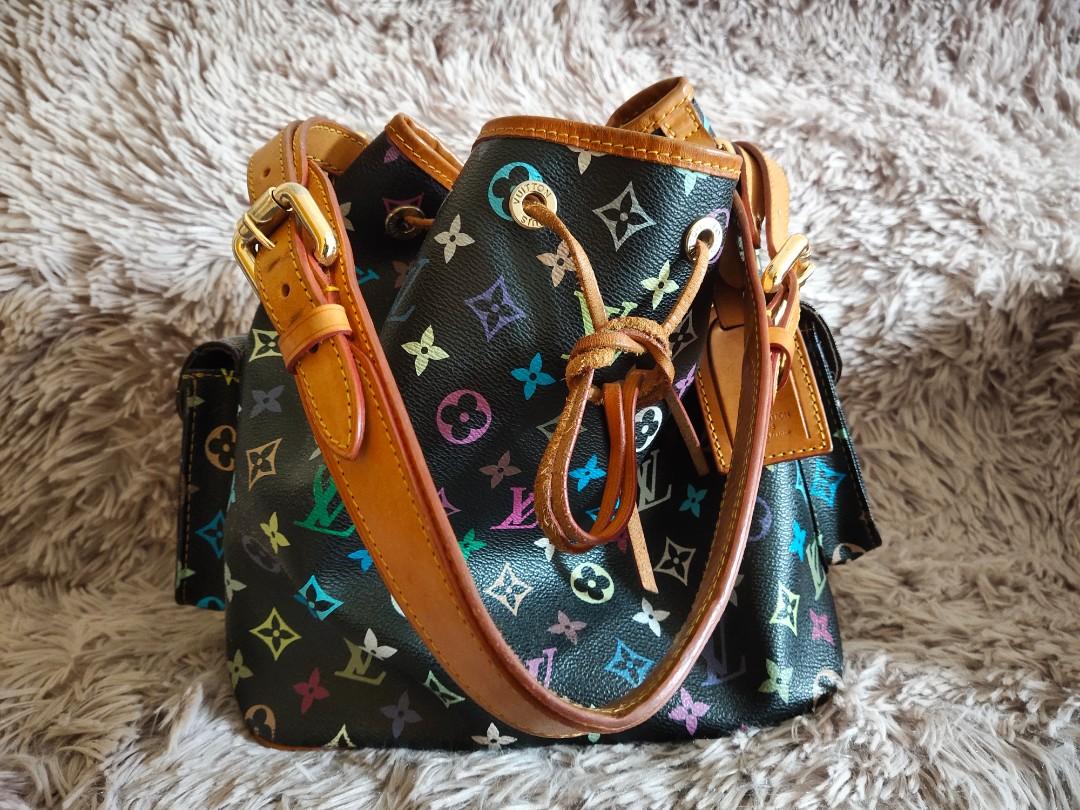 This design came into being in 1932 when a champagne producer asked the brand to design a stylish bag that can hold five bottles. The resulting iconic shape remains popular today due to its spacious interior and the drawstrings right on top. Add the Multicolore print and you get a funky appearance.
White Multicolore Monogram Alma Bag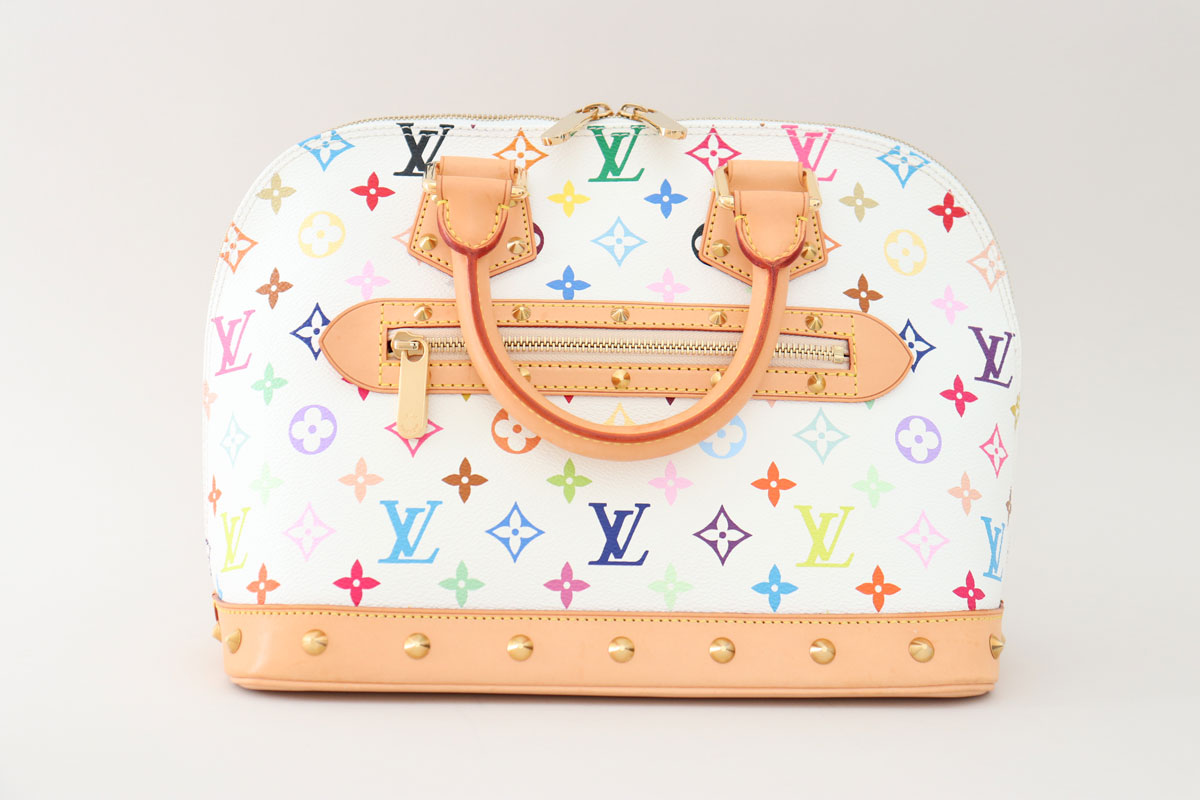 This is a classical piece whose appealing style makes it a timeless bag. The bright monogram canvas makes any outfit you pair it with pops! Alma is an excellent crossbody bag with a removable strap you can take out if you want to carry it in your hand.
Black Multicolore Monogram Pochette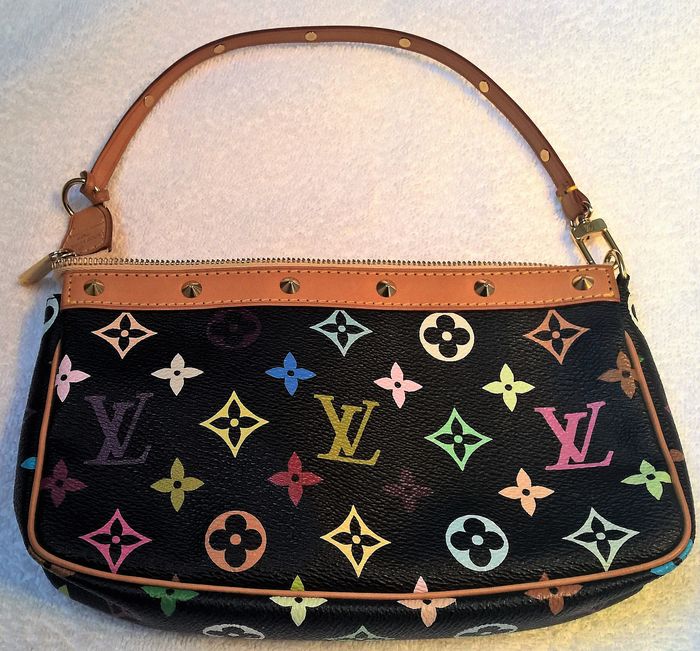 The Pochette remains one of the smallest pieces in the collection. The design is geared towards bare necessities. Its unique aspect is the reinforced base which most Clutch bags don't have. With the reinforced base, you can place it just like any regular bag and it won't fall.
Multicolore Monogram Wallets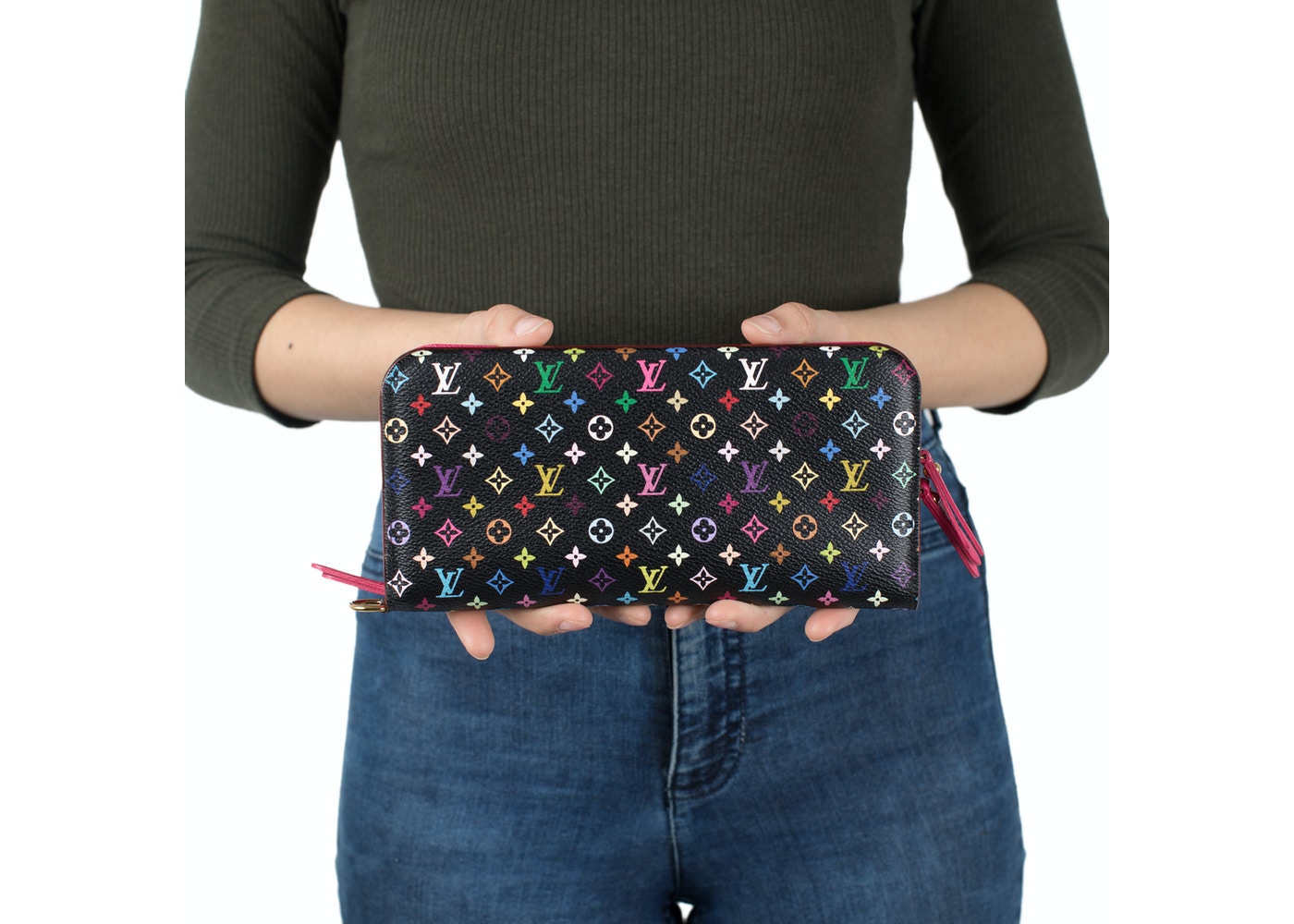 This bright colorful print created by Murakami appeared as a part of Louis Vuitton's accessories and small leather goods. It is related to Eugene and Zippy wallets which you can get from our store.
How to recognize a LV Multicolore Bag that's not genuine?
Where can one locate a Louis Vuitton Bag's serial number?
With most of the Multicolored accessories, the date code can be found stamped into the interior of the pocket just close to the sewing.
The date code on the Alcantra lining tends to fade which is why it can be very hard to find sometimes and even when you manage to find it, you may not be able to read it.
There are only a handful of Louis Vuitton Multicolore Speedy date codes that can be found and read with ease.
If a Multicolore bag doesn't have a date code, this doesn't make it fake. A bag could also be fake even when it has a date code in it.
Which Celebrities are Wearing Multicolore Monogram?
This work with Takashi Murakami's imprint was quite successful and even more so with celebrities who were spotted carrying the bags on most of their public appearances which was a huge advantage to the fashion house.
Jessica Simpson and Paris Hilton were the first Celebrities to fall in love with the Multicolore Monogram Collection. They became the major influencers after the release of the piece with Jessica Simpson spotted holding the bag in every scene of the TV show, Newlyweds. Paris Hilton was once captured on camera holding two Multicolore bags at the same time. One of the bags had a black background while the other had a white background. She is also known to own the LV Multicolore trunk. Jennifer Lopez, Travis Scott, and Anna Kournikova have all been seen with bags from the Multicolore collection.
You'd find some real lovers of the collection among modern influencers of our time including Kendall Jenner who is known to love tiny Multicolore Monogram bags. She was recently seen in public carrying two different kinds of the bag. Kim Kardashian purchased numerous bags as Christmas gifts for her family from Japan. When she posted pictures on her Instagram page, there were eight Multicolore bags designed by Murakami amongst the ensemble. Kylie Jenner would post pictures of her daughter, Stormi throwing a mini bag over her shoulder with some style.