Owning a real Louis Vuitton purse is almost every girl's fantasy! The truth is, a new Louis Vuitton bag is more expensive than three months' rent for most individuals. Even a used Louis Vuitton handbag is out of reach for a lot of fashionist enthusiasts, as pre-owned Louis Vuitton handbags are sold at a minimum of $1,000 apiece!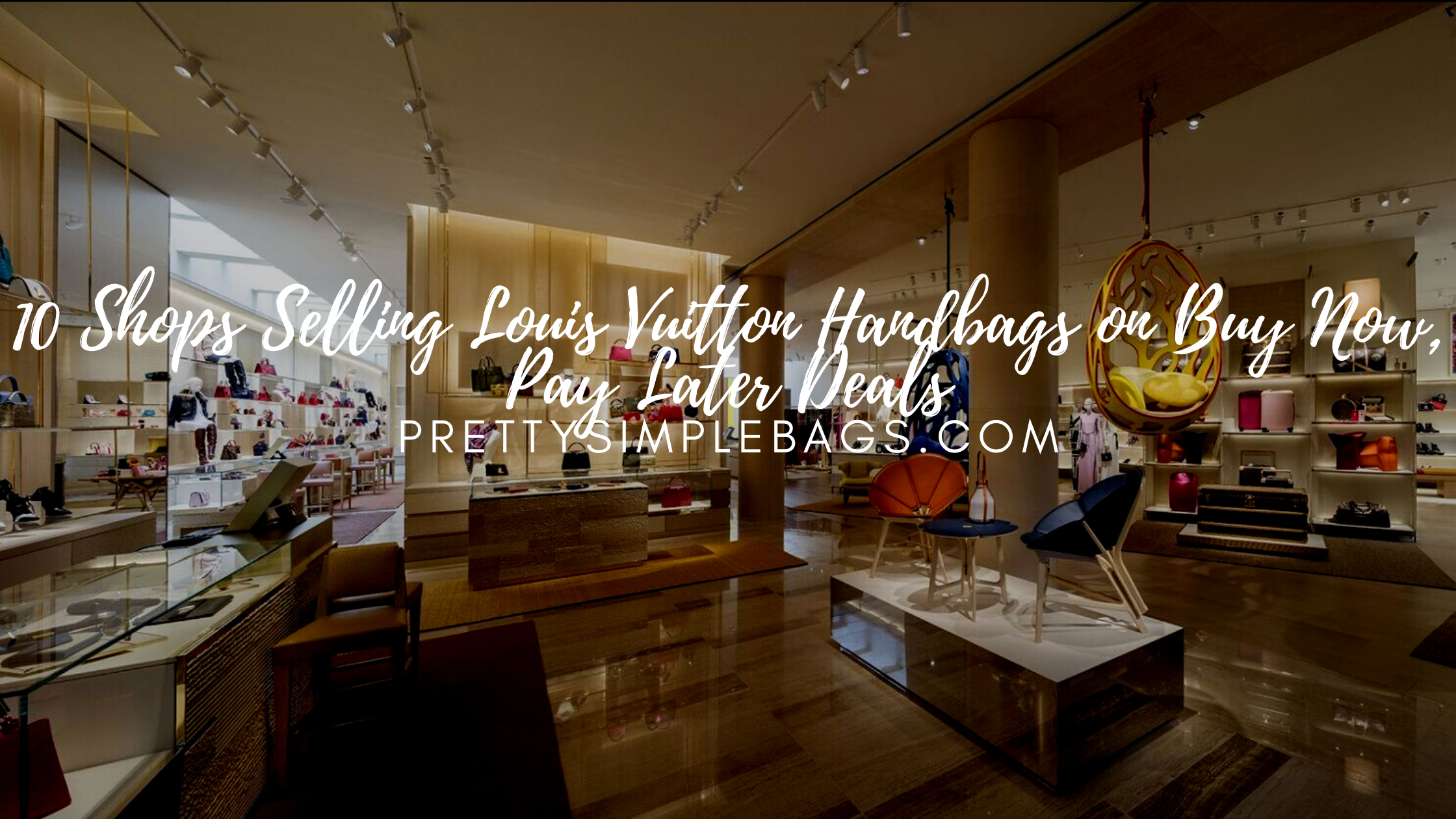 FREQUENTLY ASKED QUESTIONS ABOUT LOUIS VUITTON SHOPPING
First, we would want to respond to some of the frequently asked questions about buying this high-end brand.
IS THERE AN OUTLET FOR LOUIS VUITTON?
The answer is no. Louis Vuitton is one of those high-end luxury brands that exclusively sells its handbags, wallets, and other items in their physical boutiques available worldwide or online. They don't have any sales or outlets. Whenever you come across any store that alleges to be an LV outlet, you can be sure that they are not authentic.
CAN I USE KLARNA OR ANOTHER BUY NOW PAY LATER APP TO SHOP FOR LOUIS VUITTON?
The official Louis Vuitton boutiques and website do not provide Buy Now, Pay Later via Klarna or any other finance app. However, you may use Paypal or Apple Pay to make your purchase.
You can make payments on the official Louis Vuitton website using a valid United States or Country of Origin billing address, credit card, debit card, PayPal, or Apple Pay. The only type of credit cards they accept is Visa, Discover, American Express, Mastercard, and Discover.
Buying a Louis Vuitton handbag from an approved resale shop is the best way to use Buy Now Pay Later financing when getting your next Louis Vuitton handbag. Below is a list of some of them. You'll find genuine Louis Vuitton items from these sites, and they have buy-now, pay-later options through Klarna, Afterpay, and other services.
DOES LOUIS VUITTON HAVE A PAYMENT PLAN OPTION?
No, new Louis Vuitton handbags are not eligible for a payment plan. A shop credit card isn't available from the brand either.
IS IT POSSIBLE TO BUY LOUIS VUITTON IN DEPARTMENT STORES?
You can buy Louis Vuitton products at some fine luxury department shops, but there are not available on their online websites; instead, they only have exclusive in-store buying sections. The best department shops where you can buy Louis Vuitton bags, sunglasses, shoes, and jewelry are Nordstrom, Bloomingdales, Nieman Marcus, and 24S.
WHERE CAN I GET PRE-OWNED BUY NOW PAY LATER LOUIS VUITTON HANDBAGS?
We've compiled a list of our top resale websites for Buy Now Pay Later Louis Vuitton Handbags.
1. VESTIARIE COLLECTIVE
There are more than 30,000 listings for Louis Vuitton handbags, both used and vintage. At Affirm, you can wear now and pay later. Now is the best time to shop VestiarieCollective.com.
2. FASHIONPHILE
Layaway is free for 2 months on Louis Vuitton handbags. You're allowed to make as many installments as you want until the debt is paid off. Visit FashionPhile.com for your shopping.
3. ETSY
Etsy is one of the best locations for buying vintage, genuine LV bags from sellers across the world! Now is the time to shop for Etsy Vintage!
4. TRADESY
Through our link, you can get a $20 discount on a $50 purchase! Tradesy now offers over 90,000 listings for Louis Vuitton bags, with prices beginning at $85 and payment options including Affirm. Visit their website at Tradesy.com for your shopping!
5. LUXURY GARAGE SALE
You have the option to use Affirm when buying Chanel, Louis Vuitton, and other brands' vintage and pre-owned handbags. Visit LuxuryGarageSale.com for your shopping!
6. THE LUXURY CLOSET
Here, you can get a "Pay and Reserve" option, in which you can reserve an order with a 25% down payment (available on products above $300). After that, you have 30 days to pay in one or more installments. When complete payment is received, your purchase will be sent.
7. AMAZON
When you apply and get approved for their Amazon Rewards Visa Card, Amazon will give you a free $50 gift card which you can use to purchase a new Louis Vuitton purse and get 3% back on your Amazon purchases.
8. REBAG
When you sign up for newsletters, you'll get an extra 5% off luxury secondhand LV handbags (they also verify resellers). There are presently over 5,000 Louis Vuitton handbag listings on the site! They accept Affirm as a form of payment.
9. EBAY
When buying original Louis Vuitton handbags on eBay, select PayPal Credit when checking out with  PayPal. They even provide you a grace period during which you don't have to pay any interest.
10. LUXEDH
Use our link to save $25 on your first order. Using their Luxe Layaway Payment Plan, you can pay for pre-owned Louis Vuitton handbags (the balance is divided into 3 payments using your debit or credit card).
ABOUT LOUIS VUITTON
Starting with a trademark travel trunk in 1854, Louis Vuitton has delivered innovative designs to the world. Louis Vuitton has blended innovation with a trademark logo design in creating top-quality bags, accessories, and clothes by using only standard-quality leather and fabric over the years. After acquiring your first Louis Vuitton purse, you'll discover how dedicated Louis Vuitton is to great craftsmanship.
You can't seem to locate the LV Bag you want? Get a personal loan of up to $5,000 instantly approved, and the funds will be put into your bank account the following working day, allowing you to go shopping for a new handbag.