Are you looking for a chic travel bag? The Louis Vuitton Keepall is the end of your hunt!
It might be difficult to choose which Louis Vuitton Keepall bag is the greatest suit for your lifestyle; nevertheless, this article can assist you in determining the ideal size of the Louis Vuitton Keepall. The Keepall is available in four sizes, as most of you are aware. The 45, 50, 55, and 60. They can all be utilized in a different way, and we'll show you how so that you can see what will fit in your beloved Louis Vuitton keepall!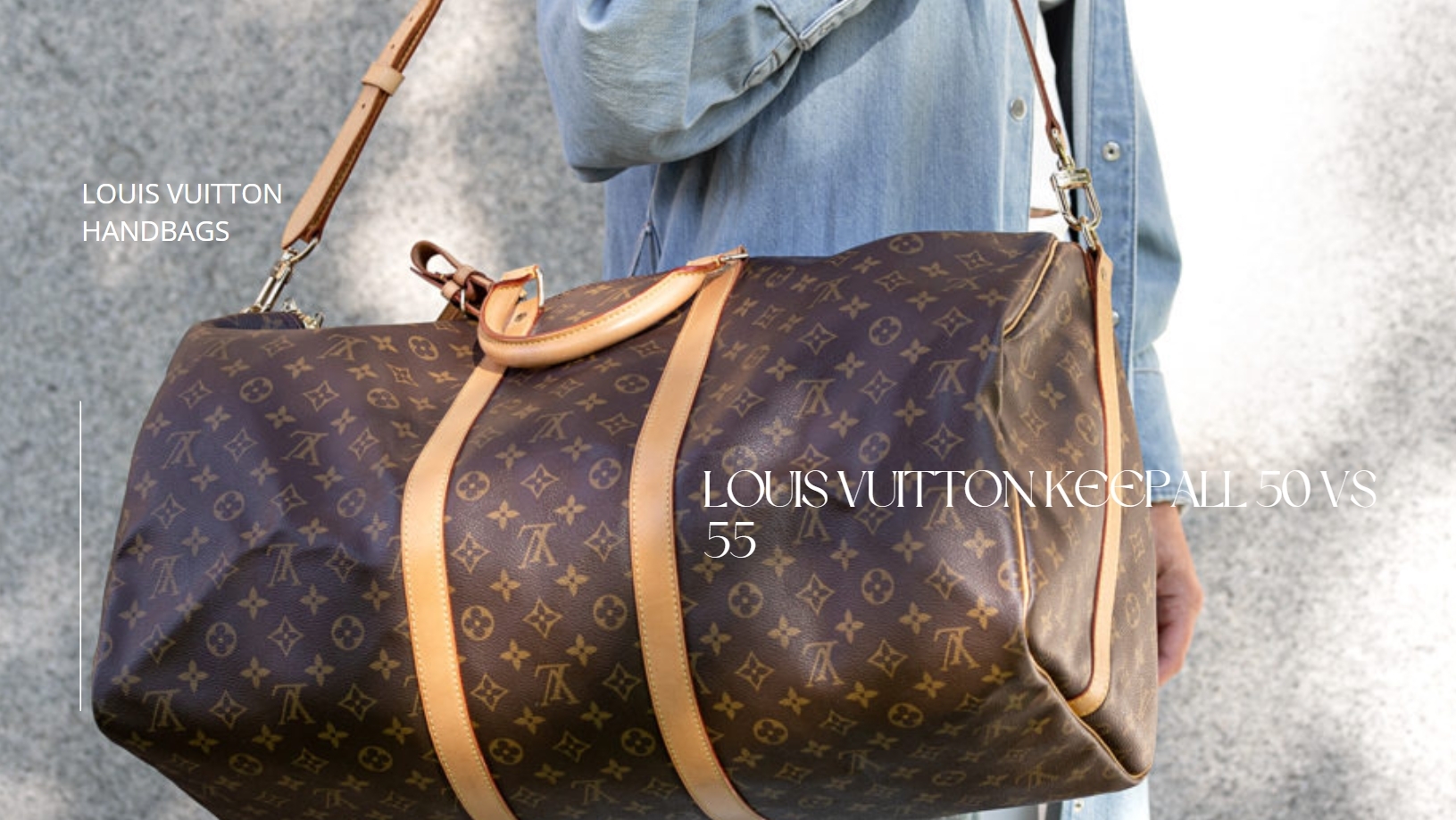 1.  Louis Vuitton Keepall 45
Measurements: 45cm x 27cm x 20cm
This is the smallest version of the Louis Vuitton Monogram baggage line. The Keepall 45 is ideal for a single night out. It can effortlessly hold all of your overnight necessities or serve as the ideal and most fashionable exercise bag! It's also worth noting that the Louis Vuitton Keepall 45 is a cabin bag.
The following items can be comfortably stored in the bag:
Toiletry bag
Mini shower gel
Perfume
Laptop
2 blouses or shirts
3 T-shirts
Jeans/ trousers
Underwear
Deodorant
Toothbrush
Hoodie
Mini shampoo
Socks
Sweatpants
Mini conditioner
2. Louis Vuitton Keepall 50
Measurements: 50cm x 29cm x 22cm
The Louis Vuitton Keepall series also includes a cabin-sized travel bag. If you ask us, this size offers you the perfect travel assistance for a weekend getaway! This size is also used by folks to carry their small pet (that's sweet isn't it?).
The following items can be easily stored in the bag:
Conditioner
Hairbrush
2 Trousers
Training leggings
Jacket
Make-up remover
5 tops/ t-shirts
6 x underwear
Louis Vuitton Toiletry bag 25 (including make-up)
Toothbrush
Deodorant
Jeans
Notebook Hoodie
Shampoo
Perfume
Shower gel
2 long sleeve sundresses
Laptop
3. Louis Vuitton Keepall 55
Measurements: 31cm x 55cm x 24cm
Are you always having difficulty deciding what to wear? With this bag, it becomes simple for you! This bag can hold at least five days' worth of clothing! The Keepall 55's major benefit is that it may still be taken into the plane as "hand baggage." We agree that the Louis Vuitton Keepall 55 is more popular than the other four sizes.
Below are some items that can be easily stored in the bag:
Bottle of water
Toiletry bag
Sweatpants
2 sweaters/ hoodies
Notebook
Jumpsuit
Make-up remover
jewelry box
Shower gel
Skincare
Deodorant
Toothbrush
Conditioner
Hairbrush
1 pair of shoes
Perfume
Curling Iron
Hair straightener
Shampoo
3 pants/ jeans
Laptop
Hairdryer
4 T-shirts
4. Louis Vuitton Keepall 60
Measurements: 60cm x 33cm x 26cm
Among all the Keepall Louis Vuitton Keepall collections, the Louis Vuitton Keepall 60 is the collection's biggest size. You'll never be stressed about clothes again with this bag! There's room for a week's worth of bags. The one catch is that you can't take this suitcase on the airline as 'hand baggage.' However, at this size, you will undoubtedly be unique and put the phrase "always travel in style" into practice.
The following items will fit nicely in the bag:
Curling Iron
Shampoo
Toothbrush
Jumpsuit
3 sweaters/ hoodies
Lingerie
2 jackets
2 pairs of shoes
Jewelry box
Sweatpants
7 T-shirts
Skincare
Shower gel
Deodorant
Toiletry bag
Conditioner
Hairbrush
Make-up remover
Laptop
Perfume
Hair straightener
4 pants/ jeans
Bottle of water
Blowdryer
Notebook
Which Louis Vuitton Keepall size is right for you?
We understand how difficult it is to make a decision, so let's make it a bit easier.
The Keepall size 45 or 50 is ideal for a quick vacation.
If you wish to be allowed to take your bag into the airline as 'hand baggage,' the Louis Vuitton Keepall sizes 45, 50, and 55 are the finest options.
When going on a road trip or somewhere else where you won't have to carry your backpack for a long time, the Louis Vuitton Keepall in size 60 is perfect for you.