Louis Vuitton is a favorite. This is no longer news by now, seeing as there are so many posts about the Neverfull on this blog. But if you have the privilege of getting the last LV Favorite MM in not just a boutique but an entire city, you know you have struck gold.
If you're reading this blog post, chances are you're searching for reviews on the LV Favorite MM and perhaps a guide on where to get one.
Let's get to it.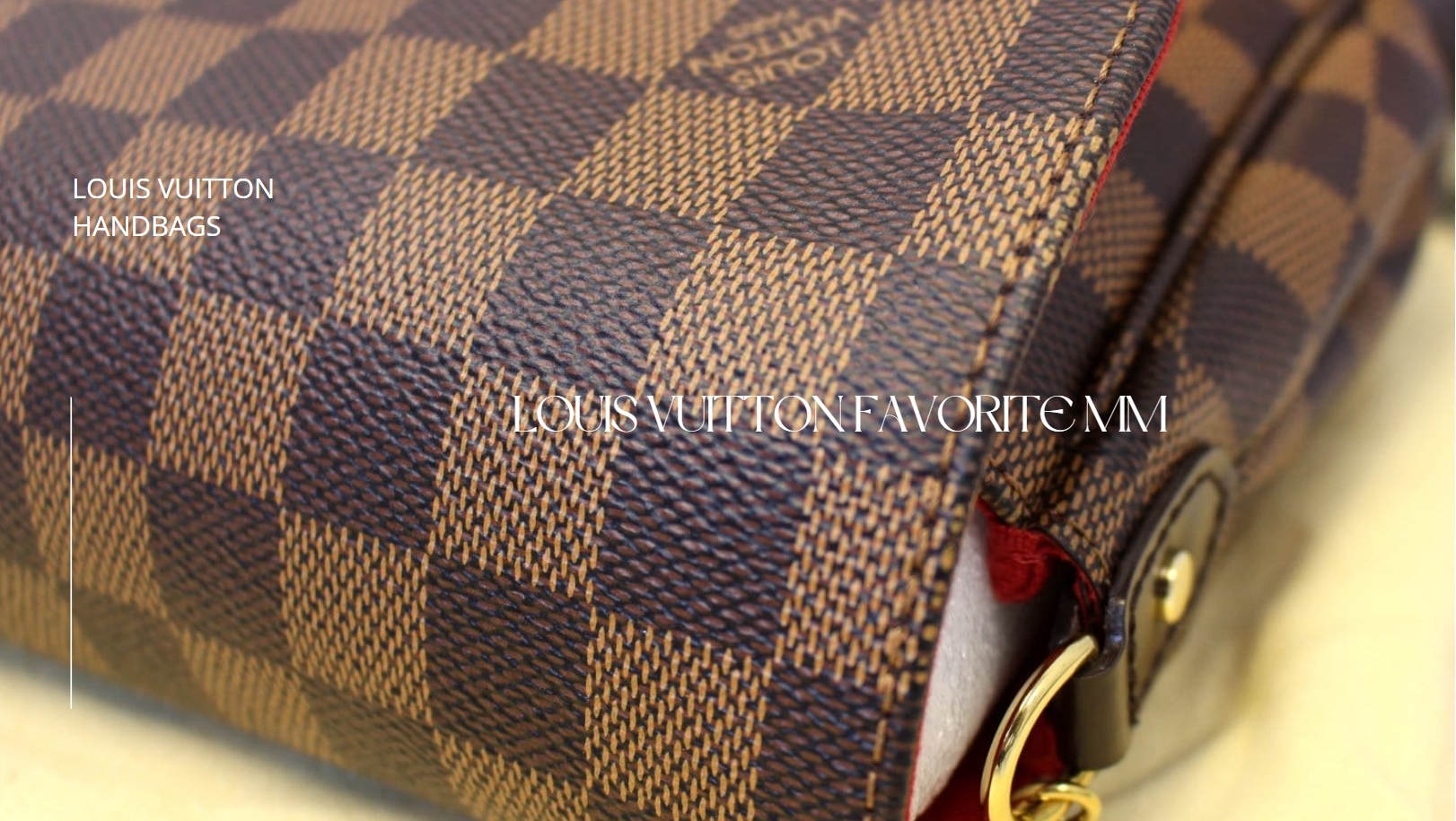 All You Need To Know About the LV Favorite MM
Size and Details
Louis Vuitton Favorite MM is a crossbody style bag of small, medium size. The bag has a smaller version, but the measurement of the MM is 26 × 15 × 4 cm. The bag comes in the classic Louis Vuitton coated canvas and many different monogram canvas options. The bag features two separate straps: one with a longer length made out of untreated leather and one gold chain strap of a shorter length which enables it to be used as a shoulder or clutch style bag. There is also a magnetic closure feature on the bag for extra security.
Available Prints
There is the Louis Vuitton Classic Monogram Favorite and there are also other styles such as the Damier Ebene in brown monogram canvas and Damier Azur in white monogram canvas.
Louis Vuitton Favorite MM Price
At the time of this writing, it is rather difficult to know the cost of an original Louis Vuitton Favorite at a boutique or online – even the website has no information. A little digging around reveals that the bag usually goes for about $850 in the United States – if you're unable to get it at the US retail price.
Availability – Where To Find It.
This brings us to the issue of availability. As it seems, this bag can't be found anywhere.
One would only be lucky to stumble upon this bag by accident. For instance, while on vacation in another country, you might decide to take advantage of lower-cost, tax break, and conversion to shop for a different bag like a Louis Vuitton Speedy and happen to come across the last remaining Favorite MM in not just a particular store but the whole city.
Sold
No one saw it coming, but the Louis Vuitton Favorite is obviously a huge success and can hardly last a minute in any store. As a matter of fact, the LV favorite monogram is such a hit that its resale value can be a lot more than its retail price.
It's a good idea to keep close tabs on the Fashionphile site. Check out these blog posts about Fashionphile and see why it is the ideal place to purchase second-hand designer goods. These posts are not sponsored. They are solely inspired by amazing experiences from shopping for goods such as the Neverfull GM at incredible prices on Fashionphile.
Perks of the Louis Vuitton Favorite MM
Versatile Size
The proportions of this bag are so deceiving it's intriguing. Louis Vuitton Favorite MM bags really pack a punch even though they appear small. There is actually an incredible amount of room inside! Typically, you can fit in a regular-sized wallet (not a mere card case), your keys, mobile phone, hand sanitizer, hand lotions, makeup along with some other essentials.
Is the Louis Vuitton Favorite MM a large bag? Certainly not. It is clearly a small bag. However, in comparison to other shoulder bags, the interior space is just what you would consider to be normal. For example, between Louis Vuitton Favorite MM and the PM model, the former offers a lot more room and the bag is still elegantly beautiful to behold.
Multiple Straps
The lovely thing about the multiple straps feature of this bag is that it provides more options for you to style and carry it. The long strap comes in handy if you prefer to carry your bag across your body – many people absolutely love the crossbody style (and the tote). The crossbody strap is incredibly comfortable too – carrying this bag never feels uncomfortable (unlike some crossbody straps such as the Polene Numero Un Mini).
The short gold chain strap looks gorgeous when sitting on the bag while it is being carried. You may not often use this strap as the main strap, but it does come in handy when you want to carry your Favorite MM for more formal purposes.
Downsides of the Louis Vuitton Favorite MM
Price
This is a huge problem – the bag is simply overpriced. To be truthful, most Louis Vuitton bags actually are. There is no human who doesn't love designer items. Think Saint Laurent and Christian Louboutin. But even you would agree that paying almost $1,000 for a coated canvas bag is just outrageous.
But then it all comes down to the brand. Another way to look at it is the fact that it is a bag and will not wear out as quickly as shoes, for instance.
Scarcely Available
The biggest downside of this bag is that it is hardly available online or in stores. You will typically find it difficult to get one unless you don't mind paying above the retail price for a pre-owned bag (or a new one from the resale market). Some people online suggest having a relationship with a sales associate from Louis Vuitton, which may be a good idea if you really want to get the bag at the retail price.
Conclusion: Is It Worth It?
After all has been said and done, the question on everyone's mind is – it is worth it?
Of course, this bag is a delight in every way. You may acquire yours during a special occasion and have pleasant memories attached to it. But even besides that, it is really a very functional bag.
Admittedly, it is extremely overpriced and the price increase on the resale market is definitely not worth it. It is a great bag when you're buying it at the retail price and even better if you got it as a gift. If you're going to spend your own money on this bag, you will probably give it a second thought given that there are plenty of functional bags within this size category (such as Polene or Cuyana Crossbody bags).
The Favorite MM is indeed lovely. If you owned one, you wouldn't trade it for anything. However, it will be difficult to get a personal appraisal of the "worth" of this bag if you didn't get yours at the retail price, especially if you received it as a gift.