Is Louis Vuitton a Chinese brand? Many buyers of luxury brands are beginning to keenly look into the manufacture and quality of their bags as a result of many top-tier brands relocating their operations to China because of their faster and more efficient production.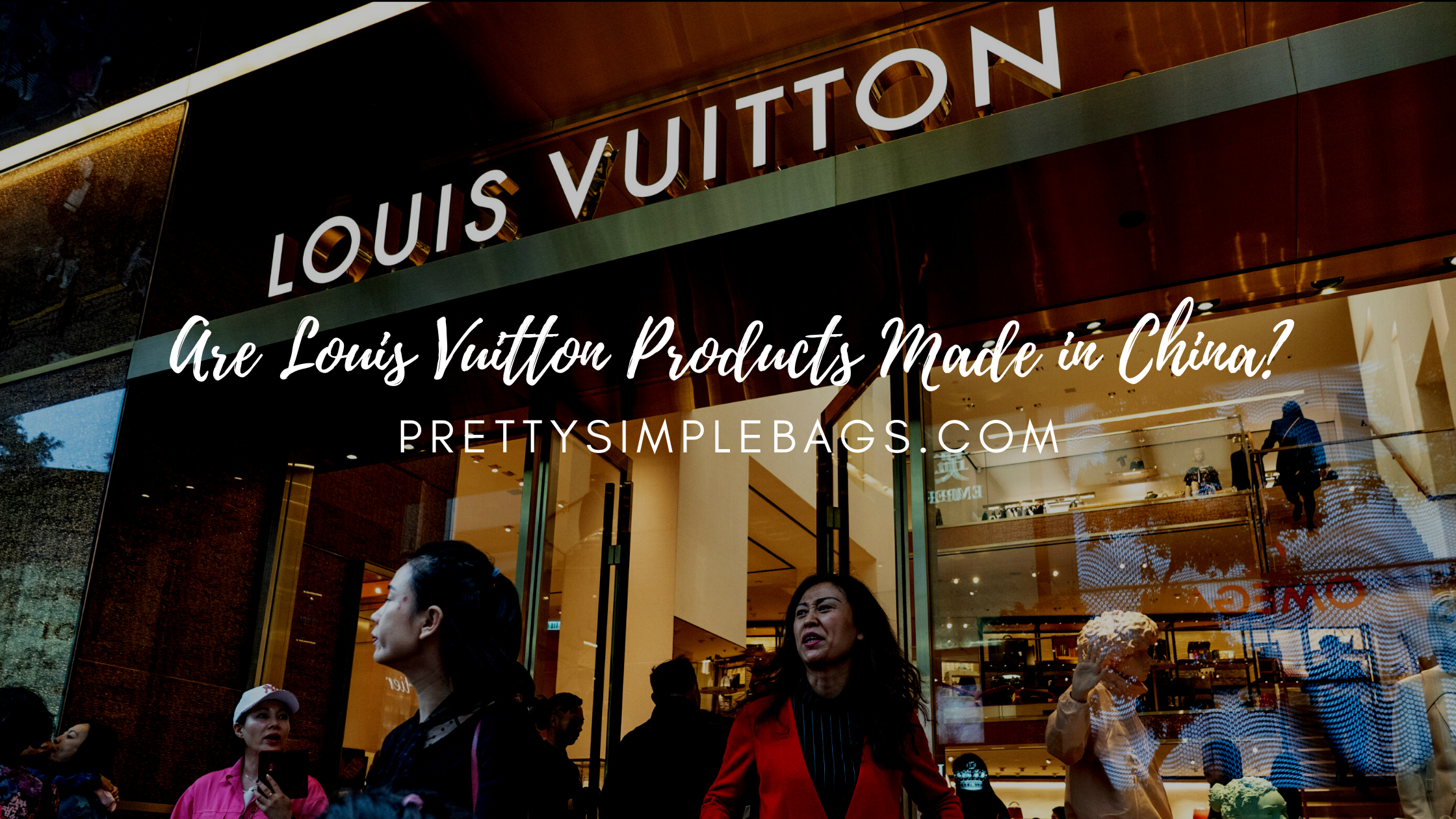 It is normal for customers to have a feeling of ownership toward their favorite brands due to the amount of time and money they spend obsessing over them, but they may never realize the actual process that their desired products go through.
In a bid to dispel their fears, producers often attach tags to their products that state whether they are made in Europe or America.
Are Genuine Louis Vuitton Bags Manufactured in China?
The Louis Vuitton brand's official website has published that their products are not manufactured in China. LV prides itself on exclusivity, great design, and premium materials. Their different workshops are located in Spain, Switzerland, France, and the United States of America.
Their workshops in Italy, France, and Switzerland are responsible for producing the majority of their footwear, ready-to-wear, jewelry, and eyewear. LV takes pleasure in assembling the greatest designers and artisans to create their classic designs and convey them in the most original manner imaginable.
Although these facts are not a subject of dispute, recent trends in the fashion industry have seen so many corporations relocate their operations to China. This is because, in addition to having a large market for any industry to thrive, China also has enhanced technology as well as a motivated and economical workforce.
As a result, several LV items have been alleged to be created in China. These claims might be truer than LV will ever acknowledge, given the liberal labeling regulations in the fashion industry. A dress can be manufactured in a foreign country up to a specified percentage according to the law. The brand is authorized to put a label on the item stating that it was made in their country of origin as long as the correct percentages are followed.
Why LV items and other designer brands are made in China?
Several shreds of evidence point to LV items being manufactured in China.
1. Supply China's Demands
Although Louis Vuitton now employs about 4,300 people across its various workshops, there are plans in place to widen its production by establishing two additional facilities and hiring a further 1,500 workers to accommodate the rising demand for its products in China.
With the excellent condition of China's economy, the majority of the population can afford luxury handbags, shoes, and accessories.
The Chinese are becoming increasingly interested in Louis Vuitton's high-end goods while the company refuses to relocate its headquarters to China.
2. Lower Production Costs
The cost of producing each item significantly reduces with a continued increase in the company's output levels. As a result, mass-production enterprises are extremely profitable. When the difference between the cost of manufacturing and the cost of producing a single item is maintained to a minimum, it benefits the producer rather than the client.
With the seemingly high demand for Louis Vuitton items in China, mass-producing and releasing them to the market attracts a lot of attention.
The cost for that specific product decreases significantly below market value when the cost of manufacturing per item is considerably reduced, and that is why China-made items always sell for a lower price. As a result, a lot of people believe that because Chinese items are inexpensive, they must be fake, which is not the case.
3. Specialization
Coming back to the commercial agreement between the two firms involved. One of the firms acknowledges its marketing and promotion strengths, and this leads to assigning a less fun and time-consuming job like manufacturing to other firms. This will allow them to focus on what matters most.
China has long been regarded as the world's most efficient and effective manufacturer of high-quality items at low prices. Some of the world's most prestigious businesses and companies have relocated some of their facilities to China.
A number of these businesses have outsourced all of their activities, which has resulted in the closure of all of their factories or workshops.
But, some other businesses prefer to outsource their most popular items while retaining their signature products. Others, like Louis Vuitton, have refused to adjust their business practices.
4. Concentrated Regions
The government of China fully supports Chinese industries. As evidence of their support, you will almost certainly detect a pattern while strolling around the streets of China.
You'd discover that these are condensed areas of public space that serve specialized industries. For example, Yiwu is known as China's center of jewelry fashion, whereas Shenzhen is the country's electronics capital.
You will find everything to be so perfectly organized along one route that a stroll around Yiwu's streets would undoubtedly reveal everything and anything that has to do with fashion jewelry. There will be no need for you to cross the street.
It should be a pleasant respite for tourists, given the renowned overpopulation in Chinese capitals. Jewelry is plentiful in Guangzhou and Shenzhen, in addition to Yiwu.
5. Remuneration
All the measures and practices in place to save costs and increase revenues all affect the staff members of these organizations
They stipulate in their employment contract that you will only be paid for the task you have completed and that every missed day of work would result in a loss of pay.
You will get commissions depending on the number of sales you make, giving most employees a boost in confidence, morale, and a sense of accomplishment.
6. History
The Chinese have long been known for their artistic prowess.
Their jewelry interpretations and building structures have been admired for years. Since they share similar fundamentals, manufacturing a garment or accessory should be simple.
China-made items are one of the best you can find in the market because of this meticulous attention to detail.
You wouldn't be able to differentiate one LV bag from another if you followed particular instructions on seamlines and sewing procedures.
7. Logistics Support
It's becoming increasingly inexpensive and reliable to ship products to and from China.
Companies no longer need to go back and forth between China thanks to operations in Shenzhen and Guangzhou.
They can place orders with a projected delivery date in mind to ensure that the items arrive on time.
Are LV handbags and purses manufactured in China original, and do they have the same high quality as those produced in France or Italy?
They are, without a doubt, of excellent quality. The reason is that the two countries and more especially the businesses striking a deal with each other, must conform to certain terms and conditions. Louis Vuitton must provide detailed instructions on the materials, stitching patterns, and designs that they want.
If these materials aren't already available, the Chinese assume the duty of selecting them and producing a bag or purse of comparable quality to the original. After production, the item must meet Louis Vuitton standards for testing and approval, ensuring that each item is authentic.
What countries produce Louis Vuitton goods?
The Louis Vuitton brand's official website claims that none of its items are made in China.
LV prides itself on exclusivity and outstanding design and materials. Their different workshops are located in France, Spain, Switzerland, and the United States.
Their workshops in Italy, France, and Switzerland are responsible for producing the majority of their footwear, ready-to-wear, jewelry, and eyewear.
LV takes pride in hand-picking the greatest designers and artisans to create their classic designs and portrays them in the most creative manner possible.
Conclusion
There is still uncertainty if Louis Vuitton items are manufactured in China.
The company maintains its stance, claiming that its workshops are solely located in Europe and the United States.
No proof shows Louis Vuitton items are manufactured in China, except a few unfounded consumer complaints concerning the inferior quality of LV bags.