Have you got a Designer Bag for Sale?
If you are ready to find new owners for some of your pre-loved designer bags, this article will serve as a perfect guide. Selling pre-loved luxury items to generate extra money for sellers, help people get their hands on a designer bag of their choice and promote a circular economy is something we fully support!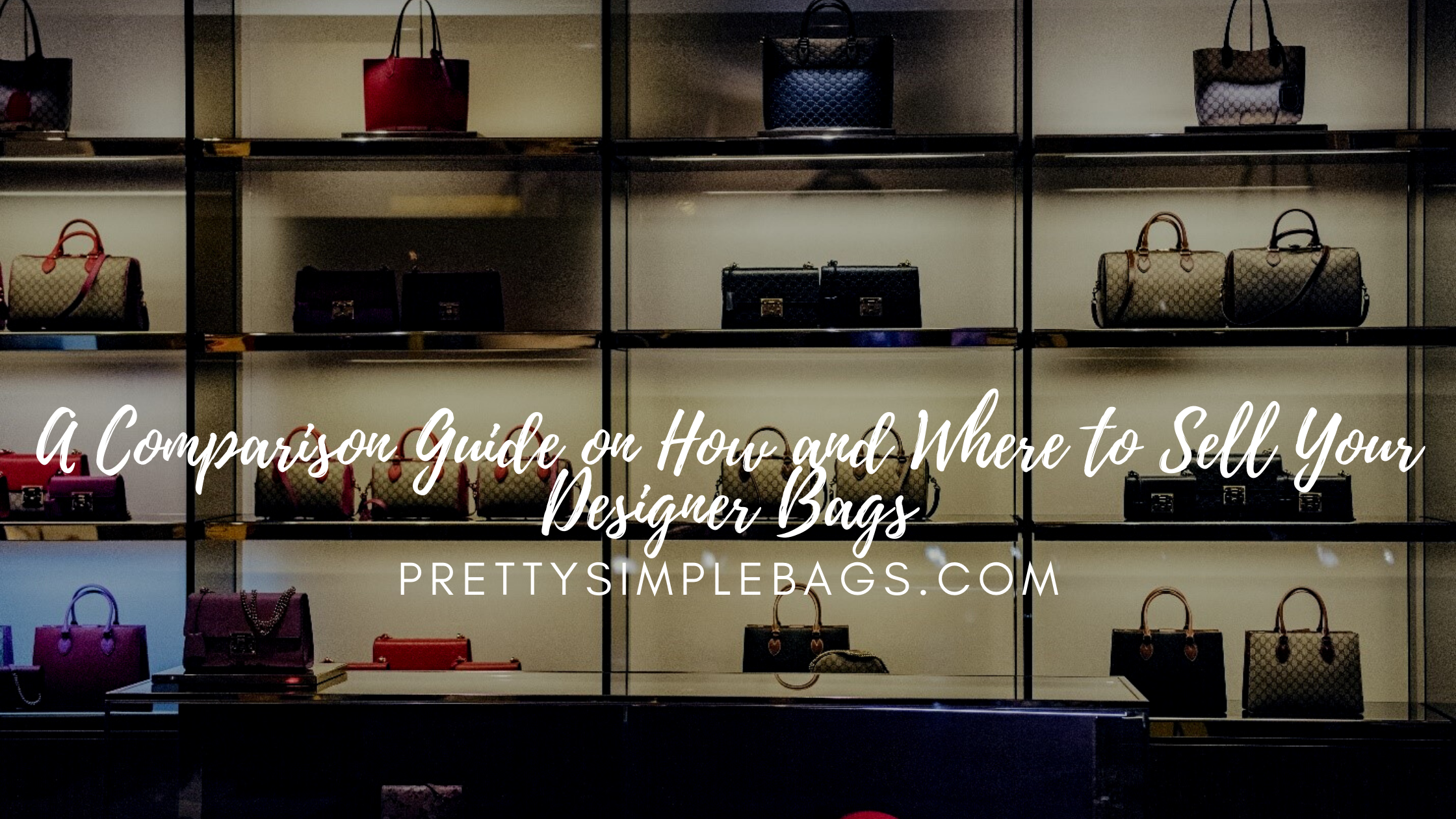 How can one sell Designer Bags?
Below are three of the major ways of selling your luxury bags:
Sell your luxury bags on online marketplaces or platforms like eBay.
Another option is to pass your luxury bags on to a consignment company that will do all the heavy lifting involved in the process. It also allows you to gain access to the customers of your chosen consignment service.
The final option is selling your luxury bag to a company. All you have to do is send images of your bag to a company that will, in turn, quote an amount they will be willing to pay for your bag.
We'll delve deeper into these options below. And if you would love to toe the consignment path, we'll be showing you some of the top companies to consign your bags.
What are the top-rated places to sell Designer Bags?
If you want to recover as much cash as possible from the sale of your designer bags the best strategy is to sell the bag yourself. Of course, you must first decide whether you're willing to do the leg work involved. If you decide to handle the sale yourself, you will have to handle all the leg work yourself and some of the work include:
If this is your first time selling on a platform, the first step is to create a new seller account.
Take clear and appealing pictures of the bag.
Be sure to craft an interesting and accurate description of your bag.
What questions would your potential customers have? Answer them!
Once the bag is sold, post it.
eBay or some of the marketplaces where you can sell may limit the number of items you can sell on their platform if you are a new seller. They can also limit the amount you can sell if you are using your account for the first time. If you have no plans of selling more items on the account, then a consignment service would be the best option for you.
You get to enjoy more control when you sell your item yourself but this is only if you are comfortable listing the item yourself. You will retain possession of the product until you find a buyer for it. With clear and quality images and great contact, you will be able to entice customers into a sale.
Extra tip: Do not list your designer bag on a marketplace if you are not certain of its authenticity. If you go ahead to list when you're uncertain of its authenticity, it could be considered an infringement of copyright laws and as such, it becomes a criminal offence.
Before listing, authenticate your designer bag using a reputable authentication service, afterwards, you can sell the bag with an authenticity certificate. Your customers will trust you more if you own an authenticity certificate. As a bonus, you can demand a higher selling price when you are certain of your bag's authenticity.
Where can one sell Pre-Loved Designer Bags?
When you decide that you'll be selling your designer bags yourself, the next question will be where to sell them. We've listed some places where you can sell your designer bags online and still retain control of your images.
Best Online marketplaces to sell your designer bags.
| | | | |
| --- | --- | --- | --- |
| Online Platforms | Fees | Country | Other Notes |
| eBay | 10% | Global | Their worldwide shipping program is simple |
| Vestiaire Collective | 20% + | Global | |
| Depop | 10% | Global | |
| Tradesy | 20% | United States – They offer options to ship globally | |
Below are some online platforms that boast thousands, maybe even lots of customers all over the world. With online platforms, you will have quick access to numerous customers who are already on the lookout for designer bags like yours.
Quick sell for Cash: The best companies to look consider
If you plan on skirting the sales process completely, there are some trusty services you could sell to for a quick cash return. Some of the best brands for this service are listed below. You must know that these companies will market your bags on their platform after they have purchased them from you. This means you won't get the best cash return from this process but it promises to be the fastest way of selling your bag. Some companies are particular about the designer brands they purchase and there's no way of being sure you'll get an offer from them.
| | | |
| --- | --- | --- |
| Company | Country | Notes |
| Rebag | United States | Send in images to get a quote |
| Collector Square | Paris, EU | |
Consignment of Designer Bags
What is a handbag or luxury consignment? How do you explain a handbag/luxury bag consignment?
Would you like to sell designer bags without doing the legwork? It's understandable because the process can be stressful. You can save a lot of time and energy when you sell through a trusted consignment service. A consignment service means you hand over your pre-loved designer bag to a company that would, in turn, handle all processes of promoting and selling the bag on your behalf. You should note that consignment rules aren't the same everywhere, it varies from company to company. Below are some of the things that might be different between consignment companies when you consign your bags:
You won't get the money for your bag immediately. You will have to wait until the bag is sold and enough time has been allowed for returns.
Consignment services take a percentage of the sale.
Some consignment services charge a flat fee before they can accept to promote and sell your bag.
If your bag doesn't sell, you will need to speak to the service and agree on a new price or withdraw the bag from the service.
Some consignment services demand to have the bag on their platform for a set time during which you are not allowed to opt out of the sale even if you change your mind.
While the item is on sale on the consignment service's platform, you usually won't have access to it.
Since you will be responsible for sending the bag to the consignment service and paying the postage fees, you should check to know where the service is located in the world.
The best consignment services for your luxury bags
Now that you've decided to hand your bag over to a trusted consignment service just to escape the leg work involved in doing this yourself, we can help you. We have drawn up a list of the best luxury bag consignment services out there!
Consignment Service
Fees
Country
Other Notes
Naughty Pidgeons Nest
Approximately 25% of the bag's selling price.
United Kingdom
– Loyal Customers
– Good experience in the field.
– Customer-friendly service
Handbag Clinic
Approximately 20% of the bag's selling price.
United Kingdom
Yoogi's Closet
Approximately 30% of the bag's selling price.
United States
–You will get to keep the sale money even if the bag is returned.
– Great packaging
The RealReal

Approximately 15% of the bag's selling price.

United States
– Offers free UPS Pickups
– Millions of Customers
Fashionphile
Approximately 30% of the bag's selling price.
United States
– Either drop the bag off at the store or mail it in
Luxury Garage Sale
20-55% of the bag's selling price.
United States
– As the sale prices increase, the commission rate drops.
The Luxury Closet
20-35% of the bag's selling price plus $25 Flat Fee
Dubai
– They deliver anywhere in the world.
– lock-in for 90 Days and 180 days outside the European Union
Hopefully, this article will be helpful when you want to sell your pre-loved designer bags. But besides helping you decide how, we also hope we've helped you find the best service for your needs.