Have you ever thought of the prices of designer bags? Or how expensive can one designer bag get?
You will find that these bags can sometimes command a hefty price tag when it is practically made of gold or draped in diamonds.
Having said that, we have cataloged 16 of the most expensive designer bags in the world below just for you!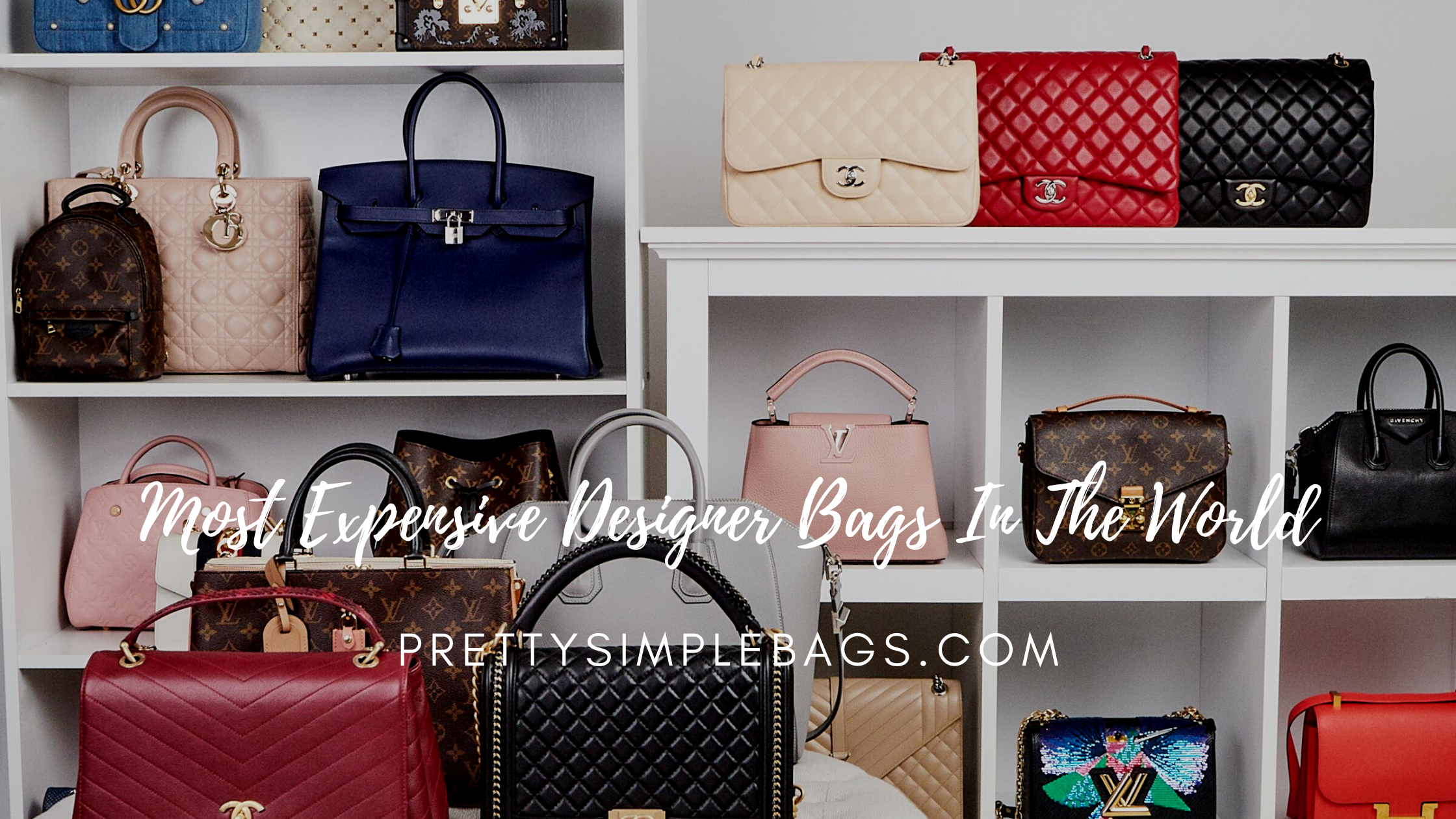 Which bag holds the title of the most expensive bag in the world?
Worth a mind-blowing €6 million (7.18 million USD) and unveiled only in November 2020, the turquoise alligator skin handbag embellished with diamond and sapphire coated butterflies is the most expensive leather bag in the world.
This heavy-hitting bag is designed by the Italian luxury handbag designer Maison Boarini Milanesi. The designer had noticed a growing amount of plastic waste in the sea on boat trips taken with his father and this became the inspiration for the ocean hues on the bag's design. His aim for this design is to draw attention to the need for the protection of marine life and as such, €800, 000 is donated to causes working to rid the oceans of plastic each time Milanesi sells one of his bags.
Before November, Mouawad's 1001 Nights diamond purse which is a part of this catalog held the Guinness World Record for the most expensive designer bag in the world. That position has since shifted to Boarini Milanesi's creation.
Which is the Most Expensive Handbag Brand?
Some of the most expensive designer handbags come from the fashion house, Hermes. They have at least four bags on this catalog of the most expensive designer bags.
Below are some of the most expensive purse brands out there in no particular order.
Hermes
Chanel
Judith Leiber
Prada
Louis Vuitton
Christian Dior
Mouawad
Lana Marks
Fendy
Hilde Palladino
While a lot of people may have some very vocal opinions about designer purses and bags, you should know that these purses and bags are not simply fashion items purchased at a whim, they are instead regarded as investment pieces. Looking at the price tag, some of them appear ridiculous but they are not for everyone. Before you dip your hand into the pool of expensive designer bags, you should take some time to learn what makes these bags so expensive, this will help you make an informed decision.
Some of the most expensive designer handbags in the world
1. Upcycled Egg Purse from Debbie Wingham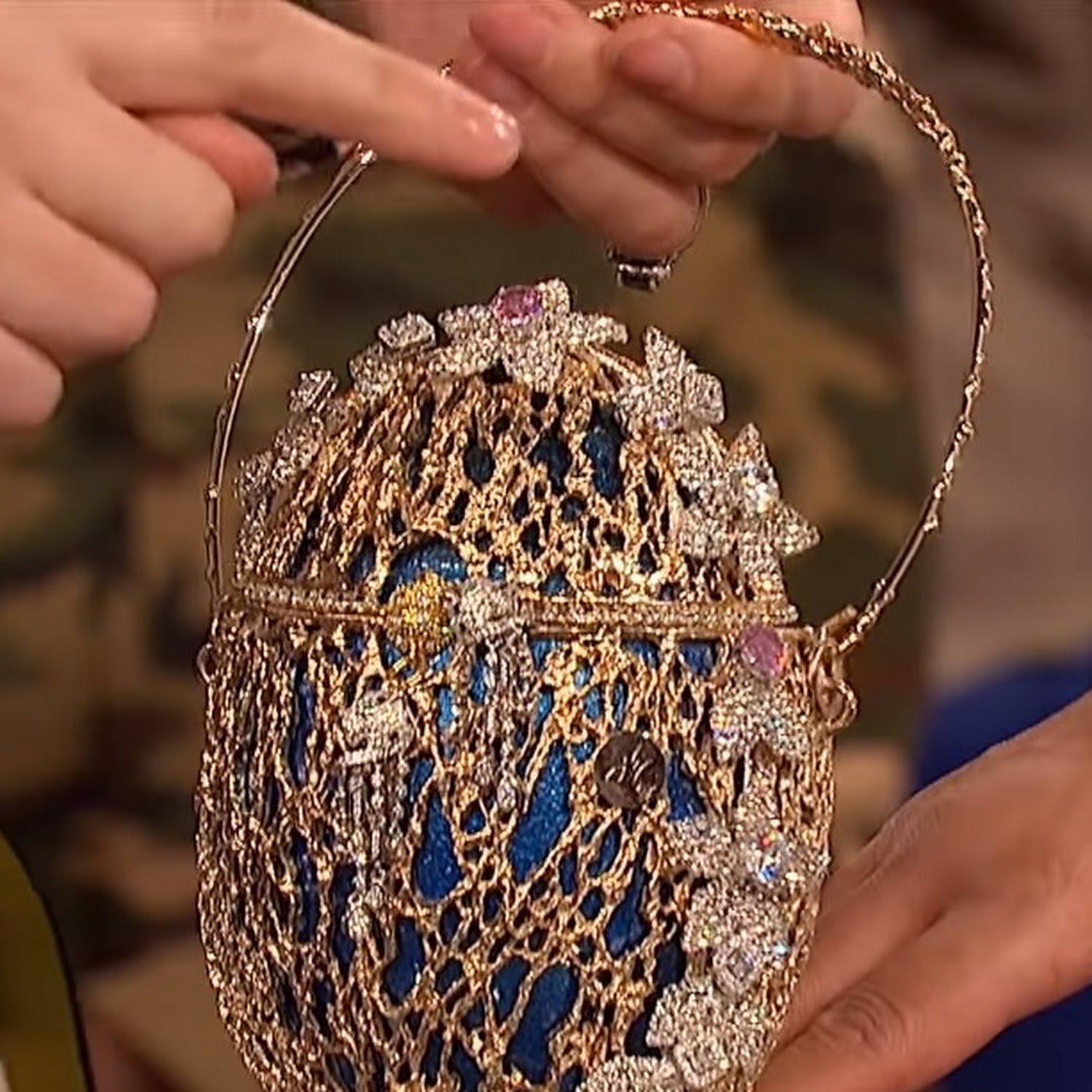 This magic of a bag came to be when a mega-rich client approached Debbie Wingham with some of her old jewelry and a designer scarf hoping she could incorporate them into something new for Easter.
The bag has an egg-shaped design and was custom made using an actual emu eggshell, about 8, 000 diamonds set in 24k gold and platinum, with a pair of Cartier earrings for a clasp and a silk Hermes scarf. The earring that formed the clasp costs about $40,000 on its own. Wingham named the bag "Reborn" due to the incorporation of materials from the previous season.
This masterful piece took about three months to be completed after the original design was done. It all began with applying a blue diamond dust coating to the eggshell, then the creation of the organic gold caging which was done using knarled wood as a mold. This bag is a real masterpiece and might just be the most unique bag we've ever seen.
Do you think you can rock an 'upcycled' emu egg as a handbag, or would you simply stick this on your display cabinet?
2. Mouawad's 1001 Nights Diamond Purse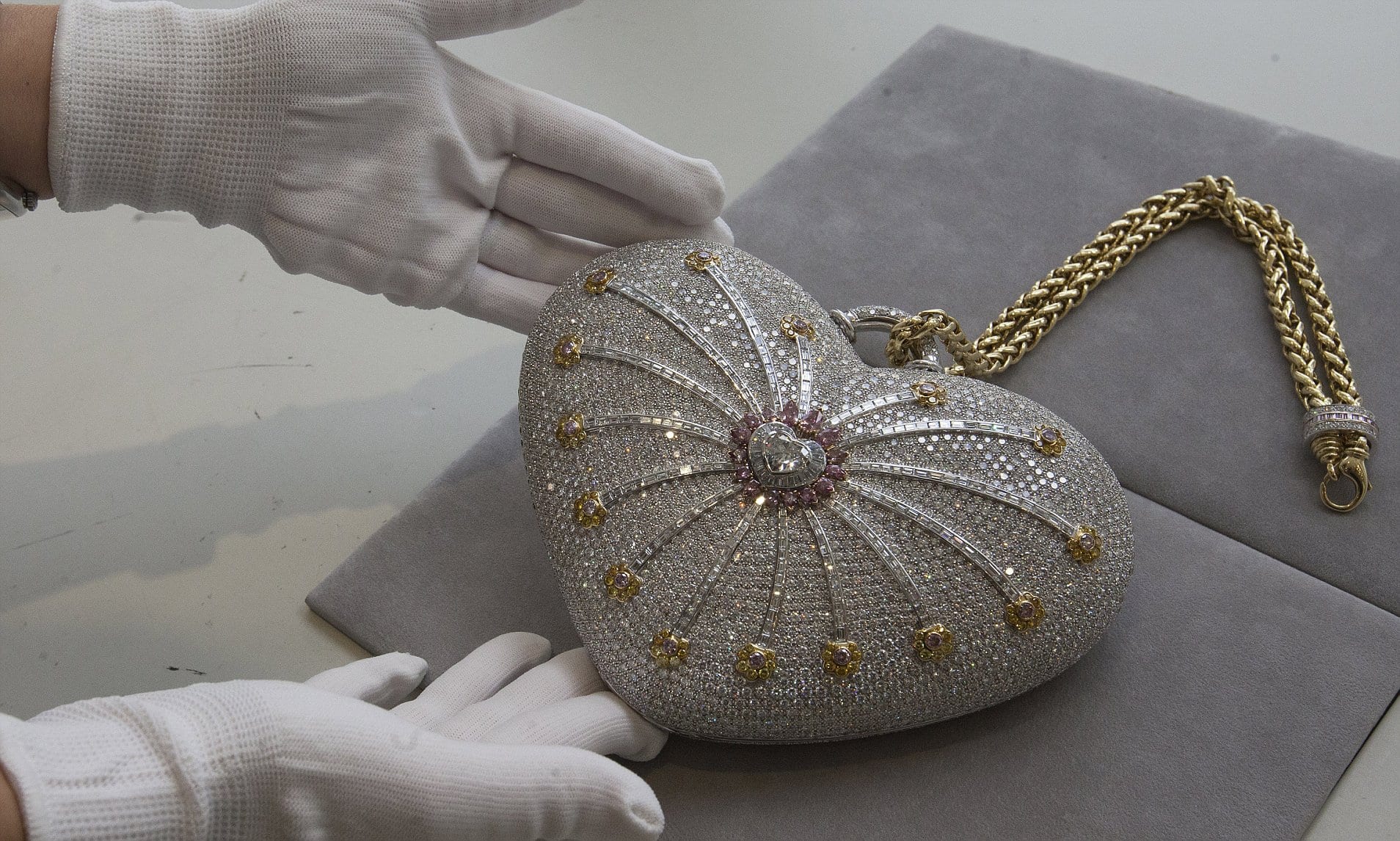 The Mouawad's 1001 Nights 18k Diamond Purse with its heart-shaped design had held the title of the most expensive bag from 2010. It sports more than 4,500 diamonds in yellow, pink, and colorless forms. It took about 8,800 hours and ten very skilled artisans to create this beauty. We are not surprised it carries such a hefty price tag.
This purse was sold privately at the Christie Auction House in Hong Kong in 2017. Your guess is as good as ours when it comes to who bought it or how much they paid for it.
3. Hermes Kelly Rose Gold Bag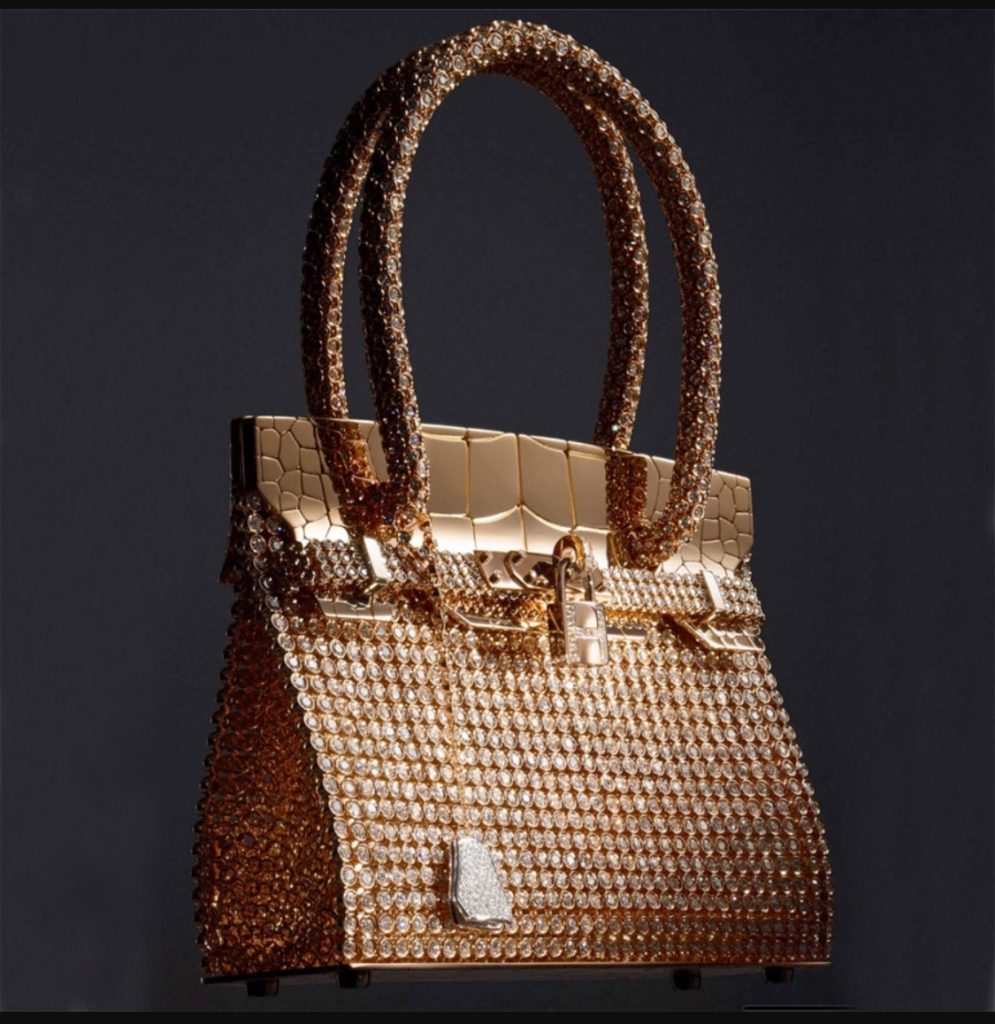 Pierre Hardy, the renowned jeweler got a proposal to collaborate with Hermes. This collaboration is the recreation of one of Hermes' signature handbags but this time, using solid rose gold. This croc-effect bag sports 1, 160 diamonds with a working clasp. You should know that this purse is too to hold anything, except your favorite lipstick, maybe.
There are four styles, with three pieces produced meaning that the Kelly Rose bag out there is only 12 in number which is another reason why the price is so high.
You can carry the rose gold Kelly bag like a traditional handbag or you could wear it on the wrist to give off a bag-bracelet appearance. Did we hear someone say baglet?
4. Hermes Birkin Bag by Gina Tanaka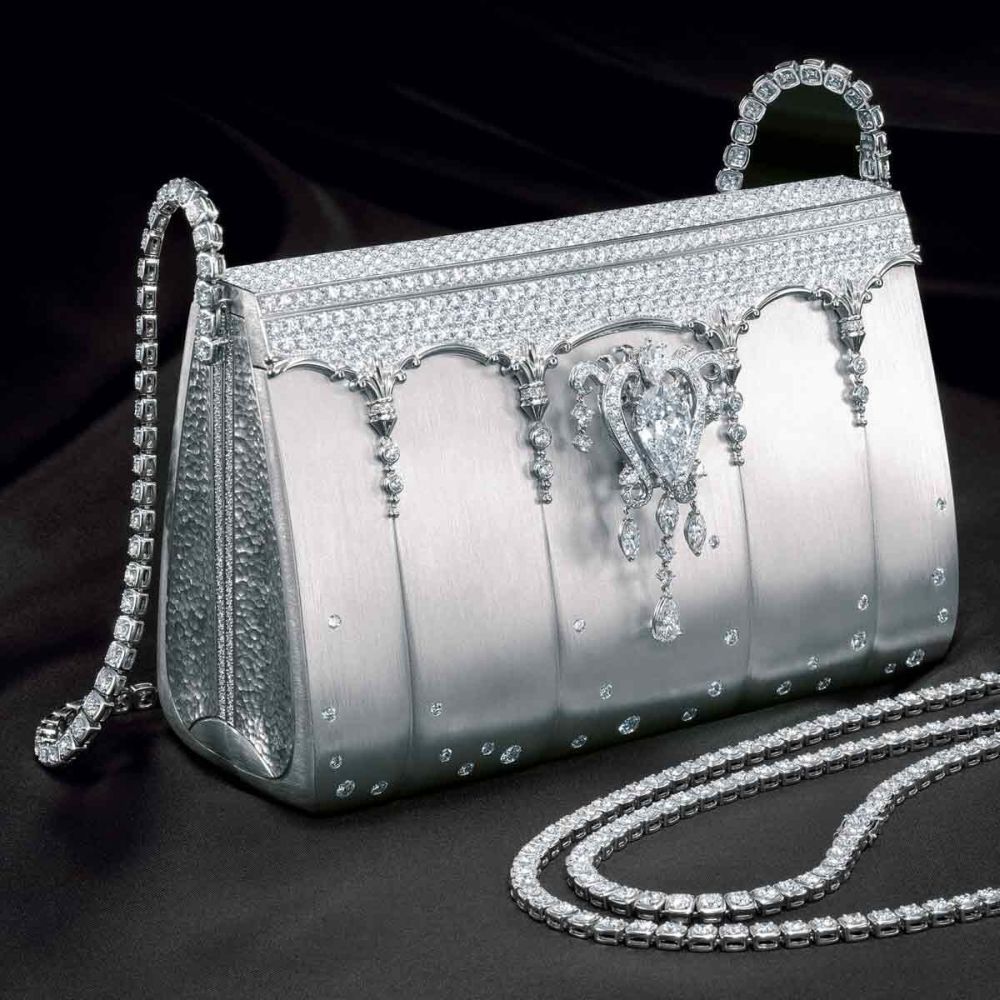 Hermes collaborated with the Japanese designer Ginza Tanaka to produce this platinum Birkin bag. It features 2,000 diamonds, one of these being a captivating 8k pear-shaped giant which makes up the clasp.
It has a flexible diamond-encrusted handle which you can remove to make the bag a clutch. Another flexible part of this bag is the clasp which can be removed and worn as a brooch. This is a versatile piece and considering the amount it will take off you, versatility is necessary.
5. Hermes Himalaya Birkin Bag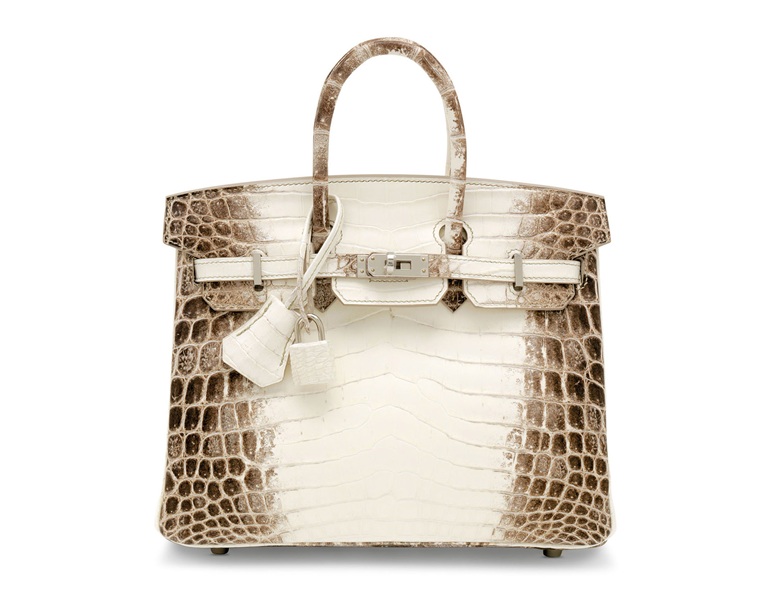 Here's another Hermes bag sitting pretty among the big wigs. This piece is one of the most sought-after bags among designer bag collectors and investors. One might even call the Himalaya Birkin bag "the rarest bag in the whole world" and not be wrong.
The Himalaya Birkin Bag is designed using Nile crocodile leather. Its name comes from the color – snowy white tops disappearing gradually into smoky grey. The gradation of the bag's color takes a great deal of time and is handled by none other than a highly skilled artisan. This process is one of the factors that makes the bag a costly piece although if we were to hazard a guess, we would say the 214 diamonds and the 8k gold hardware are the major contributors to the high cost.
6. Chanel Diamond Forever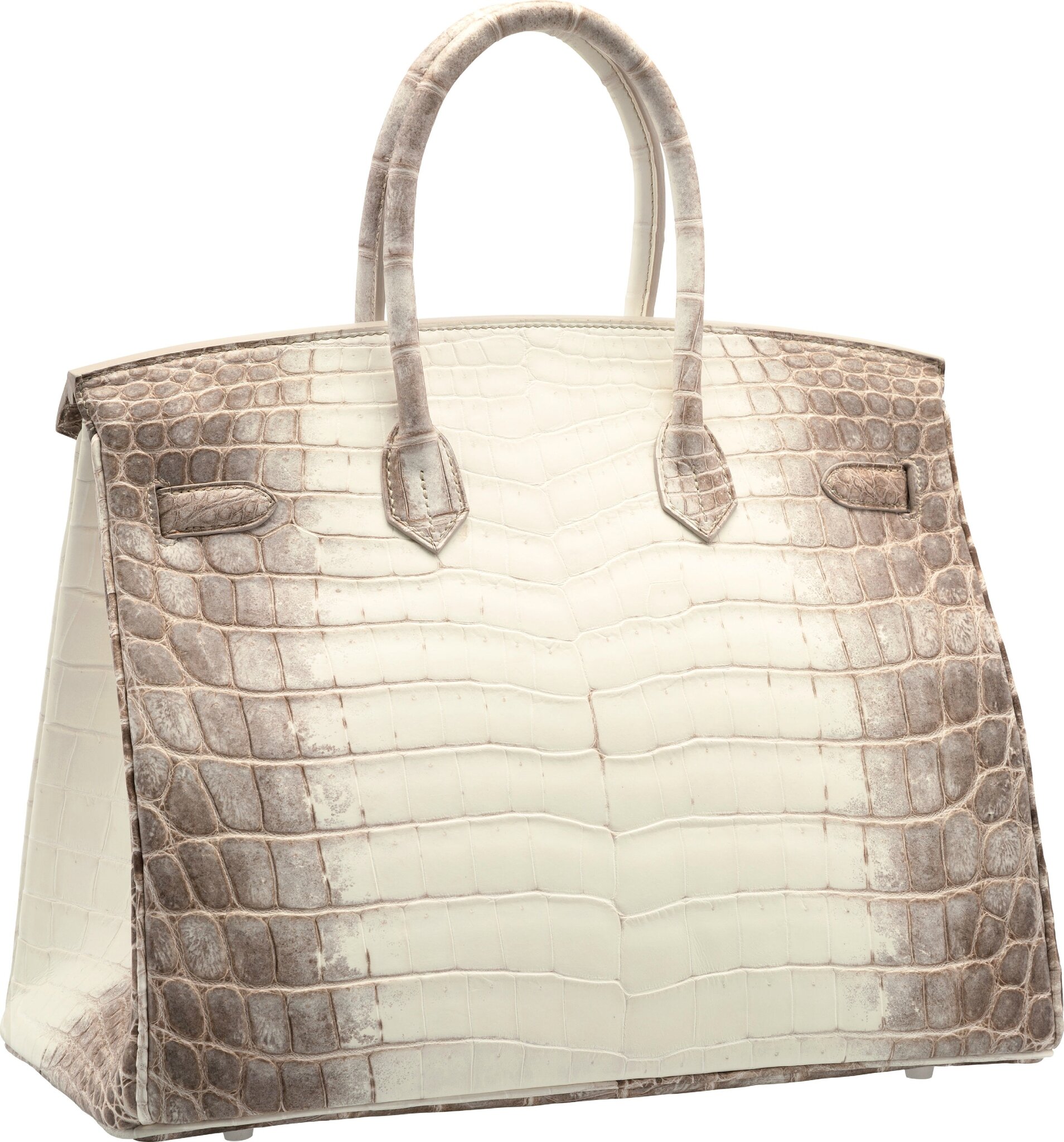 The Diamond Forever is the first Chanel bag to make it into this catalog. Only thirteen pieces of it exist. It was made with the finest piece of matte white alligator hide with a removable 18k white gold chain strap and 334-diamond encrusted white gold clasp. Looking at the ensemble of materials, you can easily guess why this piece was gobbled up almost immediately.
This piece is an upscale version of the Chanel Classic Flap Bag. It didn't deviate from the classic style of the brand, instead, it takes on an even transcendental feel with the addition of white gold and diamonds making it a highly sought-after designer piece. Now that Chanel has stopped the use of fur and exotic leathers, the Diamond forever has become an even rarer piece and the value is projected to increase over time.
7. Hermes Fuchsia Diamond Studded Birkin Bag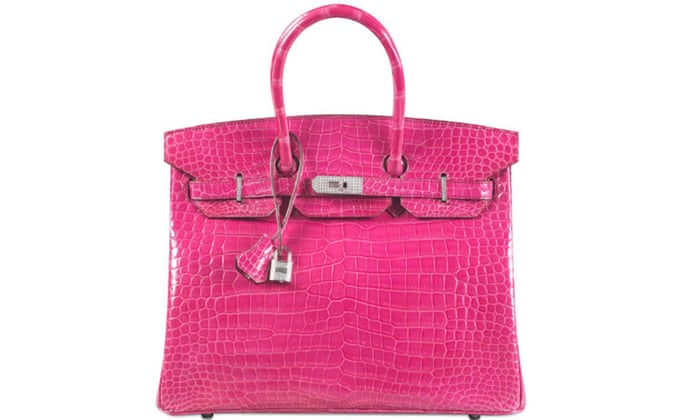 Hermes went the extra mile, creating their infamous Birkin originally sporting 10.87ct of diamonds plus 18k white in another dazzling form; with a pulsating fuchsia crocodile leather. The beauty is quite stunning and we can't just get enough! The price is also projected to rise with pressure growing on brands to stop the use of exotic skins.
At one time, this Birkin skin bag was the record most expensive bag sold at an auction when a mystery phone bidder paid $220,000 for the bag.
8. Louis Vuitton Urban Satchel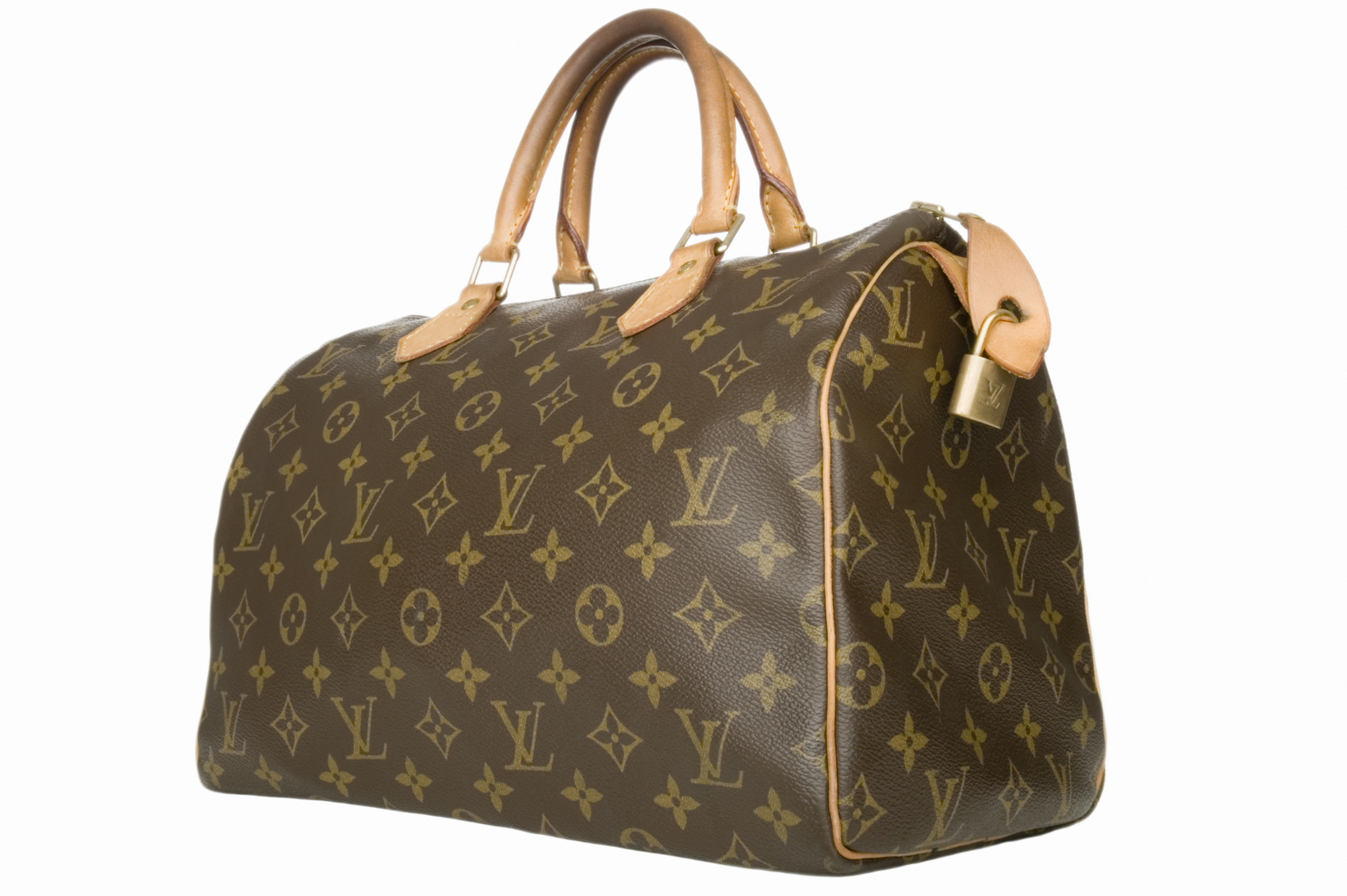 A lot of people may not care about this piece but it garnered strong media attention as a statement piece designed to portray the issues surrounding trash and the environment. This bag just like any other from the Louis Vuitton brand is made with LV's luxury leather but this time, the leather is not the main feature because the bag was covered with a selection of… you guessed it, trash! You have a plastic bottle, cigarette packets, chewing gum wrappers, coffee cups, and sticky plasters too.
Ashley Olsen(One of the Olsen twins), a regular fashion FROW member is alleged to have signed a multi-billion dollar deal to promote the bag. Despite the presence of the unique "urban gems" adorning the exterior of the bag, a lot of people are looking to own it. We put this down to the bag's unique nature and the limited number produced.
Do you think you'd like to own Louis Vuitton's urban satchel?
9. Kusama Pumpkin Minaudiere Jewel Bag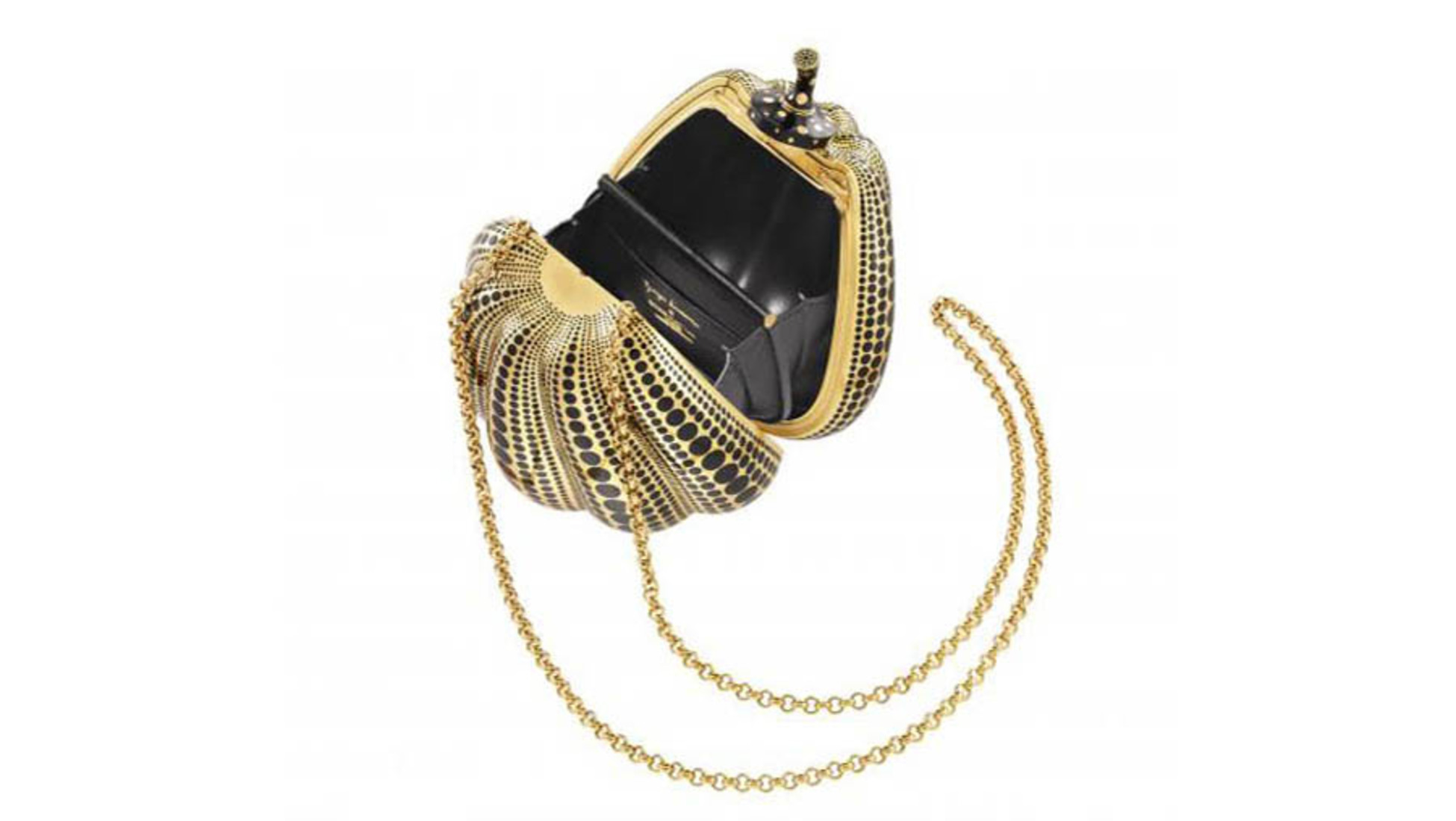 When fashion houses collaborate with designers, artists, and artisan creators to design a piece, their creation is always limited edition and as such always commands a high priced. The Artist Yayoi and Louis Vuitton came together to create the Minaudiere bag which is one of the most sought-after bags out there. Only five pieces were made and its price tag is enough to prove its uniqueness.
The Minadiere with its pumpkin shape is adorned with Kusama's signature polka dots. It is made using black resin and a blend of precious metals. It sports a golden chain which makes for a perfect finish for a perfect bag. If you pair this with a funky LBD, you will have found perfection!
10. Leiber Precious Rose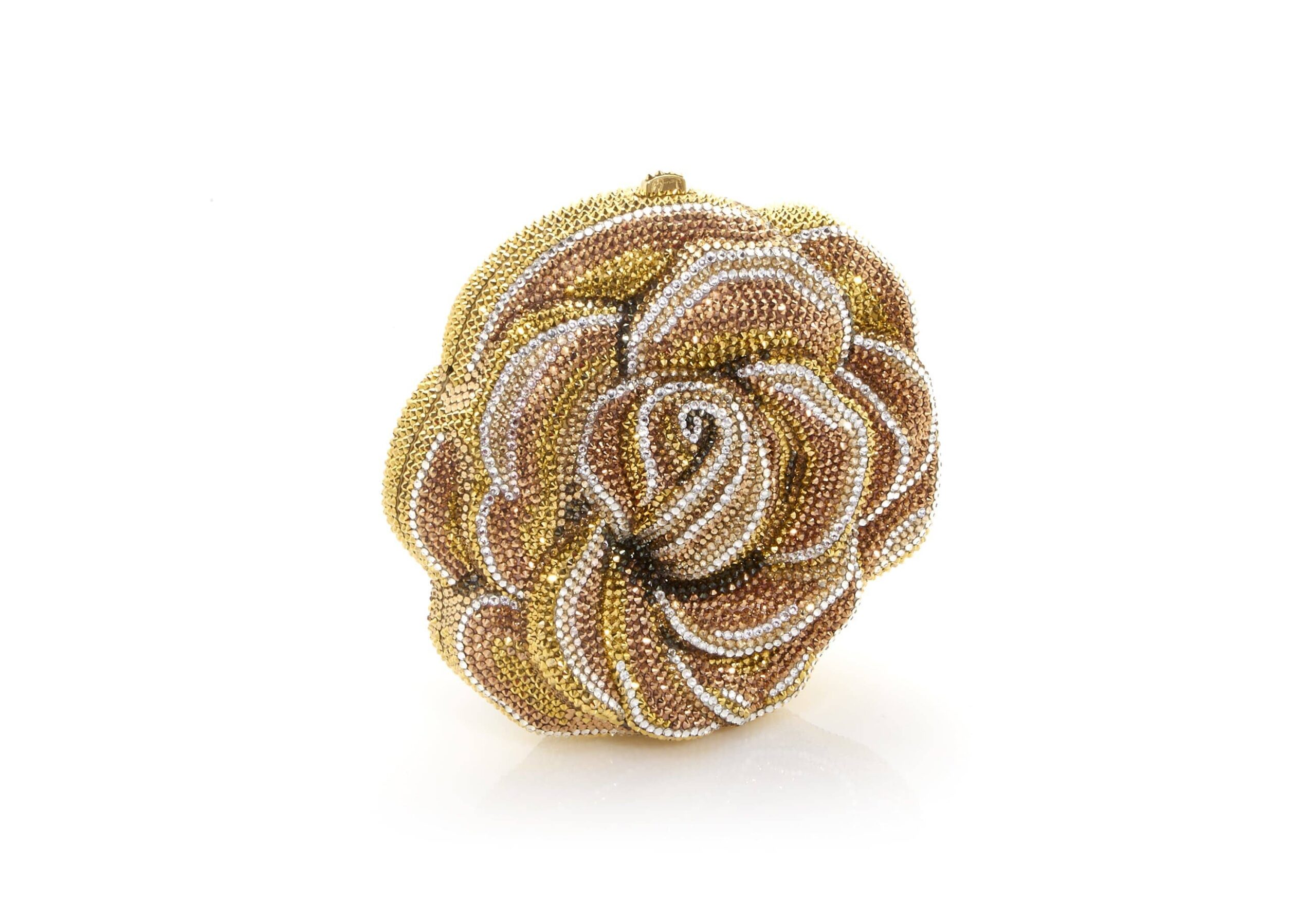 This rose-shaped, jewel-encrusted bag is another novelty handbag on this list of expensive designer bags. It comes from the mind of the late Judith Leiber, a leading designer of luxury, unique and quirky minaudiere bags of different shapes.
The precious rose bag comes with an embellishment of 1,016 diamonds, 800 tourmaline-cut crystals, 1,169 pink sapphires and is built out of 18k white gold. There is only one piece of this design in existence and it belongs to an anonymous buyer who paid $92,000 for the piece.
Leiber's fun and playful designs are lovely and we wouldn't mind owning just a piece out of her numerous creations. Question is, should we get the French fries or the popcorn?
11. The Capucines Crocodile Bag from Louis Vuitton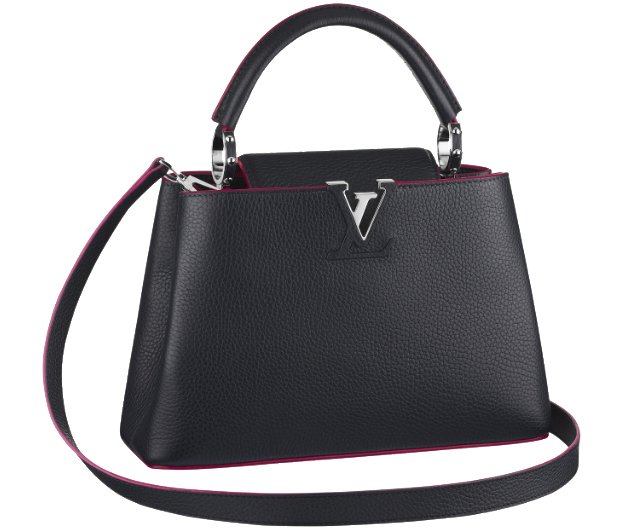 The material that goes into the making of the Capucines Crocodile bag is one major reason it costs so much. It is designed using captivating, glossy, alligator leather in a calm azure hue. It is never easy to achieve this sort of vibrant and even coloration with alligator skins, it takes a particularly time-consuming process only to be undertaken by very skilled artisans.
Recall that we mentioned the fact that brands are discontinuing their use of exotic skins which is likely to increase the value of bags like this one as they become even rarer.
12. The Airplane Monogram Bag from Louis Vuitton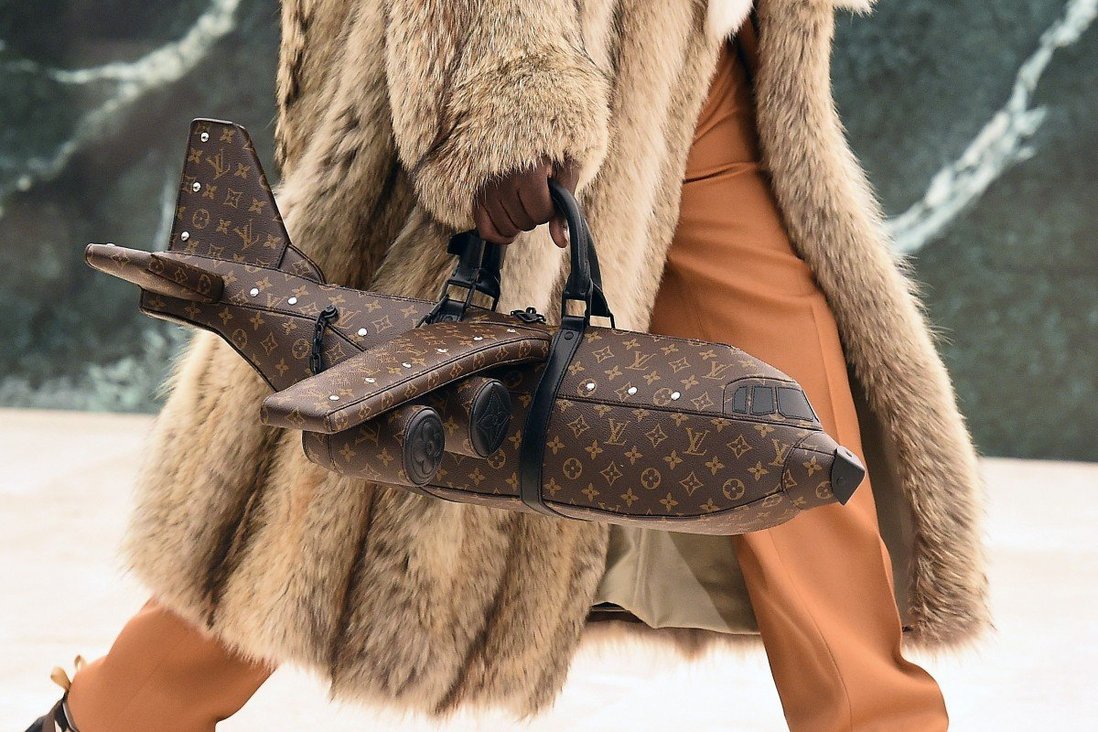 The Airplane Monogram Bag gets you jet-set for a hefty price tag of £28,000. One might argue that 30k would get you an actual private jet, but who needs that? This is a statement bag for the Uber-rich who wish to stand out at all times. This monogram piece sports luxurious leather detail bedecked with silver studs.
If you have travel at the top of your bucket list and you have about $40,000 to spare then go for this piece.
13. Chanel Double Flap Alligator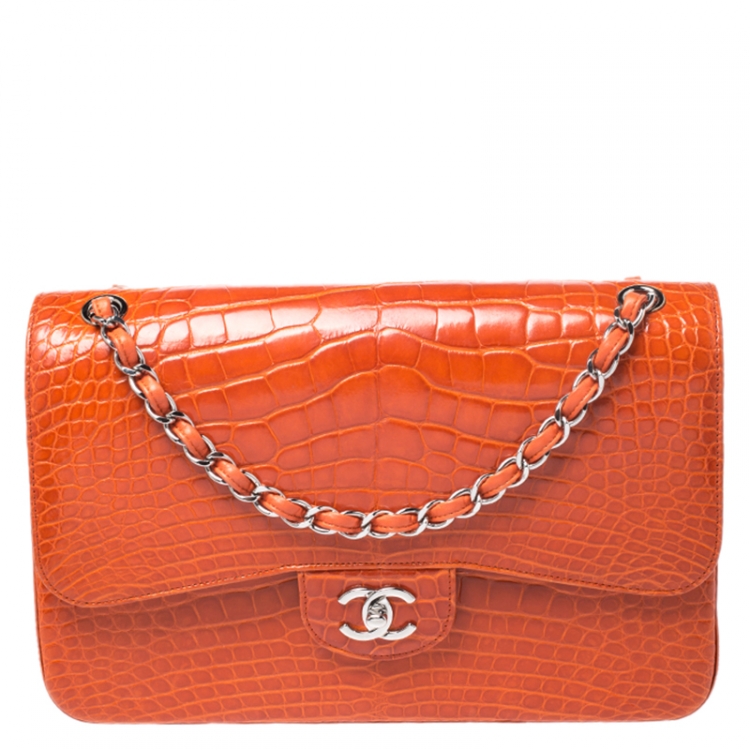 The Double Flap Alligator is another exotic offering from Chanel. This one sports a Jumbo Double flap design. The artsy creation is made using alligator leather with a bright orange color and lots more in its favor. It offers a glossy texture and stunning symmetry with Chanel's signature chain strap designed to keep this tangerine bag in the same mold as Chanel's timeless designs.
You can find the Jumbo Double flap alligator in a variety of colors, with each color going at a different price. If you have in the region of $20,000 lying around, then you could get this beauty for yourself.
14. The Crocodile Marmont Shoulder Bag from Gucci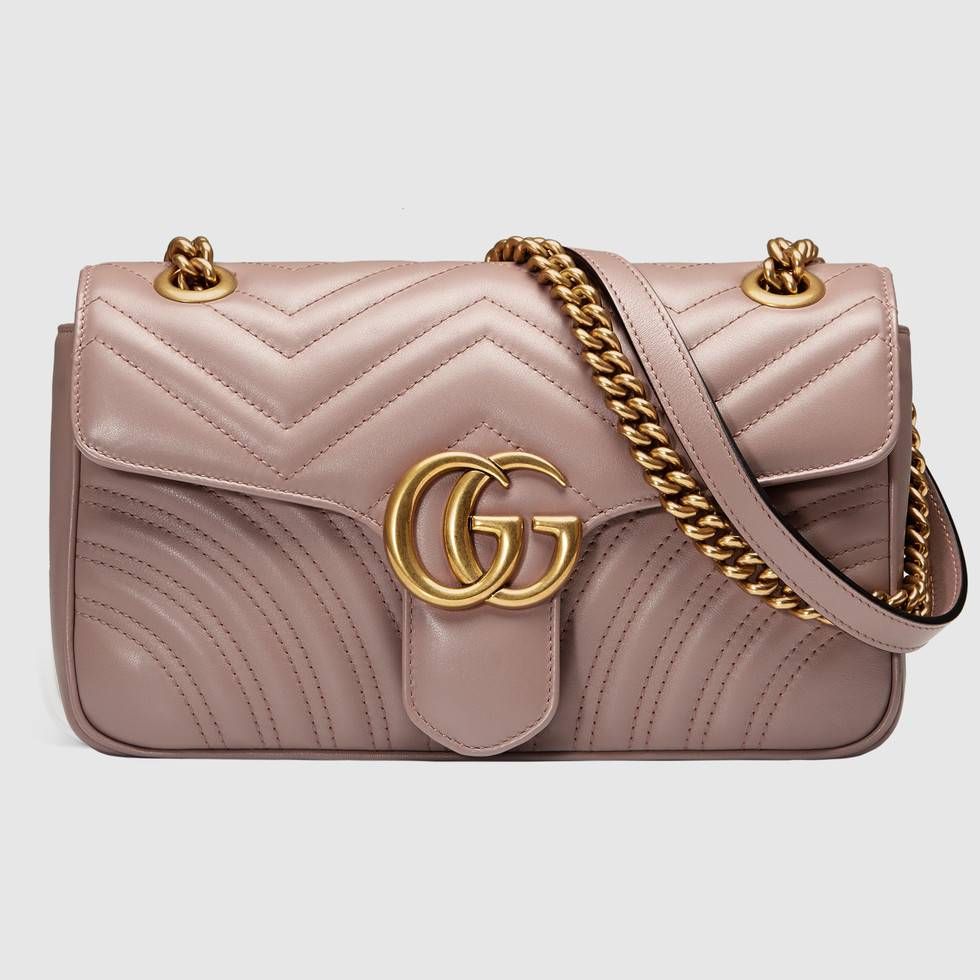 Gucci offers us the next crocodile skin bag on this list. This is one of the most popular of Gucci's designer offerings, little wonder this exotic leather version of the bag is so highly sought after.
It comes in a glossy croc skin sporting a luxurious emerald green color which makes this piece quite the sight to look at. It also sports complimentary antique gold hardware and a chunky chain strap which means it can segue from day to night bag seamlessly. We enjoy the versatility and when the price is about ten times more than a regular Marmont in standard leather, we crave versatility!
15. Chanel Pearl Lego Clutch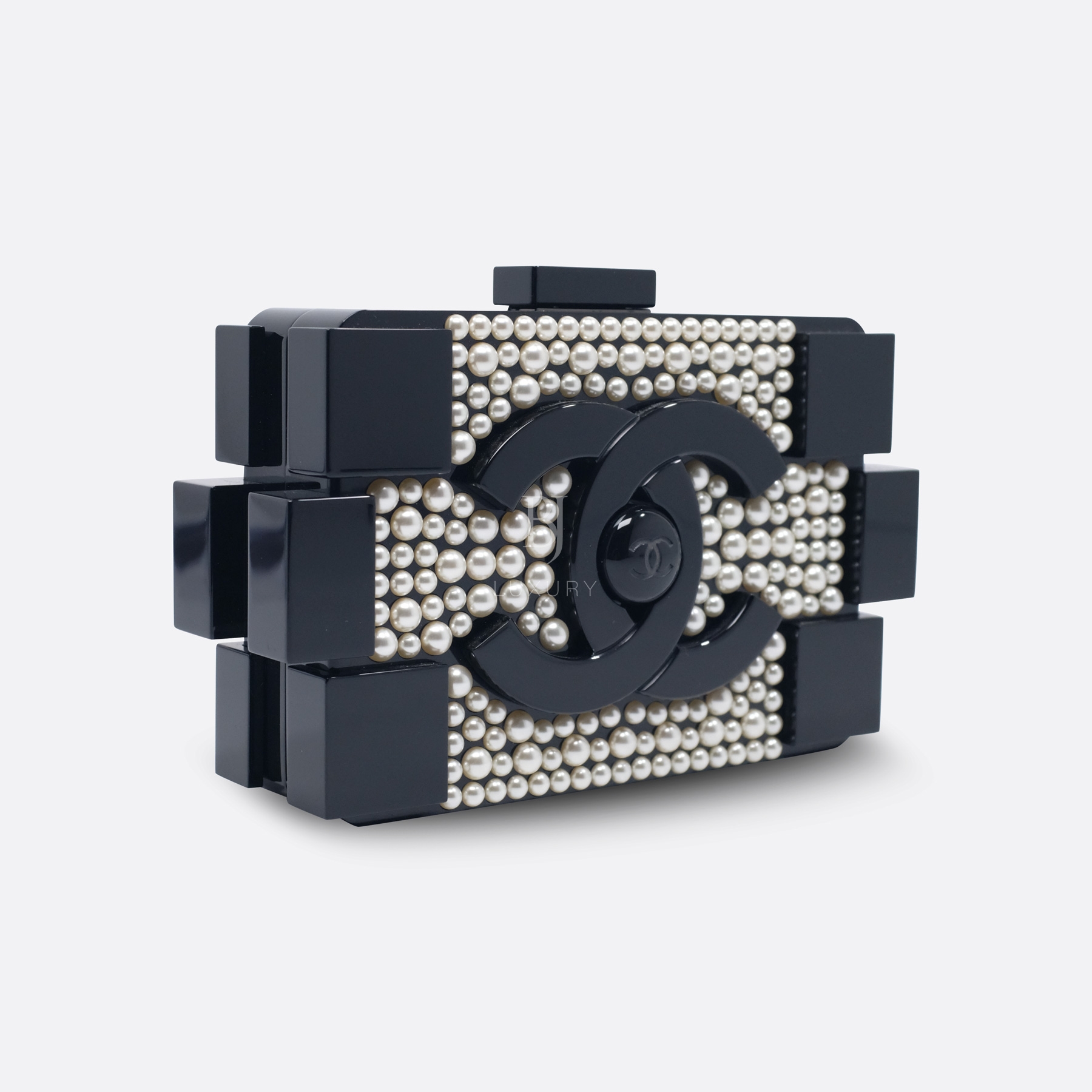 The Chanel Pearl Lego clutch comes in a small boxy design. It is one of the quirkiest designs to come from the Chanel house through the years.  It has a structured Plexiglas body with Chanel's signature CC logo embossed with aplomb right in front. You can get this bag in a variety of stunning colors but the one we are most interested in is the pearl version.
This bag sits in hallowed company with the world's most expensive designer bags courtesy of the black blocky Plexiglas with a completely pearl beaded handle and the stunning pearls sitting right on the bag's exterior. It may not cost as much as its predecessor but Chanel's Pearl Lego Clutch is a sight for sore eyes and boats a high price to boot.
16. Chanel Perfume Bottle Bags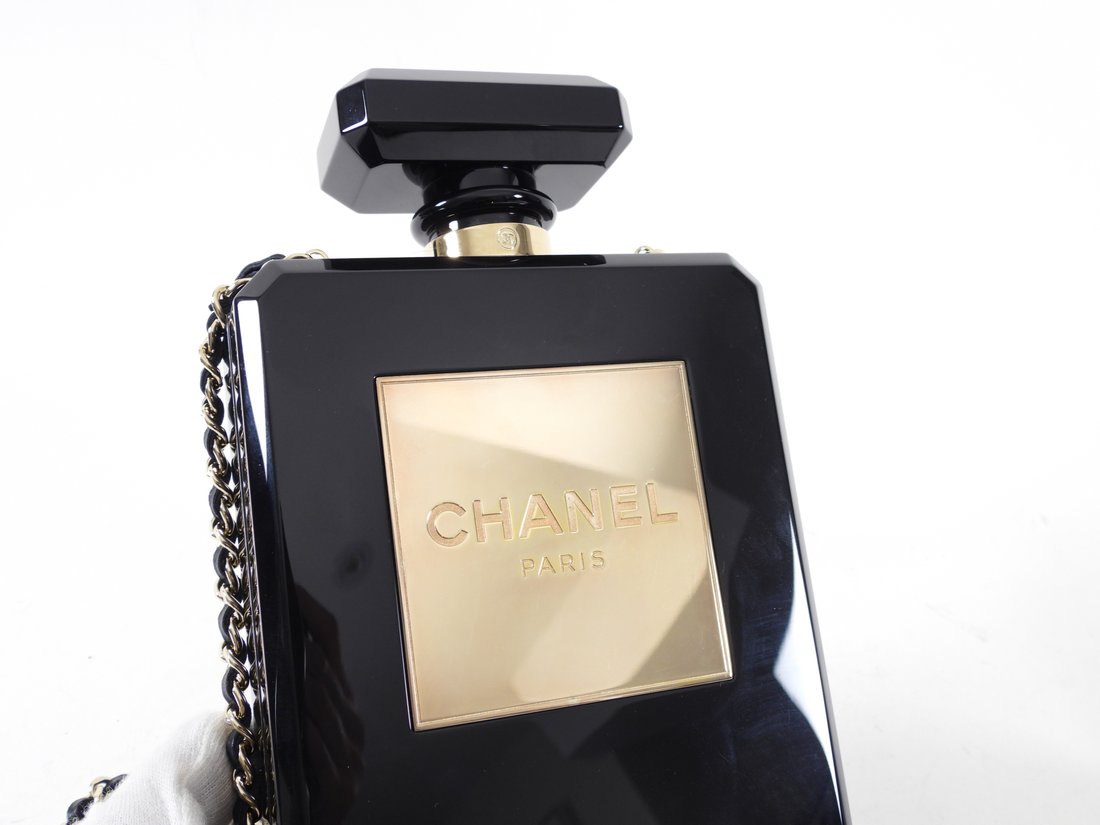 Chanel No. 5 is iconic and is renowned all over the world. When Marylyn Monroe famously claimed to wear only Chanel No. 5 for bed, the perfume's popularity skyrocketed.
If you love any of Chanel's scents and the fashionable perfume bottles they come in, you will want to see if this is something you can afford.  It is designed using clear or black Plexiglas and shaped like a perfume bottle. It may not be that everyday bag you are looking for but it will definitely blend well with your party outfits and even better for photo setups.
Hermes offers the most Expensive Bags
Hermes took up a few spaces on the list above with some of the pricey designer bags out there. It is not a secret that Hermes is renowned for designing and producing some of the most expensive designer bags in the world. The Birkin Bag is amongst their top collectible designs.
The Birkin Bag came to be after a fortuitous encounter between Jean-Louis Dumas and the British actress Jane Birkin on an Air France flight leaving Paris for London. The Actress was placing her handbag in the overhead compartment when the bag flew open and all her stuffs suddenly fell to the floor.
Dumas was forced to enquire why she doesn't own a handbag with pockets to which she replied that she'll own one when Hermes makes one.
This led to a conversation about Birkin's ideal handbag and she doodled specifications on a sick bag. This was how the Birkin Bag was born.
This is not a bag you simply walk into a store to purchase, and only very good customers get an offer of exotic skins and limited editions. The Birkin in all of its unique designs are collectors' items and the brand plays the rarity card perfectly leading to an increase in the bag's value.
Which of the Birkin Bags is the Most Expensive?
The most expensive Birkin Bag is number 5 on the list above, it is the Hermes Himalaya Birkin!
This bag is a stunning piece of art, sporting an artsy color gradation from stony grey to pure white which isn't an easy effect to achieve on crocodile leather. The crocodile hide must be rubbed back and forth on a wooden dowel to achieve the lightest colors. This makes the surface of the fabric light.
Which of the Birkin Bags is the Most Expensive in 2021?
Ginza Tanaka's version of the Hermes Birkin bag which sits at number 4 on our list above is considered the most expensive Birkin Bag of 2021 with its price set at $1.9 million. This platinum handbag doubles as a clutch and sports a flexible diamond handle that could be detached and worn as a necklace and a removable clasp that could be styled as a pear-shaped diamond brooch. This bag boasts more than 2000 diamonds set into platinum, the most expensive metal.
Ginza Tanaka's design may not be about the same size as the typical full-sized Birkin bag but it could easily have become the most expensive designer handbag in the world.
The Kelly Rose Gold bag is another one that makes it into the list of the most expensive Hermes bag as it peaks at number 3 on our list above.
This compact piece is impressive and created completely from rose gold molded to have the appearance of crocodile skin. It features a total of 1, 160 diamonds. There are four styles of this bag, each with about three pieces produced bringing the total number of the rose gold bag to a limited 12.  This is why the price sits at $2 million.
If you can't get the gold rose bag, you can easily get the exotic alligator skin Birkin which wouldn't cost up to a million dollars. The Hermes Himalaya Birkin mentioned earlier costs less than half a million (if you're Kylie Jenner or Jeffree Star) alternatively, you could go for a diamond-studded Birkin which goes for less than a quarter of a million dollars.
It doesn't matter which Birkin you desire, the price will have you checking your account balance.
Which Louis Vuitton Bag is the Most Expensive in 2021?
Louis Vuitton is another Fashion house with its share of limited edition Designer bags exclusive to the richest and the most famous. One very remarkable offering from LV would be the patchwork Louis Vuitton Handbag which you may have seen on Beyoncé. This particular design split opinion in the fashion world with many questioning whether it was genius or just hideous.
The mixed reviews didn't stop this beautiful piece from hitting a price tag of $45, 800. While it may be the most expensive of 2021, it is not the costliest LV bag ever.
The Urban Satchel from Louis Vuitton
The Urban Satchel may not be the most fashionable of the bags from the LV house, but it sends a powerful message. This statement designer bag is designed to draw attention to the trash problem and waste common in the environment. It is decorated with simple everyday trash including a disposable coffee cup and a plastic bottle which were both very visible on the design.
Many people don't dig the litter look even if they had the $150,000 to spend on the bag. If you are in this category and would love something a little more classic and wearable, you should probably go for the LV Capucines MM bag.