Though we have reviewed the Louis Vuitton Neverfull GM size in a previous blog post, we don't have a general review of the Neverfull on this blog yet.
And we talk a lot about the Neverfull. There are actually several posts on the top Neverfull dupes. There are also a lot of blog posts about other designer handbags. But it's about time both GM and MM sizes of the Neverfull have their day.
Let us explore the ups and downs of the Neverfull, a comparison between the GM and MM sizes, as well as whether or not the hefty price of this designer tote is justified.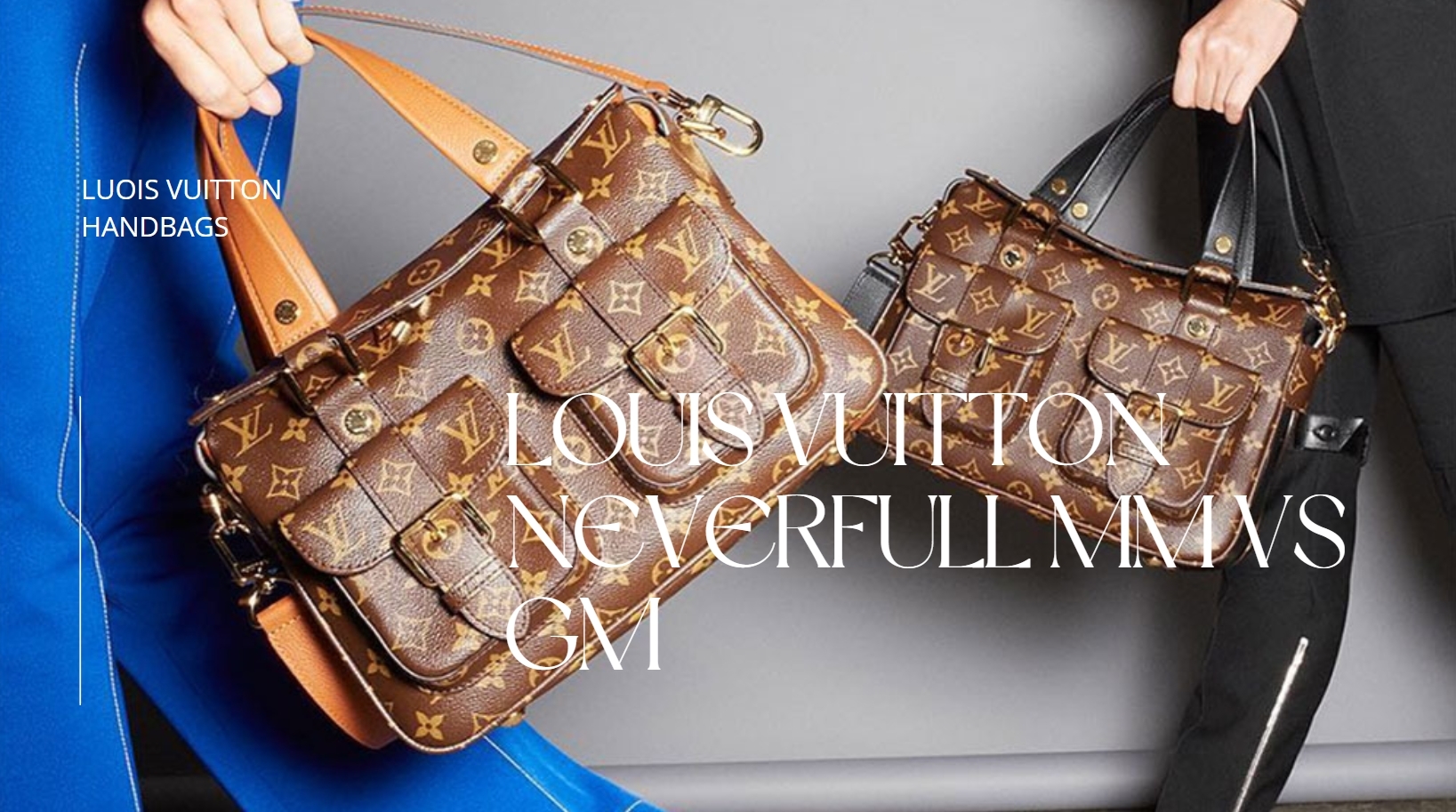 Introduction to the Neverfull
You must already know about the Neverfull if you're reading this blog post. But here's a breakdown for those who don't.
The Neverfull is an original Louis Vuitton style that goes way back… not too way back anyway. It is only a few decades old. Though a newcomer in the world of designer pieces, this tote bag has dominated the scene already. The tote is not exactly groundbreaking on its own but the classic design of this style makes it so relatable and a favorite everywhere.
The Neverfull style is a classic silhouette shoulder tote. Like a lot of classic Louis Vuitton models, this is made in many different kinds of leather and there are also coated canvas options such as the classic monogram, Damier Azur and Damier Ebene.
Why Do People Fancy the Neverfull So Much?
Everyone is so obsessed with the Neverfull because of its classical beauty and functionality. Louis Vuitton bags are generally a favorite, especially those in the classical prints. Though the Neverfull is only a tote, it is not your regular tote. There's this feeling of luxury that comes with wearing this bag on your shoulder.
The Neverfull is also extremely functional, especially considering it is a designer bag. Designer handbags are usually regarded as fragile items to dote upon, however, the Neverfull was designed for heavy-duty. Both the GM and MM can carry all the essential items you would need for a long trip or just a busy day out.
When it comes to durability, the most durable designer tote bag you can ever find is probably the Louis Vuitton Damier Ebene Neverfull. Unlike the Damier Azur and classic monogram styles, Damier Ebene Neverfulls don't use untreated leather straps, which makes the bag resistant to scratches, stains, and water. So it is not a surprise that parents and busy individuals all over the world are obsessed.
Why is the Louis Vuitton Neverfull So Expensive?
Well, we're talking of Louis Vuitton. The price of designer bags is usually not justified considering the material and labor used. For instance, coated canvas material is used in making the classic Neverfull. This should be cheap (particularly cheaper than leather), but this tote is sold for over $1,000. To be honest, the brand is what we're really paying for. That and the luxury make and experience.
Size Comparison Between the Neverfull MM and GM
The dimensions of the Neverfull MM are 6.7 inches in width, 11.4 inches in height, and 12.6 inches in length, while the Neverfull GM is 7.9 inches in width, 13 inches in height, and 15.7 inches length. It basically means the GM is 1 inch wider, 2 inches higher, and 3 inches longer.
In a real-life, everyday situation, the choice of whether to carry a MM or a GM will depend entirely on the occasion. The MM and GM are both suitable for carrying everyday work essentials like your wallet, phone, keys, water bottle, and laptop too. However, a lot more can go in the GM (such as a lunch box, sweater, etc.). Since the GM is roomier, it is typically the preferred size for traveling (it is a great personal item on flights) or for when you have a very long day ahead of you, such as dinner after work which requires extra shoes, some makeup, or perhaps an extra outfit.
The GM also makes for a perfect shopping companion because of all the extra room it provides for your purchases.
What Fits Inside The Louis Vuitton Neverfull MM?
Here is a glimpse of how many items the MM Damier Azur Neverfull can carry. You can easily fit your phone, keys, wallet, and a small emergency case (if you like to go around with a few medications). The MM can also fit a 13-inch laptop, though this will make things rather cramped and the bag will be a little heavier. If you don't mind the extra weight, you can also include a water bottle.
What Fits Inside The Louis Vuitton Neverfull GM?
Here is a glimpse of how many items can fit in the GM Damier Ebene Louis Vuitton Neverfull. It can hold all of the same essentials that the MM can carry, but instead of feeling crammed, the bag generally feels more spacious and balanced in this case. There's still enough room in the bag to throw in a light sweater for use in the event of a sudden micro-climate weather change from warm to cold.
Factors To Consider When Choosing A Color and Print For Your Neverfull
There are three popular Neverfull classic prints: the famous Louis Vuitton classic Monogram, Damier Azur, and Damier Ebene. There are a few things to consider before settling for any of these prints.
Seasonality
The three classic colors/prints of the Neverfull are hardly ever out of season, however, the Damier Azur MM can be considered to be more suitable for use during the warmer periods of the year while the Damier Ebene works better during the colder season. There's just this spring and summer vibe about the Damier Azur. On the other hand, Classic Monogram feels right for all time.
Durability
Durability is the most important thing to consider in deciding on a Neverfull color/print to buy. As we have mentioned earlier in this article, treated leather straps are used in the Damier Ebene Neverfulls while the Damier Azur and classic monogram are made using untreated vachetta leather. For those who stay in a RAINY climate or people who tend to spill liquids, untreated leather may not be a good idea.
Outfit Compatibility
Some colors or prints of the Louis Vuitton Neverfull may fit better with most of your outfits. If you're going to buy a designer handbag for more than $1,000, it is necessary to ensure that it matches your present collection of outfits. You certainly do not want to spend a large sum of money buying a bag you don't ever carry because it is just not a match for whatever you have on.
Limited Edition Prints and Colors
Louis Vuitton is known for keeping things spicy. It is always thrilling to see a Neverfull bag out of the blues that is neither of the three classic colors. Between the colorful options and the safari-inspired styles, the LV Neverfull can be a statement bag and not merely a simple classic piece.
What About Buying a Knock-Off?
This is not a good idea. There are a lot of problems that come with replicas and fake designer handbags, such as theft of intellectual property, inferior design quality, and even labor abuse in some cases. Due to the illegality of counterfeits, they are made in illegal factories where there are no safety standards guiding the process. If fast fashion is bad, then counterfeits are the real evil.
If you want to own a Neverfull and the exorbitant price is a problem, then buy a dupe. Dupes generally look like the real thing but aren't really ripoffs of a design. Dupes are produced by legit companies using good quality materials, usually in legit factories.
Are Neverfulls Worth Their Price?
While cars begin to depreciate immediately you take them away from the dealership, you may see the value of some designer handbags increasing over time. For example, Chanel Classic Flaps or 2.55 bags have been on a steady price increase every year.
Generally, Neverfulls continue to be valuable on the resale market. It is a designer handbag that is popularly demanded and will have a decent value on the resale market at any time. While you probably won't be able to get the exact amount of money you spent on the purchase; your preloved Neverfull should fetch most of the money back if you choose to resell the bag later. For some rare prints, the preloved value can turn out to be higher than the original purchase price (however, it is not advisable to play this tricky game as a seller).
Should You Buy The Neverfull?
If you're that kind of person who just enjoys the experience of being in a designer store and loves the smell of a brand-new bag, then knock yourself out and go for a new Neverfull. However, the best way to buy this designer bag is preloved. The Neverfull is designed for heavy use, so you should always expect your bag to end up with a few dings and scratches. It is highly recommended that you buy a preloved Neverfull at a discount from reputable sites even if there are a few scratches on it already. The bag will inevitably get scratches anyway, so why not get it at a discount?
If you do buy a Neverfull brand new, you will find that buying the bag new doesn't really make the experience any more special. Whether you buy a Neverfull GM from Fashionphile or you are gifted a preloved Damier Azur in MM size, the experience is great. And yes, used handbags also make nice gifts.
New Neverfulls comes with a pouch that is hardly useful. The pouch is too oddly shaped and too thin to serve any real function. In the preloved market, the bags do not usually come with this pouch as it is sold separately, which means you can get a bag even for cheaper if the pouch is not included.
Is The Neverfull Worth Buying?
If all you're after is functionality, then the answer is no. The Neverfull is only a luxury indulgence. A $1,000 tote bag is never an essential for anyone.
That aside, the Neverfull is an absolute delight. You will be glad to have this designer tote in your wardrobe and it will serve you for years to come. These bags are such classics that you will pass them on to your next generation.