Have you ever been set for an outing — your outfit looks incredible and your makeup is perfect — but you are stuck in choosing a bag to go with? We've come to your rescue with our 10 best designer bag selections which include Givenchy, Saint Laurent, and Chanel. Some people are particular about their shoes and handbag matching one another, but with the right bag, this rule can be canceled.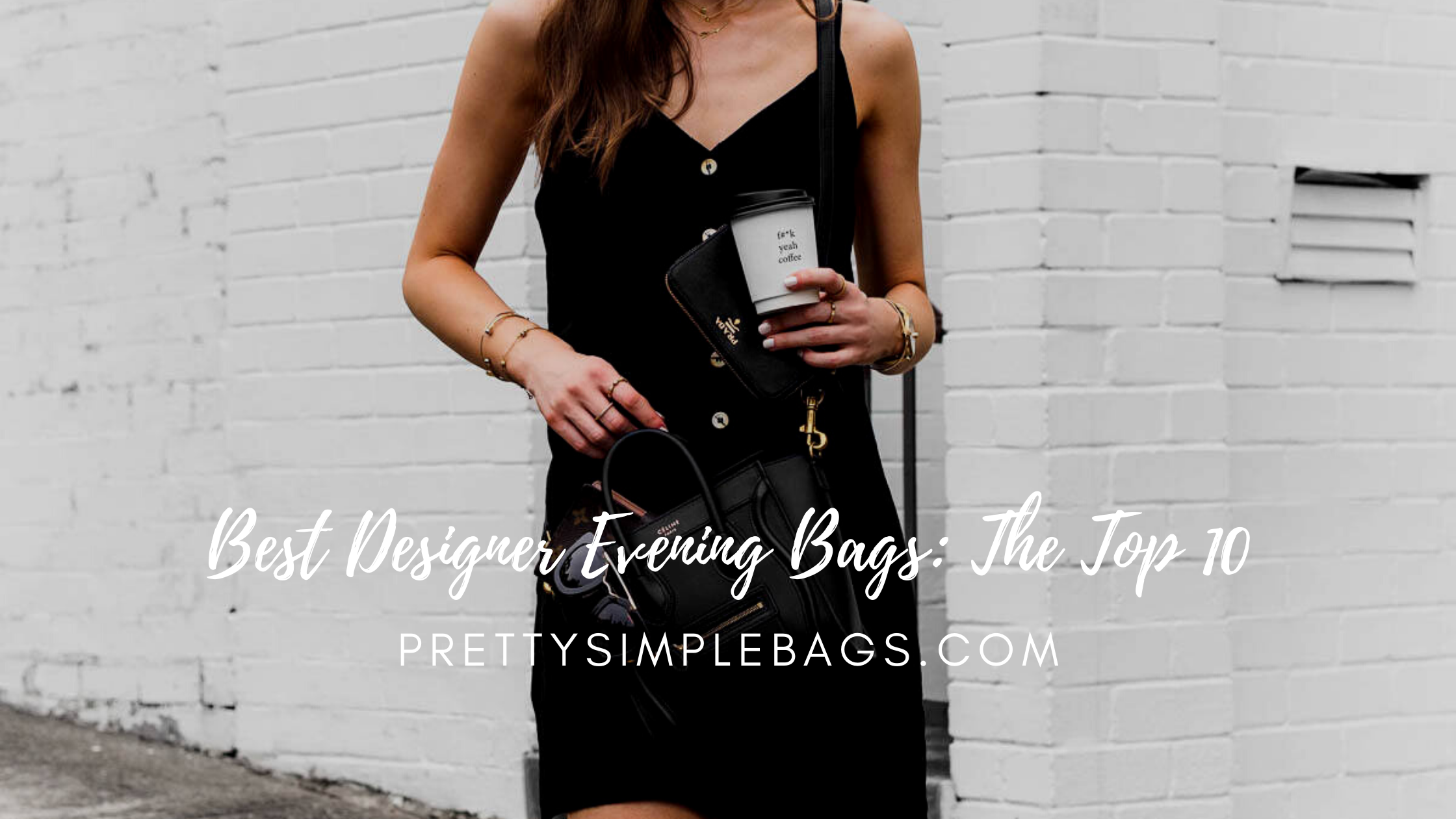 We have compiled a list of the top ten best designer evening handbags to make it easy to decide on your next night out. With several designer names, models and prices, you are sure to find something suitable on our list!
What Is A Designer Evening Bag?
The dictionary defines an evening bag as a small handbag mostly used on formal or fancy occasions, and usually made out of luxurious material or featuring sophisticated beading or other adornments. With the exception of a few, evening bags are generally smaller than regular-sized handbags and are usually a little more fancy or elegant looking than the usual everyday bags.
Without a doubt, your choice of an evening bag and a bag for daytime use will depend on your personal preference, however, some bags can work both ways and are suitable for day and nighttime occasions – perfect for drinks after work or late events which require more formal outfits.
Different Kinds of Evening Bag Designs
Evening bags may be available in different shapes and sizes, however, they are mostly classified according to how you carry them. Whether you have a giant pair of lips, a baguette, envelope, or pouch, you are likely to carry your evening bag in one of the ways described below.
Clutch Evening Bags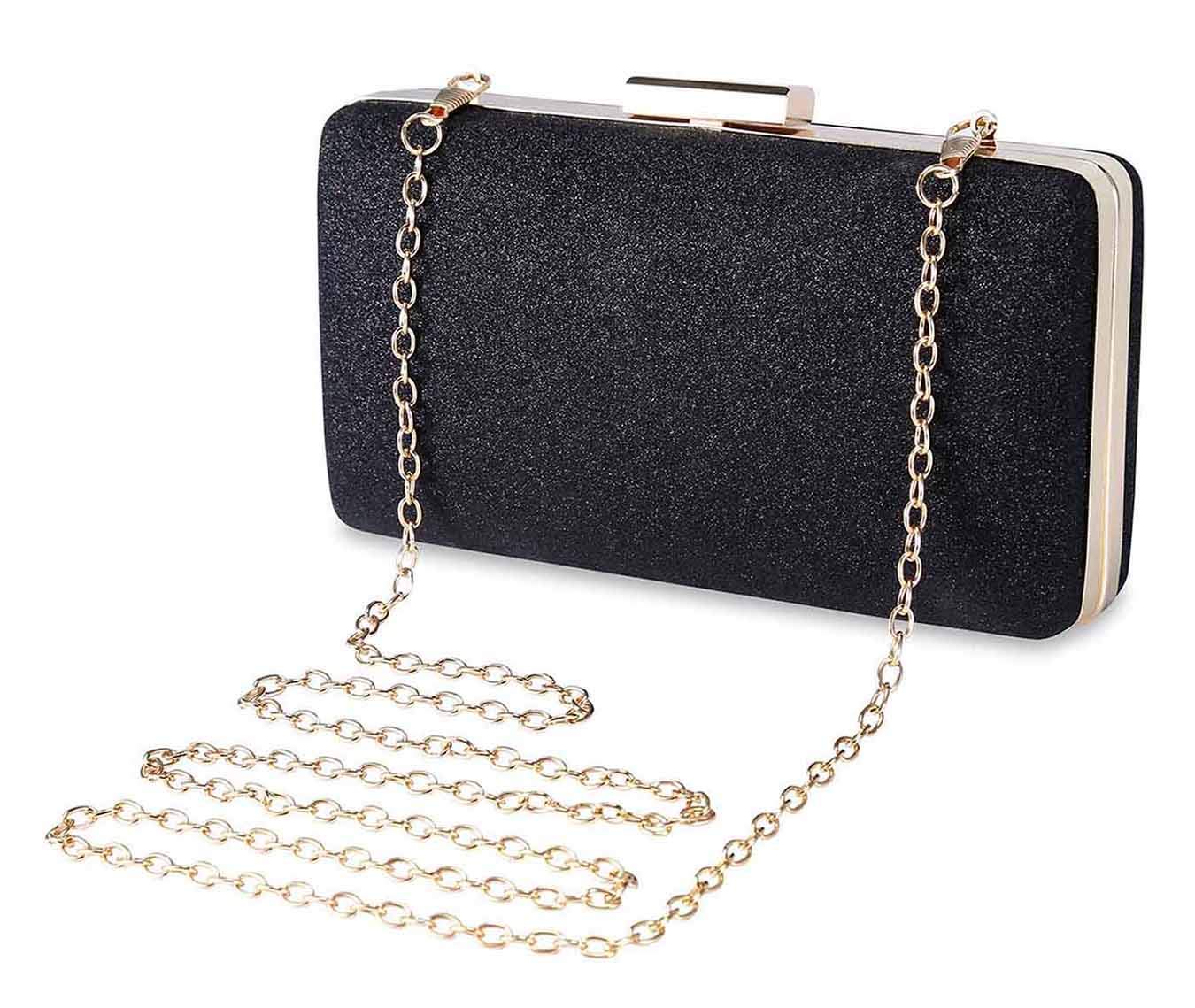 You carry a clutch either under your arm or hold it in your hand. These bags usually do not come with straps (or detachable straps) so you would have to carry them manually always. This can feel rather risky in some crowded places because it could get knocked out of your hand or be easily taken from you.
Clutch bags are the preferred style for the dressy, evening look because they don't water down the outfit you have on – no straps to sit over or crease your clothes. They are an opportunity to add a touch of color or perhaps a little glitter to your clothing.
Around the 1920s-1930s, the clutch bag first became popular and was often spotted on the red carpet and at the most important parties. Popularized by Arpels and Van Cleef, the Minaudière (a hard-cased clutch bag that was inspired by socialite Florence Gould's cigarette case) soon became a popular structure that many designers experimented with). Clutch bags are now available in different shapes and are still the go-to accessory of celebrities on the red carpet and socialites at the most glamorous events and parties.
Most clutches are very small in order to ensure that they are more portable. Hence, if you're going to carry a clutch bag, you will have to take only a few items.
Types of Clutch & Handheld Bags
Bermuda Bag
Hat Box
Pouch
Bracelet Bag
Minaudière
Envelope Clutch
Wristlet
Basket Bag
Pochette
Kiss Lock Clutch
Box Clutch
Shoulder Bags
As suggested by the name, a shoulder bag is carried over your shoulder on one side of the body. If the strap is the appropriate length, then the bag can also be carried crossbody style (explained below).
This type of bag dates back in history with several designs because it was believed that the shoulder strap was the practical way to wear a bag. Speaking of the fashion history of the shoulder bag, the transformation of the shoulder bag in contemporary fashion would probably be marked by the 1935 Hermes Mailbag (Sac a Depeches) and the 1955 Chanel 2.55. In the 60s, many people embraced crotchet and fringed leather bags in different sizes, especially people in the hippie culture. In the 80s, the Birkin bag was introduced and has remained popular to date.
Like clutch bags, shoulder bags are available in various shapes and styles but those used for dressy, evening events are usually smaller and made out of premium fabrics such as leather and animal skin with fine metal hardware.
If the strap on a shoulder bag is long or adjustable, it can be worn as a crossbody bag.
Crossbody Evening Bag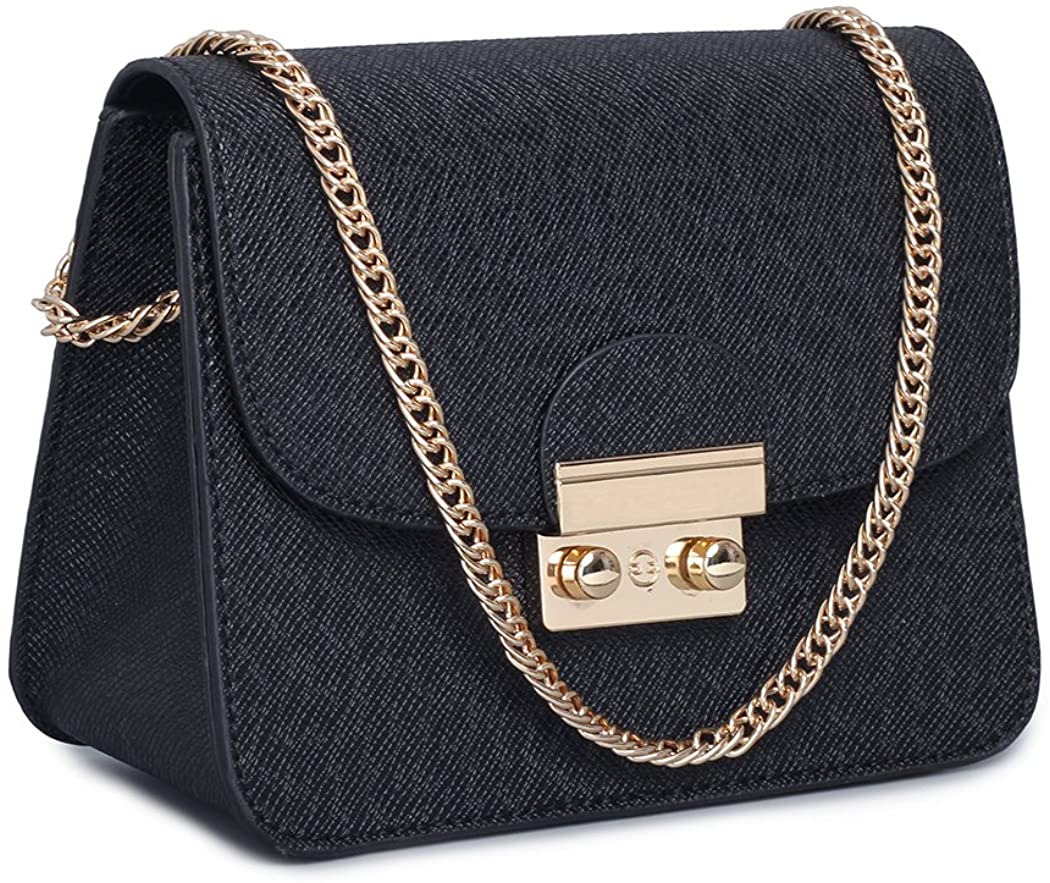 These can look like shoulder bags and can be used as such in most cases. However, the strap of a crossbody bag is usually longer to make it easy to cross over the body – from the side where the bag rests to the opposite shoulder.
This is a great bag style for people who are very security conscious because your bag would be very unlikely to get stolen when positioned this way on your body. As your bag rests neatly at your hip, your two hands are free to help yourself to a cocktail with one hand still free.
Crossbody bag straps will rest over your outfit, so ensure that yours is looking excellent by taking care of the chain or leather!
Types of Shoulder and Crossbody Bags
Fringe Bag
Satchel Bag
Straw Bag
Accordion Bag
Canteen Bag
Lady Camera Bag
Quilted Sling Bag
Shopper Bag
Baguette Bag
Hobo Bag
Woven Tote
Bucket Bag
Haversack
Muff Bag
Saddle Bag
Sling Bag
Tote Bag
What Are The Best Brands For Designer Evening Bags?
Many designer brands make great evening bags, though some are fancier than others. When it comes to evening bags that are a staple and would work with nearly all outfits, Chanel, Saint Laurent, Givenchy, Alexander McQueen, and Louis Vuitton are some of the top brands.
Saint Laurent (YSL)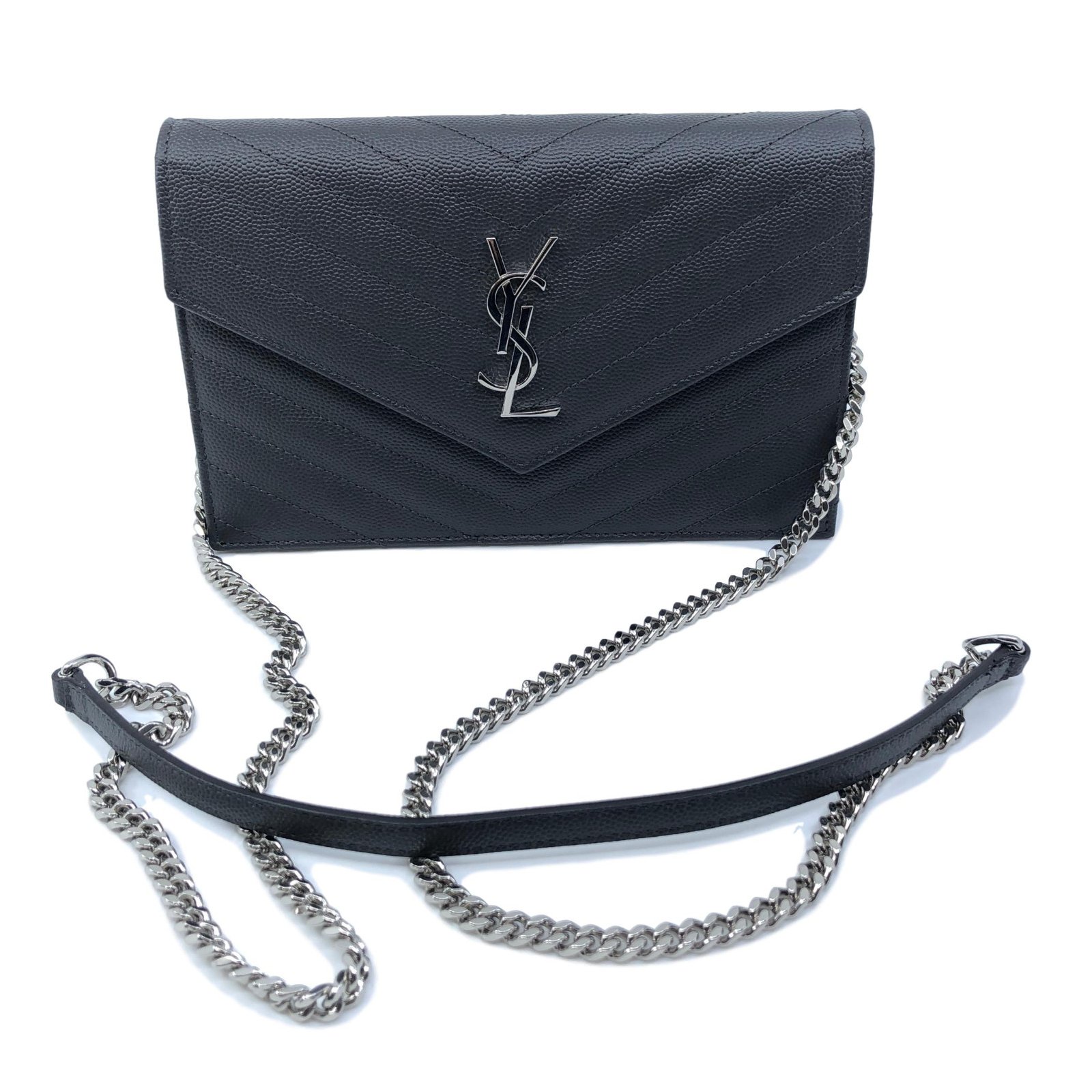 The brand dropped the Yves part of its name more than 7 years ago, but the iconic YSL logo is still used on many of their designer bags. Saint Laurent creates gorgeous classic designs in a huge variety of colors, fabrics, and finishes to match any outfit and personality.
Chanel
Chanel bags have a reputation. They have been combined with outfits as a classy accessory over the years. Coco Chanel transformed women's fashion and introduced designs that were way ahead of time and these styles are still popular among people to this day. The famous leather woven chain straps and quilted leather have stood the test of time and as a matter of fact, one of our favorite evening bags is the Chanel Classic Flap.
Louis Vuitton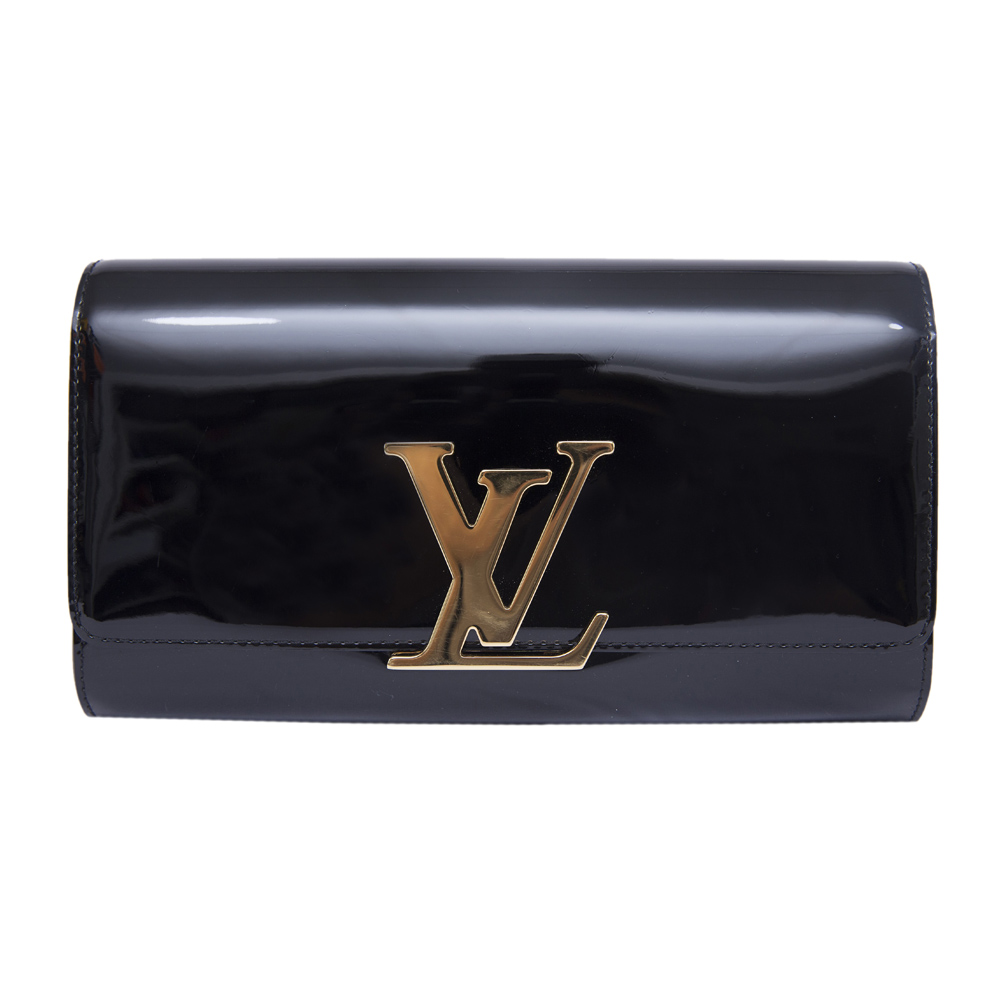 The Louis Vuitton handbag has had a strong appeal for quite some time now. The brown-toned checkerboard canvas and famous Louis Vuitton monogram make every bag from this brand very recognizable.
Alexander McQueen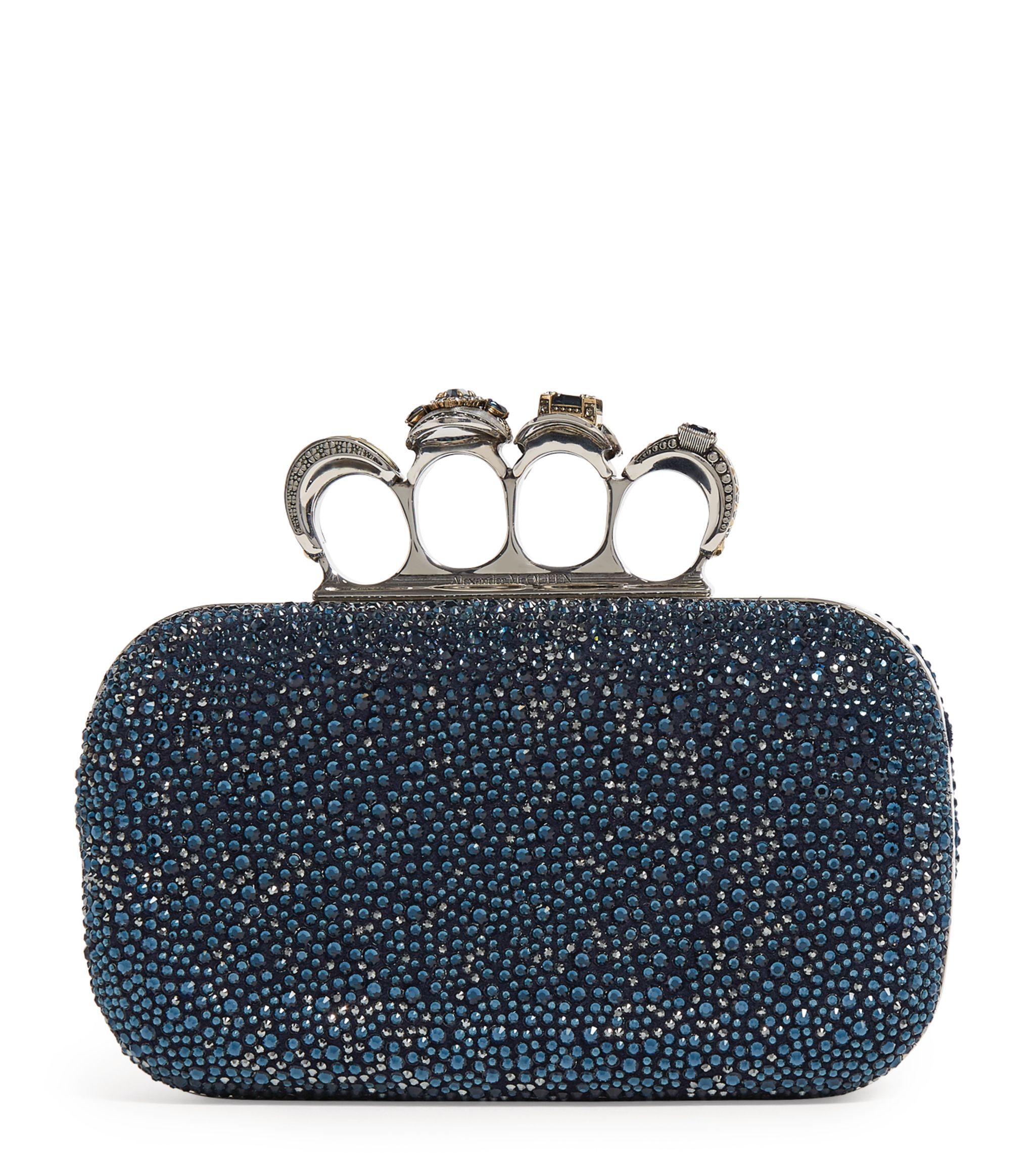 If you want something elaborate, there are some totally incredible evening bags from Alexander McQueen that are perfect for most fancy formal events. As you may have seen, some of Alexander McQueen's clutches feature the Four Ring handle inspired by knuckle-dusters – how splendid!
Givenchy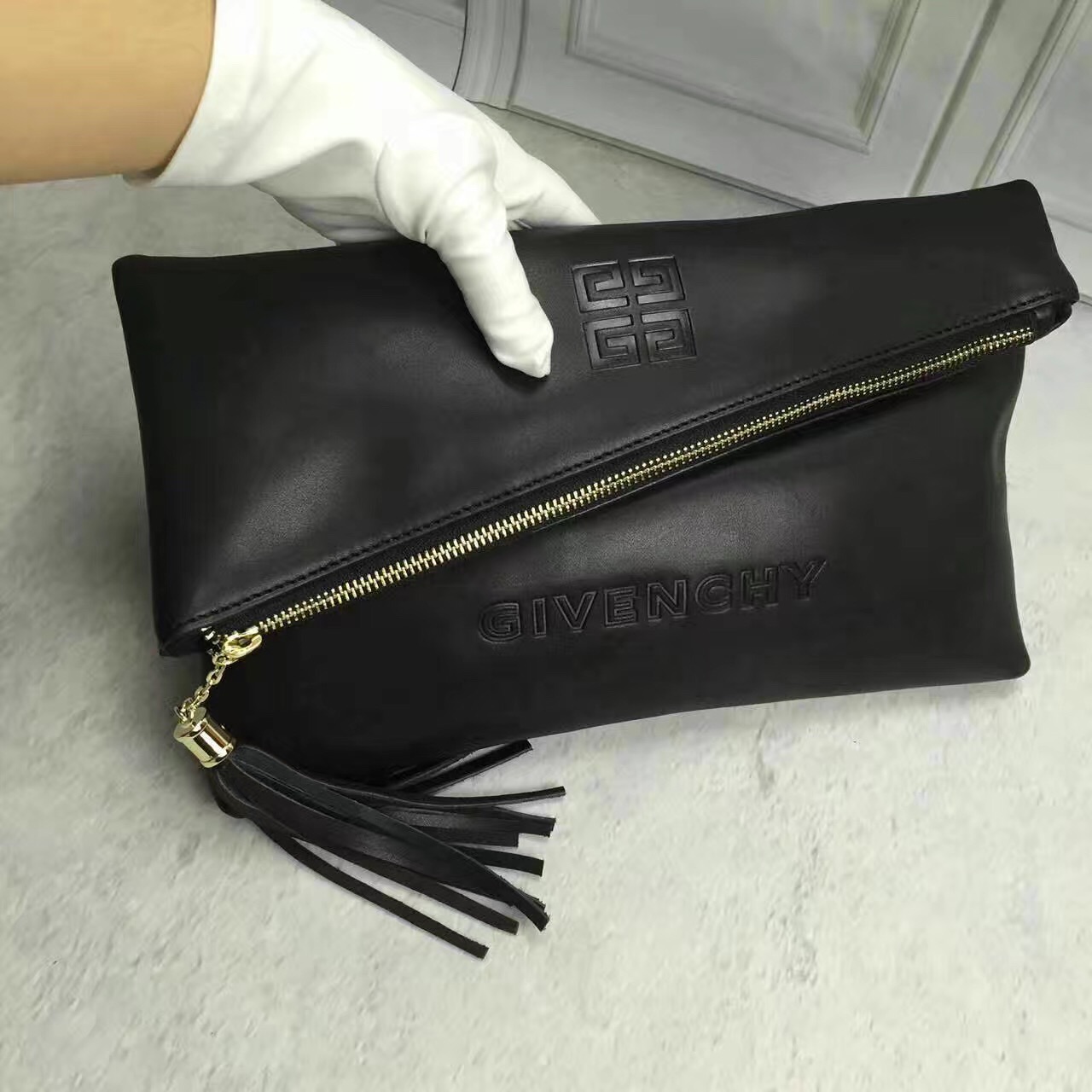 Givenchy has some simple but classic evening bags with some being perfect when transitioning from day to evening wear. With eccentric features like the Nano Eden bag's tie-shaped strap to the Minaudière's chain fringe, your Givenchy evening bag can be a way to make a statement.
Other Evening Bag Designers
There are a lot of designers with a unique talent for making the most beautiful and elaborate evening bag designs. The following are some more designers to choose your evening accessory collection from:
Serpui
Rauwolf
Nathalie Trad
Lee Savage
Kotour
Judith Leiber
Edie Parker
Our 10 Best Selections for Designer Evening Bags
So here is our compilation of the best designer handbags for the evening. We have selected a few incredible pieces that would make the perfect bag for an evening out – whether you're going to get drinks with your buddies or going to an opening night or high-profile event, you would find something suitable in our top selections.
1. Saint Laurent Sunset Bag
First off on the list is the Saint Laurent Sunset bag, one of our best designer evening handbags. It is a simple but very chic bag that comes in a wide variety of colors which means there is always one to perfectly fit your own preference. Thanks to the adjustable chain strap feature, the Sunset can be worn as a crossbody or a shoulder bag, making it more wearable with all kinds of fashion looks.
You couldn't expect more than the Sunset bag offers from an evening bag. It has a well-structured design and a lot of compartments which means you won't have to struggle to reach your lippy in the bathroom or find your keys when the night is over.
It is really not surprising that this Saint Laurent bag is a popular choice.
Saint Laurent Sunset Evening Bag Stats
Sizes: Large, Medium, Small
Prices Start From £1455
Handle Type: Crossbody or Shoulder
Our Top Features
Well-defined structure
Plenty of compartments
Can be worn in different ways
Easy to use
Simple, functional design is perfect from day to night.
The leather-topped chain strap provides comfort.
2. Chanel Classic Flap Bag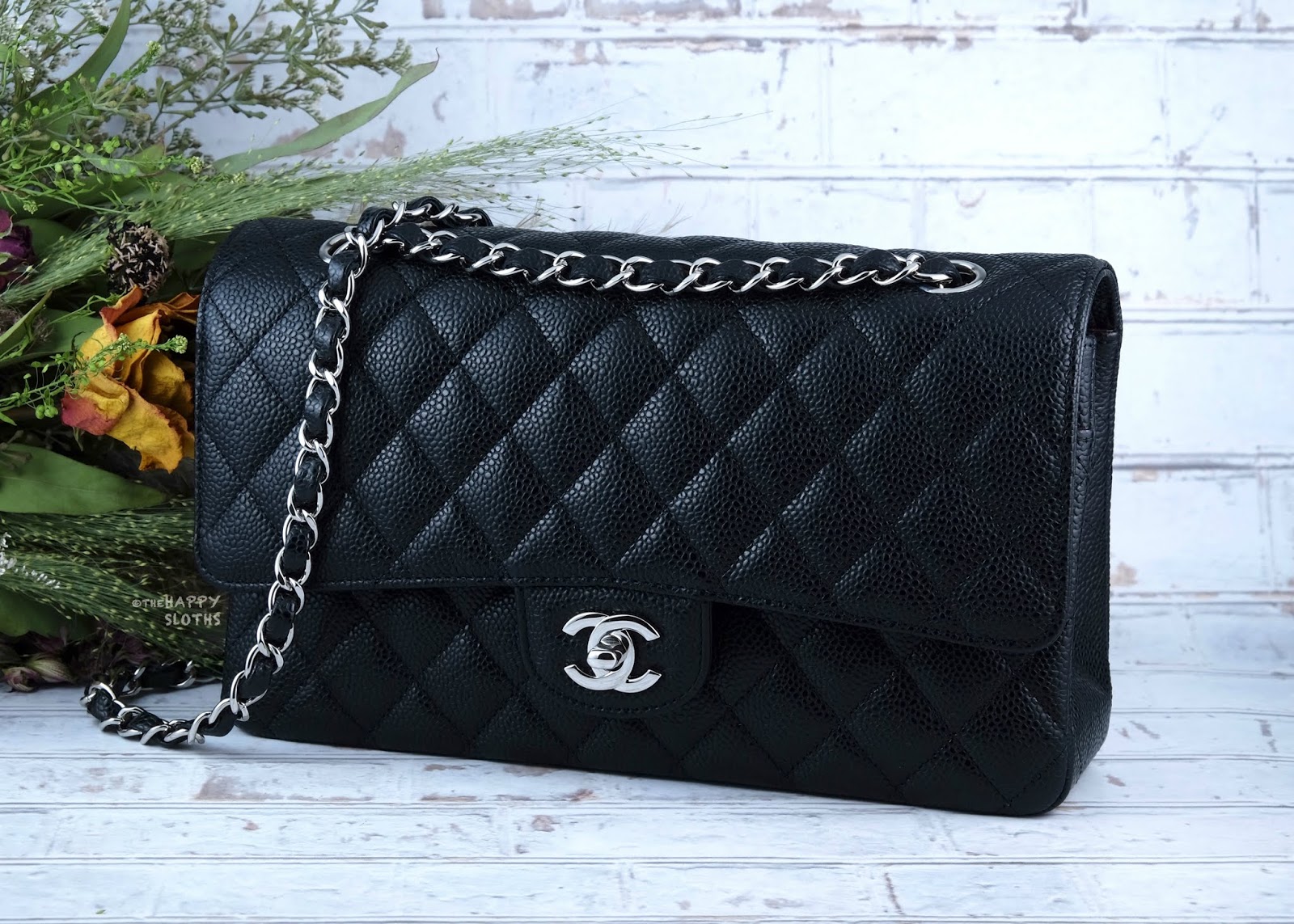 The Chanel Classic Flap is our second favorite – we chose two because both bags have amazing features but their prices are significantly different. Without a doubt, the Chanel Classic Flap bag is a costlier investment and has quite a reputation among designer handbag collectors. It gets its classic Chanel look from the iconic chain strap and quilted design, as well as the CC logo clasp. To get the complete Chanel experience, go for the dogtooth tweed, black and white varieties of this bag, and channel your inner Coco!
The number of compartments in this bag is different from the Saint Laurent Sunset, however, it comes with the additional feature of an extra flap beneath the major one. While this extra covering for the inside is beneficial in terms of security, it can make things a little uncomfortable when you're trying to reach in the bag for your belongings or returning them. The interior is made of soft calf leather which is nice, but we would advise you to get a handbag liner to keep this protected, as it may be susceptible to scratches.
The chain is adjustable, however, the length works a lot better when doubled and carried as a shoulder bag. It doesn't sit as well when carried crossbody style.
Chanel Classic Flap Evening Bag Stats
Sizes: Maxi, Large, Medium, Small, Mini
Price Starts From £4,800
Handle Type: Crossbody, Shoulder
Our Top Features
Timeless, classic design
Available in five sizes
Can be worn in several ways
Famous Chanel leather woven chain
Extra interior flap
Lined with soft calf leather
3. Chanel Boy Bag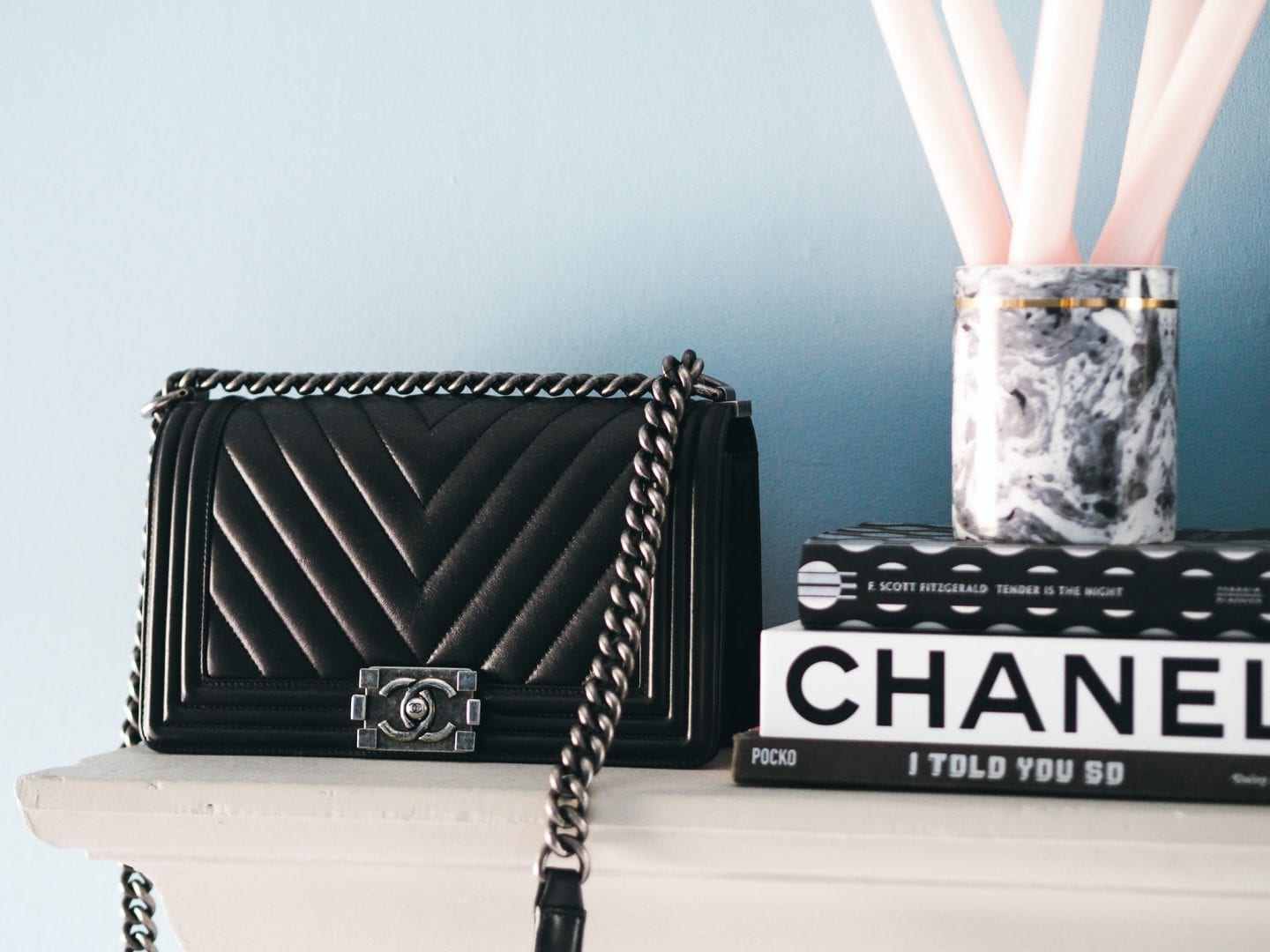 The popularity of the Chanel Boy Bag is clear as it is one of the most sought-after designer handbags across the world. This piece owes most of its versatility to the more masculine elements of the design. The Boy bag can easily be used from day to night and works with just about every possible outfit you can imagine.
We love that this bag features a graphic clasp and chunky "gourmette" chain. It is a statement bag without being too obvious. The Chanel Boy bag has an adjustable chain strap which means you can wear it as a crossbody or over your shoulder. It's also nice that this bag comes in a variety of colors as well as several finishes.
Ensure that you keep your Boy Bag in good shape by protecting the lining and clasp.
Chanel Boy Evening Bag Stats
Sizes: Large, New Medium, Old Medium, Small
Prices Start From £3,340
Handle Type: Crossbody, Shoulder
Our Top Features
Day to night
Classic design
Can be worn in different ways
Available in three sizes
Works with any outfit
Graphic clasp
Chunky chain
Lined with soft calf leather
4. Givenchy Antigona Mini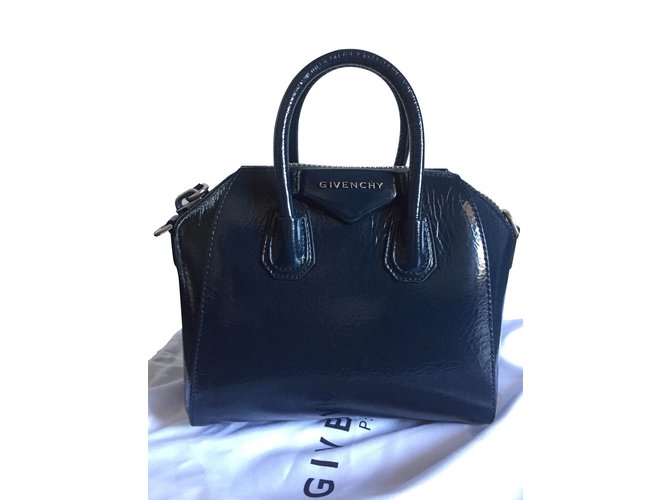 You may have come across the Antigona on the list of best designer bags for work, but it is really that much in terms of versatility that it is would also be suitable as an evening bag, specifically the smaller sizes. The Mini is the deal here – the perfect size for your evening essentials and a must-have for every handbag collector.
The Antigona is a well-structured bag that would work better for a more casual occasion or night out. It features small handles with which you can carry the bag in your hand or place it on your arm to sit comfortably in the crook of your elbow. This is not the lightest of bags, even with no content, so if you want to go with a lot of items, you may end up with a rather heavy handbag.
Givenchy Antigona Evening Bag Stats
Sizes: Large, Medium, Small, Mini
Prices Start From £1,250
Our Top Features
Casual evening bag
Well structured
Can be worn in different ways
Removable shoulder strap
Top zip for security
5. Large Louis Vuitton Kirigami Pouch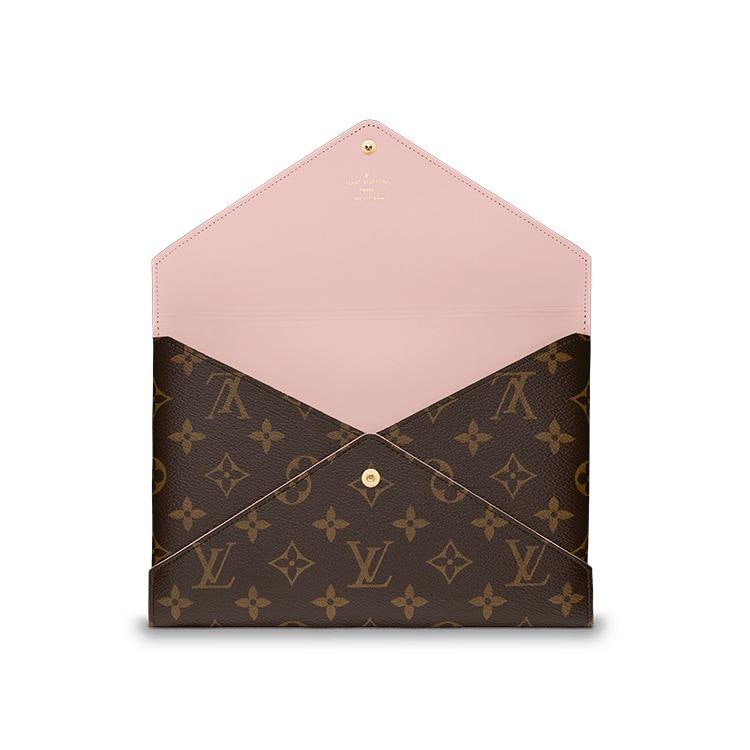 Perfectly sized for a clutch, the Large Louis Vuitton Kirigami Pouch should fit a few items for your evening – you can easily carry your money, phone, and lipstick in this envelope-shaped pouch. Your money and cards can also be kept in the smallest pouch in this bag and inside the biggest pouch as well.
This bag can be carried neatly under the arm and can also be carried easily in your hand as a clutch. Because of the way the LV Kirigami Pouch is designed, you may have limited options as to the appropriate outfits to wear it with – it may be more ideal for events that are a little casual. There are conversion kits available to help you use the pouches as handbags and in addition, these also help to keep your clutch protected on the interior. The Kirigami Pouch is made out of hard-wearing monogrammed canvas which means it should serve you for a long period.
Evening Bag Stats
Sizes: Large, Medium, Small
Price: £460 (for the complete set)
Handle Type: Clutch, Crossbody (with conversion kit)
Our Top Features
Set of 3 (very good value for money)
Simple, stylish envelope design
Can be turned from a pouch to a crossbody bag using the conversion kit made available
Famous LV monogram pattern
User friendly
6. Louis Vuitton Capucines BB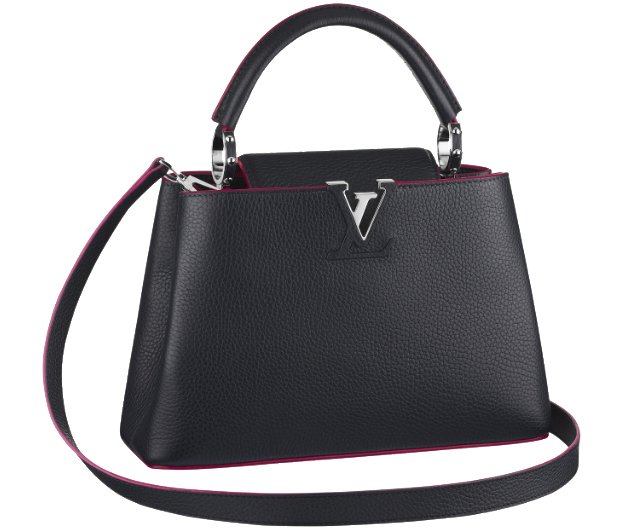 A perfect evening bag choice, the Capucines BB bag is not only chic and stylish but also comes in a wide range of colors including some bold ones. You can choose to carry the Louis Vuitton Capuccines either as a crossbody, in hand, on your shoulder with a removable strap, or in the crook of your elbow using the shorter handle.
This bag is decently spacious, which is great for those who need to go out for the evening with some additional items. It has two main compartments as well as a zipped pocket for your vital belongings. Depending on what color of Capucines you go for, you can carry this bag from day to evening and match it gorgeously with any outfit.
Stats for the LV Capucines Evening Bag
Sizes: GM, MM, PM, BB, Mini
Prices Start From £3,600
Handle Type: Crossbody (detachable), Shoulder, Handheld
Our Top Features
Two spacious compartments
Amazing design features
Can be worn in different ways
Removable shoulder strap
Comes in a wide range of styles and colors
7. Chanel Business Affinity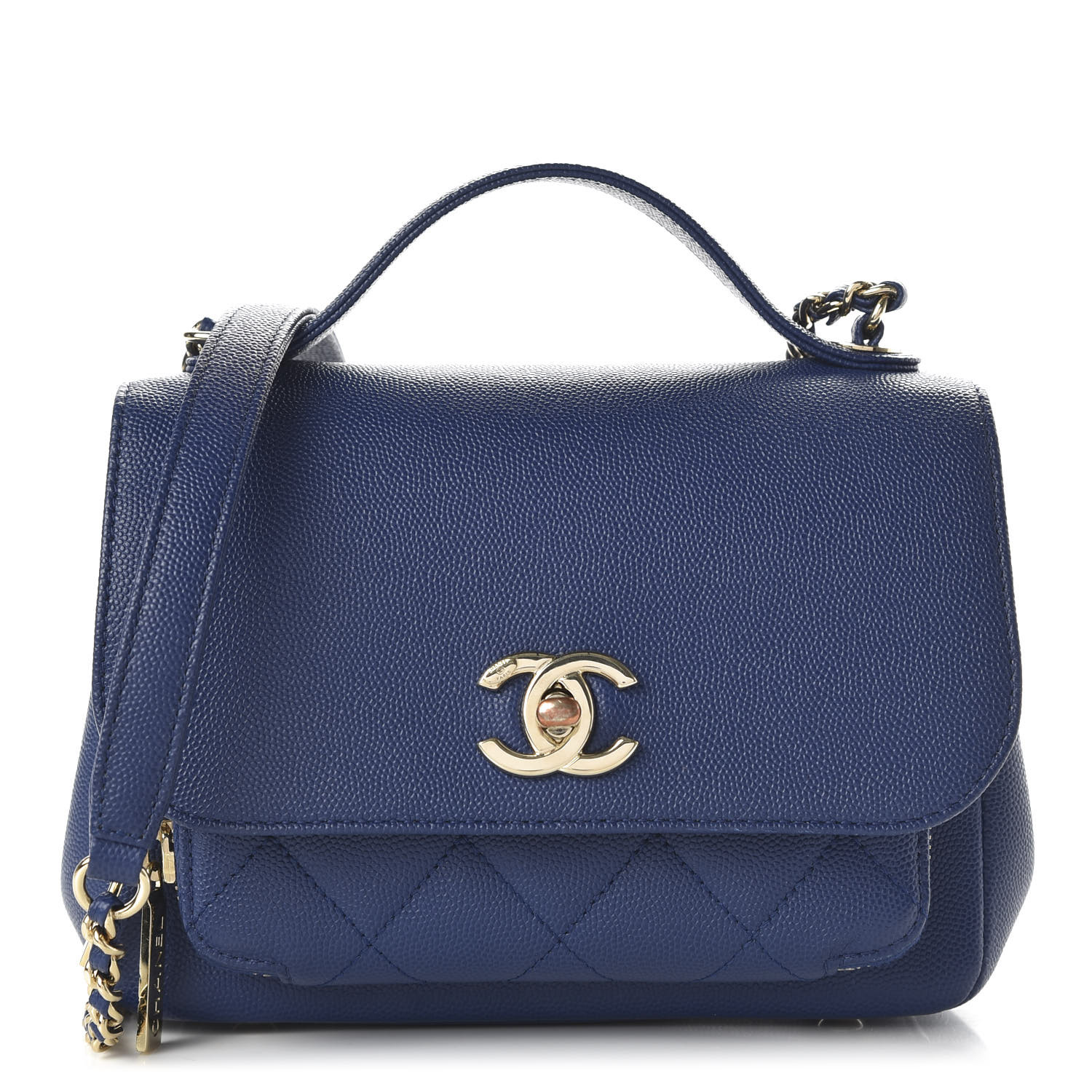 The Chanel Business Affinity is a fantastic choice of an evening bag. The Medium and Small sizes are perfect for your basics – you can comfortably carry your money, phone, keys, and a little amount of makeup in this bag. You could also go for the large size if you need an evening bag to carry some extra items, such as a notebook or iPad when you're attending a work function and would be holding interviews with important guests or taking down information during the night. Thanks to the multiple compartments, this is a perfect bag for people who love to keep their evening bag a bit organized.
This handbag comes with a top handle and a chain strap, which means you can carry it in two ways, so find the one that is most suitable for the outfit you're wearing. This bag does not come with metal stud feet, hence, you have to be mindful of where you set it down. The bag can wear off easily on the corners if you are not careful enough.
Evening Bag Stats
Sizes: Large, Medium, Small
Prices: £2,750 and above
Handle Type: Shoulder, Crossbody, Handheld
Our Top Features
Classic Chanel look with a modern touch
Plenty of compartments
CC claps to keep things secure
Large pocket on the back
A great investment (because this design is no longer sold by Chanel)
8. Gucci Marmont Small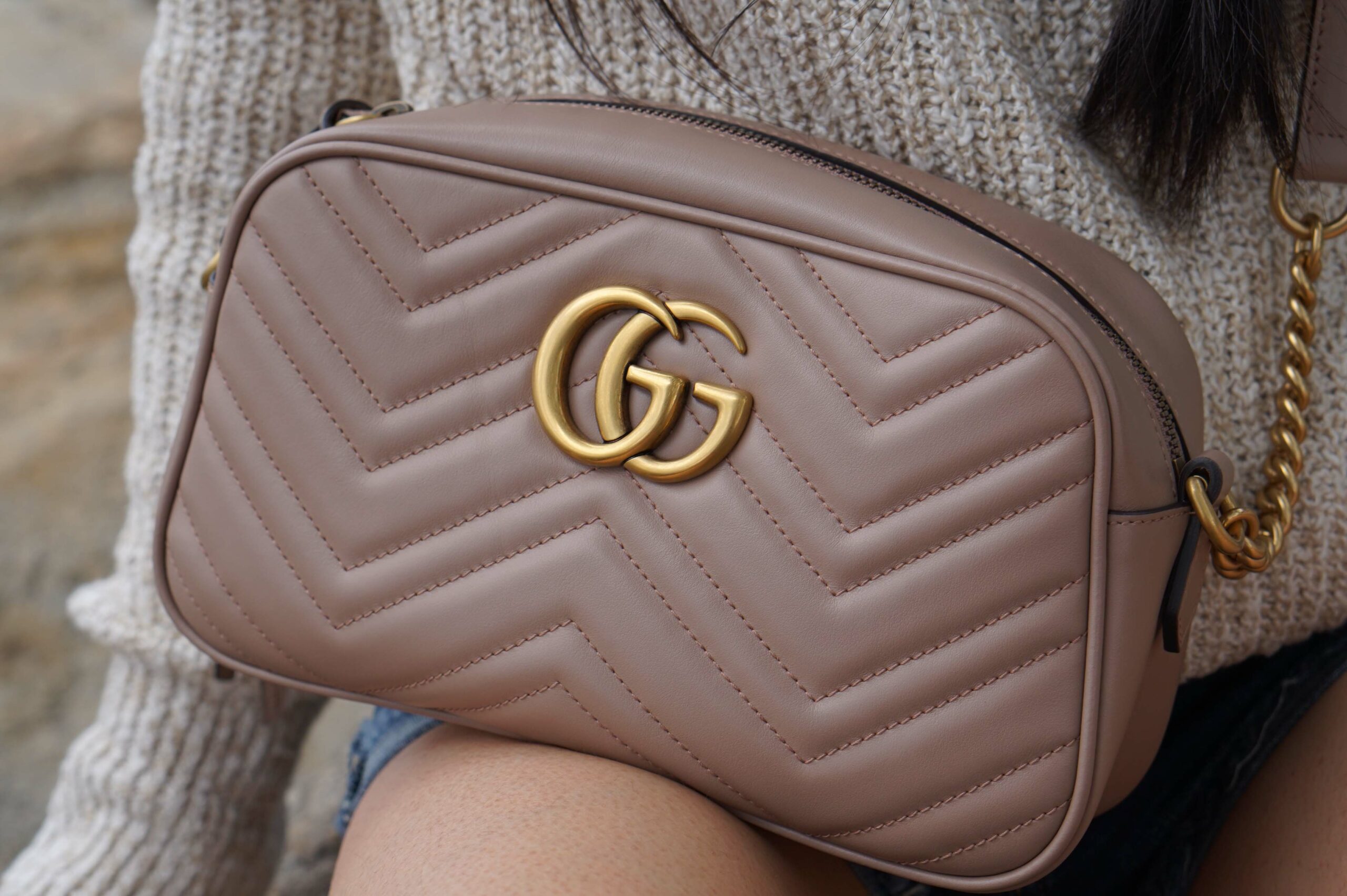 The Gucci Marmont Small has a very basic handbag structure with stylish golden hardware and posh chevron-quilted leather. Because of the basic, semi-slouchy design of this bag, it would be more ideal for a casual evening occasion. It comes in a wide variety of colors for you to choose the most suitable one for your personal style.
The Marmont is an excellent bag to use all day till evening and will carry all your essentials for an amazing night out. The interior of the bag contains only one compartment, but a handy pocket is available to ensure some extra security for important items. Use a designer handbag liner to ensure cleanliness and security of the soft suede-like lining and get additional pockets as well.
Evening Bag Stats
Sizes: Mini, Small
Prices Start From £885
Handle Type: Crossbody, Shoulder
Our Top Features
Comes in different colorways
Suitable for use all-day
Decently sized evening bag
Beautiful gold chain and hardware
Eccentric tassel zipper
9. Saint Laurent Kate Bag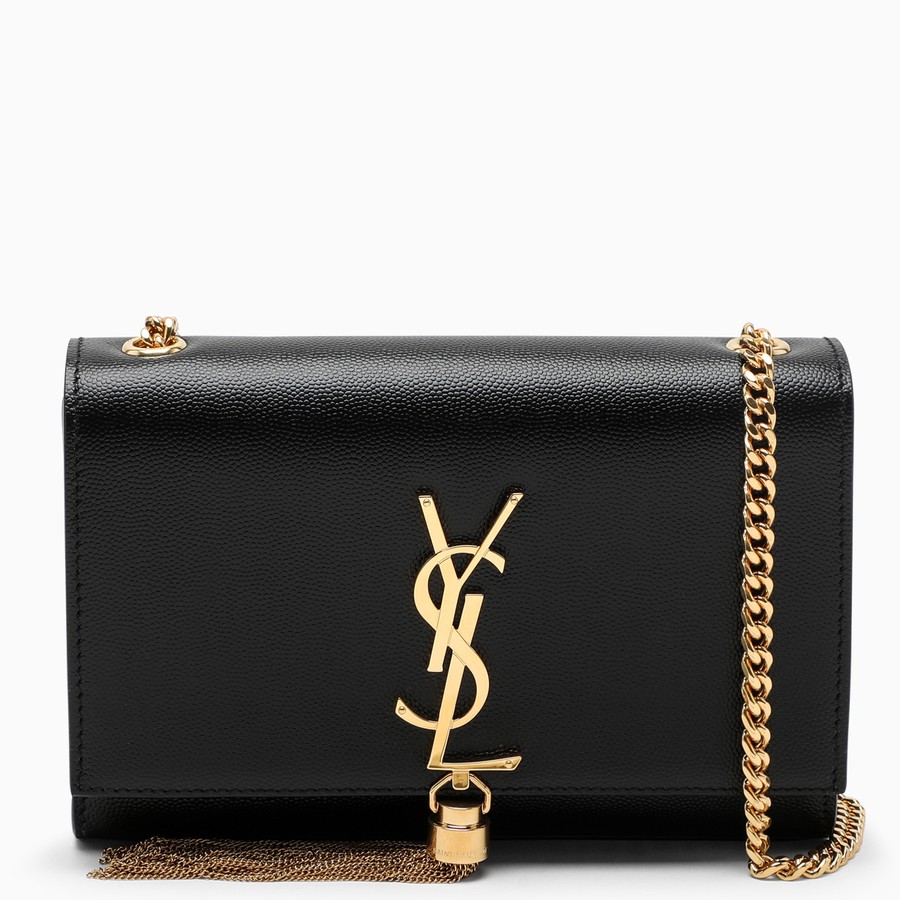 This is certainly a classic evening bag to invest in. This bag has simple clean lines that will never become outdated and will always work with any outfit! The Kate Bag comes in different sizes as well as a similar model with a gorgeous chain tassel that goes a long way in adding a little more glam to an evening look.
The Saint Laurent's Kate Small or Middle-sized clutches are great when you need to carry a little number of items – only the essentials. Hence, you can easily carry your money, cards, phone, car, house key, and lippy. This bag can be carried as a clutch or as a crossbody or worn over your shoulder.
Evening Bag Stats
Sizes: Large, Medium, Small, Mini
Prices Start From: £1,300 (medium), £1,100 (Small)
Handle Type: Crossbody, Shoulder, Clutch
Our Top Features
Classic evening bag that will always be in the trend
Comes in different sizes
Can be worn in several ways
Removable chain strap
Comes in multiple fabrics and colors
10. Saint Laurent Envelope Bag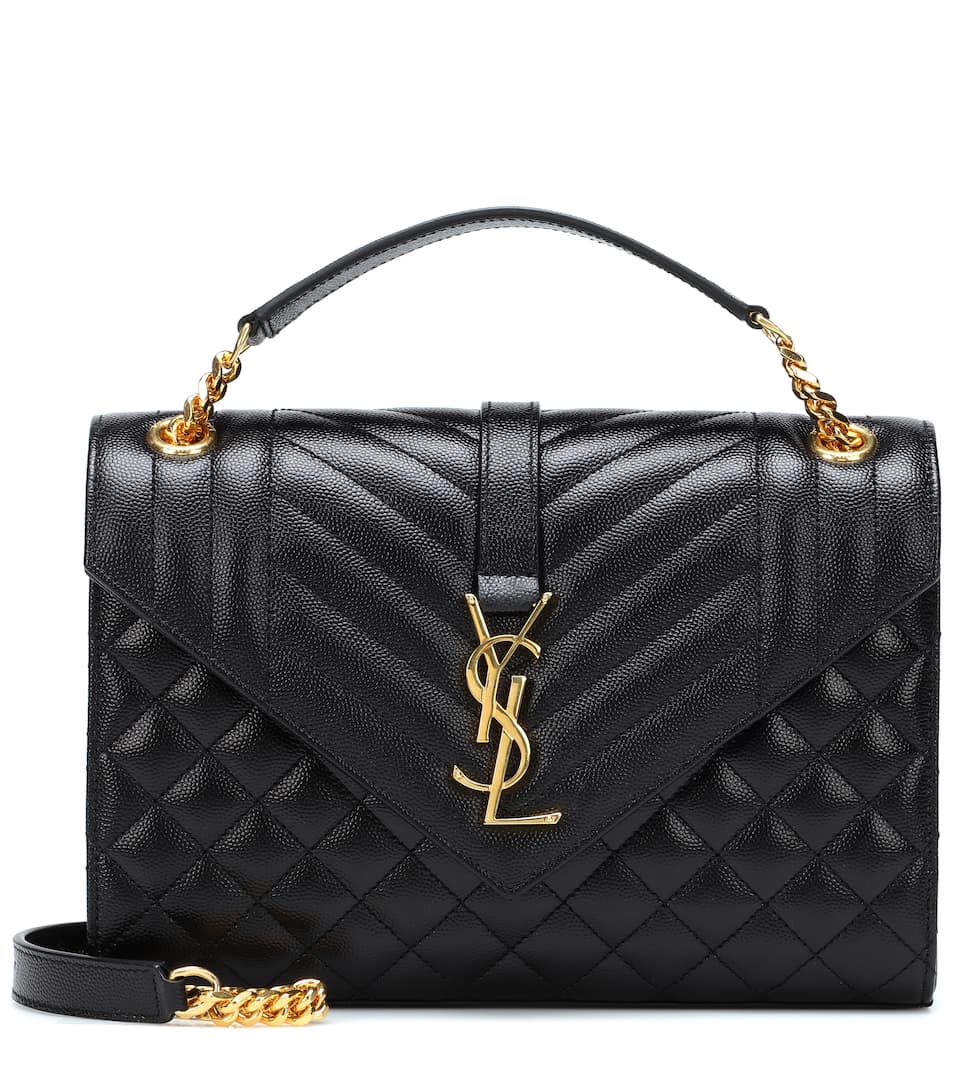 If you are not big on traveling light, then you want would be the Saint Laurent Envelope bag. This designer handbag has a large category that is big but not too big to be unsuitable for an evening or night out. It can fit all your essentials and more – talk of your keys, purse, favorite perfume, small hairbrush, and basic cosmetics.
The Envelope is an elegant bag, suitable for elaborate occasions. Thanks to its practical design, full-width back pocket, an interior zipped compartment, your belongings can be a little more secure and organized during your evening out. Always ensure that is snapped shut correctly, else, it could pop open and you would have your belongings falling out.
Stats for Saint Laurent Envelope Evening Bag
Sizes: Small, Medium, Large
Prices Start from: £1,280 (Small), £1,455 (Medium), £1,665 (Large)
Handle Type: Crossbody, Shoulder
Our Top Features
Well sized evening bag
Chevron stitching and Chic quilted
Famous logo hardware
Wide range of color variations
Several sizes available
The chain strap can be extended
Which is Your Favorite Designer Handbag?
And that wraps it up on our 10 best designer evening handbags. Which do you love the most?
Some of the bags we have selected certainly come with a massive price tag, and with the increasing prices of Chanel in 2021, this investment may be bigger than you're comfortable with. So remember you can always shop pre-loved when it is possible and find some fantastic pieces at a fair deal!