You may be very interested in getting the Elle, Vogue, or Harper's Bazaar latest luxury handbag after reading about them.
It may be something you need and prepared to go to any length to obtain it!
There are a few genuine retailers and secondhand marketplaces where you may buy and save big if you're ready to stretch your budget to get discount luxury bags for less.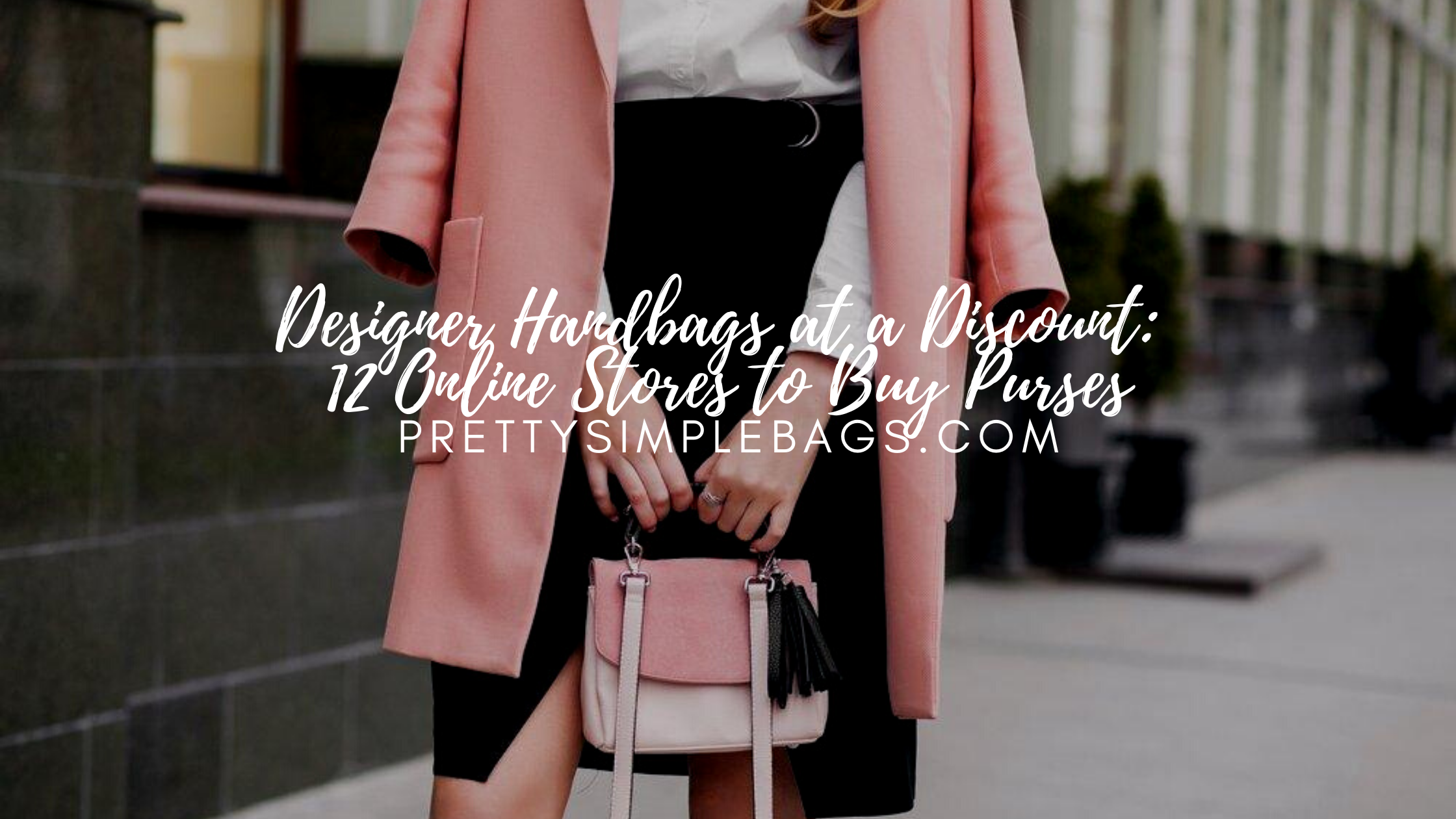 For every handbag lover with a high fashion taste but a limited budget, you're just a few mouse clicks away from getting an outstanding designer purse online at a bargain price.
Check Below for Our Combined List of the 12 Best Websites to Buy Designer Handbags Online at a Discount.
After surfing through the internet, we've discovered some of the finest locations to get cheap designer handbags. Sometimes for a lot less… since these sites offer amazing discounts! Anyway, let's get down to business…
1. Fashionphile
Fashionphile has been selling new and original pre-owned luxury handbags from all of your valued luxury brands since 1999, from Yves Saint Laurent to Burberry. They own four retail boutiques in New York City, San Francisco, Beverly Hills, and Carlsbad, California, where customers can shop for vintage clothing.
The Neiman Marcus Group declared in April 2019 that it will invest in Fashionphile as a minority shareholder. Customers will be able to sell their luxury handbags and receive instant money at certain Neiman Marcus locations as part of the new agreement.
The designer bags to check out :
Fashionphile has been able to amass a huge number of passionate and loyal customers who believe that the site guarantees authenticity better than other resale sites. Visit Fashionphile.com for an extensive collection of vintage designer bags.
Why Fashionphile is ideal
With FASHIONPHILE, you'll enjoy Reserve premium layaway as well as an online fashion retailer. This service offers a platform for customers to pay for designer products over time in installments. So, even if you're strapped on cash, you can finally get your hands on that much-needed luxury handbag. Fashionphile Outlet – Up to 80% off retail pricing on designer handbags and accessories at Fashionphile Outlet.
2. Amazon
Amazon is a terrific site to get luxury bags at a discount. They carry some extremely nice luxury handbags, purses, and clutches, as well as some great low-cost bags. Amazon is usually the greatest place to shop for new bags.
The designer bags to check out:
They have a very good range of handbags from the following designers:
Burberry
Kate Spade
Salvatore Ferragamo
Alexander McQueen
Givenchy
Phillip Lim
Coach
Yves Saint Laurent (YSL)
Michael Kors
Prada
Balenciaga
Versace
Amazon also boasts a plethora of emerging handbag designers. Over the last several years, they've undoubtedly upped their game in the designer handbag sector.
Here's why you'll fancy Amazon:
Everyone would love to shop on Amazon. Amazon Prime (free month trial) typically delivers your new bag in two days, and they give you 30 days to return anything if it doesn't meet your expectations. Also bear in mind that they often have fantastic deals on designer handbags.
3. The Real Real
The RealReal, which opened in 2011, is one of the most well-known luxury consignment boutiques. They have a physical boutique in New York City and an assorted range of authenticated luxury products.
The designer bags to check out:
Designer labels such as Chanel, Céline, and Hermès are featured in daily curated luxury deals that begin at 7 a.m. and end at 4 p.m. Do you want to sell your bag? TheRealReal's White Glove Services include free home pickup in 16 locations, or you can request a free mailing label.
Here's why you'll love The Real Real
With this site, you don't have to be concerned about buying counterfeit designer handbags. This site's luxury products go through a multi-step, brand-specific validation process. Authenticated, pre-owned designer products may be found at TheRealReal for up to 90% off retail rates.
4. Amuze
Amuze.com offers See by Chloe handbags, Valentino purses, and Gucci accessories for up to 80% discount off their original retail price.
The designer bags to check out:
If you are looking to get terrific designer products at a discount price, remember that each daily deal product only lasts 24 hours, and most flash sales are done in 72 hours. The Givenchy Antigona Medium Red Leather Satchel, for example, costs $1,495.00 instead of $2,435.00 at retail.
Are you all set to shop? For your next purchase, here's a $25 discount code.
Amuze will appeal to you because of the following reasons:
You'll get a $25 shop credit for each sign-up when you refer coworkers and friends to join the site.
5. Tradesy
When looking for a digital consignment store that sells luxury brands like Gucci and Louis Vuitton as well as more affordable handbags like Zara, Coach, and J. Crew, Tradesy.com have you covered.
The designer bags to check out:
After signing up with Tradesy, you'll be able to earn $10.00 for each person that joins the site through you. (Note that you are only eligible to receive $10.00 for every referral that spends $50.00 or more on their first purchase.)
Why will you enjoy Tradesy?
Designer bags are often available for up to 75% discount from their original retail price.
6. Gilt
Gilt was among the first online sample sale sites to attract well-known designer labels like Gucci and Prada – and to offer unbelievable discounts of up to 70% off.
The designer bags to check out:
You'll discover one of the largest collections of designer apparel and accessories from luxury American and European brands including Chanel, Hermes, Coach, and Louis Vuitton at this online sample sale site.
The nicest thing about signing up for a free membership is that you may return your purchases for free to any Saks Off 5th.
Gilt will appeal to you because of the following reasons:
You'll have to become a member of this invitation-only site first to be granted access to the 36-hour deals (with discounts up to 70% off retail pricing).
7. Ruelala
At Rue La La, you'll find a stunning collection of top brands like Chanel, Chloe, Saint Laurent, Gucci, Christian Dior, Balenciaga, Philip Lim, and Goyard.
For fashionistas willing to spend, Rue La La is among the best designer handbags purchasing sites, with rates up to 70% off retail.
The designer bags to check out:
Every day, there are new sales on Rue La La. You can find totes and satchels from Linea Pelle, Furla, Kate Spade, and Trina Turk at a more reasonable price point on this online buying store. Sign up for their designer purse flash deals with your email address to get notifications on their products.
Why you'll love Ruelala:
RueLaLa usually offers free membership. For the first 30 days, you'll get free delivery on everything.
8. Century 21
C21stores.com is an online extension of the famous department store in Downtown Manhattan, which sells a vast range of designer products at deeply discounted rates.
The designer bags to check out:
From daily wearable designer pieces to more luxury selections, Century 21 has something for everyone. The cost of luxury handbags at Century 21 is reduced by up to 80%. Longchamp, Rebecca Minkoff, Dior, Gucci, Furla, Prada, and Louis Vuitton are among the designers present on the site at the moment.
Century 21 Department Store will gladly match any lower advertised price for any item that they have in store from a qualifying U.S.-based competitor within 14 days of your purchase IN-STORE or ONLINE.
9. Rebag
You can get pre-owned designer bags from dealers all around the world at Rebag.
The designer bags to check out:
Rebag has a huge selection of desirable designer labels such as Hermes, Chanel, Gucci, and Christian Dior, as well as other modern luxury names. All the bags offered on the site is inspected by external authenticators or the company's team of handbag specialists to ensure that it is authentic.
Why you'll love Rebag:
The search capability on Rebag's website makes browsing easy. The website's zoom function allows for comprehensive close-ups of even microscopic details.
10. Vesitaire Collective
Vestiaire Collective provides one of the greatest collections of pre-owned designer handbags on the market, ranging from Gucci, Prada, and Hermès to Céline and Louis Vuitton.
This site, which was launched in 2009, adds around 30,000 new products every week. Designer bags are offered at discounts ranging from 40% to 70% off the original retail price on the site.
The designer bags to check out:
Vestaire Collective ensures that all of their merchandise is authenticated and collaborates with handbag professionals to verify that everything they offer is genuine. Do you want a bag at a discount? Putting off shopping till the conclusion of the fashion season. The ideal months for finding a fantastic handbag deal are March and April, as well as October and November.
Why will you enjoy Vestaire Collective?
Vestaire Collective specializes in high-end handbags, and the list of accepted designers is impressive. Here you'll find a lot of Valentino, Chanel, and Louis Vuitton.
11. Luxury Garage Sale
Luxury Garage Sale's team handpicks the best designer accessories, bringing customers real designer goods at up to 70% off retail.
The designer bags to check out:
You'll find vintage, pre-owned, and new designer purses and handbags at this designer consignment shop. Hermes, Chanel, Louis Vuitton, and Missoni are among the labels represented on the site. Since every product on the site is inspected by a professional authenticator, you're sure to get authentic handbags and purses from this luxury consignment shop.
Here's why you will enjoy Luxury Garage Sale:
They provide consignment services throughout the United States for buyers looking to buy or sell luxury accessories.
12. Overstock
Brands including Givenchy, Saint Laurent, Burberry, Celine, Prada, and Fendi have a revolving stock of luxury purses for less at Overstock—most are reduced between 20% and 30%.
The designer bags to check out:
Overstock is known for its fantastic home goods area, but their "Designer Handbags" section also has some great prices on designer bags and accessories.
Why you'll love Overstock:
There are some great offers on a range of designer products. There's also no delivery charge!
Additional Tips for Finding Discount Designer Bags on the Internet
Be wary of the internet plague of fake purses. Every day, a great number of new websites crop up hawking and pawning imitation purses and phony designer handbags as the real deal.
Buy only from stores that acquire overstock Prada, Gucci, and Louis Vuitton handbags from luxury department boutiques and stores to ensure you're getting a genuine designer handbag.
If you're lucky, you might be able to get a good deal on a designer handbag from an online resale store like Goodwill.
Contact the website owner before purchasing a discounted designer bag to find out about return policies and the legitimacy of the popular handbags.
To save even more money on your online purchases, look for free delivery and promotional offers.
Conduct Your Research & Find Low-Cost Designer Bags
Since there are a few shady and dishonest internet vendors trying to present fake designer handbags as genuine, apply these last guidelines to ensure that you get your inexpensive, authentic designer bags securely. Amazon is usually a good option because of its excellent return policy, providing you with the peace of mind you require.