The way we do things has fundamentally altered as a result of technological improvements. It's now possible to do anything from paying our bills to full-fledged shopping expeditions from the comfort of our own homes. All of this is down to the greater accessibility and automation that online purchasing has given!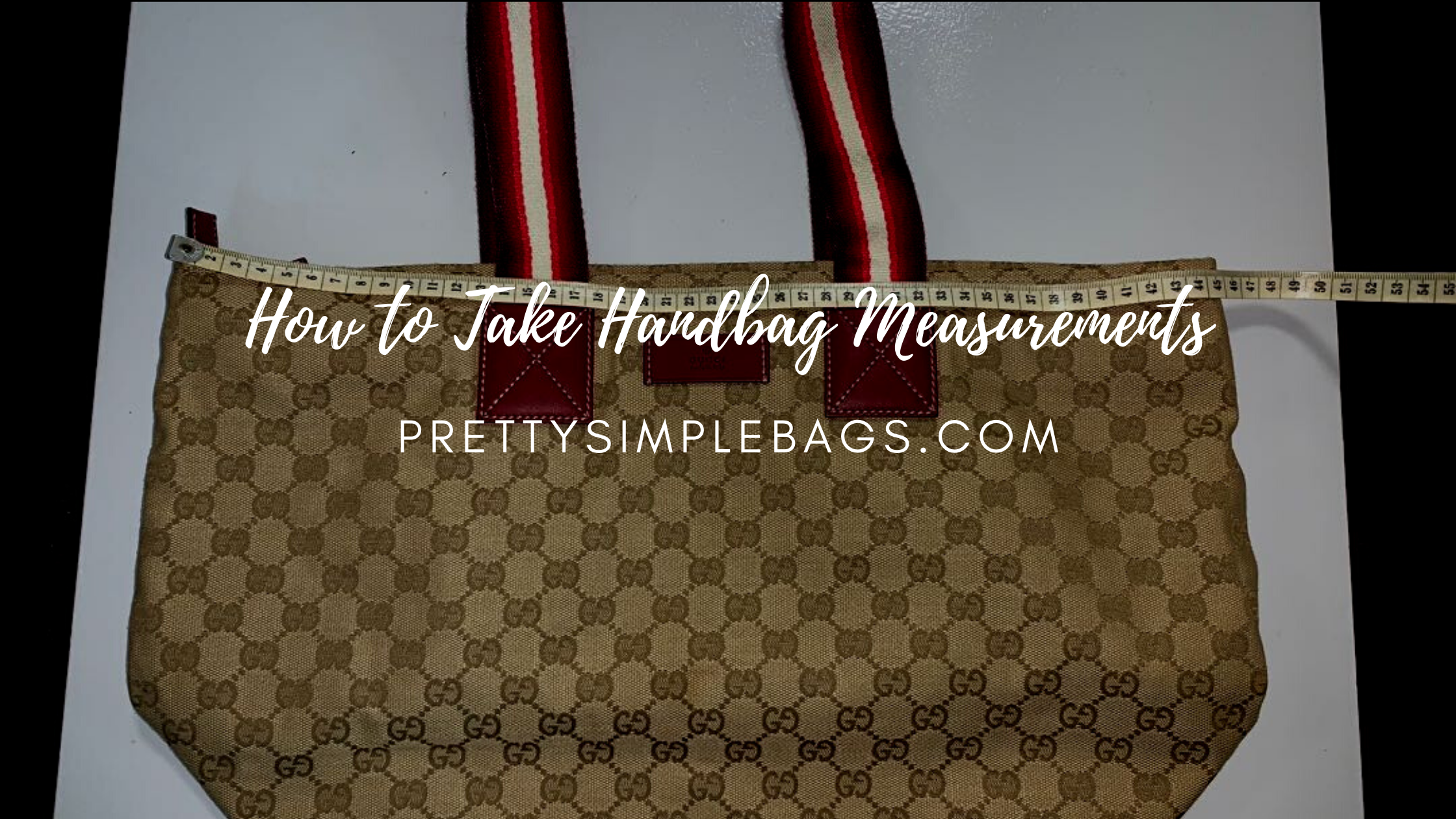 Have you run out of groceries? Place your order online! Do you need a new outfit? Place your order online! Do you have a credit card bill to pay? Do it on the internet! Physically going to the store, selecting a thing off the shelves, paying for it, and then bringing it home has become easier thanks to online purchasing.
However, since you are not personally inspecting the product, there are some things you'd have to leave to chance when purchasing online.
When it comes to buying a handbag online, the biggest issue is knowing what to look for. You can't tell what kind of material was used to build the bag, how large it is, or how smoothly the zippers work because you can't examine it. Although you can do little about the bag's quality from home, you can be confident of the bag's size even if you don't physically inspect it!
You must know how to measure a handbag if you're going to buy one online. This understanding will assist you in determining if the bag size is what you're looking for. You may get a bag in the size you choose using this information.
Handbag Measurement
Imagine you've found a bag you truly like on the internet. It's a 'medium,' according to the description. What's the best way to assess the size of a medium-sized bag? Let's imagine you want to get a handbag that's the same size as the one you already have. How do you know if a bag is the same size when you buy it online?
Having a good idea about how to measure a handbag is helpful in this situation. You'll hardly be disappointed by the size of a bag you purchase online if you have good knowledge of taking handbag measurements since you'll always know that you've ordered the right thing.
Handbag Sizes
One essential thing to note about handbag sizes is the measurements they correspond to. From the list below, you can see different handbag sizes and their measurements:
1. Small
The width of a small-sized falls between 6 and 12 inches. This size of handbag can only contain your phone, a little wallet, and compact cosmetics like lipstick.
2. Medium
The width of a medium-sized purse ranges between 12 and 14 inches. It can hold your phone, wallet, tiny cosmetics such as lipstick, and even a paperback novel.
3. Large
In comparison to both small and medium-sized handbags, a large-sized handbag has a lot more space. It has a width of 14 to 16 inches and can hold your phone, wallet, cosmetic kit, paperback novel, and even water bottle.
4. Extra Large
Extra-large handbags are often carryalls and are the largest of all. They're almost 16 inches wide and have enough space to fit most of your important items, such as your iPad, phone, wallet, cosmetic kit, water bottle, paperback novel, checkbook, and so on.
With this info, you'll know what to anticipate if a website states a purse is "large."
Handbag Dimensions
Knowing the size of your current bag is necessary to enable you to compare it to the size you want to buy online. It becomes much more crucial if you wish to get a bag that is almost the same size as your existing purse. While traveling, the size of your handbag is also an important thing to consider. This is because some airlines have restraints on the size of the bag you may bring with you.
The length, breadth, height, and strap drop are the measurements you'll need to take. It is not as easy as laying a ruler and noting the figure to take measurements for each dimension. The process involved is a bit more complex.
What Is the Best Way to Measure a Handbag?
Instead of measuring from the exterior, the proper approach to measuring a handbag is from the inside. The reason is that the exterior of most handbags is significantly larger than the real space available inside.
Length Measurement
The approach to measuring a bag with a uniform shape differs from that of a bag with irregular in different places.
The length of a bag with a well-defined base or a fairly uniform shape is calculated as the distance between the two widest points. In the case where the shape of the handbag differs, you'd have to measure the length at three distinct points: top (the distance between the location where the handles are fixed), middle (the distance between two points on either side of the bag in the central region of the body), and bottom (the distance between two points on either side of the bag in the central region of the body) (the region between two points on each corner of the base of the bag).
Width Measurement
Irrespective of the shape or how it tapers, the width of a handbag is calculated as the largest distance between the two sides (front side and rear side).
Height Measurement
The distance between a bag's opening and its base is used to determine its height. The position at which the bag's opening is located in many bags is not at the same level as in slouch bags. In situations like these, you can measure the distance from the base to the center of the lowest resting point at the top.
Strap Drop Measurement
The strap drop of a handbag is a measurement that indicates the size of the top handles. Strap drop measurement is gotten by the distance between the bag's opening and the highest point on the bag's strap's peak point. You can comfortably carry the bag on your shoulder if the distance is greater than 8 inches (8 to 20 inches).
However, when it comes to handbags that have a strap drop below 8 inches, they are best carried with the hand most times. It will be inconvenient to carry them strapped over your shoulder.
If the strap is longer than 20 inches, you may use the purse in a variety of ways because such a long strap is adaptable. These purses may be worn as crossbody bags, messenger bags, or just over the shoulder, depending on your preference.
How Does the Handbag's Size Affect Its Appearance?
Handbags are an essential item for every woman. Large-sized handbags are trendy nowadays, and you'd see every lady carrying one. You may not realize is that the size of your handbag has an impact on how you appear. Yes, you read that correctly.
Wearing smaller bags make you appear bigger, and larger bags make you appear smaller. Carrying a little purse could make you appear larger if you are petite and short. Carry a bigger handbag if you're a big person who wants to appear smaller.
Final Thoughts
Having good knowledge of how to measure a handbag may appear to be a pointless skill, but believe us when we say it will come in handy. Shopping for handbags online will be more enjoyable and stress-free if you are good at measuring handbags. There won't be any stress about the size of the bag you're purchasing since you'll be aware of the size of the product you're ordering!
Every necessary detail for you to measure a handbag like an expert is included in our article on how to measure a handbag. Hence, before you go online to get your next handbag, endeavor to have an excellent understanding of how to measure a handbag!